I always worry about mixing purple acrylic paint with other colors that I will just get brown! But you can make some really fun colors by combining purple with all the colors of the rainbow!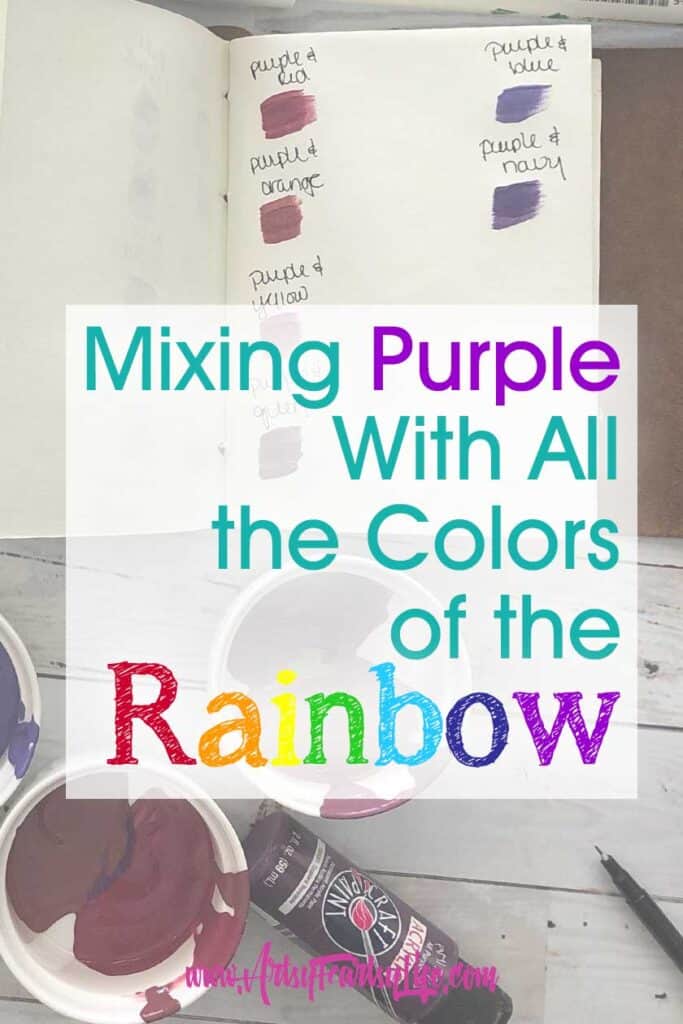 Today we are going to see what happens when we mix purple acryllic paint with different colors!
I went with the "rainbow" colors of my youth and used red, orange, yellow, green, blue and indigo (dark blue) for the test.
About the paint… All the paints are super cheap Hobby Lobby paint that I picked up on sale.
Mixing Purple With the Rainbow Colors!
I will do my best to give you my impressions of what happened when I mixed all the colors together. There is a video below that shows every color and it's matching swatch.
Purple Mixed With Red

It makes sense that purple mixed with red would make some kind of color since purple is made by combining the primary colors red and blue in equal parts.
What I found is that mixing red and purple became a "Maroon" color. Not a super pretty maroon, it had a muddy quality that would make a great neutral background, but I like making Maroon by mixing red and blue rather than trying to take an already mixed color and make it what I want!
Additional Resource :: How To Make Purple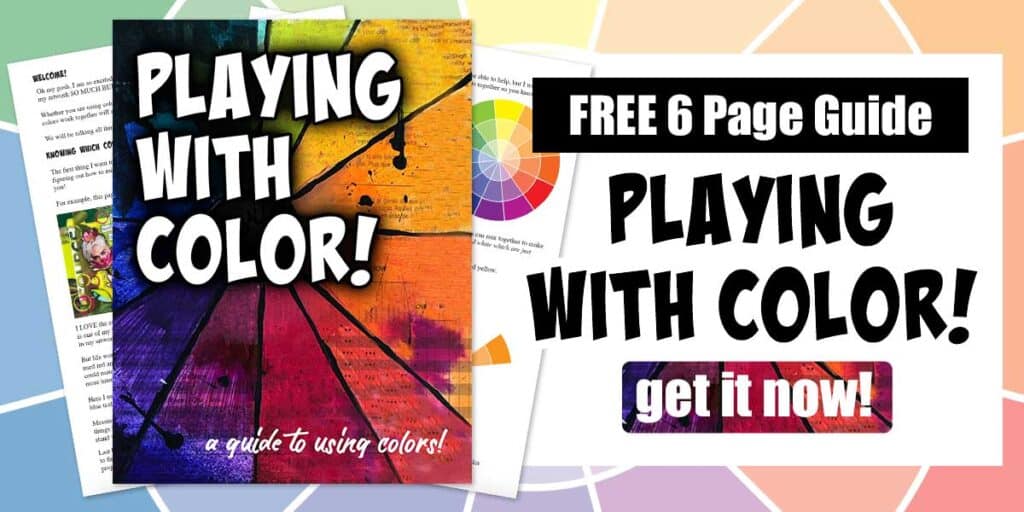 Purple Mixed With Orange

This was maybe the one that I liked the least! It did make a Taupe color, but it was a super dull, taupy brown color.
That is because purple and orange are sort of caddy corner across the color wheel. Mixing paints that are at the "corners" or even right across works better!
Purple Mixed With Yellow

This didn't work out much better, simply producing a muddy, pinkish beige.
I would not use this in my daily art journal pages as I like more primary, bold colors in my work!
Purple Mixed With Green

This one was a HUGE surprise to me! This turned into a nice chocolate brown aubergine color.
I sometimes struggle to make a nice brown paint, but this one worked great. Probably because it was mostly blue (green is blue and yellow, purple is blue and red) so there is a lot blue, some yellow and some red in that mix!
Light Blue Mixed With Purple

Okay, this one was a winner, winner chicken dinner! Mixing light blue and purple worked great!
It made a periwinkle color that was deeper than lavender but still lighter than a regular purple!
Purple Mixed With Dark Blue Navy

Awesome for making dark purple, luxury purple! I tried mixing purple with black to get dark purple, but it just overwhelmed the color and made black!
Mixing Purple With Other Colors Video
Mixing Purple With Colors FAQ
I have gotten a bunch of different question about mixing purple with other colors! Here are some of the best…
What two colors make dark purple?
Black mixed with purple just makes black. Navy mixed with purple makes a really pretty rich dark purple color!
What colors make plum purple?
If you start with purple, you could add some red and a titch more navy to get a darker plum purple.
Purple and blue makes what color?
If you add light blue, you will get a lavender color. If you add purple and dark blue (navy) you will get a deep, rich dark purple.
Purple and teal make what color?
If you used a light teal or turquoise, you might get a lighter purple color. That said, because teal has green in it, you are going to start getting a muddier and muddier color the more you add green to purple!
Mixing Purple With All The Colors of The Rainbow Wrapup
Yield: 1
How To Mix Purple Paint With Other Colors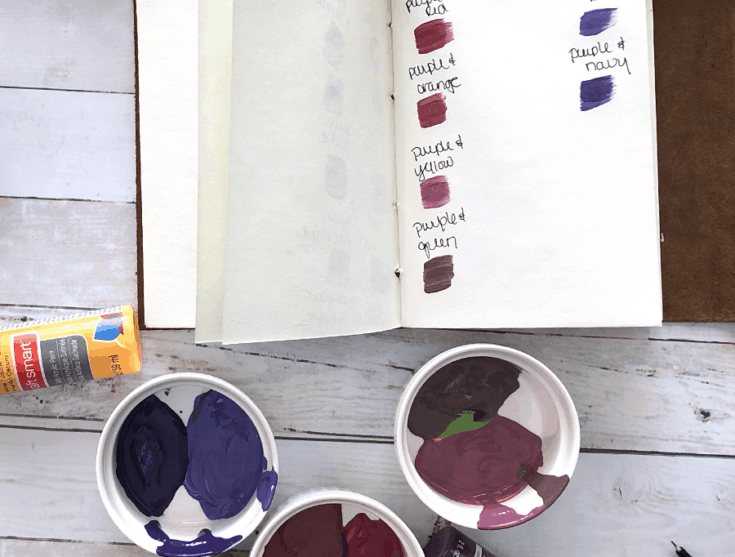 What happens when you mix purple with all the colors of the rainbow? See the colors you make when mixing purple acrylic paint!
Materials
Journal
Acrylic Paint (any kind will do)
Instructions
Purple Mixed With Red - Maroon
Purple Mixed With Orange - Taupe Brown
Purple Mixed With Yellow - Muddy Pinkish Taupe
Purple Mixed With Green - Nice Chocolate Brown, Aubergine
Light Blue Mixed With Purple - Periwinkle, Deeper Than Lavender
Purple Mixed With Dark Blue Navy - Awesome For Making Dark Purple, Luxury Purple
Notes
Purple mixed with red or blue works great, when you get to the greens or yellows it tends to get more muddy.
Mixing Purple Paint With Other Colors Wrapup
Okay… hopefully this is a little easier to understand than most color theory posts are! I have found that color mixing is a lot easier when you just grab some paint and just start experimenting.
Your target color might be a bright purple or a more blue purple hue.
It is only by getting in there and messing around that you can start to understand how all of the color palettes work together!