Here is my review of those cute little instant printers that are good for taking to crops or on vacation to print out pictures on the fly right from your phone. All my best tips and ideas for picking the HP Sprocket printer for travelers notebooks or journals!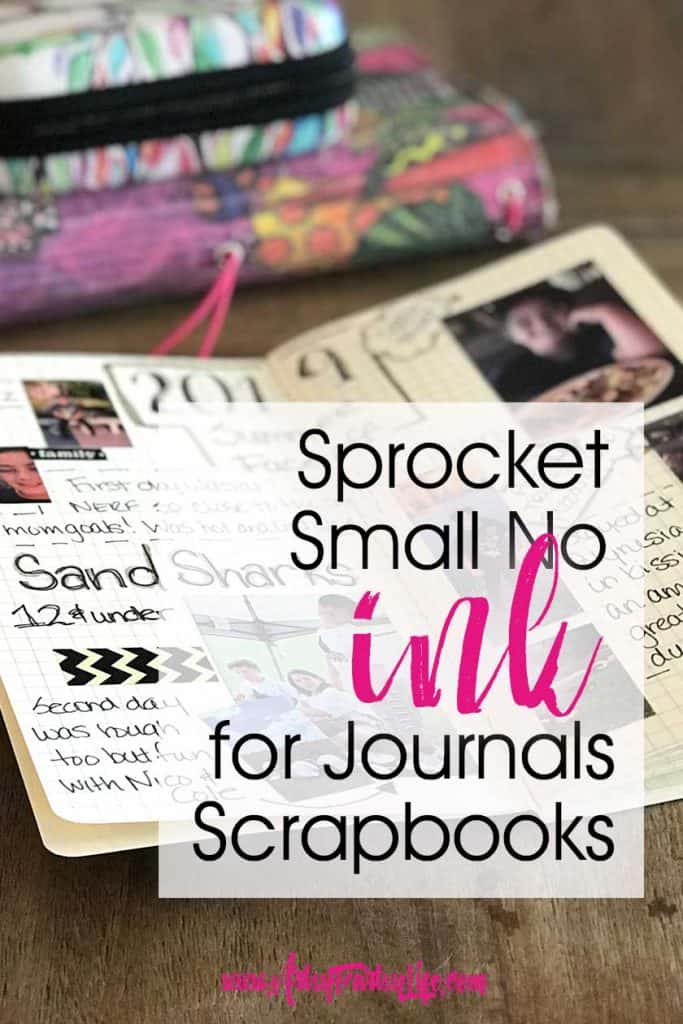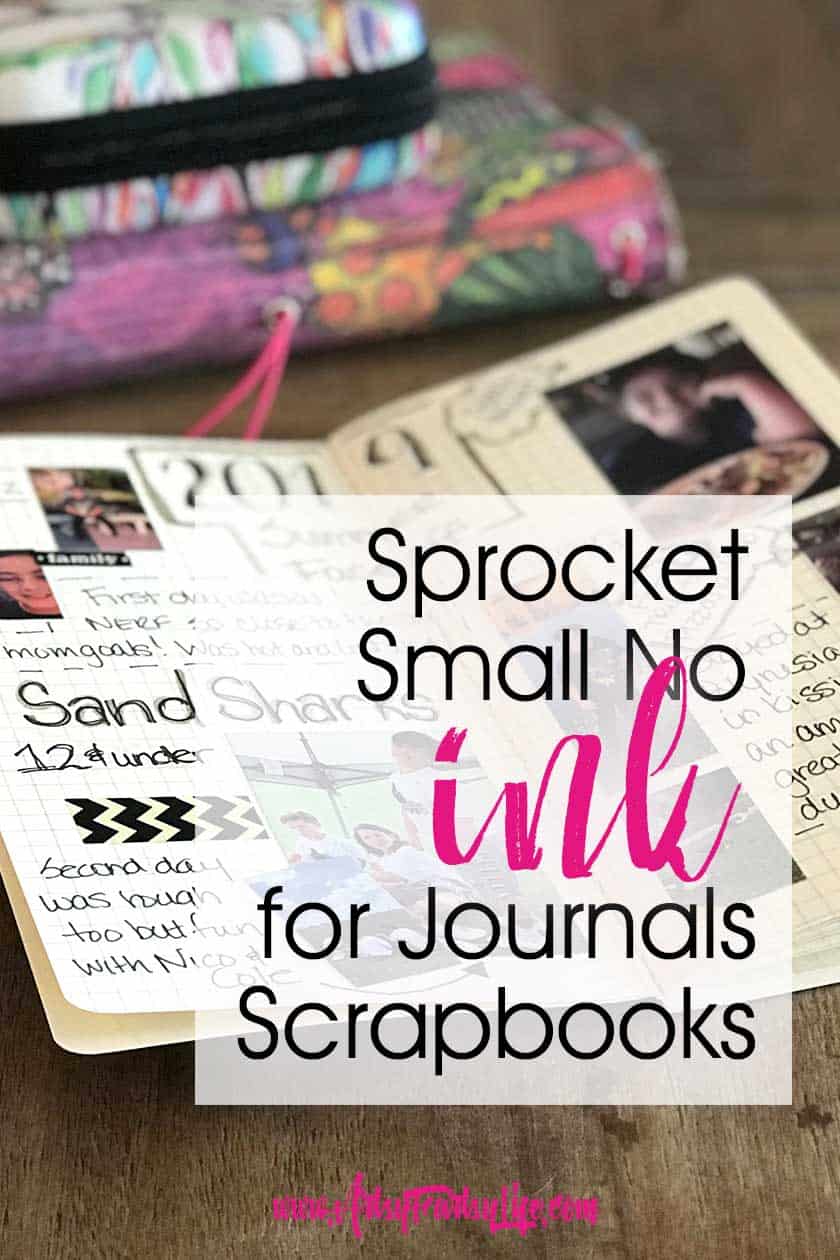 Other Printers I Considered
I researched a LOT of different printers when I was looking for a tiny printer to take with me!
Here are a few I considered…
Fujifilm Instax Share SP-3 ($142), 10 Photos per Pack ($10-12), 2.4″ X 2.4″ image size… seemed like a small photo with lots of white around it
Canon IVY Mobile Mini Photo Printer ($129), 50 Photos per Pack ($25), 2″ X 3″ image size… this one was in the running for sure, seemed a little harder to use
Canon SELPHY… ($99), 108 sheets + ink ($37.99), 4″ X 6″ image size… I did NOT want to buy ink and this one seemed more like a "real" printer than a "throw in my pocketbook and take it anywhere" printer
Why I Picked the HP Sprocket 200
After doing a BUNCH of research and watching all kind of videos, I felt like the HP Sprocket 200 was the best for me! Details…
Cost $129 on Amazon
Sprocket Photo Paper… sticky backed! YAY! and just $6.99 for 20 sheets (so less than the Canon Ivy per print)
Picture size 2″ X 3″
This second model had great reviews for increased picture quality
Seemed super simple to use (it was!)
Which Sprocket Printer Is Best?
There are three kinds of Sprockets….
1. HP Sprocket Portable Photo Printer ($99) … This was the original one and had the HP logo on the front. It was cheaper but all the reviews I read said that the photos weren't the greatest so that was out.
HP Sprocket Portable Photo Printer

2. HP Sprocket Plus ($149.99)… I saw this one and thought, AWESOME, the pictures are a little bigger 2.3″ X 3.4″ but then realized that it was the older printer, just bigger prints with the worse print quality. I asked my photographer husband and he said go smaller & better quality so this one was out.
3. HP Sprocket Portable Photo Printer 2nd Edition ($129.99) … this is the one that I got! You can tell it is the right one because the HP logo is gone and there are speckles on the case. This is the new one with the better print quality. (way more about this one below!)
HP Sprocket Portable Photo Printer (2nd Edition)

How Does It Print Without Ink?
Okay, the first question that I had when I was thinking about getting one of these tiny printers is, how the heck does it print without ink (especially once I saw that the SELPHY did use ink!)
They use special photo print paper called ZINK (Zero+Ink) that uses heat to make the pictures show up… seems crazy but it works great!

How do I connect my HP sprocket?
The next thing that I needed to know was how to get the mini printer hooked up to my phone! I am not super techy, but I do enough to make things like my headphones work using the bluetooth.
THAT is how it hooks up, just go to your settings and find the little printer in your bluetooth section when it is turned on and it hooks right up!
Easy peasy! YAY! I so wanted something that would not be hard to hook up like our house printers are. It literally took seconds.
How does the HP sprocket printer work?
Next was how to get photos to print! The Sprocket has a free app that you just download from either the Apple App Store or Google Play and open (make sure to let it have access to your pictures!)
It will pull up all your pictures…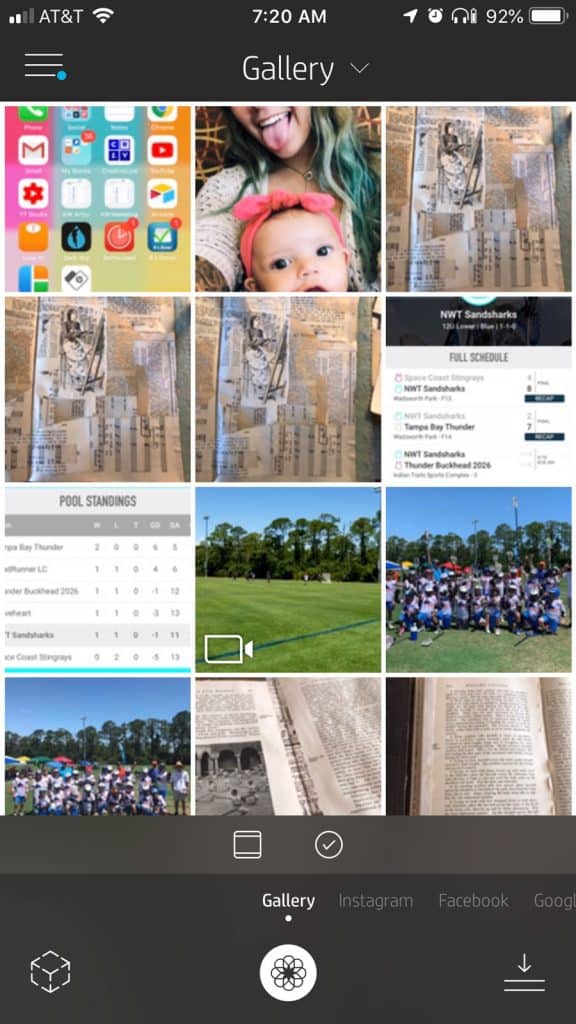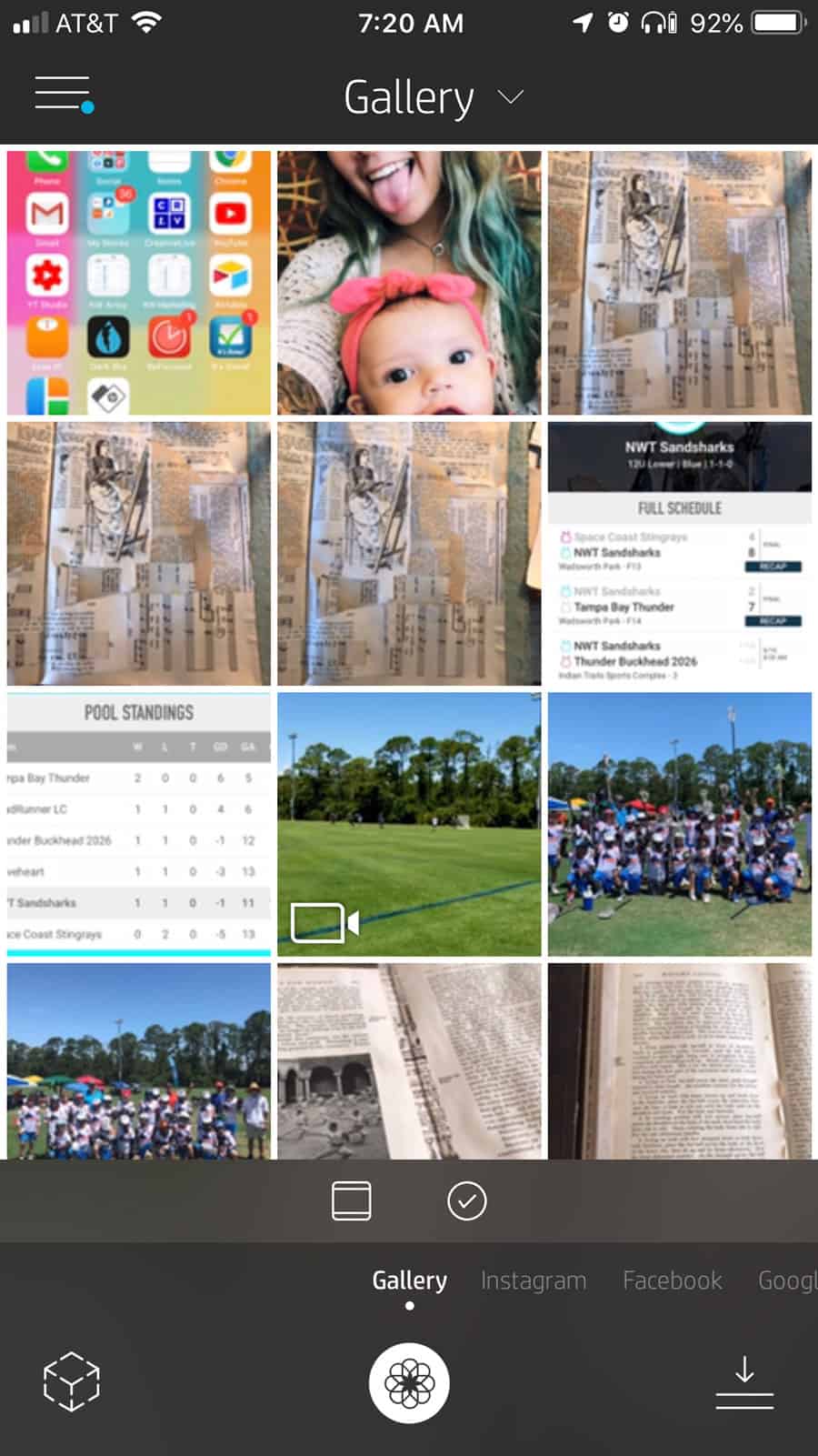 Don't freak out, it will show it tall as soon as you pick it and you can slide it around to get the best parts to print!
This is my daughter and one of her friend's baby! You just pick what to print in the gallery…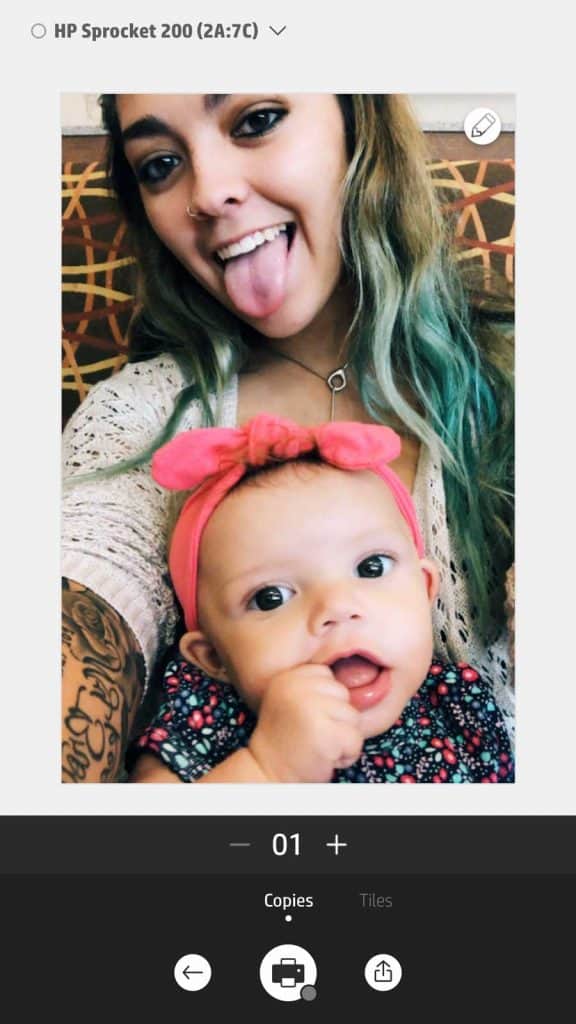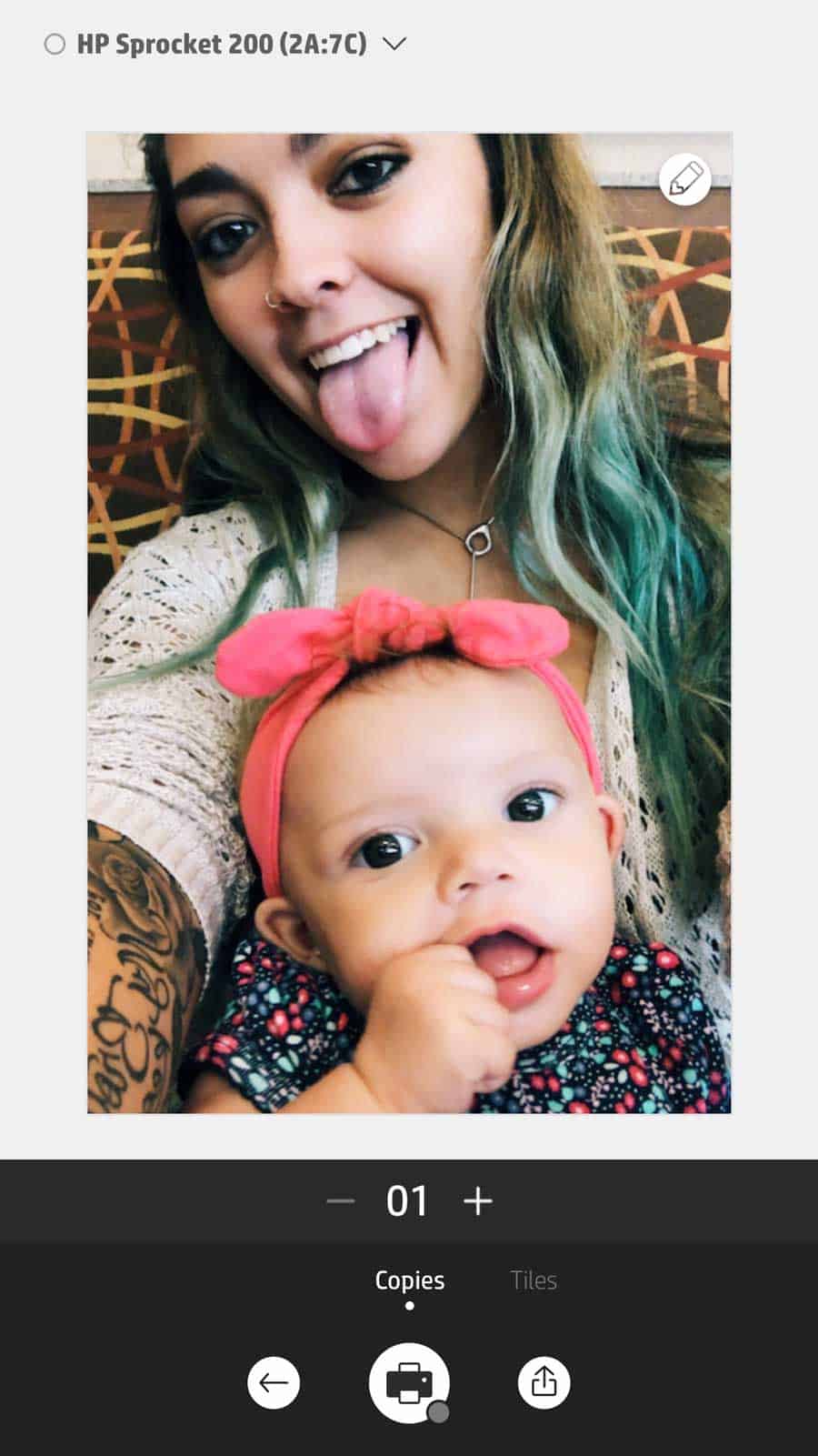 Down at the bottom, just pick the printer icon and it will print it out! The pictures just slides out of the end of the printer.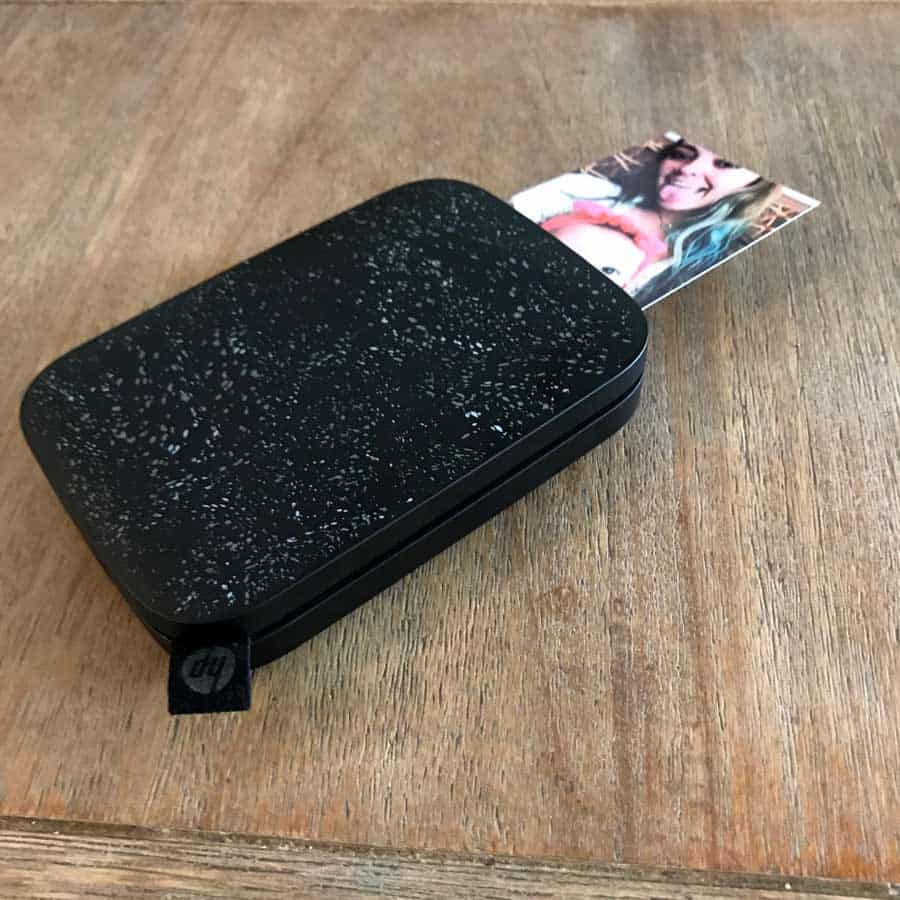 Making Multiple Pictures On Each Sheet
Now, here comes the crazy talk! When I was researching this I thought that a picture that was 2″ X 3″ was going to be so small that I couldn't do anything with it.
It seemed like 4″ X 6″ was the smallest that could ever be usable, but boy was I wrong! You can so make even smaller pictures that are fun to use in on tags or in your travelers notebooks!
Here is a page from my "normal" sized travelers notebooks (so the pages are 4.375" x 8.25" each side.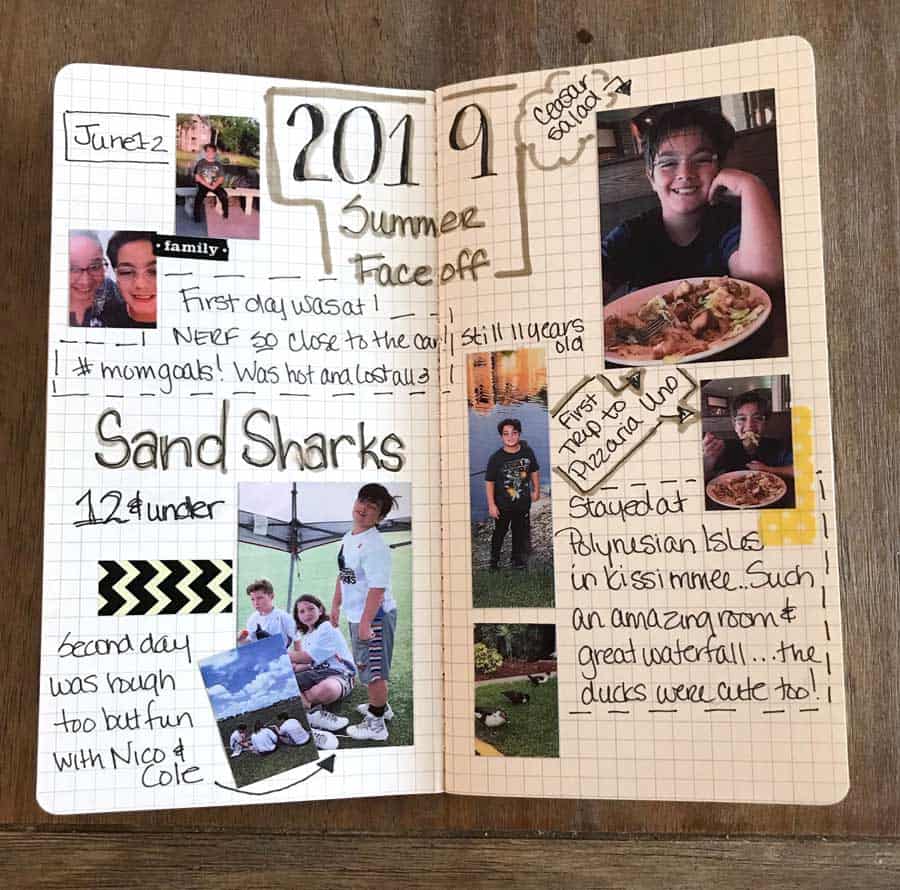 The top right picture of my son with his salad is a full sized Sprocket 2 picture. The other pictures are where I make a set of smaller pictures which are still a great size to be able to see and remember the fun smile that we shared.
You can use a free app called Pic Stitch to make a bunch of little pictures print on one sheet.
Here is what it looks like when you "collage" a bunch of different pictures together…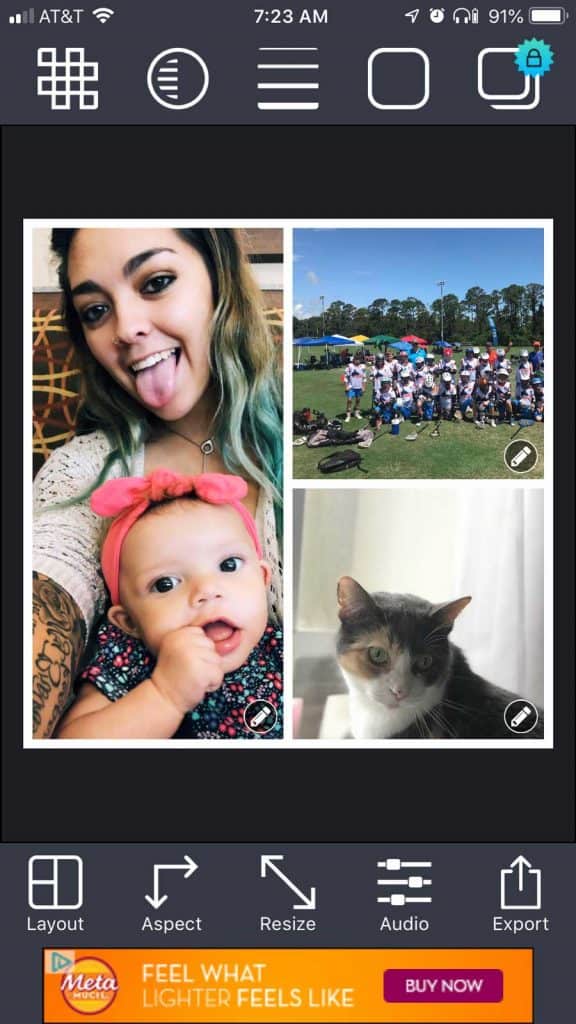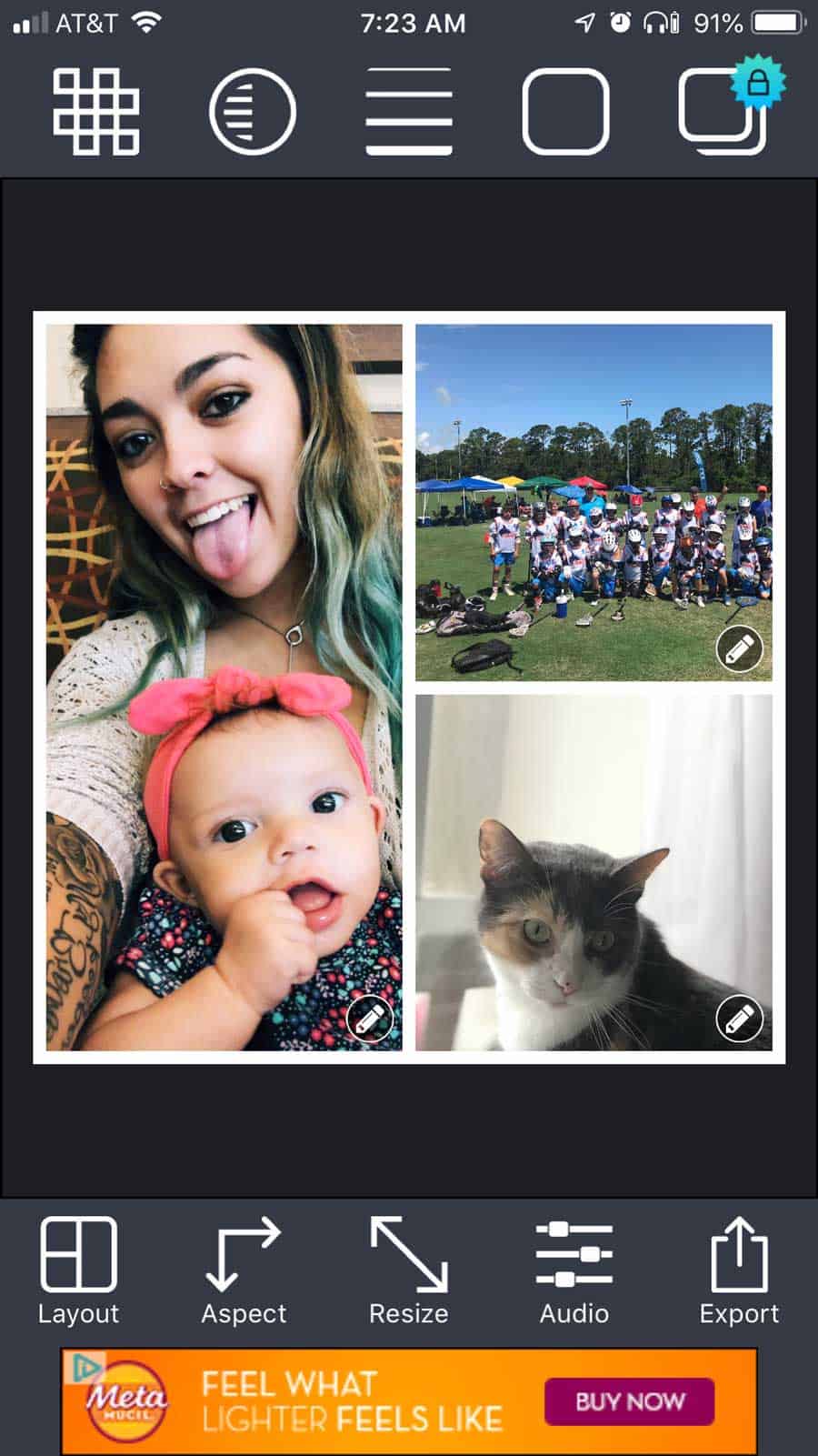 You can move pictures around in there to get the best view!
Can You Really Throw It In Your Purse?
I got this hard case that holds my Sprocket, a few packs of photo paper and then the pictures I haven't used in my journaling yet…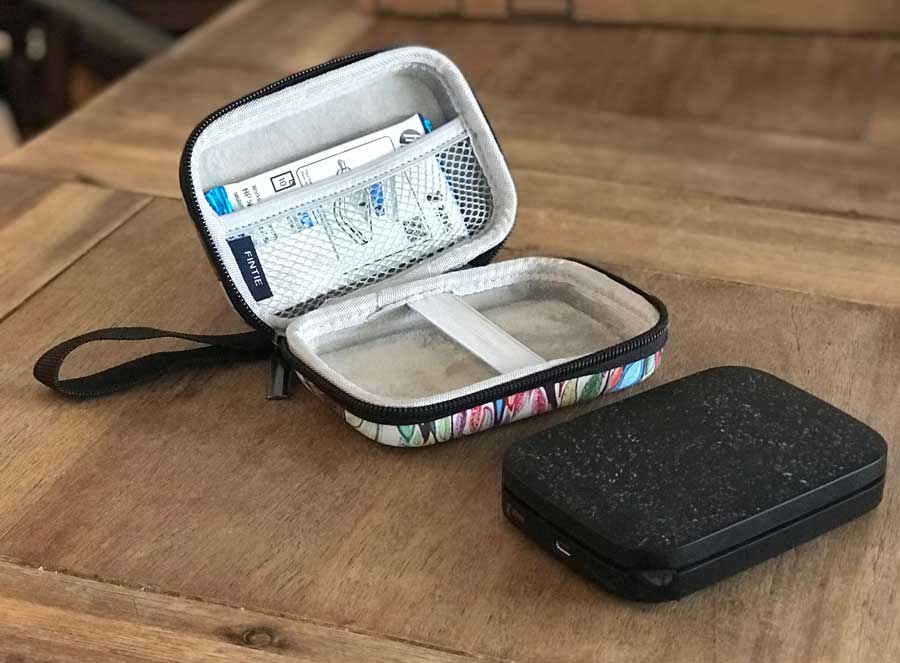 The case is 5.5″ x 3.9″ x 1.8″ inches which is super small to carry around. FOR SURE this is fun to take on trips to my son's games and I can't wait to take it to the convention so I can print out pictures in real time!
Sprocket Mini Printer FAQs
I had SO MANY questions about these kinds of tiny printers when I was researching… here are a few of the questions I had!
What is the difference between HP sprocket and HP sprocket 2nd Edition?
The first Sprocket (and the Sprocket Plus) have worse photo quality. Also there is some kind of fancy holographic thing on the Sprocket 2 pictures that let you go on the internet and see stuff about the location and time they were taken (I don't use that, I only cared that the pictures were better).
What size photos does HP sprocket print?
It prints out 2″ wide and 3″ tall. When you are researching that seems super small but once you start using it you realize that is a great size for so many things!
How does an inkless printer work?
When I was researching getting a portable printer I couldn't understand how it could print without ink… what kind of voodoo was that?
I am 52 years old and have had inkject and laser printers and they all needed ink all the time (which was SO expensive). So how do photos print without ink?
The paper you buy is Zink paper (which means Zero Ink) and uses heat to transfer the picture to the paper instead of putting ink on paper.
Check out the Sprocket 2 on Amazon now!