I LOVE magazine collage! But sometimes the magazines are too expensive.. so today I am going to give you my recommendations for the best (and worst) magazine subscriptions!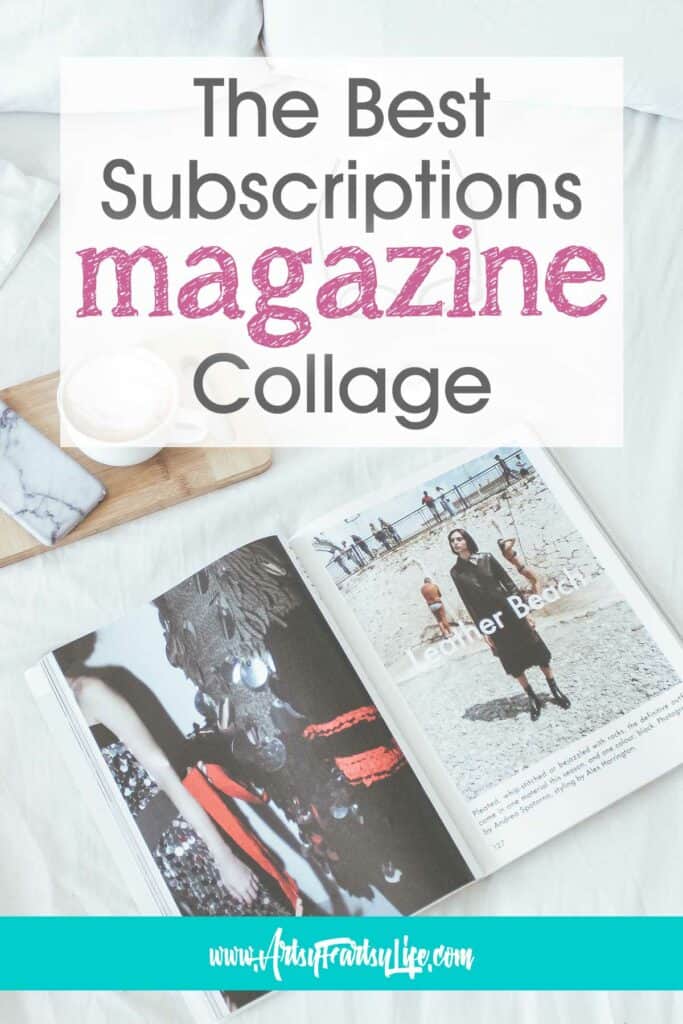 please note :: as an Amazon associate I earn from qualifying purchases, read my full disclosure policy here
Okay… I was avoiding work today and talking with my British friend Haley and she said she was going to ask for magazine subscriptions for Christmas… whoo whoo.
This got me thinking I need to subscribe to more magazines because
1. I do magazine collage like it is my job… it sorta is….😂 Check out my gallery!
2. Most subscriptions cost as much as one magazine so I am wasting so much money buying them onesy-twosey
So here are the magazines I like and why! Some with affiliate links to help offset my HUGE craft supplies bill and some without!
Handy Ranking Tool…
📗 Green Magazine… YES! Cheap & Good
📙 Yellow Magazine… I want it but maybe not so cheap or few issues
📕 Red Magazine… Just not a good fit for whatever reason!
FASHION FAVORITES
📗 Elle ($5 a year / 10 issues) I LOVE Elle… it has great people images…a good sized magazine!
📗 W Magazine ($8 a year / 6 issues) W Magazine is a little higher but it has big pictures and is a great one for collage… a super thick magazine.
📗 Vogue ($10 a year / 11 issues) Vogue is one of my favorites… good fashion pictures! Pretty thick magazine for the most part.
📗 Harpers Bazaar ($10 a year / 10 issues) I am not sure why but this is just a little bit less a favorite than Vogue, W or Elle. Still cool!
📙 Allure ($5 a year / 10 issues) Allure is good… I just don't think it is AS GOOD as Vogue or W… but a lot cheaper!
📙 Cosmopolitan (Cosmo) ($6 a year / 7 issues) I wasn't sold on Cosmo because it is super skinny to my way of thinking, but I know lots of people like!
📕 Glamour (not on Amazon… darn it) I tried to find a subscribe link on the Conde Naste site but it just went to digital
Food Magazines
📗 Food and Wine ($5.75 a year / 12 issues) I have never seen this magazine but I signed up because it is so darn cheap!
📗 Bon Appetit – ($10 a year / 10 issues) This is my favorite foodie magazine… very bougie food!
📙 Food Network ($6 half year / 4 issues) I like the food network magazine, but there are other ones that have fancier food (better for making hats!)
📙 All Recipes ($5.75 a year / 6 issues) Watch out for this one… they almost tricked me… great price but only 6 months!
Home Magazines
📗 Good Housekeeping ($7 a year / 10 issues) Good old Good Housekeeping is a steal and is great for having non people images to use!
📗 Better Homes and Gardens ($5 six months / 6 issues) I don't buy BHG because I steal my friends, I have made some cute collages with it!
📗 Elle Decor ($10 a year / 10 issues) a little bit more than the other two, but still a good value and a bit more upscale!
Animals and Plants
📗 Birds and Blooms ($10 a year) FOR SURE buy this one direct from the magazine site… MUCH cheaper than Amazon … one of my very favorite magazines!
📙 National Geographic For Kids ($10 six months / 5 issues) Nat Geo For Kids is not the cheapest and is pretty skinny BUT it is one of my favorites because it has great animal pictures!
📙 Ranger Rick Magazine ($12 a year / 10 issues) looks more expensive than Nat Geo but this is for a year. Not sure the pictures are as good as Nat Geo.
Best Magazines For Magazine Collage Wrapup
I kind of gave myself a $100 limit… so British Vogue at $136.61 a year was OUT… but may be on MY Christmas list!
NOTE: I am super excited to give you Amazon links because I HATE having to know eleventy-billion different logins. This way we can keep track of what we have all in one place!