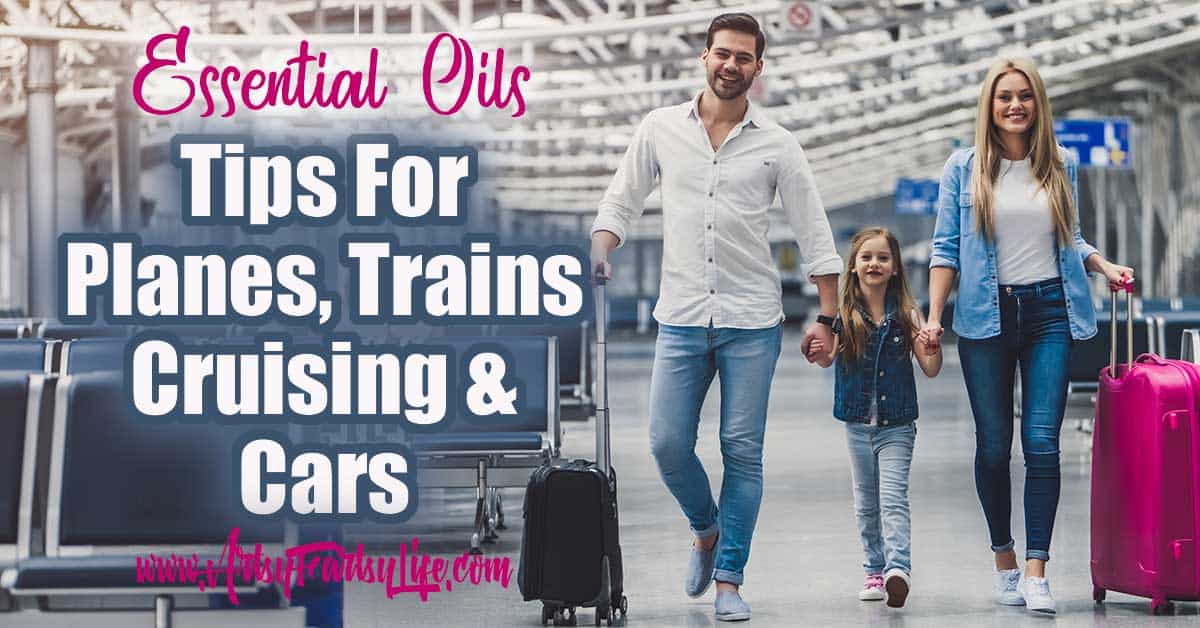 please note :: as an Amazon associate I earn from qualifying purchases, read my full disclosure policy here

Traveling can be stressful. We all know this. Whether you fly, ride a train, cruise or drive, traveling is stressful. We also know that you can relieve stress with essential oils, but did you know that traveling with essential oils is a great idea?
Since you can't take your entire supply of oils with you (if you're anything like me and have quite a bunch or oils and concoctions) here are some guidelines and great ideas for traveling with essential oils.
Essential Oils For Flying
Let's start with flying. One of the consequences of the terrorist attack on September 11th is the TSA and all the liquid carry on rules they make for flying.
The rule is this: "You are allowed to bring a quart-sized bag of liquids, aerosols, gels, creams and pastes in your carry-on bag and through the checkpoint. These are limited to travel-sized containers that are 3.4 ounces (100 milliliters) or less per item.
"Placing these items in the small bag and separating from your carry-on baggage facilitates the screening process. Pack items that are in containers larger than 3.4 ounces or 100 milliliters in checked baggage." From the TSA website.
Many people like to only bring carry on bags, so that limits what you can bring with you.
One of the great things about essential oils is they typically come in smaller sizes. One problem with the quart bag rule is that there isn't a lot of room for liquids other than shampoo, conditioner, toothpaste, body wash and such. That means that you need to limit what oils you bring with you (I sometimes make my husband my essential oils mule … he has way less hygiene products to carry on than I do!)
There are plenty of ways to bring/use them, including smaller dropper bottles or spray bottles. These will still take up room in your quart bag. There are also small bottles called dram bottles that hold 1ml of oils. If you don't need a lot of a specific oil, use as many dram bottles as you need and let them take up the small spaces between the bigger bottles.
Roll over image to zoom in 2 TSA Approved Toiletry Bags

Simple-e 50pcs 1ml (1/4 Dram) Amber Mini Glass Bottle

Also consider small travel sized diffusers and wearables like this bracelet from Blueberry Mountain Naturals!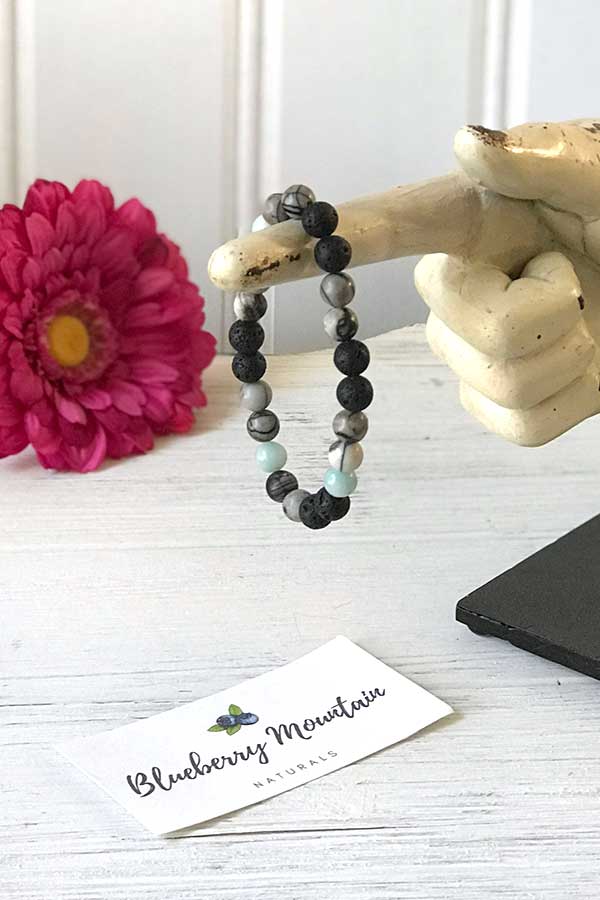 Essential Oils On Trains
I am a train nut and love "riding the rails"! The amount of luggage you can bring with you on the train car is about the same as you can bring in carry on luggage, without many of the restrictions that flying bring (Amtrack carry on rules).
That said, common sense prevails that you can't bring your whole stash, pick and choose the ones you have made roller balls or recipes for and then bring a few separate bottles that you think you will use the most!
I like to use a cosmetics sized bag to bring mine along with me, that seems to give me a starting point for paring down just a wee bit!
Luxja Essential Oil Carrying Bag – Holds 8 Bottles

Mini Keychain Essential Oil Carrying Case – Travel Bag – Storage – Arrows

Car Travel
Usually when we are car traveling with the kids my space takes a back seat to sports gear, electronics and the like (pun intended!) That said, when I have the luxury of space I tend to bring more than I think I will need because essential oils have saved us as bug sprays, joint pain relievers and motion sickness cures in the past!
That said, it is super important to keep them safe and snug in a carrying case that will keep the glass bottles from breaking while they are banging around in the trunk!
Luxja Essential Oil Carrying Case – Holds 12 Bottles

9 Bottles Essential Oil Carrying Case Shockproof

Cruising With Essential Oils
Much like train and car travel you will need to pair down, but maybe not as much as you fear. I tend to take EVERYTHING on cruises since your luggage stays with you in your room the whole time!
Pro cruising tip… take BOTH a regular power strip AND a USB strip with you! Most stateroooms have one or maybe two plugs for your entire family to use (we are very electronic-y and that just doesn't work for us.)
AmazonBasics 6-Outlet Surge Protector Power Strip

Universal Multi USB Charger Desktop Charging Station with Smart Identification for Phones

Recommended Essential Oils For Travel
Okay, so onto which essential oils you should put at the top of your list!
Start with lavender. It's a good oil to have for a lot of reasons. First, it will lessen inflammation due to sunburn, bug bites and any minor scrapes. It will help everyone fall asleep after an exciting day, or for that business traveler who is preoccupied with what needs to be done. It also is calming for that stress and alleviates headaches.
Next, peppermint oil. This oil improves mental clarity and focus and helps with stress. It's well known to help with upset stomachs or stuffy noses. At he very least, you can add a drop or two into your morning tea to have peppermint tea should the place you're staying not have any.
Visiting the beach? Spritz on some peppermint oil to cool down or lessen the heat from sun or wind burn.
Next, frankincense. This oil is really great for many things. Take some mixed in a carrier oil to relieve dry skin, especially if caused by sunburn. Frankincense alleviates stress, headaches and fatigue and is a great immune support. If you go out and imbibe just a bit too much, it will help with the next morning misery.
Ginger essential oils is a great way to combat seasickness or motion sickness.
Lastly, don't forget your tea tree oil. It will soothe bug bites and sunburn. It's antibacterial, anti-viral and anti-microbial properties will help any minor scrapes or cuts. It also will keep the bugs away! You can also use it as a much less drying hand sanitizer.
Of course, if you have other oils that you use regularly, take them along too.
Lavender Greece Essential Oil

Peppermint Essential Oil

Frankincense, Serrata Essential Oil

Ginger Root Essential Oil

Tea Tree Essential Oil

One last thing… I tend to get the sniffies while I travel, if you do too, make sure to check out Essential Oils for colds and flu!