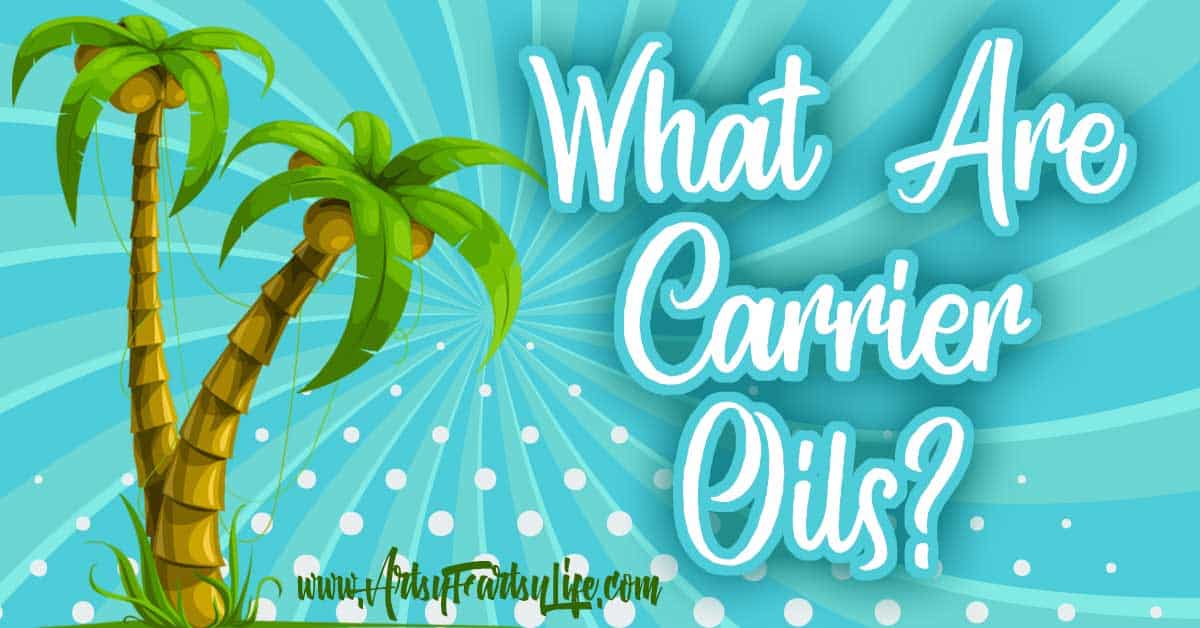 If you're new to essential oils, you may be wondering about some of the terminology. One of the big ones you will see are carrier oils.
When I was a beginner this one really messed me up! Knowledgable people who talked about using essential oils were throwing around terms that seemed really mysterious to me, so I thought I would break this down a little for you!
Note: Some links in this post are affiliate links, which means I receive a commission if you make a purchase. I try to find amazing things that my readers will love as much as I do!
What are carrier oils?
Carrier oils are oils that are used to dilute essential oils and absolutes before they are applied to the skin. They are called carrier oils because they carry the essential oil into the skin.
Carrier oils do not contain a concentrated scent like essential oils do, although they may have some scent.
Carrier oils don't evaporate like essential oils, since they are much less volatile than essential oils. The two main ways of producing carrier oils are cold-pressing and maceration.
Cold pressing – means that the manufacturer has gotten the oils from the fatty portions of the plant without using heat
Maceration – means that an oil is infused with a plant and then gently heated (olive oil & sunflower oil are two common macerated oils)
Carrier oils also have therapeutic properties which can augment or add to the therapeutic properties of the essential oil or oils being added to it.
Viscosity
Another consideration is the viscosity of the carrier oil. For instance, olive oil is thicker than sunflower, sweet almond and grapeseed oils.
Thinner oils will absorb into the skin more quickly than thicker ones. While some people will use mineral oil, true carrier oils are generally cold-pressed or macerated vegetable oils taken from different plants, nuts or fruits.
I tend to use Fractionated coconut oil (stays liquid at room temperature) and almond oil which are thinner oils!
List of Common Essential Oils Carrier Oils
[one-half-first]Apricot oil
Grape seed oil
Avocado oil
Olive oil
Sesame oil
Evening primrose oil
Canola (rapeseed oil)
Sunflower oil
Marula oil
Jojoba oil
Emu oil[/one-half-first]
[one-half]Castor oil
Borage seed oil
Walnut oil
Peanut oil
Pecan oil
Macadamia oil
Sweet almond oil
Hazelnut oil
Cocoa butter
Fractionated coconut oil[/one-half]
The Most Common Oil – Fractionated Coconut Oil
Fractionated coconut oil is a very common carrier oil and while it has the therapeutic properties of coconut oil, it doesn't have the scent making it great to use when you want to keep the scent or scents of the essential oil or oils you want to use. It is also thinner and absorbs more quickly. I have used it in a small roller ball bottle with rose and jasmine oil as a perfume. It doesn't last as long as "real" perfume, but it absorbs and it smells amazing. I also use it in my bug bite roller which keeps it easy to roll and absorbs quickly.
Misc Essential Oils Thoughts
Be aware that nut oils can cause allergic reactions. Try to play around with different carrier oils and essential oils and see what works for you.
I found out I LOVE the smell and viscosity of sweet almond oil, and I hate using peanut oil, not sure why but just not my jam.
Find a couple that you love and get making some cool concoctions today!
I get my essential oils from Rocky Mountain Oils who has great resources and a high quality product! (oh and fun rewards program that let's you get free products from time to time!)