Today I want to talk about how I use essential oils around the house (and some other "home remedies"). Sometimes I think the whole anti-essential oils thing leaves out how you don't need medicine to fix everything that is wrong with you!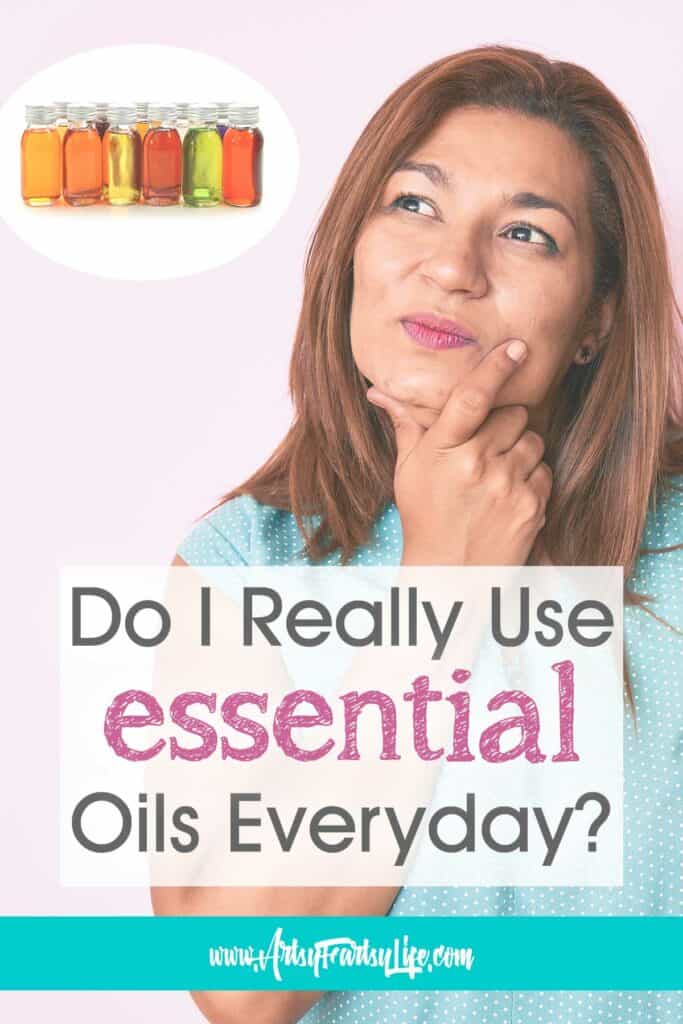 please note :: Please note that this article contains affiliate links, and that means that I may earn a commission if you buy something. Read my full disclosure here.
"Normal" Natural Remedies
I thought of writing this post last night as I was slathering Mentholatum under my nose and on my chest because I have a stuffy nose most of the time!
Mentholatum is a 100% percent natural ingredients ointment that has been used since 1889, per the label. It contains fragrance, petrolatum and titanium dioxide (I looked this one up… is is used in sunscreen too!)
And just yesterday I recommended my daughter put aloe gel on her knee where she got a scrape at volleyball.
I can guarantee you that Mentholatum has eucalyptus as at least one of its fragrances and maybe some kind of mint too (I just got a little buzz sniffing my Mentholatum jar!)
And don't get me started with the "alternative medicine" of rubbing dirt in a cut as kids… come to find out that soil really does help stop bleeding (who knew!)
My Essential Oils Story
I started learning about essential oils as a way to combat depression after my beagle nipped a lady. I was seriously depressed and thought that if sniffing oils could help, why not try? Functionally essential oils include plant extracts that are in liquid form.
I did a course on oils and found out all the properties they have and ordered some to get started!
If you are just looking for a few to try right off the bat you can't go wrong with lavender oil, peppermint, tea tree oil and lemon.
Since then I have made roller bottles of essential oils for myself, my husband and daughter (my son doesn't like them… sigh).
When I need a little something something to help with an itch, ache or pain, I feel like starting with something natural rather than reaching for a pill is a great way to go!
That said, I am not anti-medication. I take an antidepressant daily for my anxiety and see the doctor regularly. My doctor is not dismissive of essential oils and I LOVE her! If your doctor is anti-oils, maybe check around to see if you can find someone more supportive!
The beauty of essential oils is that you can avoid some of the side effects that come with regular medicine.
How We Use Essential Oils Around The House
So I thought that it would be fun to tell you some of the ways that we use essential oils around here on the daily!
Misquito Deterrent
We live in Florida so there are times when there are mosquitoes in the house on the regular. I HATE having to douse myself in chemicals to keep them away so I use a mix of lavender, peppermint and lemongrass oil on my skin (I don't have sensitive skin so I don't need carrier oils).
One of the reasons I hate getting bitten so much is I have allergic reactions to bug bites and they swell up and itch something fierce! I have another roller ball I use to put on my bites that help a little, at least enough to make me stop itching!
Additional resource :: Essential Oils For Mosquito Repellent and Bug Bites
Essential Oils For Mold
You know that Florida thing? Well living in a tropical climate we get MOLD all over the house, but especially on the bird cage of our pool and in the bathrooms.
I KNOW you are supposed to use bleach on mold per the "usual wisdom" but I find bleach doesn't keep the mold away.
On my bird cage (the screening around our pool) I did an experiment and the essential oils part is still mold free and the bleach part came back!
Additional Resource :: How To Get Rid of Mold with Essential Oils
Essential Oils For Menopause
I am 54 and in peri-menopause… sigh. That makes me super hot and uncomfortable as well as a little cranky from time to time.
I have found that rolling on a mix of Lavender, Peppermint Oil and Lemon oils can help brighten my mood and take my mind off my woes for a bit! You should test different oils to see what works for you!
Most of the citrus oils work great for me, just watch out using the grapefruit one if you are on any type of cholesterol or high blood pressure medicine. source FDA
Additional resource :: Essential Oils for Menopause
Essential Oils For Sleeping
I am getting ready to make an essential oils spray bottle for my daughter to help her sleep. Lavender is an amazing oil to put into a pillow spray and there are others that can also be calming like peppermint!
I use this kind of spray on my pillow when I am stressed out at bedtime (although mostly I am a great sleeper!)
Essential Oils On Dryer Balls
My husband doesn't like having scent in his laundry detergent because it makes him itchy (I would have Tide if I could because I grew up on that chemical smell!)
So to get a little smelly on our clothes, I use the cutest dryer balls that have sheep on them when I do the laundry! (and no, it won't set your house on fire using a couple of drops of essential oils on a dryer ball, clean out your dryer vents people!)
Additional Resource :: Dryer Balls and Essential Oils (Scent Suggestions Included!)
Essential Oils For Cold Sores
Okay, this one I was a little unsure of… cold sores are terrible and can be a super pain to live with (literally!)
So when my besty said that she was using tea tree oil on her cold sore, I thought maybe she just deluding herself that it was working… nope!
If you start putting a drop every couple of hours or so after you feel that that terrible tingle, you can make them MUCH less big and bad.
Now, I am not usually a "bash medicine gal", but I have to say that drops of tea tree oil work MUCH better than the stupid expensive medicine I tried before!
Do Essential Oils Work FAQ and Wrapup
Okay, by now I am sure you know that I DO think essential oils work for many different things around the house! I KNOW I had so many questions when I started, here are a few answers to help you too!
Do Essential Oils Work For Everything?
As I said I am not anti-medicine! I get sinus infections and need antibiotics to clear them up. But I will use a couple of drops of tea tree oil on my toothbrush to help if my gums get a little bloody.
DO NOT avoid medical care if you need it, waiting can make things worse! But if you have little aches and pains or need some good essential oil cleaning sprays, go for it!
Why Aren't There Recipes For Everything?
This was something that confused me at first too! Why aren't there exact recipes for essential oils like there are for cookies?
I think there are a couple of reasons!
People like me with tough skin don't need to dilute their oils with carriers unless they are "hot" (clove, cinnamon, etc.) So a recipe that would be good for me might feel burny on your skin or cause mild skin irritation.
Also, different oils work differently on people. Lemon and peppermint work great for me as a headache helper, for my son it just makes him tense and grumpy … he doesn't like those smells.
So the fact that we are all different as humans means we will all need to try out different things to see what will work!
Do You Have To Have EVERY Kind of Oil To Make These Work?
NO! I have bought some oils that do nothing for me and some I have giant bottles because I use them so fast.
Get some of the basics and then add in some every now and then to see if they will help you!
For instance, since I get stuffy noses from allergies, it makes sense for me to get a eucalyptus bottle, but if you want to use one on your wrinkles you might want to get Vetiver instead!
How Can You Apply Essential Oils?
Okay, here is the scoop on this… there are SO MANY ways you can use essential oils!
I like to use roller bottles applied directly to the skin because we have cats and diffusers can hurt cats.
You can use spray bottles or nose sticker-uppers.
You can use diffusers or necklaces or car holders.