Here are my best tips and ideas for what you "need" and then what is great to have when you get a new grand baby! We are so excited to get our Emmy one day a week and want to make sure she has everything she needs!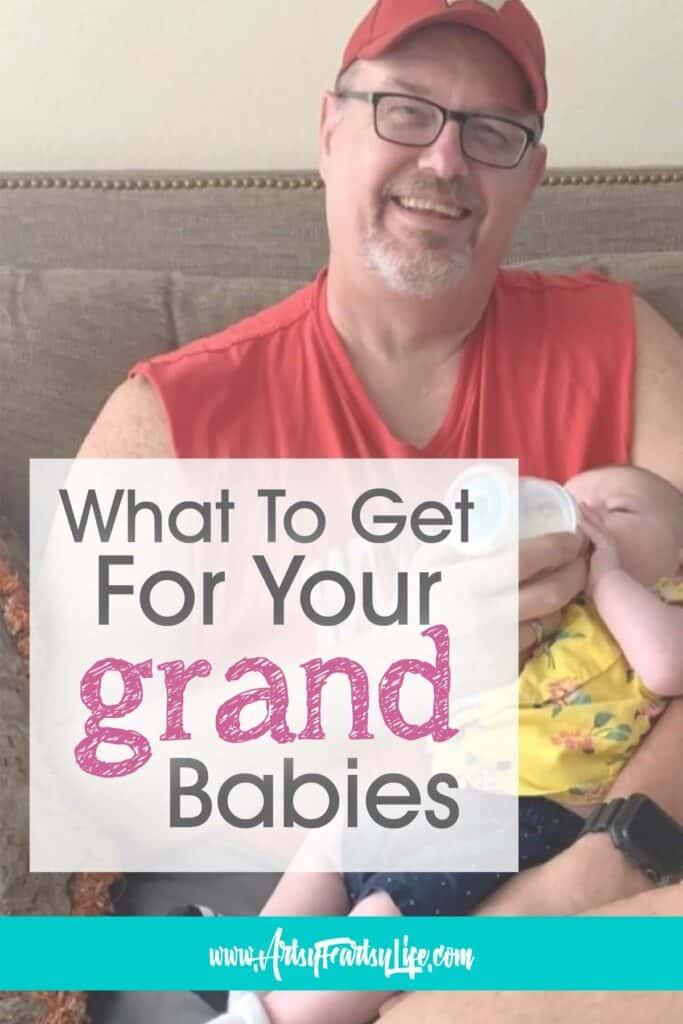 please note :: as an Amazon associate I earn from qualifying purchases, read my full disclosure policy here
My Grandparent Story
I am a weird Grandma because I have never had babies before! We adopted our three kids from foster care so my littlest "baby" ever was 5 years old!
That said, my husband and I were super excited when we learned that our big girl was pregnant and that we would have a granddaughter coming soon… and a little freaked out because we were going to have her come visit us one day a week… ack!
So first off, we were expecting her to come the following week so there was a bit of a scramble the first week to find the right baby gear… SOOO with that in mind I wanted to put this list together in case there were any other new grandparents out there who wanted to be better prepared! It is a lot easier to follow a list than to do it alone!
And second, my husband is a gadgets guy! He buys all kinds of things that I think are super dumb or worthless until I realize that they are actually a GOOD IDEA! So this will be a mix of things that you do need and then some things that are nice to haves but work wonderfully!
I was wondering how I should split these things up … by type (food, clothing, toys, etc.) or by age and settled on age so you can get an idea of what is coming up as you go!
When Your Grandbaby Is 0-4 Months Old
There is a LOT happening between 0 and 4 months old and I will try to start with the first day and then move on from there!
The First Day You Have Your Grandbaby!
Okay, this is a very tiny baby at this point and there are just a few baby products that they are going to need…
Formula and bottles
Even though our daughter was breastfeeding, she would give us some breast milk that we mixed in with ready made formula. We went with pre-made formula that came in individual bottles and have been notified by our daughter that Emmy will probably be drinking from a bottle until at least one year old, so getting a case to start is not a bad idea!
We got a fun colored set of baby bottles that she really liked drinking from too! Britty would bring a fancy bottle over but we found that having a bunch of little bottles helped us more!
Nuby Printed Non-Drip Bottle, 4 Ounce

Enfamil NeuroPro Gentlease Ready

Diapers and Wipes
We also went the case route with the diapers and wipes, knowing we could give any leftovers to our daughter as Emmy outgrew things.
We got newborn diapers that are AMAZING… they have a strip that turns blue so you can just look at them and see if your baby peed. (the last time I changed a diaper before this I was using cloth and giant pins so I don't know when this fancy diaper revolution happened!)
We also got a case of baby wipes (I am an artist so any left over will go to me!.. ba ha!)
Diapers Newborn/Size 1

Baby Wipes, Pampers Sensitive

Stuff For Puking and Poop
Our grandbaby had a bit of a tummy so there was LOTS of puking (some of it projectile … very impressive!) With that in mind we got a TON of baby blankets to change her on and also some baby washcloths to wipe her up with.
All of these got thrown in the washer when she left! We felt much better about doing this than sending home icky stuff for Britty to have to clean!
Baby Washcloths, Momcozy Ultra Soft

Baby Cotton Flannel Receiving Blankets

Onesies and Jammies
You know that throwing up thing? Well we changed her A LOT! Between the drooling and the puke, we probably went through about 2-3 Onesies with feet a visit!
Her mother would send her in beautiful, hard to use clothes and we would change her out immediately into something I could manage! These are super easy to change them in and if they have the footies attached you don't need to try to manage socks!
Oh and she wore baby mittens for a while… not sure why, but when in Rome!
Gerber baby-girls 4 Pack Sleep 'N Play Footie

GERBER Baby-Girls 4-Pair Mittens

Soft Rattles and Snuggly Things
We thought that she would need toys right away (we are grandparents!) But honestly, the only things she used for the first few months was a soft rattle. I got ours at Walmart for like $3 and bunny is still one of her favorite things!
Car Seats and Adapter
Okay, this is something that I thought was brilliant the time and I would do again, but if you are on a budget it can be a big mistake.
Car Seat Base
Someone got Britty a rear facing car seat, stroller, baby holder combo thing for her baby shower and that worked great for about 5 months. We just bought the car seat base and then swapped the baby carrier in and out between Britty's car and ours. (just an example base so you can see… you have to get whatever one matches your daughter's car seat!)
That said, at about 5 months old, Emmy got too big for the baby holder thing (she is a chonky baby!) and we had to buy ANOTHER car seat that fits her now up to like 5 years old or older.
Well, come to find out we could have just used this Graco 4Ever one and had an insert thing for tiny babies. That said, knowing we could get her all strapped in snug in her car carrier worked great for us!
Car Seat Base

Graco 4Ever DLX 4 in 1 Car Seat

The Best Baby Rocker EVER!
Okay, when my husband got this and set it up in our house I thought it was big and clunky and do we REALLY need it? Well, this is the BEST THING EVER for helping babies to sleep!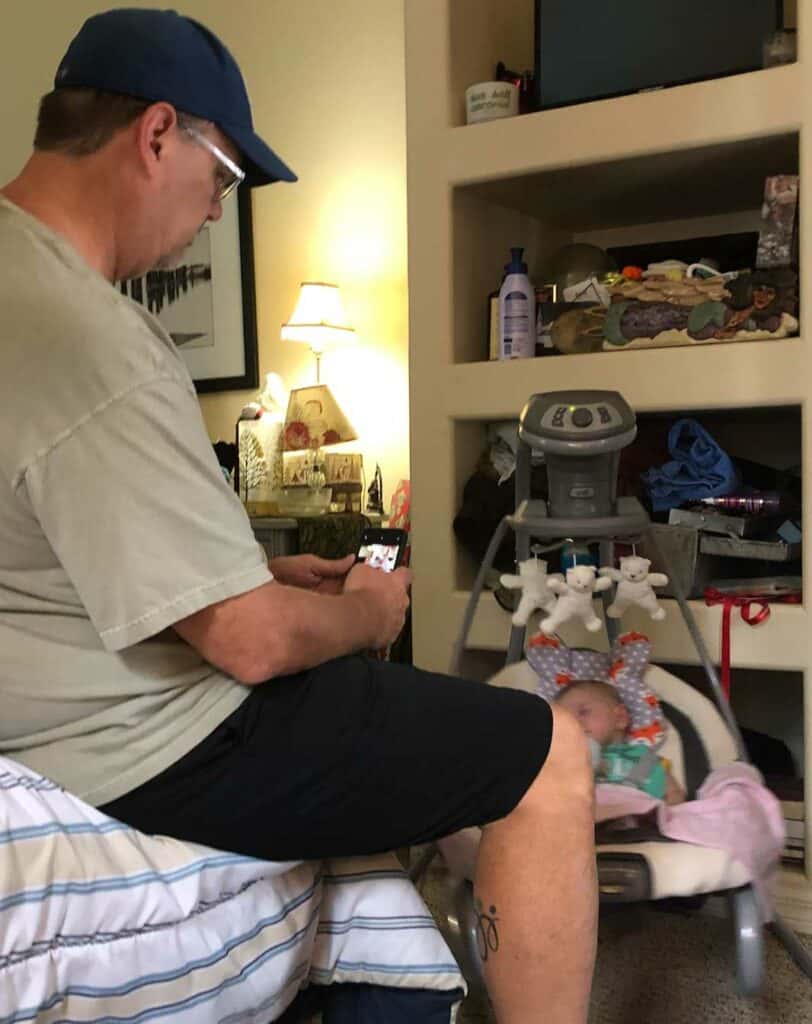 It rocks Emmy, plays her classical music and even vibrates! Britty has a super expensive egg pod thing at her house and she even says this is the best baby rocker ever!
Graco DuetSoothe Swing and Rocker

Grandbabies 4-6 Months
Okay, for like the first 4 months, not much happened… a lot of sleeping, pooping and crying, but that's about it.
And then she got interesting! She started liking to see things and play with things… so here are a few of the gizmos my husband has bought, in order that she used them!
Elephant
Emmy liked this musical elephant right away because it was a plushie AND it made music! I would say 3-4 months with supervision of course. Elephant fell out of favor pretty quick though once she stared using her hands more!
STEAM Life Plush Elephant Baby Toys

Brown Bear Ferris Wheel
Okay, this one is a family favorite (my middle girl and I sing the brown bear song together every time it comes on!) The Ferris Wheel toy moves and sings and lights up… Emmy liked this one before she could really use it!
VTech Lil' Critters Spin and Discover Ferris Wheels

Sensory Bear YouTube
Okay, if you are not all hip to kids these days, you might not know about the miracle of baby YouTube! We put on Sensory Bear and put Emmy in the swing to put her to sleep! (the pineapples are the best, but there are a bunch of different videos!) Putting the baby to sleep is a breeze!
Elephant Musical Game
Hmmm… seeing these all together, Johnny has a wee things for elephants! This elephant musical toy is definitely good closer to 6 months!
iPlay, iLearn Baby Music Elephant Toys

The Neptune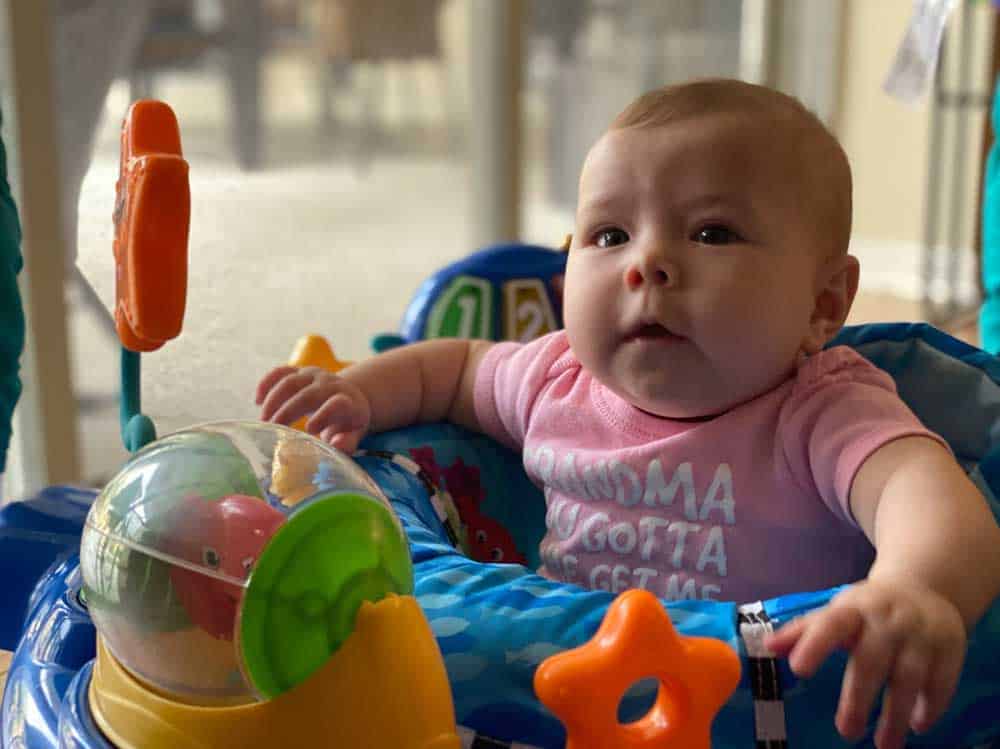 Okay, this is another huge one that seemed silly, but Emmy loves her Neptune baby jumper! This one is definitely like 5-6 months plus!
Baby Einstein Neptune's Ocean Discovery Jumper

Plastic Baby Rattles and Teething Rings
Okay, I didn't know whether to put the plastic rattles in earlier or not, but honestly she didn't especially like the plastic ones until she started putting every darn thing in her mouth! She likes these frozen teething rings sometimes, but the rattles are a favorite thing to munch on!
iPlay, iLearn 10pcs Baby Rattle Toys

Nuby Pur Ice Bite Soother Ring

High Chair
Okay, even before she started officially "eating" things, she did like to sit on the high chair and play with her stuff. Our baby does NOT lying down on her back and so being able to sit up and see what is going on around her made her happy!
Finally Eating Some Real Food
Emmy has been eating a little bit of "food" already, but we just got permission to feed her! Baby food does NOT look what it did when I was younger (and don't forget to get them baby spoons!)
Gerber Purees My 1st Fruits Starter Kit

Munchkin 6 Piece Lift Infant Spoons

Happy Tot Organics Fiber & Protein Stage 4

Grandberry Supply Kit
Well that is as far as we gotten with our Grand baby! I will update this post as my husband buys more things and let you know what we like and don't like from infant to toddler!
PS… we are that crazy Grandma and Grandpa that don't mind getting everything under the sun for our little precious! Luckily we are financially secure and don't have to worry. If you don't have the money to do get all these crazy things, don't worry!!! You are great grandparents too…:) All they really "need" is love!