This was FUN project that let me use washi tape, acrylic paint, paint markers and embossing. It is colorful and fun ephemera that will add a pop anywhere I put them! Tips and ideas for how to make these for your junk journals, mixed media or mini albums!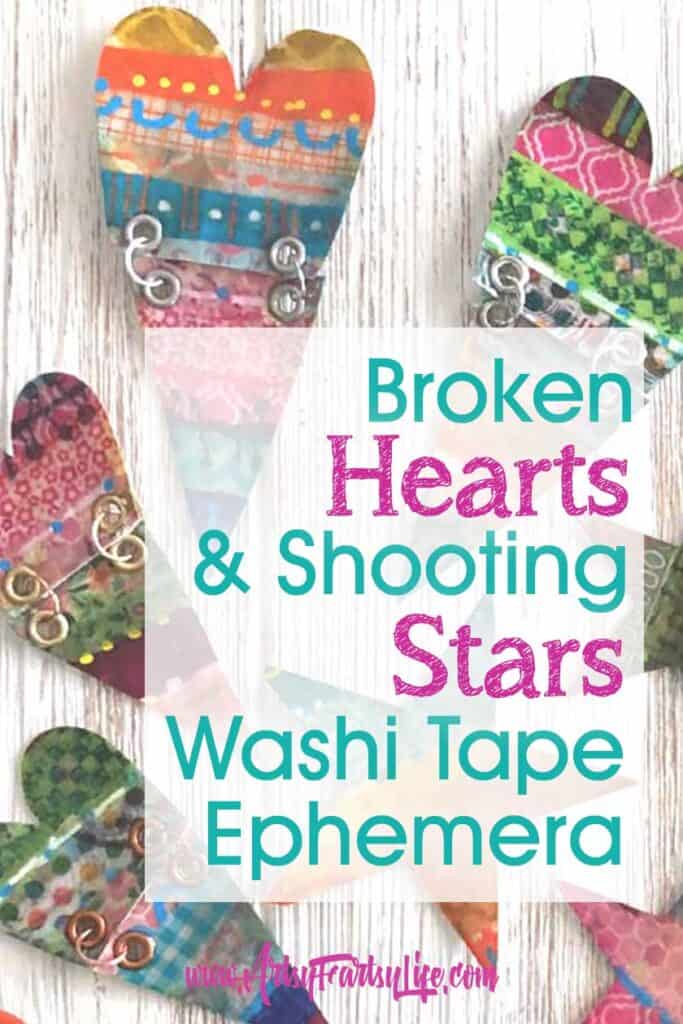 please note :: as an Amazon associate I earn from qualifying purchases, read my full disclosure policy here
Broken Hearts and Shooting Stars
I was just getting ready to fall asleep the other night and had a BRILLIANT idea! Make broken hearts that had a "break" in the middle and then put them back together with grommets (eyelets) and jump rings.
But then I thought, why not make my broken hearts beautiful instead of dark and gloomy (WAY out of my normal mixed media comfort zone!)
These turned out great and were a super cool way to use up some of the washi tape I had laying around gathering dust.
How To Make Broken Hearts Full Video Tutorial
Dies & Stamps Used In The Tutorial
Sizzix Bigz Die 656339, Stars, One Size

Tim Holtz – Stampers Anon CLING RBBR STAMP SET FADED TYPE

Sizzix Bigz BIGkick/Big Shot Die, Primitive Hearts

Craft Products Used In The Tutorial
And my super fun DIY Washi Tape Holder!
Final Journal Page Using The Broken Hearts and Shining Stars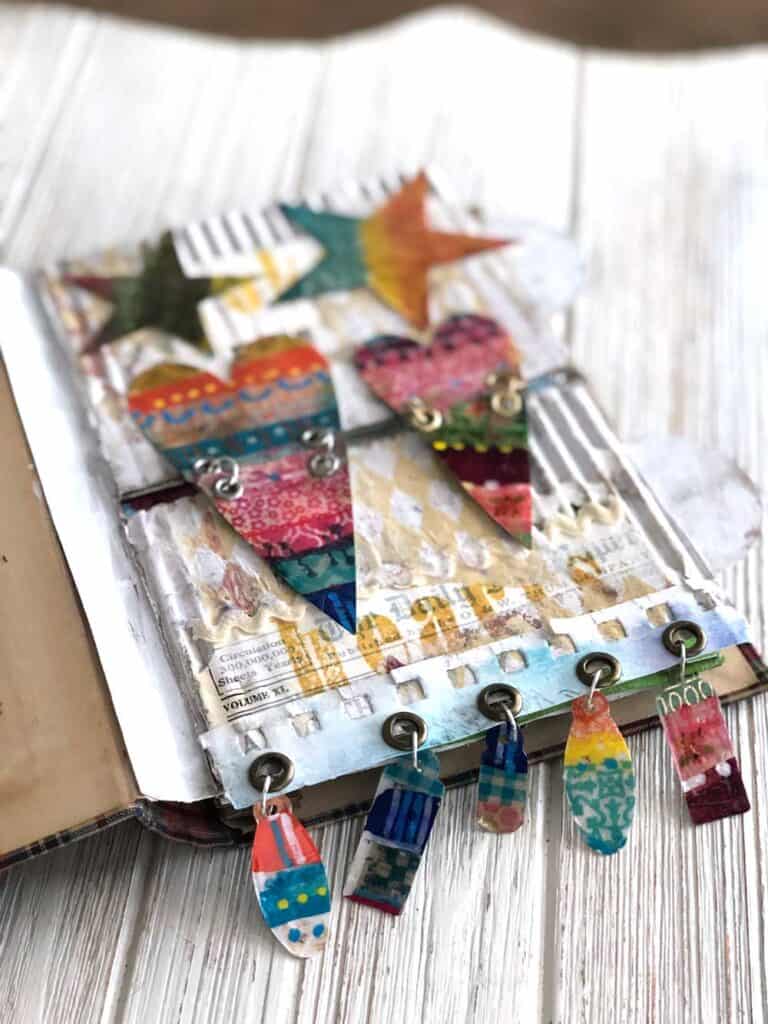 Yield: 12
How To Make Colorful Washi Tape Hearts and Stars Ephemera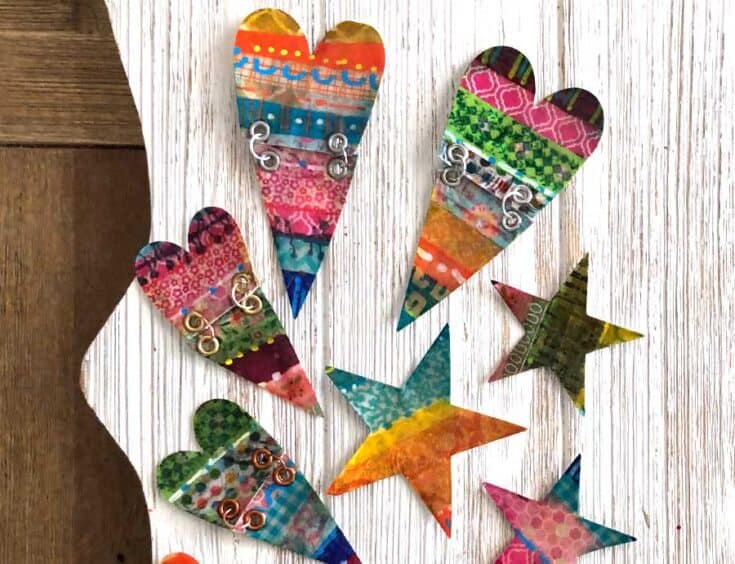 How to make beautiful die cut shapes using washi tape and acrylic paint. Tips and ideas for how to make these colorful ephemera hearts and stars!
Materials
Acrylic Paint
Glazing Medium
Glue Stick
Paint Pens
Permanent Archival Ink - Faded Jeans, Spiced Marmalade, Picked Raspberry, Mermaid Blue Lagoon
Archival Black
Distress Embossing Pen
Distress Glazes - Fossilized Amber, Weathered Wood and Peeled Paint
Mod Podge Dimensional Magic
Tools
Tim Holtz Tiny Tabs and Tags Die
Sizzix Bigz Dies Stars
Sizzix Primitive Hearts Die
Stampers Anonymous Faded Type Stamp
Cropadile Grommet Setter
Instructions
Make some background papers with different patterns and colors



Glue colorful washi tape randomly across parts of the paper



Paint colorful lines with acrylic paint mixed a glazing medium to make it translucent



Make a mask so you can stamp the lines with any stamps and permanent ink



Use paint pens to make colorful patterns between the washi tape and painted lines



Cut out shapes using a die cut machine or scissors



Take a peek at your designs and figure out which ones you are going to "match up"



Cut your shapes in half (I only did the hearts, not the stars)



Emboss your shapes for another layer of pattern and color (you can skip this step)



Use Dimensional Mod Podge or Glossy Accents to make your shapes "hard"



Add grommets and jump rings to your shapes to hook them together


Notes
Where the brand matters, I included it (for example, you can use any glue stick, although I like the UHU brand.)

Also, you should try and use all permanent dies and inks for this project because of the glossy addition at the end. Plain distress inks will bleed when the moisture hits them.