I love using essential oils for cleaning! Here are my best ideas for homemade cleaners using natural ingredients and essential oils. Includes recipes and tips for deep cleaning your kitchen!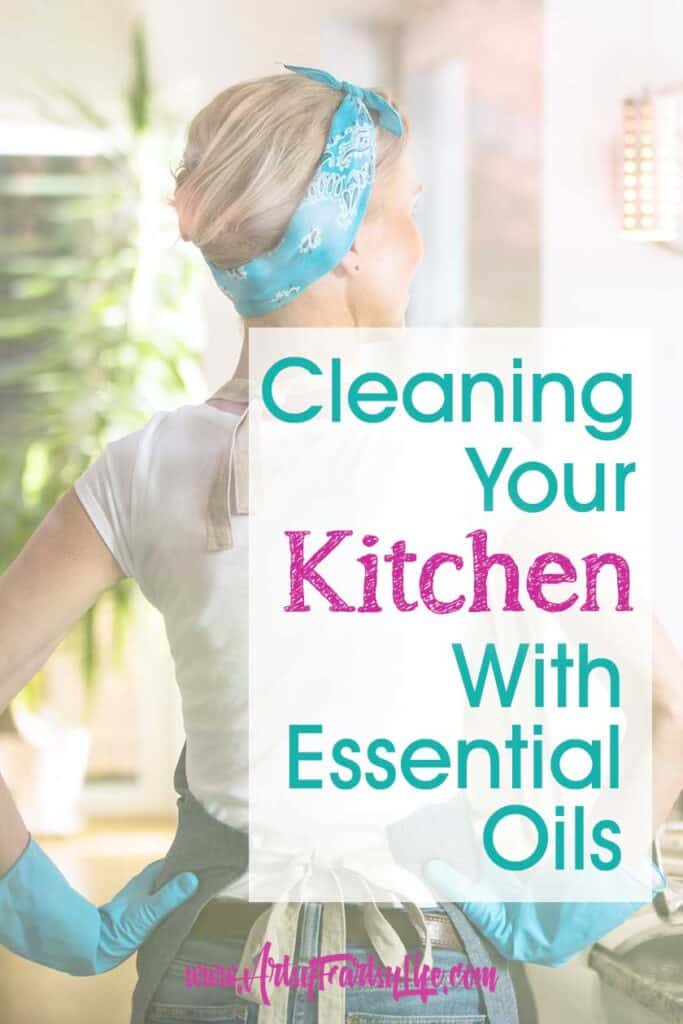 It's time to deep clean the kitchen and instead of dragging out a bunch of toxic chemicals and cleaners, we are going to be finding some effective, healthier alternatives.
Don't get me wrong, I love the ease of spraying my oven with chemicals, turning on the stove and coming back to a squeaky clean cooking box, but I am allergic to most things and the smell of chemicals hurts my breathing…. sigh. Also, my house is full of kids and pets, can't imagine that those chemicals are good for any of us!
Some of these ideas will be everyday tips and recipes, others will help you really clean in places you don't usually clean (oven anyone?)  
Think of it this way, if you deep clean it now, keeping it clean as you go is much easier. (This is SO me… if I have something really clean, I can KEEP it clean, if I have to remember to clean I am not so good!)
First, some basic tips.  When doing DIY, know what you are using.  Not just that it's natural and safer, but what happens when you mix things.  
For instance, if you mix vinegar with liquid Castile soap will make the Castile soap un-saponify, meaning it won't suds up and what you'll get is a mixture of yuk – Castile soaps broken down into its original oils and gross cottage cheese looking extras.  
Not helpful!  
Keep the idea of what is an acid (vinegar) and what is a base (most soaps) and remember that if the acid cancels out the base nothing will get clean.  
Also, if you use hydrogen peroxide, keep the mixture in a dark bottle, both for the peroxide and the essential oils.
All Purpose Kitchen Spray Bottle Recipe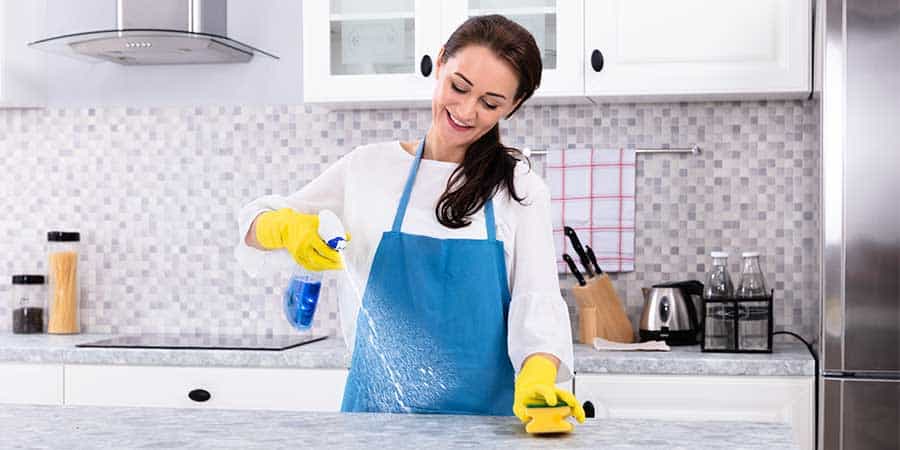 Ok, so let's start with the basic all purpose cleaner…
Start with a spray bottle, dark glass is best.  Add 16 ounces of Hydrogen peroxide, and 1/2 teaspoon each of three of your favorite oils.  Add the spray nozzle and shake well to combine.  Spray, leave for several minutes and wipe clean.  
(Note – remember that hydrogen peroxide can bleach the color from clothes, so be careful with it.  Test a small area before using.)
Some good mixes are lavender, lemon and peppermint; black pepper, and two citrus oils; tea tree, lavender and lemongrass. 
Additional Resource :: Essential Oils Kitchen Cleaning Spray Bottle… Tips and Recipes
Dr. Bonner's SalSuds Dish Soap Recipe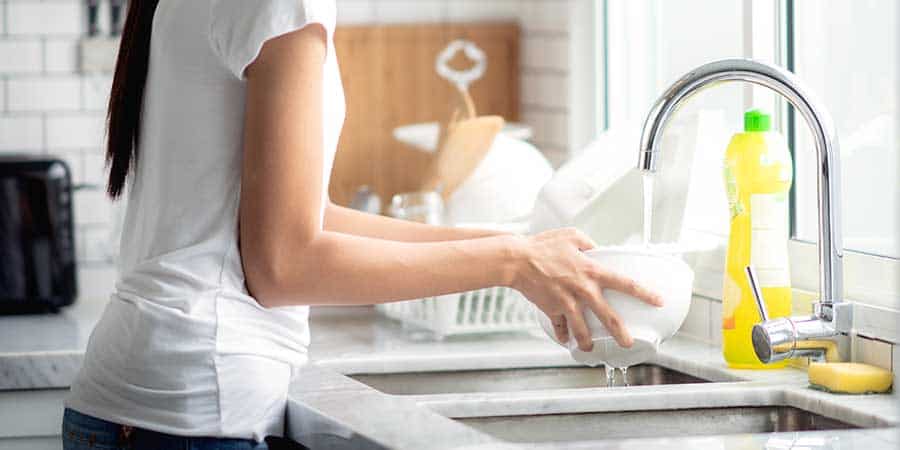 For the next cleaner, it's recommended that you use Dr. Bonner's SalSuds®.  It is a manmade cleaner, but it has no synthetic dyes, preservatives or fragrances.  It's gentle and biodegradable, organic and fair trade.  It suds up better, works in hot or cold water and rinses clean, and works just as well in soft water and hard water.
Ok, so this all purpose liquid dish soap is also a great hand soap, as well as dish soap:
Take 13 ounces of water, add 6 drops of lemon essential oil and 3 drops of basil essential oil, mix well, then add 2 ounces of SalSuds.  Mix all together and put in a pint jar with a pump dispenser.  
This is a powerfully sudsy soap.  A few pumps will clean an entire sink full of dishes.  Don't want lemon/basil?  Try 10 drops of lavender instead; or 5 drops of lemongrass and 4 drops of tea tree.
Essential Oils Dishwasher Cleaner Recipe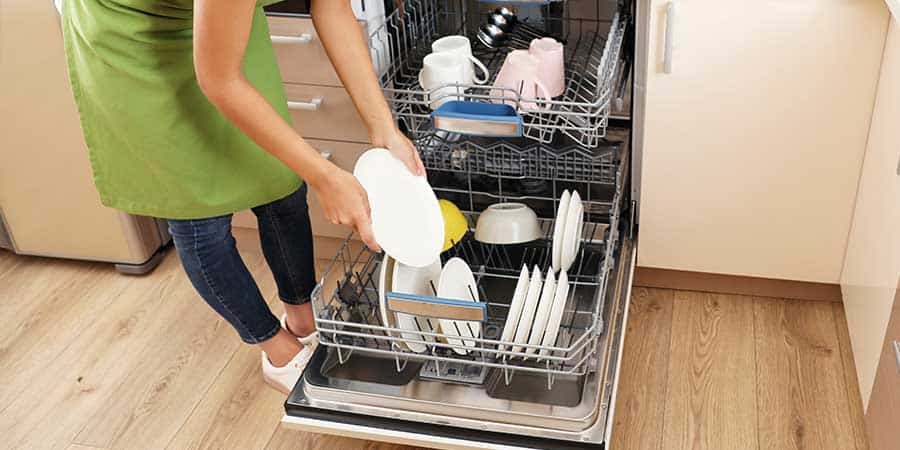 Use a dishwasher? Let me tell you that the reason that most makers of non-stick cookware advise NOT using the dishwasher has nothing to do with the hot water and everything to do with the bleach that is found in most commercial dishwasher soaps. Bleach degrades it. It's also not the best for your septic system. Try this for your dishwasher instead:
Before you start this recipe, get a silicone pan for making bite sized cakes or candies, since this is a recipe for soap tabs that will fit in the detergent compartment.  
Ok, so take 1 1/4 cup of Arm & Hammer Super Washing Soda, 3 tablespoons of salt, 45 drops of your favorite citrus oil and 1/2 cup of water and mix together in a glass bowl.  Put in the silicone mold and allow to dry completely.  It usually takes 48 hours to completed dry.  Then pop out of the mold and keep in an airtight container away from direct sunlight.  The above will make 16 tabs.
If you're worried about spotting, add 1/2 cup of vinegar to the rinse agent dispenser before running the first load.  Check it and fill as needed.
Additional Resource: How To Make Natural Dishwasher Cleaner
Home Made Kitchen Wipes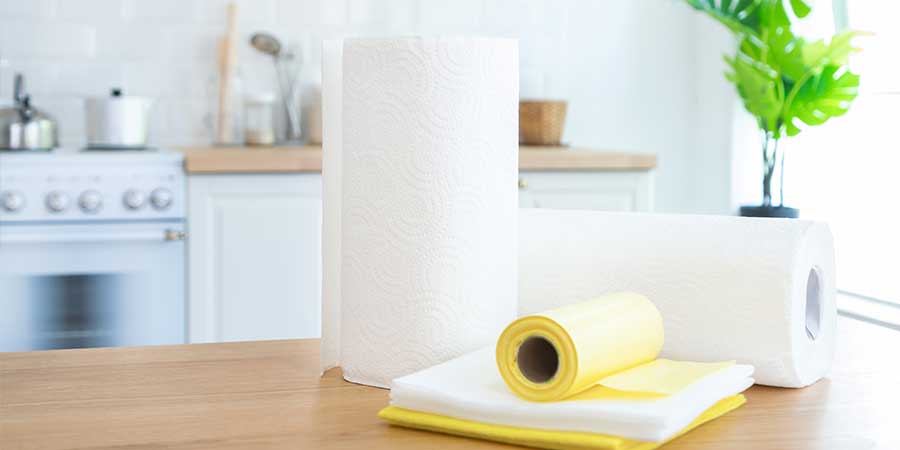 Need a quick clean up helper and love those Clorox® wipes?  Hate the thought of the chemical residue left behind?  Try this:
Kitchen Wipes (that DON'T use the "cut a roll of paper towels in half mess):
Use a thicker paper towel like Viva® (fold in half twice to make smaller squares) or thick dinner napkins (you know the ones – Mom always kept them for "Company" – Vanity Fair or Chinet brands) either choice will give a much stronger wipe.
In a glass canister (with a tight fitting lid) combine 3/4 cup of distilled water, 1/4 cup white vinegar (NOTE – if you have granite countertops, omit the vinegar and substitute isopropyl alcohol or distilled water), ½ teaspoon SalSuds or unscented castile soap, 10 drops of lemon essential oil, 10 drops of Tea Tree essential oil, and 10 drops of Eucalyptus oil.  Stir well and add the paper towels or napkins.  Store in a cool dark place.
Remember, dark glass is always better than clear.
Essential Oil Oven Cleaner Recipe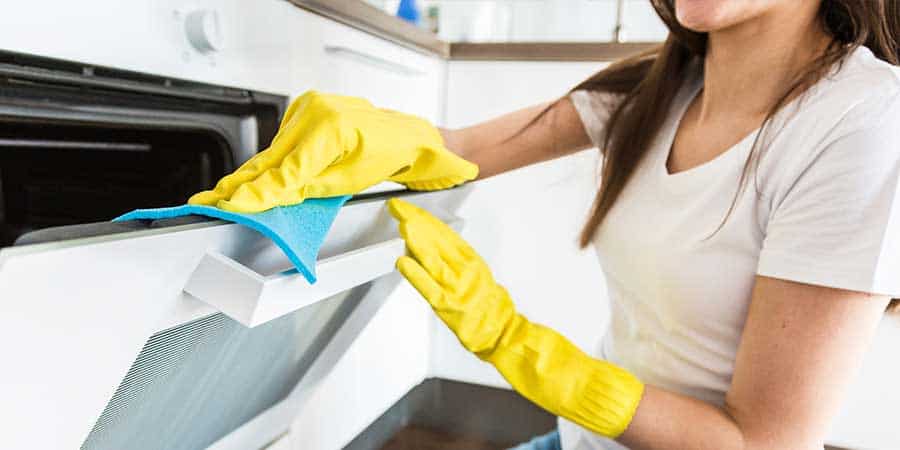 Onto that oven!  One note about this recipe, be sure to wipe it all off because when you heat up the oven the first time the baking soda will smell bad:
In a glass bowl add 3/4 cup of baking soda, 15 drops of orange essential oil, 15 drops of pine essential oil and 10 drops of tea tree essential oil.  Slowly stir in 3 tablespoons of water and mix into a paste.  If the baking soda is lumpy, add small amounts of water until the paste is smooth, but still a thick paste.  
Using a damp sponge or cloth, apply the paste all over the inside of the oven, including the door and window and let it sit for about 5 minutes.  Then use the same sponge or cloth and gently scrub in a circular motion, rinsing the sponge/cloth as needed.  
If there are stubborn spots add more of the paste and repeat.  More elbow grease won't really help.  Once all the gunk is gone, take a clean damp cloth and wipe all surfaces once again.
Essential Oil Floor Cleaner Recipe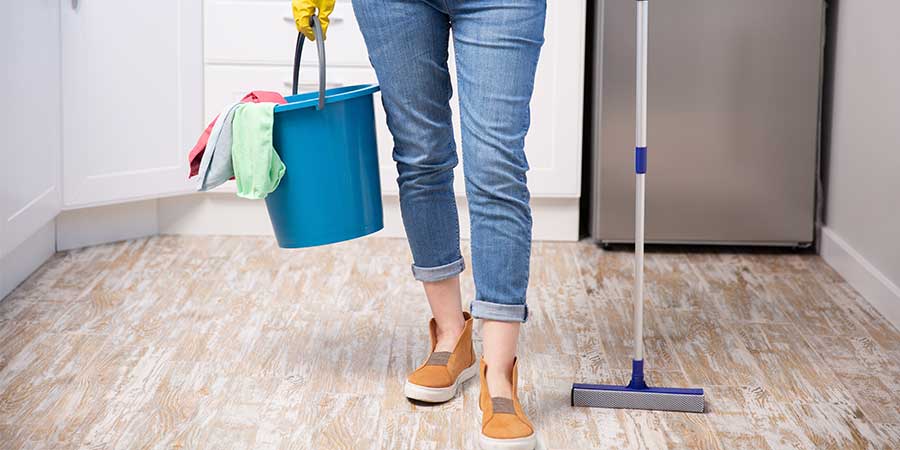 Floor cleaning time! Before we get to the actual recipe, a few tips. Add the water first, because if you don't the detergent will over bubble and make a mess. Use the amount of detergent as it is listed. It's concentrated and will make rinsing the floors a total pain and you'll have to do it multiple times.
In a bucket add 1½ gallons of hot water, 1 teaspoon of SalSuds, 1 cup white vinegar, 20 drops of lemon oil and 10 drops of rosemary essential oil. Mix with the mop. Mop as usual and let dry. No rinsing is necessary.
You could also add the following oil combinations:
10 drops each tangerine, lemon and lime
20 drops of lavender and 10 drops of roman chamomile
10 drops each of tea tree, lemongrass and eucalyptus
10 drops each geranium and bergamot and 2 drops of jasmine
10 drops each of pine, lemon and marjoram
Essential Oils Kitchen Cleaning Wrapup
There you have it, all my best natural cleaners! I love being able to use essential oils in my cleaning products, without having to expose myself or my family to yucky chemicals.
These cleaning recipes will help you keep a clean, happy house… now off with you, go clean your kitchen!
More Essential Oils Cleaning Recipes
Want more great essential oils cleaning recipes? Here are some of my best posts to help you keep a super clean house without a ton of toxic chemicals!
A whole bunch of fun essential oils cleaners that you can use anywhere in your home safely!
I am a counter spraying nut and these recipes help me to be less Windex-y and more healthy clean!
I love using dryer balls instead of dryer sheets! Helps to add a fresh scent to your clothes!