Wondering how to store your washi tape? I have a BUNCH and have found some some super cute and fun ways. Includes some simple ones for small spaces and some DIY tips for if you have a crafty bend like me! These organizers will help get your washi tape in order so you can use it more!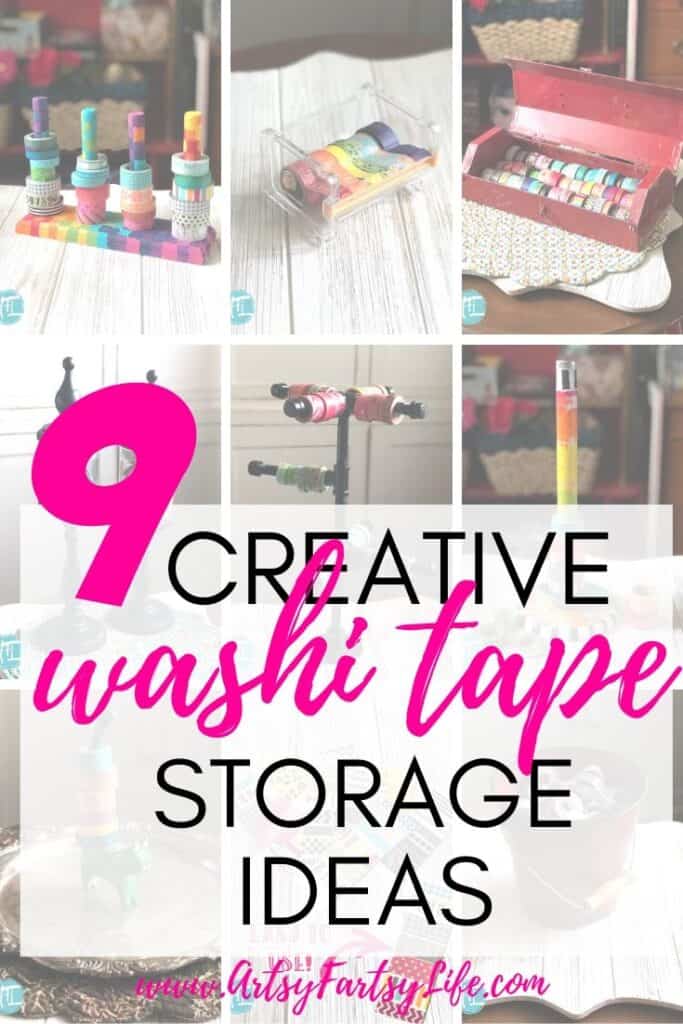 1. Cat Tail Ring Holder
Okay, this one is just pure FUN! I love this little cat whose tail sticks up and is perfect for having 6 or 7 rolls of your favorite washi tape right on your desk!
It is actually a ring holder, but the design was just so fun and it really has the functionality I was looking for to organize my tape rolls!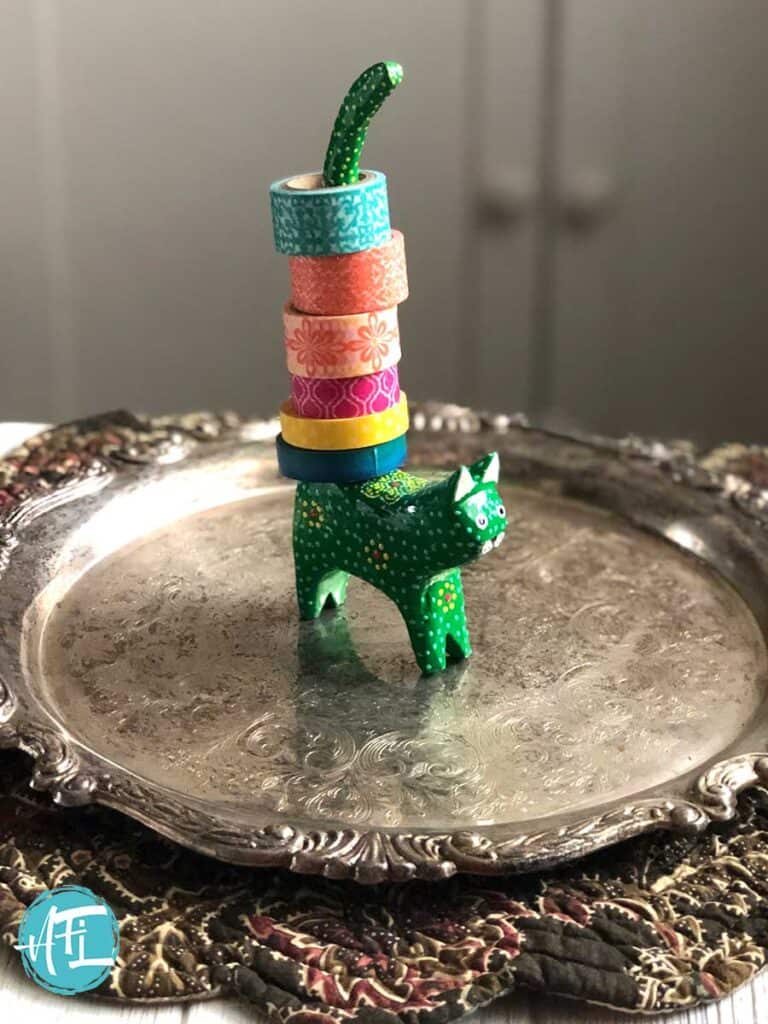 The cat washi tape storage tail is perfect when you just have a small craft space and can't keep ALL of your washi tape rolls out, but you don't want them laying around all over your desk either!
8″ Tall Cat Long Tail Ring Holder

2. Cool Old Vintage Toolbox
In terms of ease of use, this vintage toolbox is my go to when I want to work on a big washi tape project.
I can see all the rolls in one place which means that I use more of my tapes that sometimes get stuck "out of sight, out of mind"!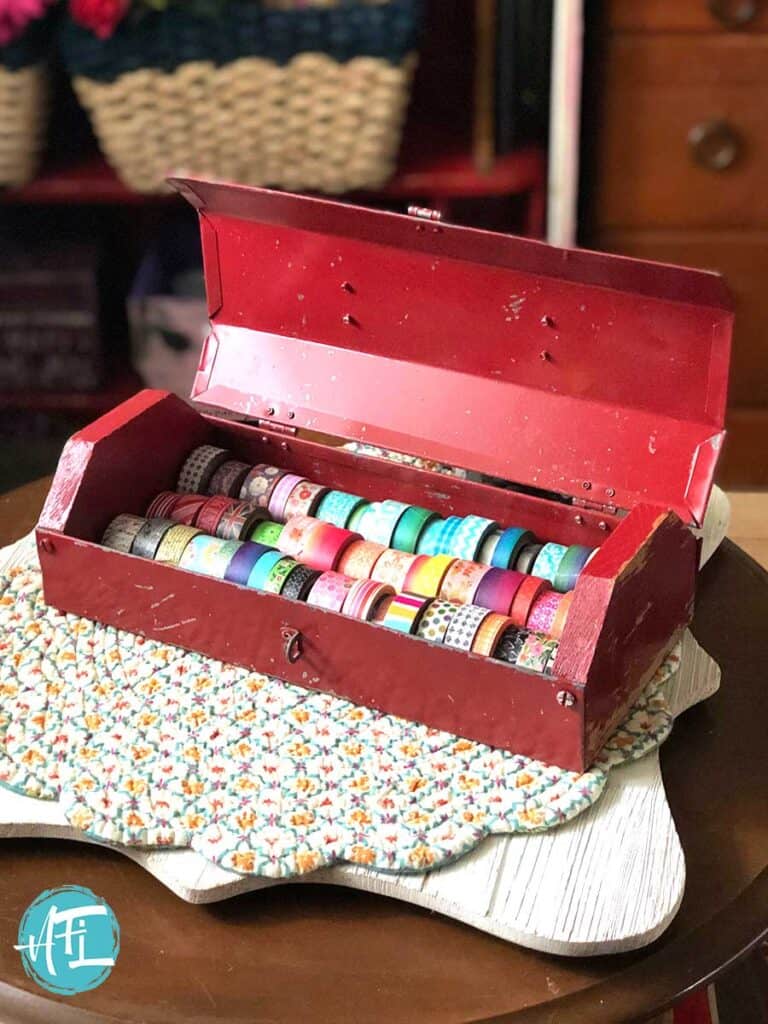 I pick these kinds of tool boxes up at estate sales or garage sales. You can also find them on Etsy!
3. Decorative Jars
The neat thing about washi tape is how pretty and colorful it is with all the different patterns.
I like to organize mine by colors… red-orange and blue-purple!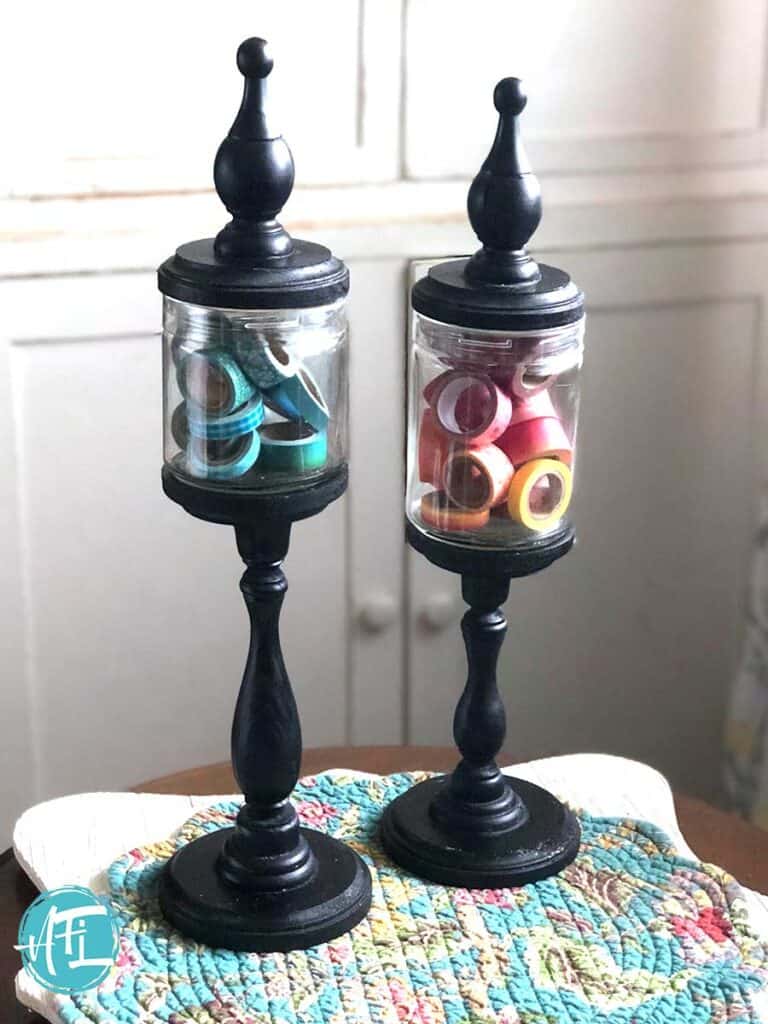 I don't have a great source for these, I got them years ago at swap meet (I shop in the nicest places… haha!) That said there are tons of great tutorials out there how to make glass jars into cool displays like these!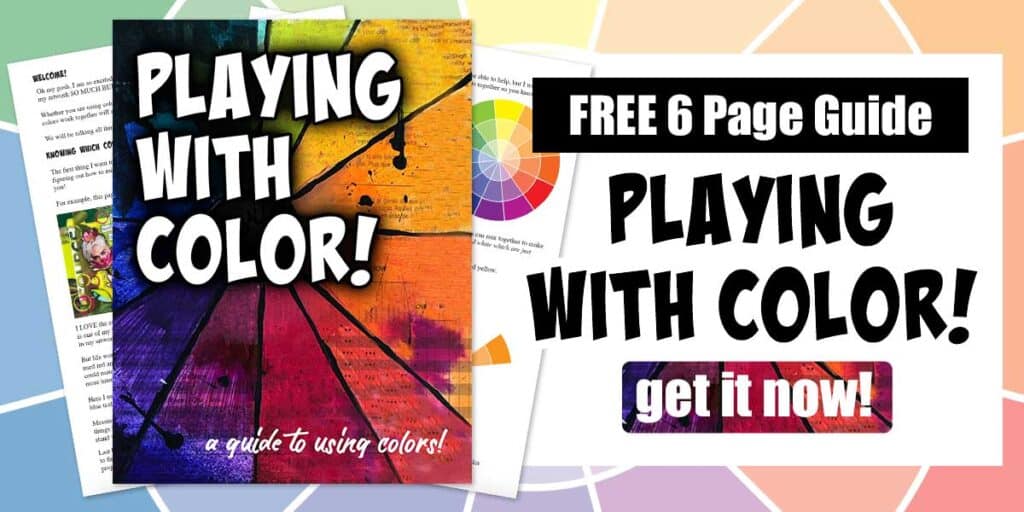 4. Jewelry Pipes
Okay, these jewelry pipes just make me smile. As soon as I saw them I thought, "those would be PERFECT" for hanging all my washi tape in a way that I could see them!
That said, I generally hang more on there than just washi tape… I put my yarn and twine on there too… not as neat and tidy looking with all the "stuff" hanging on there, but it great for small craft space organizing when you are visual like me!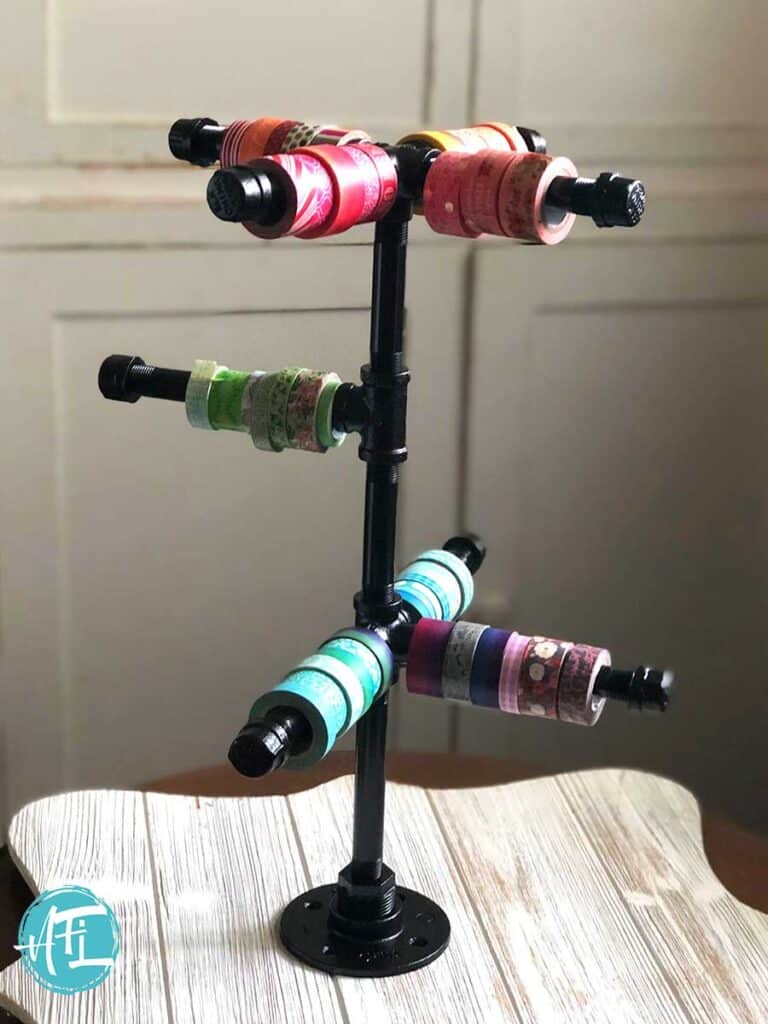 I was super surprised how affordable this one was considering it is made from super heavy pipes.
When I am working-working on a project I take off the end caps, but if you are moving your tape around the house, it is great to have them because they hold the tape rolls on!
Industrial Tabletop Jewelry Tree

5. Cool Old Bucket
This is another of my go-to ways to organize craft supplies! I love having a big old bucket of tapes that I can dig through to find the ones I want to use for my projects!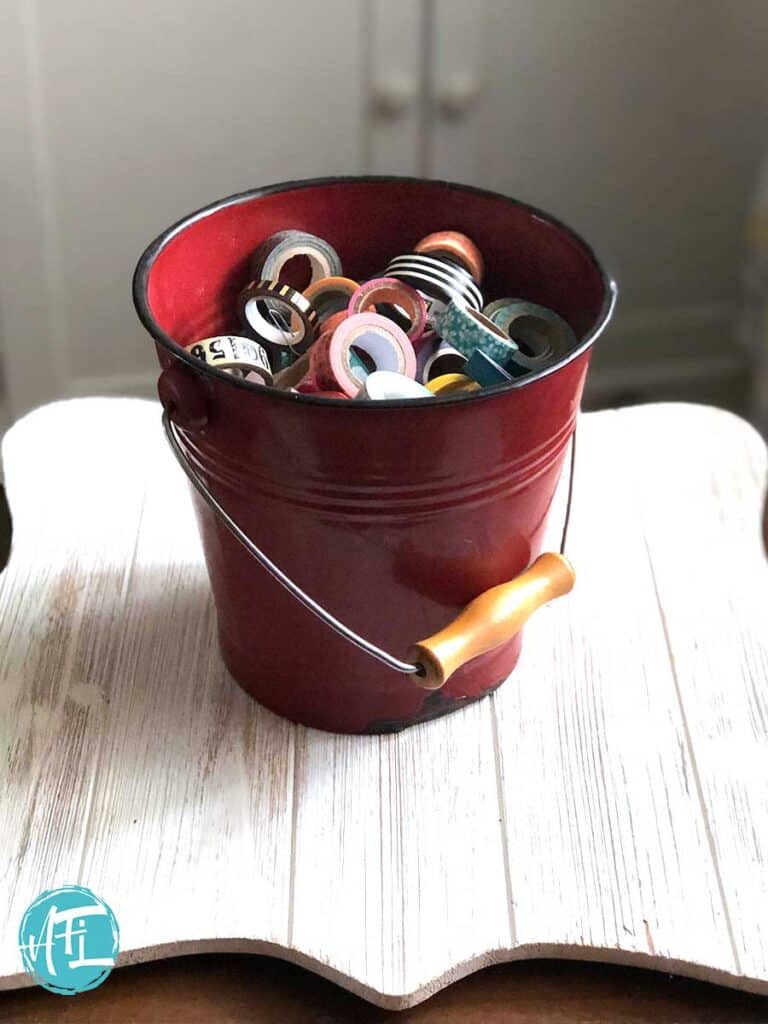 This is just a bucket that I have had for YEARS, it has dents and dings and rusty spots, but I love how cool and eclectic it is!
You can find this kind of super cool bucket on Etsy!
6. Washi Tape Holder
Alrighty, this was a super fun DIY washi tape storage project I did myself! I bought the holder off of Etsy and then painted it with rainbow colors that are happy and cheerful the way that the washi tapes are!
See the full how to…. Colorful DIY Washi Tape Holder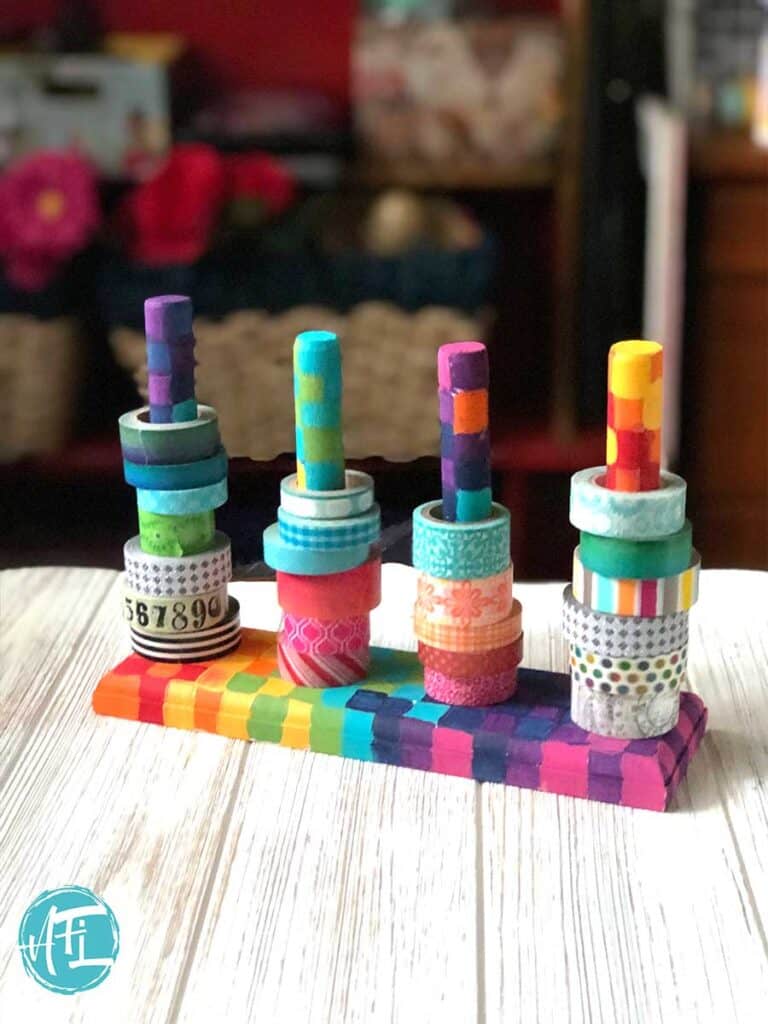 I have to say that this is the MOST FUNCTIONAL of the bunch! It is super easy to get the tapes off and on, it fits all the different sizes and takes up VERY little room in my super small craft space!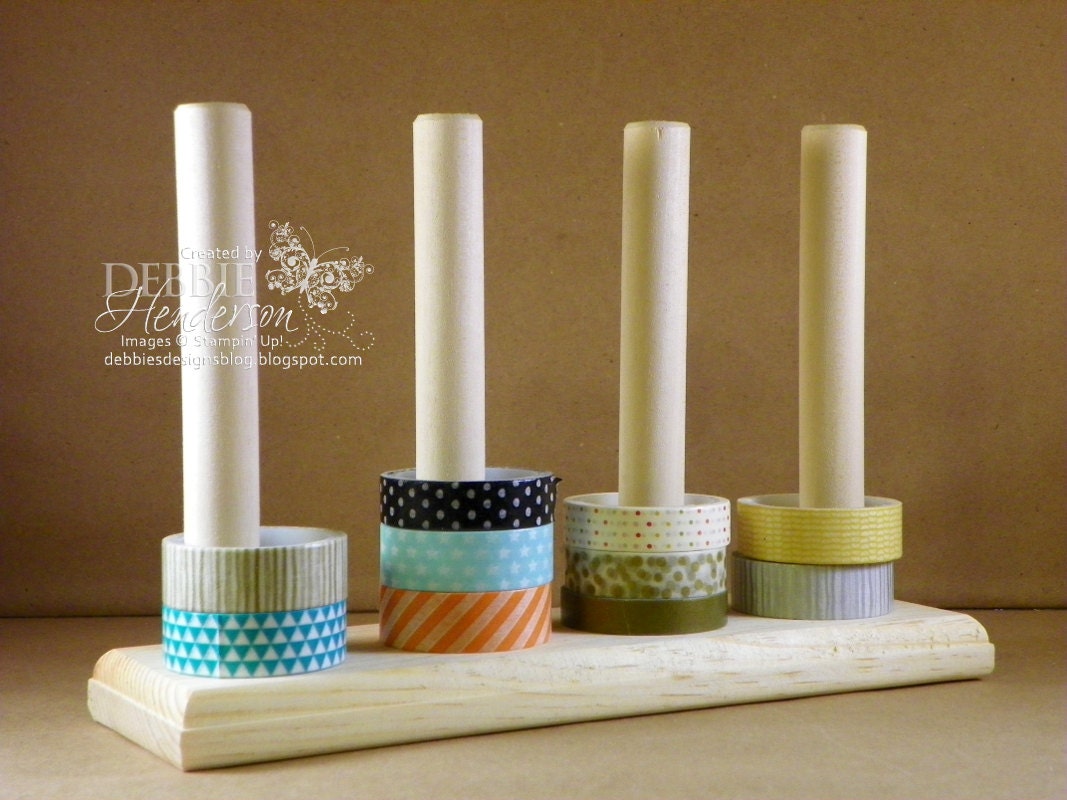 Washi Tape Storage, Washi Tape Holder, Organization Tool

7. Washi Tape Dispenser
Okay, this one is cute and functional, but honestly not my favorite. With this many rolls of tape on it they all tend to rotate when you try to pull the tape out and getting them onto the roll was super challenging (I really am a goober!)
That said, it is SUPER affordable and works great once you have it all set up.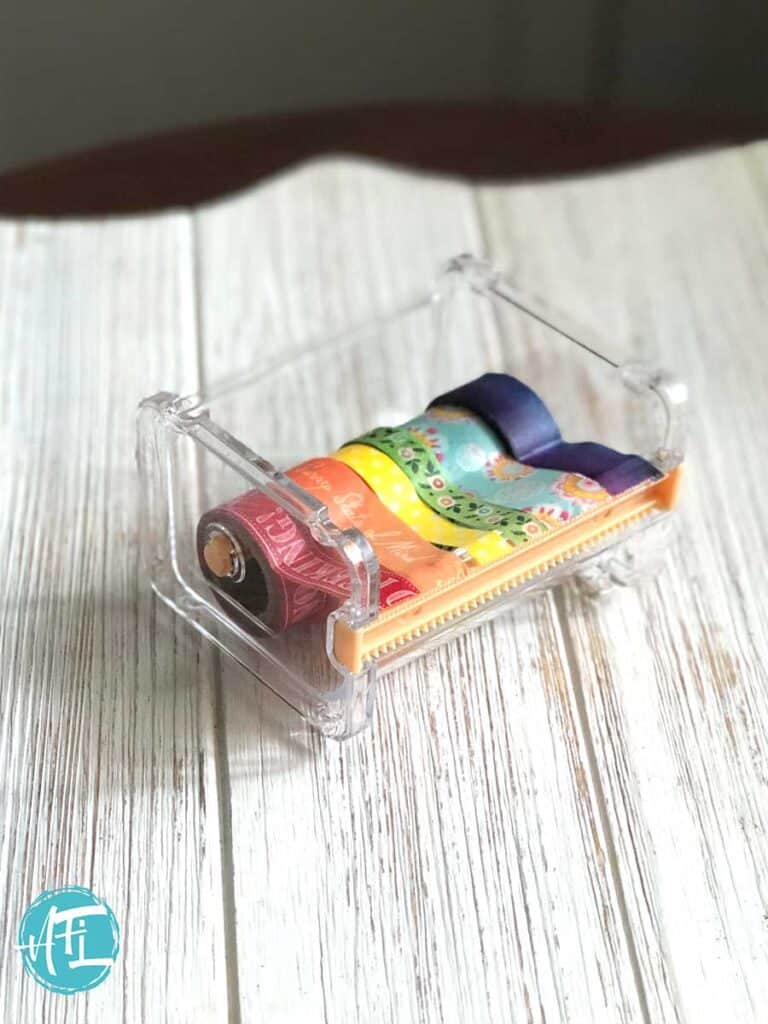 If you have a super small craft room or use the same kinds of washi tape over and over again, this washi tape box is a super great solution!
Molshine 2 Pack Transparent Visible Desktop Multi Washi Masking Tape Dispenser

8. Planner Stickers
Okay, this one is a planner girl trick! Get yourself some kind of "shiney" plastic (I used an old white plastic folder).
Then put long strips of washi tape on it in rows and then cut them up in the width's that you want (these are cut to fit into the box size of an Erin Condren planner!)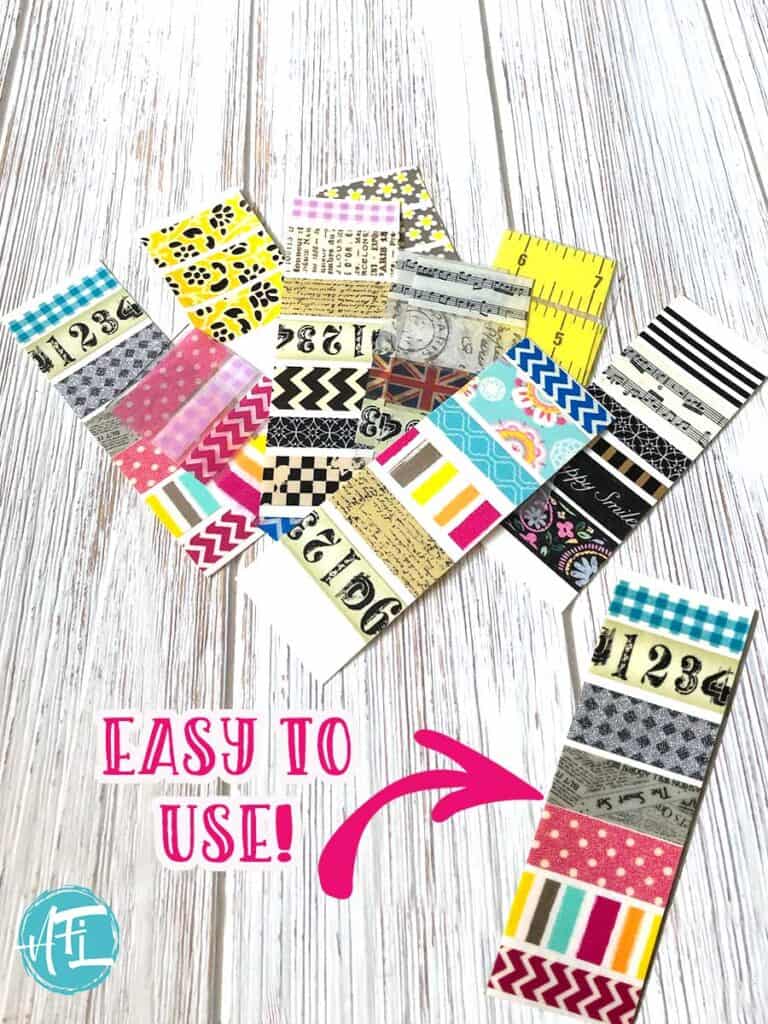 I LOVE having these around to put a tiny pop of color anywhere in my daily mixed media journal pages.
It does take a wee minute to get them going, but made a ton of them a year or so ago and have been using them ever since!
9. Paper Towel Holder
Last but not least is what may be the super cutest one, but not the most functional one!
Generally when I am cruising the thrift stores I fin these kind of upright paper towel holders. (of course when I was doing this post I couldn't find one to save my life so I got this one on amazon!)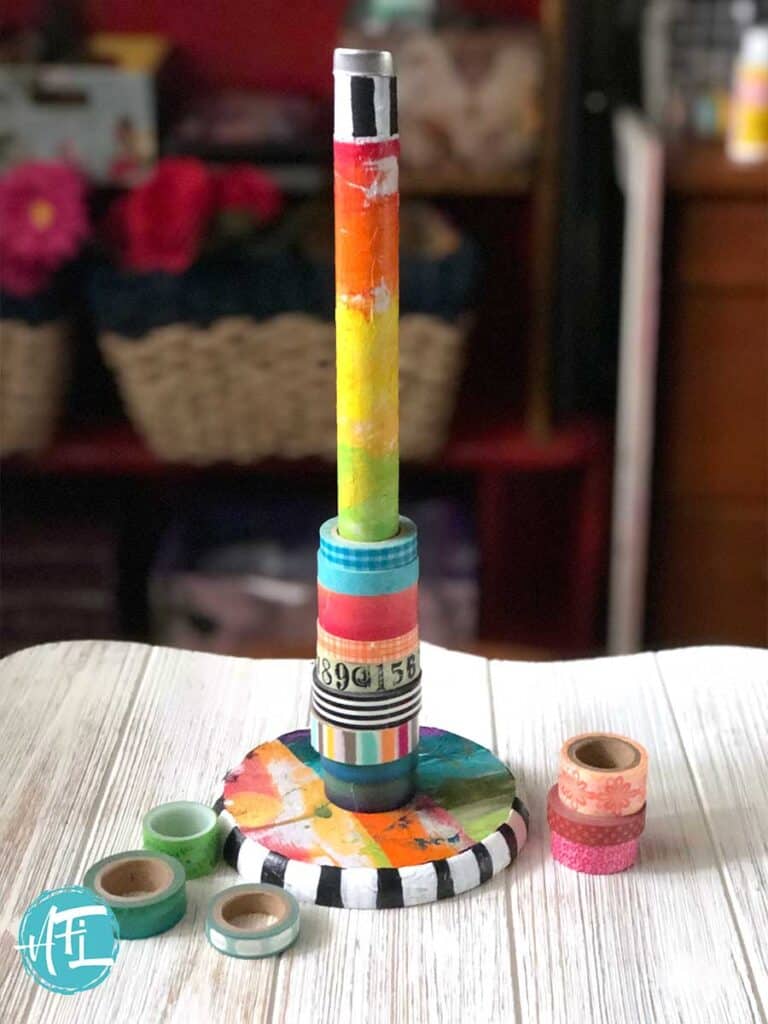 It is super cute and color, and is an amazing way to store a bunch of different washi tapes in a small space. That said, not all the holes in the washi tape are big enough to slip over the dowel of the paper towel holder… sigh.
All in all I think this DIY washi tape project came out okay and I will have a tutorial for it soon!
Home Intuition Counter Top Slim Bamboo Paper Towel Holder

Washi Tape Storage Wrapup
Okay, I have to say that this was a super fun post to write. I had about 5 of these craft organizers already in my office, but the cat tail, washi tape holder and paper towel holder were new storage solutions and I look forward to using them "in real life".
I don't use just one thing ever to keep my washi tape organized. Sometimes I want something I can sit beside my chair in the living room and sometimes I am elbows deep in my little craft room where I do have a WEE bit more space.
All of these turned out great and I will for sure be using them depending on what projects I am working on!