Free printable dog collage sheet! Vintage ephemera tags and tickets for your diy art journal or junk journal. Includes commercial license for printed products!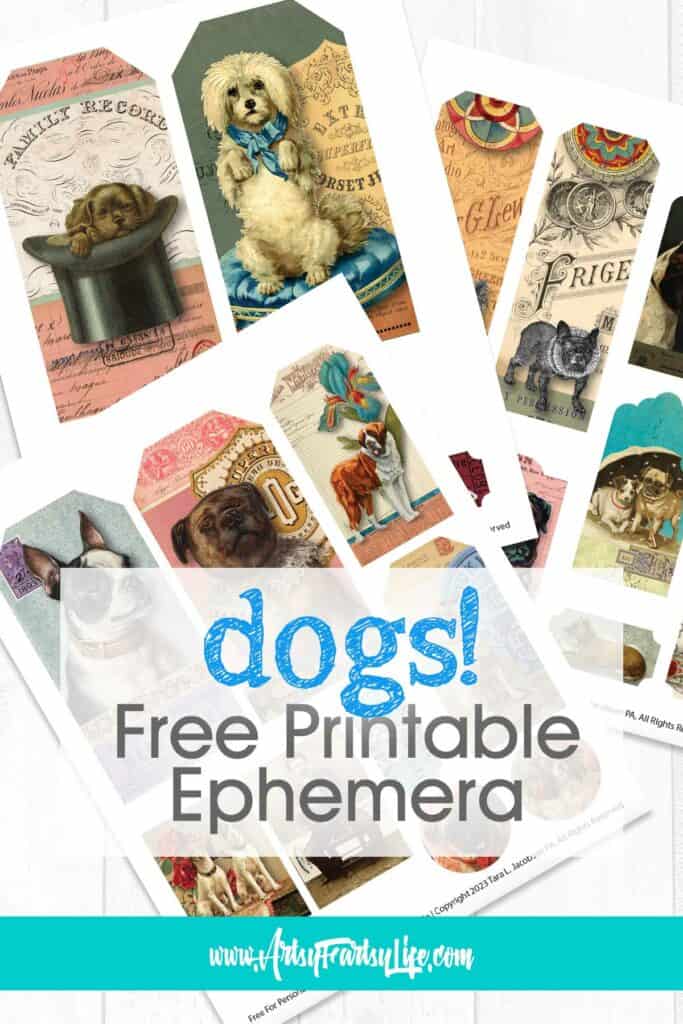 Please note: This article contains affiliate links, and that means that I may earn a commission if you buy something. Read my full disclosure here.
All The Dog Ephemera Tags and Tickets
I know I like to see what I am getting before I commit, so I thought I would show you the tags and tickets all at once!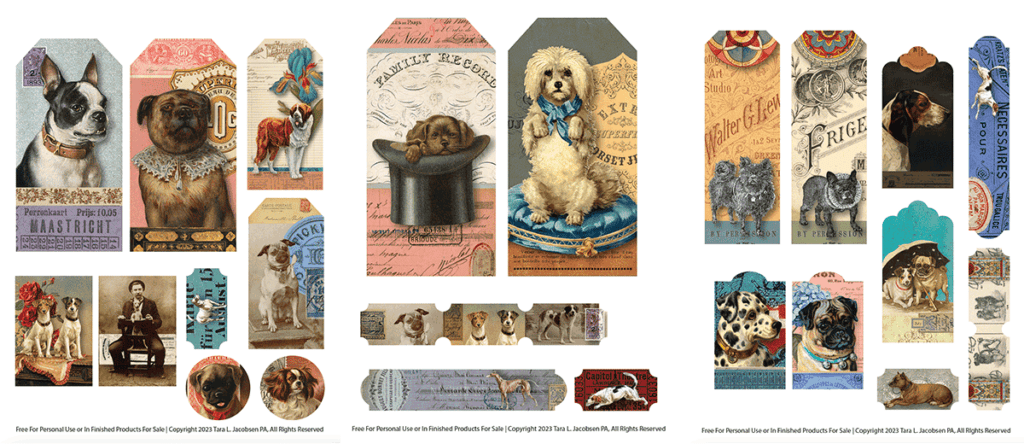 Why I Made These Printables
I am a junk and art journal nut like you! I love having fresh and new ephemera to use, especially when I am doing a "themed" junk journal like a dog journal so I wanted to have lots of cool dog tags and tickets to add.
Also I am a graphic designer so sitting and making printables and watching junk YouTube and getting to call it "work" seems like cheating, but it means I can give my peeps cool new printables every week!
Why Are They Free?
I know! There is a saying that there is no free lunch so why am I giving these away for free when I could sell the printables on Etsy or my website?
There are a couple of reasons… first I love making printables for my peeps to use and seeing all the cool things they make from them!
Second I am lucky enough to have ads on my website so I make a little bit of money each time someone visits and NO! you don't have to click the ads to help, just being here is enough.
But if you do want to help, share this link in your favorite Facebook group or pin it Pinterest… that helps more than you will ever know!
How To Download and Print The Collage Sheets
All of these printables (and so many more) are in my freebies library!
Once you get there, simply download the PDF and you can print them out on your home printer or send them to Kinkos or UPS to have them printed out.
They are formatted to print on 8.5″X11″ letter sized paper.
Commercial License
These printables come with a commercial license that lets you use them in any way you want, as long as they are printed out.
Here are a few examples that people have told me they have done:
Printed out and sold whole at a bazaar in South America
Used in a themed junk journal sold on Etsy
Cut up and sold in a bag as tags for gifts
Functionally, as long as you print them out first, you are good!
What you can't do is use them digitally. So no selling them on POD products, you can't add them to download on your website, you can't link to a Google drive and give them away. I do request takedowns and a strike when I see people using them the wrong way.
If you want to share them, please just direct your friends to this page and they can sign up themselves for the freebies!
Download The Free Printable Dog Ephemera
You can click here to get a password for the freebie library or click the image below! If you already know the password, just click here for the free printables!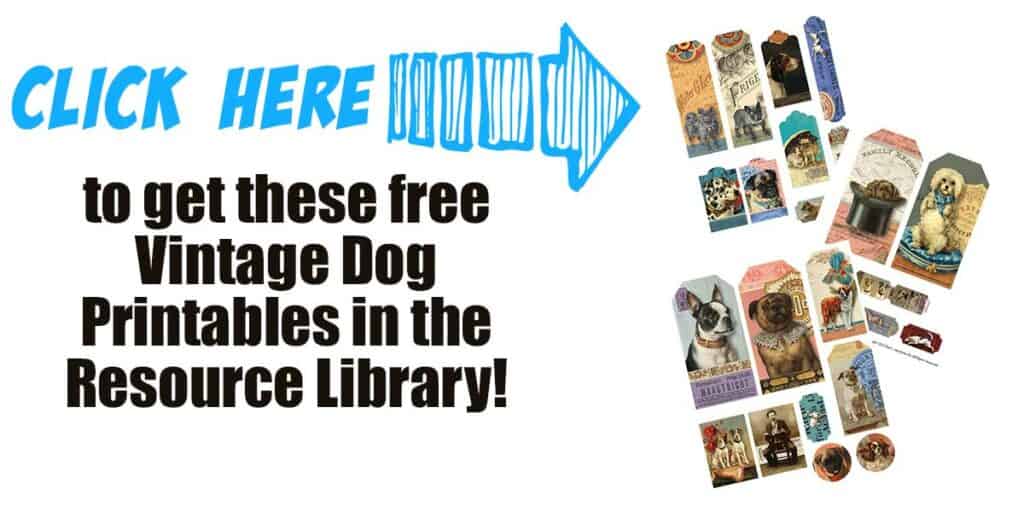 Free Printable Dog Collage Sheet Wrapup
I hope you love these cute doggos as much as I had fun making them! I can't wait to see all the junk journals, mixed media and art pages that you create with them!
If you have any more suggestions for freebies you would like to use, please email me… tara@marketingartfully.com and I might make them for you!