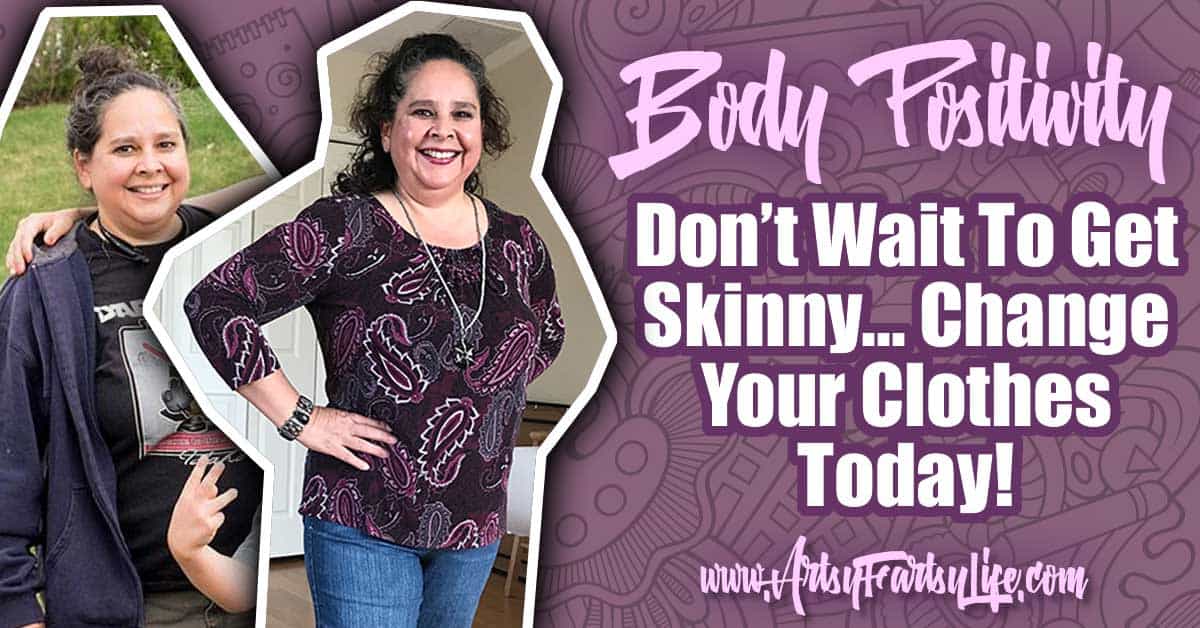 I have been struggling with body positivity now that I am over 50. Heck, let's call a spade a spade, since I have been over 40 and stopped being skinny-ish.
For those of you in my age group and older, you may have noticed that you stopped being able to dress in "cute" and "hip" fashion clothes a decade ago AND that you might have put on more than a few pounds that just.. will… not… come…off!
Note: Some links in this post are affiliate links, which means I receive a commission if you make a purchase. I try to find amazing things that my readers will love as much as I do!
Waiting To Lose Weight
So where does that leave us? Do we have to wait to lose weight before we can look pretty and feel good about ourselves again? Heck to the no!
Just to give you a wee bit of background, I am 51 now, "obese" according to my doctor's scale and had no idea how to dress myself now that I was this "fat"!
Just so you know, I am 5′ 1″ and weigh about 165 pounds (162 on a good day) and wear mostly a size 12, sometimes a 10 (yay) and occasionally a 14 (boo).
So I am definitely not the demographic the fashion industry is looking for in models.
And then, to make it worse, I have two amazingly beautiful daughters who are rocking their teens and 20s… by comparison I felt like a fat cow!
This pic is from a couple of years ago, but for sure was my "outfit" on a day to day basis!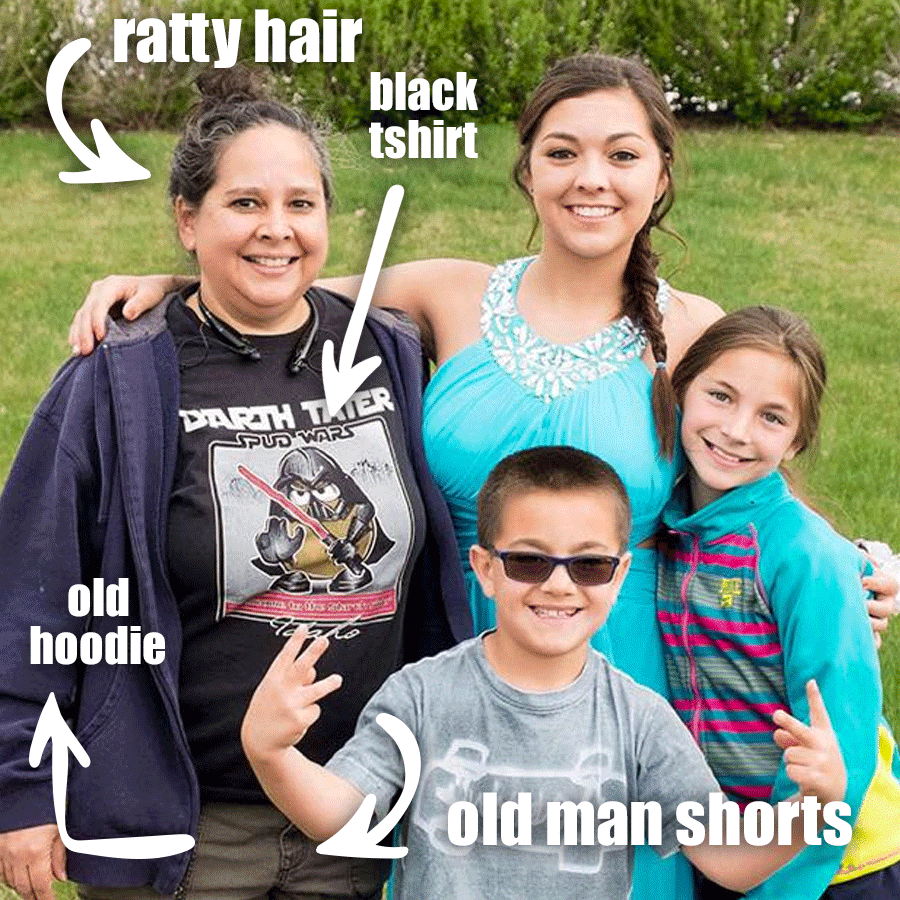 One thing that made me sad was that I read somewhere that kids don't have pictures of their moms because we are so often taking the pictures and not IN the pictures.
I know in my case it was because I felt so uncomfortable in my body and my clothes.
AND I was totally doing the…
"I will buy new, nice clothes when I lose the weight and look good again!"
That Love Your Body Bullshit
Now let's get real here for a wee minute! I keep hearing how I am supposed to "love" my body. That body positivity means being okay with all the lumps and bumps and everything else that goes along with being over 50.
Or that being overweight means you aren't healthy (I just got all the tests done and I am super healthy, just not skinny).
Well, given the choice I will so take that 20 year old body that I thought was so fat, or even 30 year old me rocking the size 8 clothes.
But that is not the body I have now! AND I am not going to fool myself into thinking that one is coming back any time soon.
Yes, I do yoga, and yes I exercise, but no, I am not going to go to the gym and work out daily to get into a size 6.

But What If You WANT To Lose Weight?
Stupendous!! For sure work out, diet, be active and have a goal for losing weight.
But please, for heavens sake, DO NOT WAIT to dress nice until you hit that "ideal" weight.
I know how it is… you start a diet and just know that you are going to lose 20 pounds so why bother buying clothes now when you are just going to have to donate them in a couple of months when that weight just starts dropping off!
You are worth-while NOW, even at the weight you are at AND you can buy clothes that fit later too!
A Note From A Reader
I always tend to wear mostly black slacks and t-shirts 'cause they supposedly make you look slimmer. Now that I have lost 30 lbs. and continuing to lose to reach my goal with my paleo "diet," I have something to look forward to doing when I get to buy a new wardrobe that fits the new slimmer me. – Mary Alice
This makes me so happy AND sad! Mary Alice has lost a bunch of weight, but there is still some mythical goal out there that will be the "right" weight when she can start looking pretty again and stop with the black tshirts!
Real Women, Curves and Looking Skinnier
Now my outfit may not be your cup of tea, but I live in Florida, spent the morning working from home and then went to lunch with my father… super fun day.
As you can see, just by picking different clothes that fit better and are colorful and fun, I took 10 years off my looks and 10 pounds off my weight!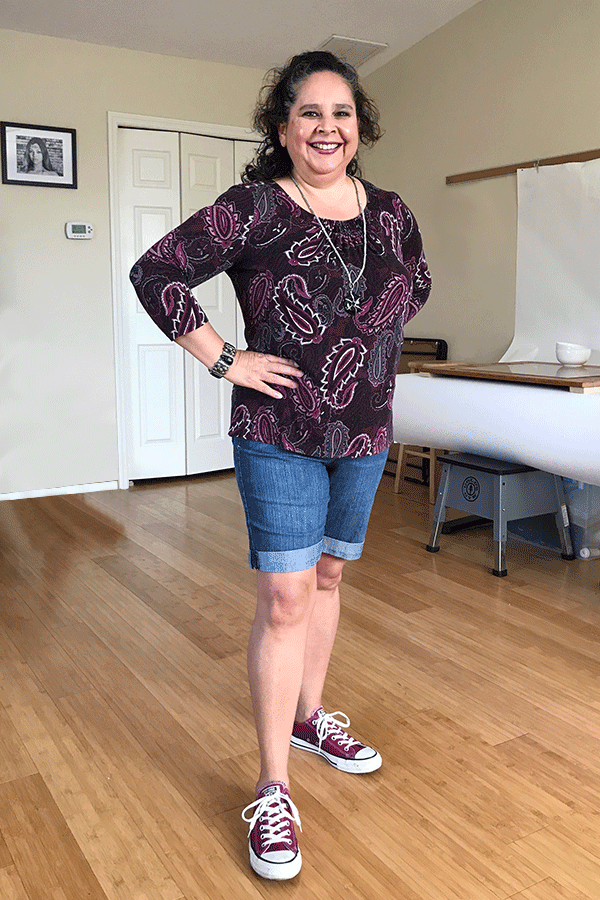 I did NOT lose any weight in this picture, in fact I might be a wee bit heavier now, but as you can see, just by wearing different clothes my look is totally changed!
ADDITIONAL RESOURCES
Dressing Your Truth – I took a class from that nice Carol Tuttle about how to dress yourself. It is free and super easy to follow.
Swap.com – I got a lot of my clothes here locally at thrift stores, on half price day, whoo whoo, but if you can't find great stuff I definitely recommend Swap.com a huge online thrift store that frequently has half price sales.
Follow Me On Instagram – I am really not the kind of person who likes to have pictures taken (still) but if you need a little bit of inspiration for wearing nice clothes while heavier, I post pretty regularly!
Not Waiting TO Get Skinny Wrapup
Alright, hopefully this has shown you how real women can get back to feeling better about their curves and and round faces. If I can take so many pictures of myself, you can head on out there and pick up a few new pieces and start feeling better about yourself!