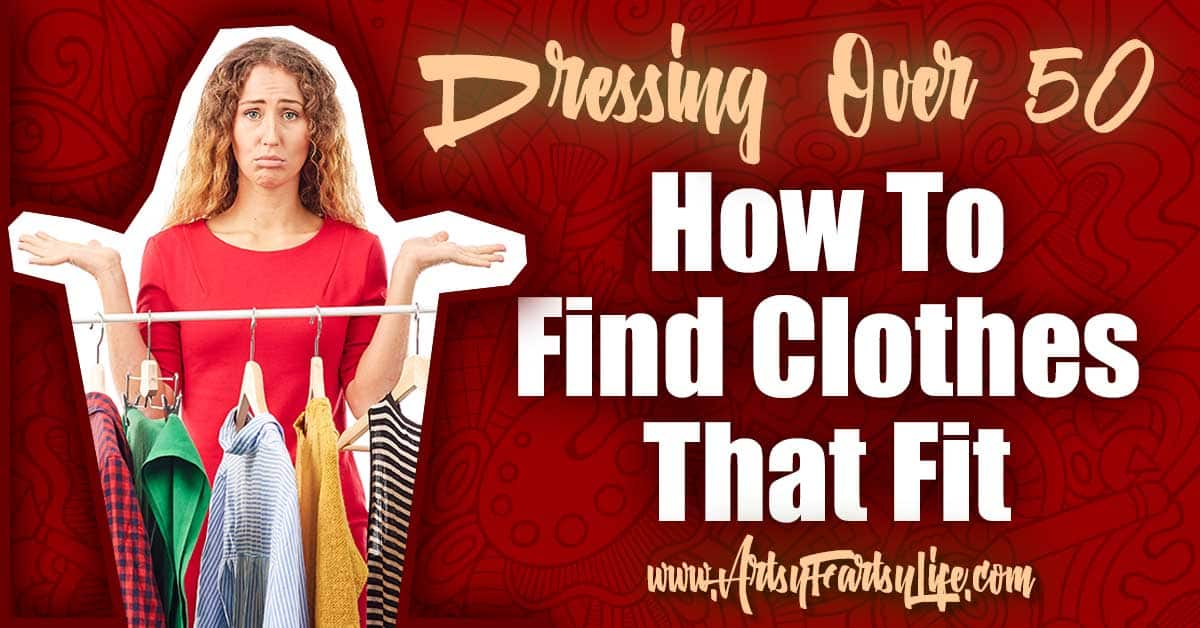 I started my clothing journey at 51 after falling into sad dressing habits. Finding clothes that fit had become an absolute nightmare for me… weight and a changed body shape made everything feel too tight or too loose, too frumpy or just plain ugly on me!
please note :: I often recommend resources, some I receive an affiliate commission for, these all help to keep this site free for you!
So what did I do? I started wearing nothing but long sleeved black tshirts at least one size, if not two sizes too big! Yeah, having tons of extra fabric around me was sure to make me look skinnier (NOT!)
You may have fallen into yoga pants and hoodies or even dress pants and a plain top like my friend Tena. Not as heinous, but certainly too frumpy for someone as cute as we are!
This is a picture of me with my Besty Rebekah who actually knew how to dress herself. She looks like a beautiful woman, I look like a big black blob.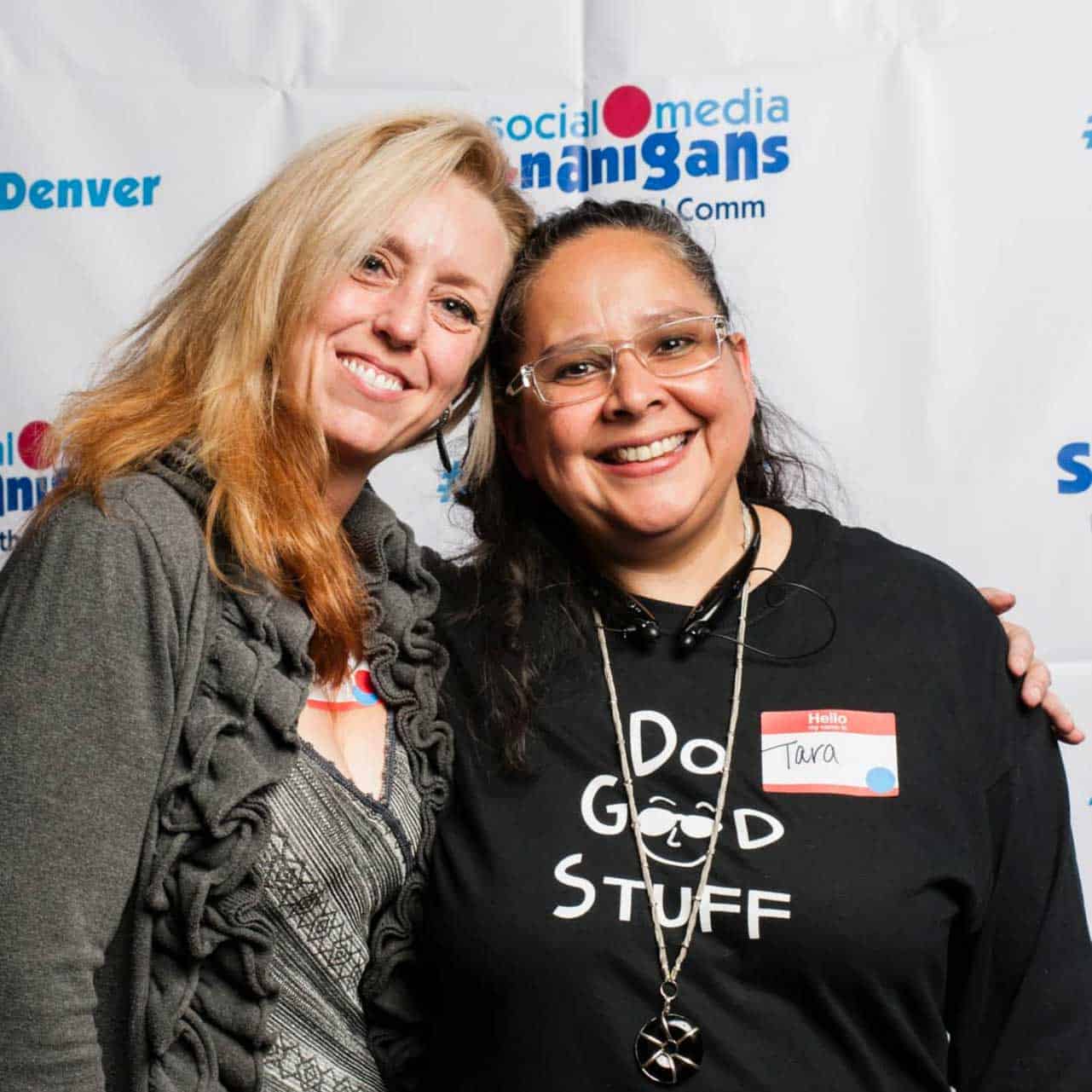 So How Can You Find Clothes That Fit?
First off, if you are unhappy with your clothing you have to be willing to try something new. I used to know how to dress myself when I was young, pretty and skinny, but once I gained some weight I just thought that everything was too horrible to ever look good on me.
1. What colors do you wear?
So let's be honest with ourselves here… do you have a default color you wear that you think is slimming on its own? Have you bought into the "black is slimming" or "brown hides my muffin top" thinking?
There are a million colors and patterns out there that you can wear and some of them might just make you feel pretty.
I took a course, Dressing Your Truth, and Carol gave me a range of colors I could wear… browns, greens, purple, blues and reds. Your range of colors might be pastels or bright and bolds.
But don't rely on on someone else. In my heart of hearts I knew I looked good in burgundy, but wasn't wearing it… why? I guess I was punishing myself for being "too fat" to look good anymore!
> Homework… think about 3 colors you KNOW you look good in, that people give you compliments when you wear! I always get compliments when I wear burgundy!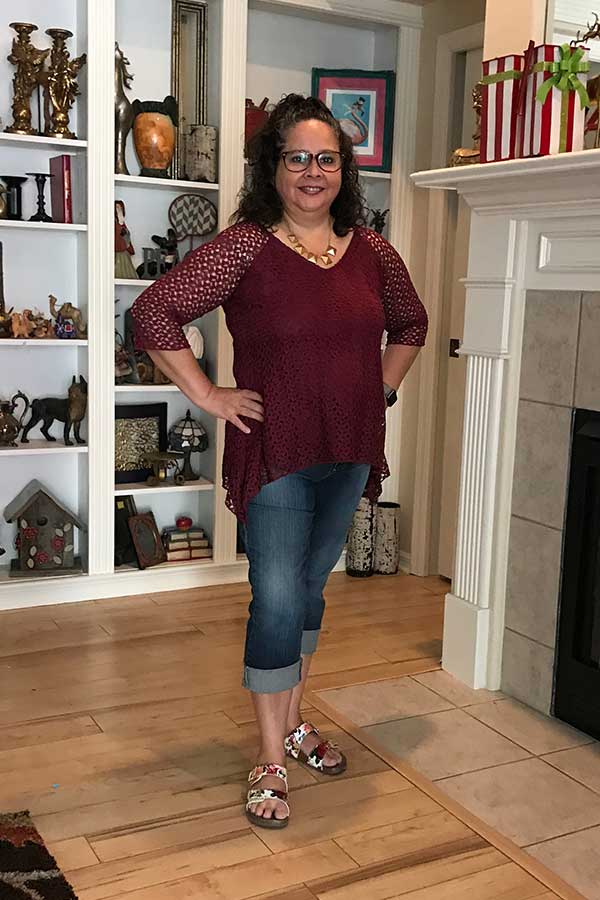 2. How Heavy Are Your Clothes?
The next thing to think about is what are the weight of the fabrics you are wearing. I like heavy weight fabrics that have some substance to them. My pants are all jeans and khaki and my shirts are made of materials that never would feel light and airy.
But maybe you like lightweight cotton tops or seersucker pants! It doesn't matter what you like, just figure this out so you can start finding more of them!
Homework… go look at three of your favorite shirts or pants… are they lightweight or heavy or medium?
3. How Long Are Your Shirts?
Okay, this is a BIG one for me! I like my shirts to fall below my waist but they can't be too long or I start to look like a hobbit because I am 5'1″ tall. Shirts that hit at just my waistline make me feel like my tummy could stick out all day long and that is NOT comfortable!
You might be the kind of gal who likes a tucked in shirt with an overshirt or even someone who is lucky enough to wear those super cool long shirts that make tall girls look a mile high.
What you don't want is to wear a shirt that is too long because you think it is hiding your fat. No one is fooled and you just look oversized even more!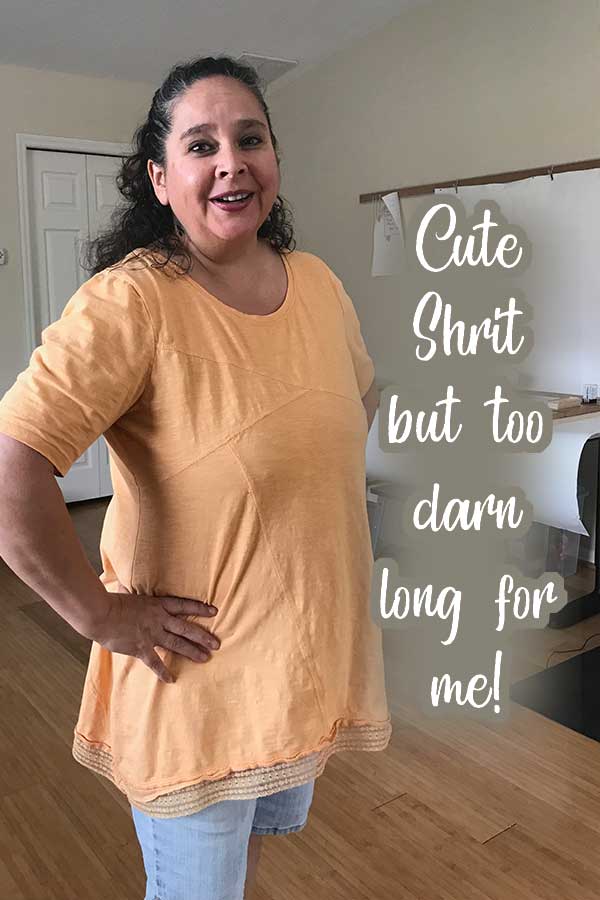 Homework: Figure out the most flattering length of shirt. You might have a few of these, but rule out the ones that are not flattering and avoid those!
4. How Long Are Your Pants or Skirts?
Again, I LOVE long maxi dresses and skirts, but damn they make me look like a big fat blob (it is amazing how much of my life I have spent wearing clothes that I KNOW are just not flattering but they were "fashionable" or I defaulted to them because I wanted them to work!
You might feel great in flare leg skinny jeans or in tight little mini skirts. Your short¸ might feel best just above the knee or perhaps showing a wee bit more leg. Really start to notice what length makes you comfortable!
Homework: What is your length? Are you an A Line, middle of the calf kind of gal or are you a drag on the floor, super long pants kind of person?
5. How Long Are Your Sleeves?
This one is harrowing for me! For years I avoided 3/4 sleeves for some unknown reason, but now they are my favorite. You may love to wear sleeveless day in and day out (my worst nightmare) or have long sleeves on all the time.
What you don't want to do it limit yourself because you think you CAN'T wear short sleeves or sleeveless because your arms are too fat (me!) For years I didn't wear sleeveless because I thought my arms were hideously ugly. They have wrinkles and rolls and could scare small children (as you can see below)…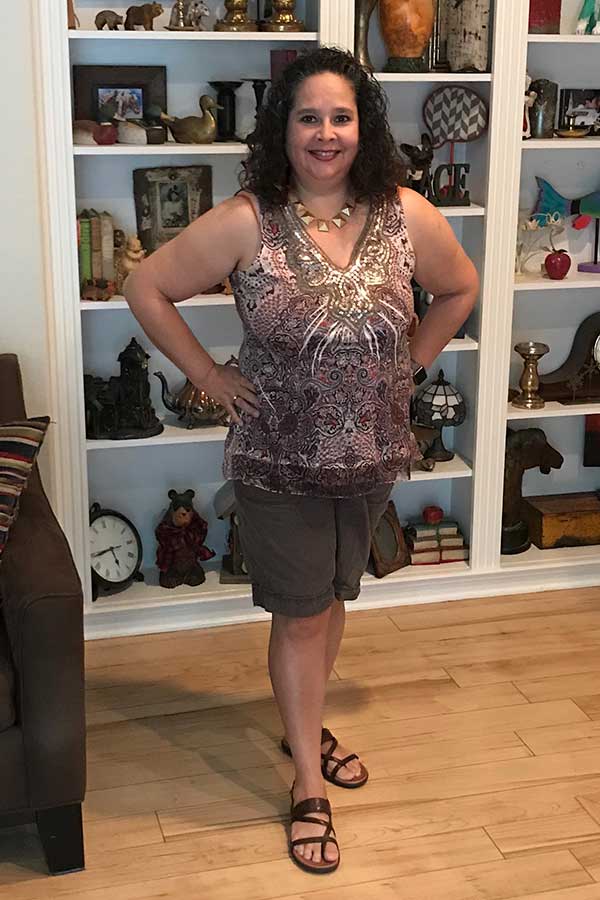 Okay, once I saw this picture I realized that my arms are just arms. They are not the ugly creatures I had imagined in my mind. I actually only took this picture because the ladies who were critiquing my look over the 30 days of trying new styles said I should try sleeveless.
I am still not comfortable in sleeveless and that is what matters! You find a sleeve length that is comfortable for you.
Homework: Try all the different sleeve lengths to see what makes you feel good. Don't just fall into the same-old, same-old, check out a few different kinds!
How I Found New Clothes To Wear
Alright, this may or may not be your jam, but I was so far in the hole that I had to do something radical to claw my way out!
I took all my old clothes (they were all black and ill fitting) and put them into trash bags in my closet. And then I went to the thrift store on half price day and tried on EVERY piece of clothing that they had which sort of followed my color rules or style.
And then I bought them all.
Yep, I bought a new wardrobe on half price day at the thrift store! $104 and I had all new things to wear.
But you may not be ready for that drastic step yet… in that case I would try one of those super cool dressing boxes like Stitch Fix or Le Tote. These kinds of services will send you clothing every month to try on and start figuring out what you like and don't like!
But wait, there's more!
That was step one, step two was wearing a new outfit every day for 30 days.
This is a super important step because you can try something on for 30 seconds in the dressing room and think that it is a winner, but then when you have to wear it all day long find out that it is not for you (lightweight, puffy shirt I am looking at you!)
Now you will have a new set of clothes that fit you and you feel good in. AND you will have some things that are just not that great. Donate those back!
Seriously, if you are as screwed up as I was, you are GOING to have some picks that are still not a great fit for your body type and you just need to let them go.
Make Sure Everything In Your Closet Makes You Happy!
This one is super weird for me now! Honestly, because I have been so ruthless about my clothes, now when I go into my closet everything makes me happy and I just have to pick what kind of mood I am in the morning.
Your closet should be a source of fun and joy… going in there should open a world of possibilities of fun things you could wear rather than being a place that makes you sad and feel like you are a loser.
Because that used to be me. Getting dressed used to make me sad and feel like a big, fat failure. I was picking from the least of all the evils and just trying not hate myself.
That is not okay.
You deserve better than that! You deserve to find clothes that you love and can feel like wonder woman in everyday!