I have always wondered how Dyan and Teesha Moore were able to paint on their magazine collages and even tried a few myself (SO BAD!) So when I saw Dyan had a painted magazine collage class online I jumped right in!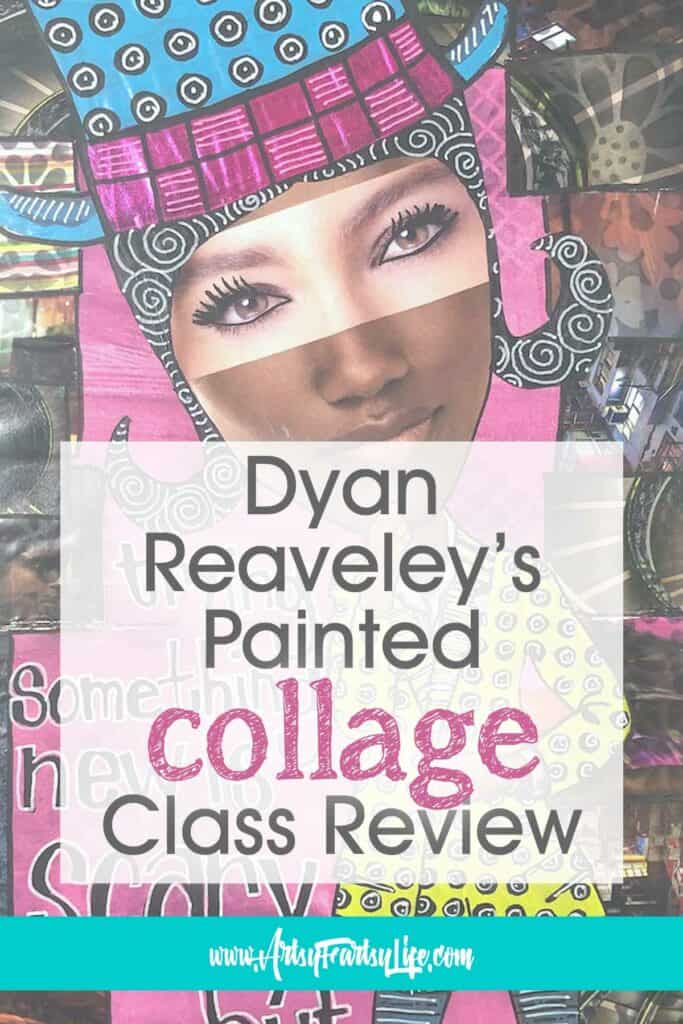 please note :: Please note that this article contains affiliate links, and that means that I may earn a commission if you buy something. Read my full disclosure here.
Click Here To Take Dyan's AMAZING Painted Magazine Collage Class!
Dyan's Painted Magazine Collage
If you are wondering what I mean by "painted collage" I mean how she has cool shoes, hair, hats and even clothes on her collages!
I have looked at her images so many times and never realized that she had painted the shoes, legs, shirt, neck hat and hair on this one!
No wonder I have never been able to find those kinds of cool images in magazines! She is taking plain jane pictures and making them super fancy!
Step By Step Pictures of My Version of Dyan's Collage
I thought it might be fun to see a piece go from just weird cutouts on a page to finished magazine collage! I call this one weird 1950s housewife.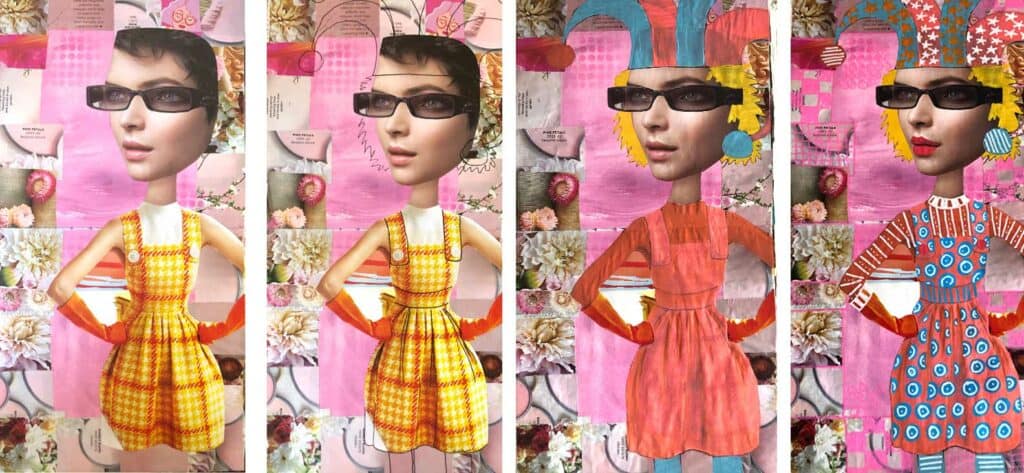 The Steps Of Painted Magazine Collage
After having done the class I feel like there are 4 steps to this kind of painted magazine collage!
Step 1 – Normal Magazine Collage
Okay, this is a step I am really familiar with… putting some weird bits of people and bodies on a page. The thing about this image is that there is a finger on her hair… darn it. And normally I would have to add a flower or some other thing in there to cover that finger up!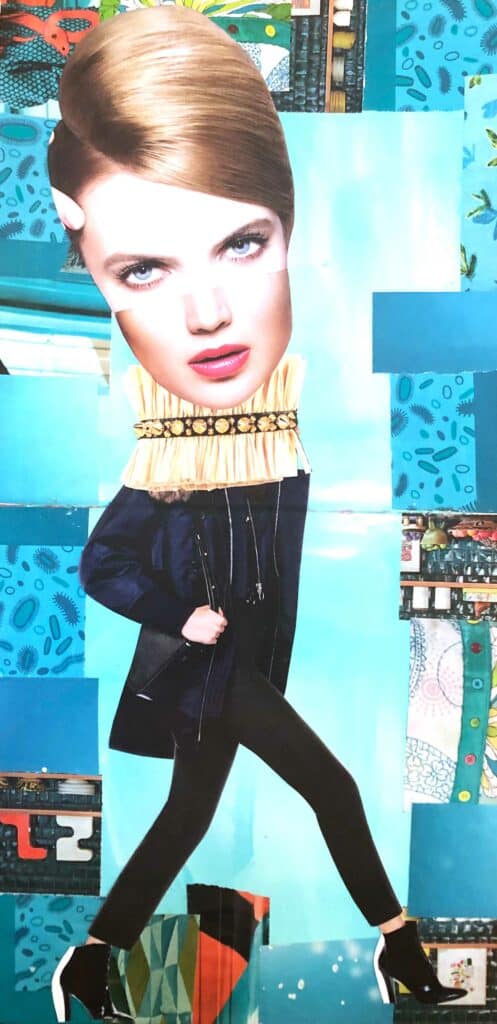 Step 2 – Drawing Cool "Stuff"
Okay, from here on out, everything is new to me! For this step you draw cool other things in around the magazine images! For this gal I added an extra tail to her hair, but also curlies at the ends and then changing the shorts to pants.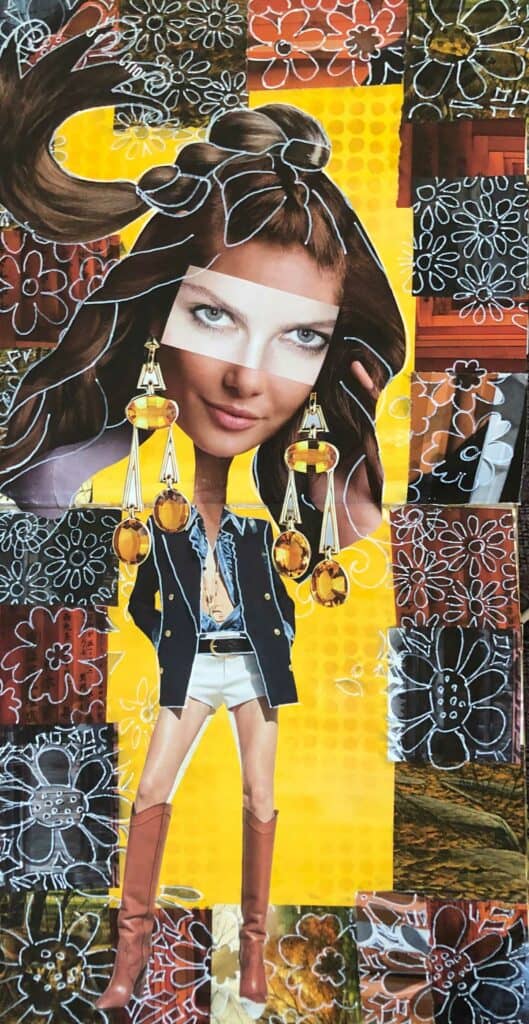 Step 3 – Painting The Bits
The next step is to paint in your drawing! I have to say at this step I thought it was all rubbish and that I was not going to be able to make anything out of this mess!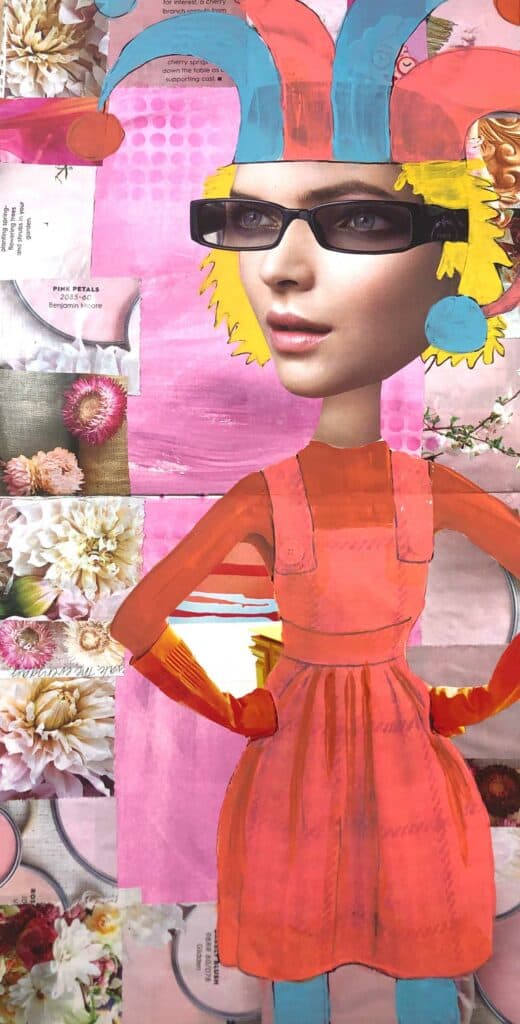 Step 4 – Final Doodling Touches
Okay, I am SOLD! Last but not least you put in all the doodling and patterns that "sell" the altered image and make it look cool!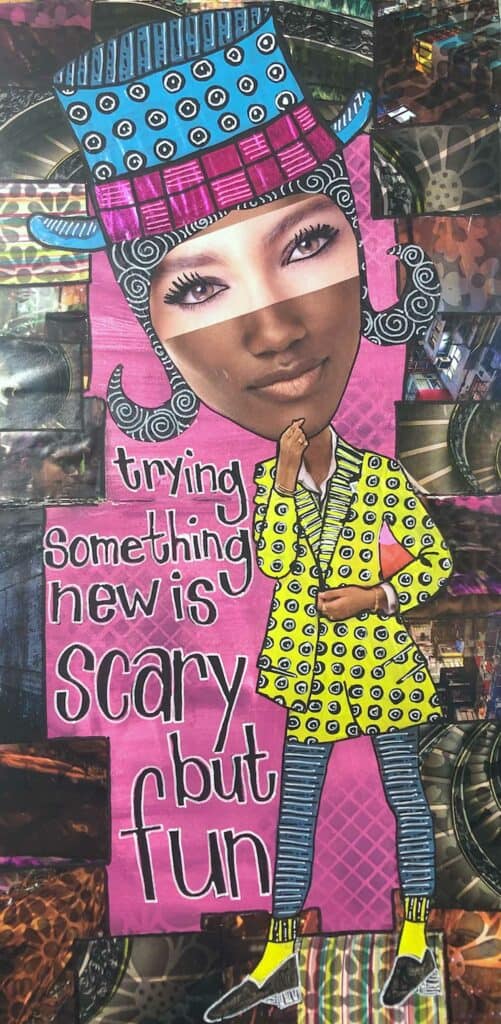 My Thoughts About The Painted Magazine Class
I have taken a couple of Dyan's smaller magazine collage courses… the basic collage class gave me a flavor of her teaching style, and also showed me how she thinks of picking magazine images!
But honestly, the 4 Day painted magazine collage class was SO MUCH BETTER!
Click Here To Take Dyan's AMAZING Painted Magazine Collage Class!
Dyan walks you through all the steps to make these painted magazine collage images. She has a process that makes doing the backgrounds, choosing images and then the painting so easy!
Painted Magazine Collage FAQs
I know I had some questions before I took this course, so I thought that I would tell you some answers as I see them!
Is This A "Real" Magazine Collage Class?
If you follow Dyan you may know that she is the Dylusions gal who has collage sheets and a line of sprays and paints (which are awesome by the way!)
But I was looking for a class where she used real magazine images and this one was just that! All cutouts from real magazines, no collage sheets!
Do You Have To Be Able To Draw?
Thank the sweet baby jesus no! I have to say that my favorite part of this class is how I saw that Dyan used simple shapes and ideas to make the enhanced magazine collages!
To give you an idea of how "non-drawy" I am, here is my "cheat sheet" I made to give myself ideas of hats and hair I could add to my collages!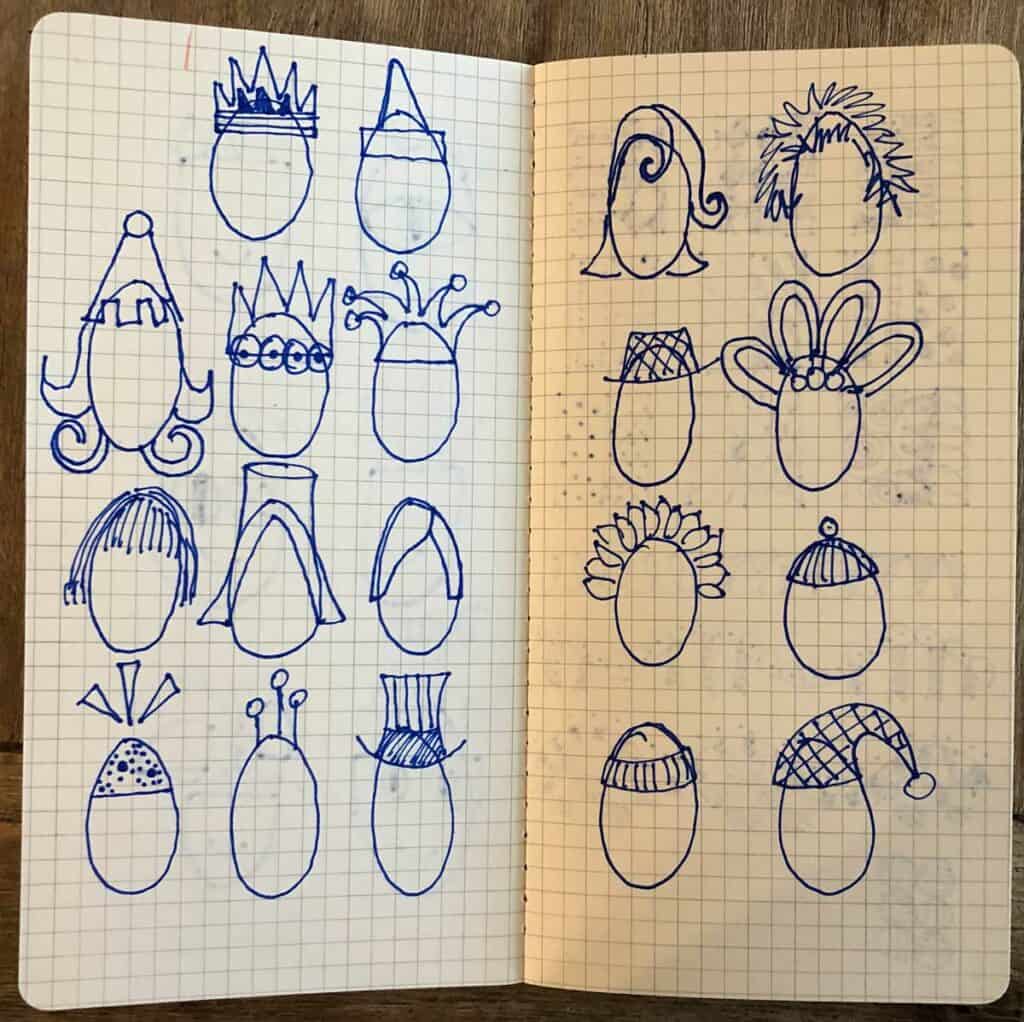 As you can see I am no Picasso! And YES!!! Please feel free to print out and use my derpy hat and hair ideas in your art!
How Much Does It Cost?
I had taken a few of Dyan's classes that were about $20 and this one was $80… what the what?
Well come to find out it was 4 DAYS of classes covering EVERYTHING that you need to do to be able to make much cooler magazine collages!
Dyan has 20 YEARS of experience and gave so many hints and tips throughout the class that will make all of my collages better!
Click Here To Take Dyan's AMAZING Painted Magazine Collage Class!