The Big Shot Switch is a super cool, electric die cutting and embossing machine! Today we will look at the features of this machine as well as whether we need to add it to our artist toolkit!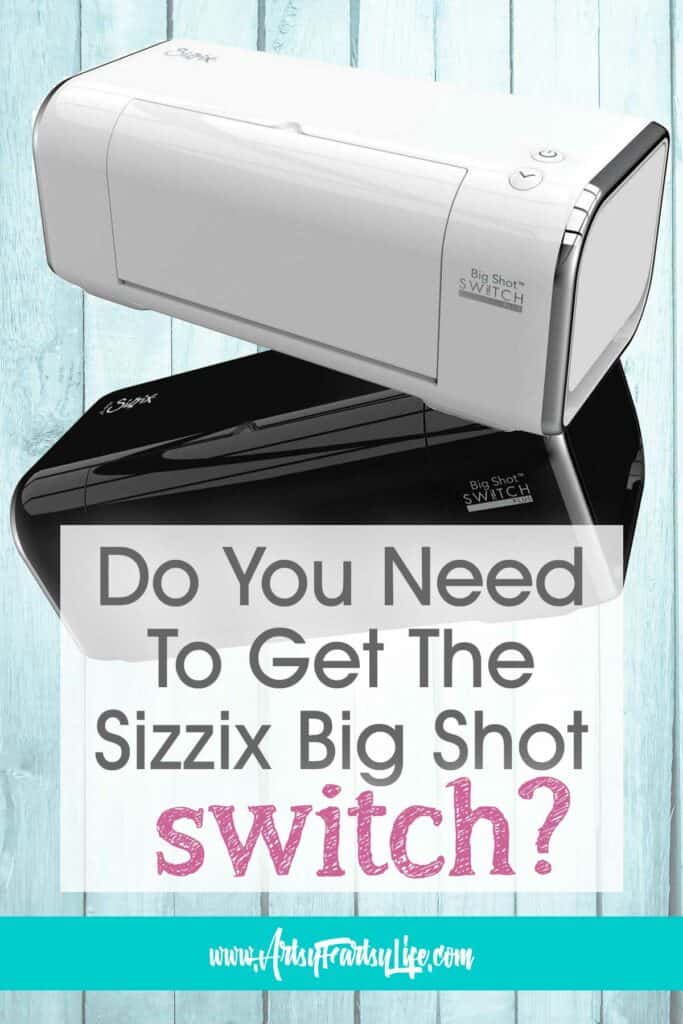 Please note: This article contains affiliate links, and that means that I may earn a commission if you buy something. Read my full disclosure here.
Why I Am So Curious About The Sizzix Switch
As a mixed media and collage artist, I use die cuts and embossing folders frequently in my artwork. I currently have 3 die cutting machines… the tiny Sizzix Sidekick (which I use the most), an old dear Big Shot manual machine, and I just got a fold up Spellbinders Platinum 6.
How Does The Sizzix Switch Work?
Okay, I was ready for this to be super hard and complicated, but it was just the same as doing a sandwich and then running it through my old manual Big Shot, but MUCH easier!
You just make your sandwich of plates like usual and then push it into the machine. It will start up (make a noise), but won't actually suck it in to start cutting until it finds the sandwich part and then it pulls it in.
There is a simple two button system with a reverse switch that you can use to pull it back towards you when it is done cutting at the touch of a button!
I have it on the side of my big glass cutting mat so I put it in and then use the reverse feed to pull it back to me so I don't have to reach around and grab the plate as it comes out the back.
How Much Does The Switch Cost?
I bought my pink Switch from Scrapbook.com for $199 on sale…. whoo whoo! Retail price is $299.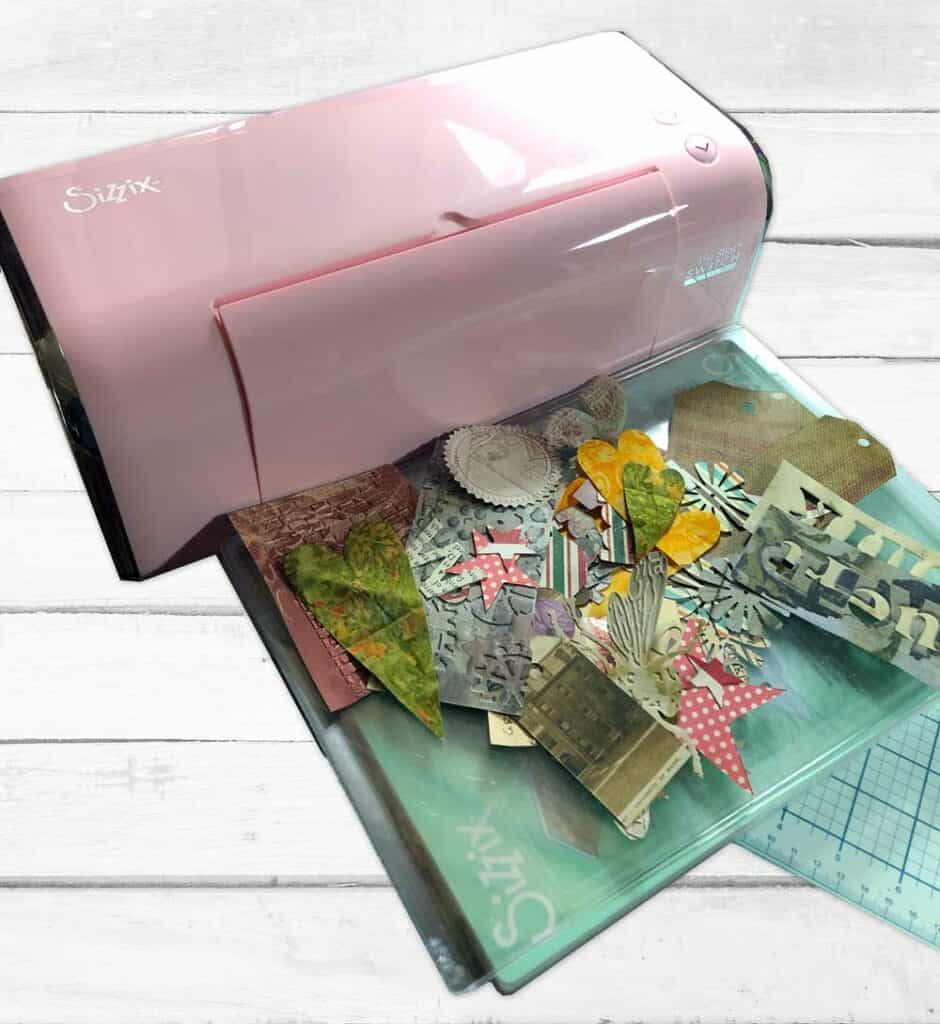 Other Places You Can Buy The Switch
Sizzix Big Shot Switch Review Video
What Does The Switch Package Include?
Big Shot Switch Machine (super pretty with stylish chrome accents!)
Two Cutting Pads, One Platform (Adaptor A and Adaptor B)
Some of the Switches include 3-D textured Impressions embossing folder and thinlits dies (assorted)
Automatic feed and reverse features
What Are The Different Colors of the Switch?
Scrapbook.com has the Pink Switch as their special color.
Simon Says Stamp and other places have a special Black Tim Holtz version.
All the different retailers and online shops that sell the Switch have the white ones for the most part!
What Kind of Die Cutting Platforms Can It Hold?
If you are new to die cutting, there are things called the platforms that are the "sandwiches" which hold dies in place when you run them through your die cutting machine.
I have used the Switch with the HUGE cutting plates they come with and also the regular Big Shot plates that I have from my old manual machine.
If you are new to the world of die cutting…most all of the platforms are interchangeable!
Some are super small and skinny like the Sidekick mini die cutting machine and some are HUGE and can hold really big dies. According to the press release and videos, the width of the opening is 9″ so almost any platform should fit in AND they did say that even the itty bitty Sidekick plates would work so it seems very forgiving of platform sizes.
They stated that sensors in the Big Shot Switch can tell what size platform is inserted… BUT is that unlimitedly variable OR does it have certain "standard" sizes. I don't know right now which leads me to my next question!
Can You Use Magic Mat Plates In The Sizzix Switch?
I REALLY like using the Magic Mat pads from Scrapbook.com. They are self-healing cutting mats that don't crack when you run your dies through.
That said, they are NOT the same depth as regular cutting mats so if the Switch electric die cutting machine has "standard" depths that it can put through, there could be a problem.
The lady in the second video says it can take ANY size cutting plates so fingers crossed the magic mat should work!
How Big Is The Big Shot Switch?
The press release says that the Switch is 15" x 5 ⅞" x 6 ½" so it is long but really pretty shallow. It comes in a 17.5X8X9 inch package.
Since I would want to keep it handy, I wanted to compare it to the "regular" manual Big Shot machine that I already have which is 14 1/4″ x 12 3/8″ x 6 5/8″.
So it is about as wide as Big Shot is long, but is much "skinnier" because you don't have the space of the handle sticking out.
I am focusing on using more of my dies and stamps in my mixed media so I am keeping it right next to me on my desk. It does take a fair amount of space, mostly because of the depth needed to allow the big cutting plates to enter and pull back into the machine.
What Kind of Dies Work In The Sizzix Big Shot Switch?
I have tried all these kinds of dies of dies and they work great!
Bigz Dies (the thicker steel ruled dies from Sizzix)
Bigz XL Dies (the longer dies from Sizzix)
Thinlets dies (the super skinny, lightweight dies from many different companies)
I will keep up with this list as I learn more!
What Kinds of Platforms Don't Work In The Switch?
I wonder if the magnetic plates platforms will work in the Switch. I know that most electronics don't like magnets so this is a big question for me!
Tim Holtz said in this video that they DO work, but I am still hesitant to put magnets into a machine!
Can You Emboss With The Switch?
The starter set of the Switch comes with a 3D embossing folder (which can be a little thicker than "normal" embossing folders) so for sure YES!
Just like the regular manual machines you swap out a layer of your "sandwich" to thinner piece to place the embossing folder on.
I have used a plain jane embossing folder, a 3D embossing folder and the Impresslits dies cutting folders and they all work (but the impresslit shot out the back after I used it so I will stick to a manual machine for that one!)
Who Is The Big Shot Switch Good For?
I got one of these because my wrists are weak from writing on the internet so much AND I have elbow issues that are not fun when I am cranking a bunch of die cuts out!
But who else is the Switch good for?
People with arthritis
Crafters who do A LOT of die cutting or embossing
Artists who want a machine to sit on their desk that is not crazy big
Disabled people who can't crank the manual machines
Lazy crafters like me who don't want to put all the muscle in!
Functionally, this machine is great if you struggle with the die cutting crank machines! I know that I am getting to were I can't do the physical bits as well as I did as a younger crafter!
The Switch Is LIVE! – February 1, 2021
Oh my gosh, today is the day that Sizzix launched the Switch worldwide! Here is the official video about all the bells and whistles from Sizzix!
January 2022 Update – I found an amazing video from a gal from Australia who has a switch… for some reason Sizzix loves Australians more than those of us in US!
That said, I am SUPER curious about the new Sizzix Big Shot Switch since seeing this Scrap Time video from Creativation 2020!
I thought this one from Hedgehog Hollow was super too! It showed how the machine worked!
So let's dive into everything I can find out about the Switch!
Sizzix Official Press Release
Here is the official Sizzix Switch press release with some details pulled out that matter to me!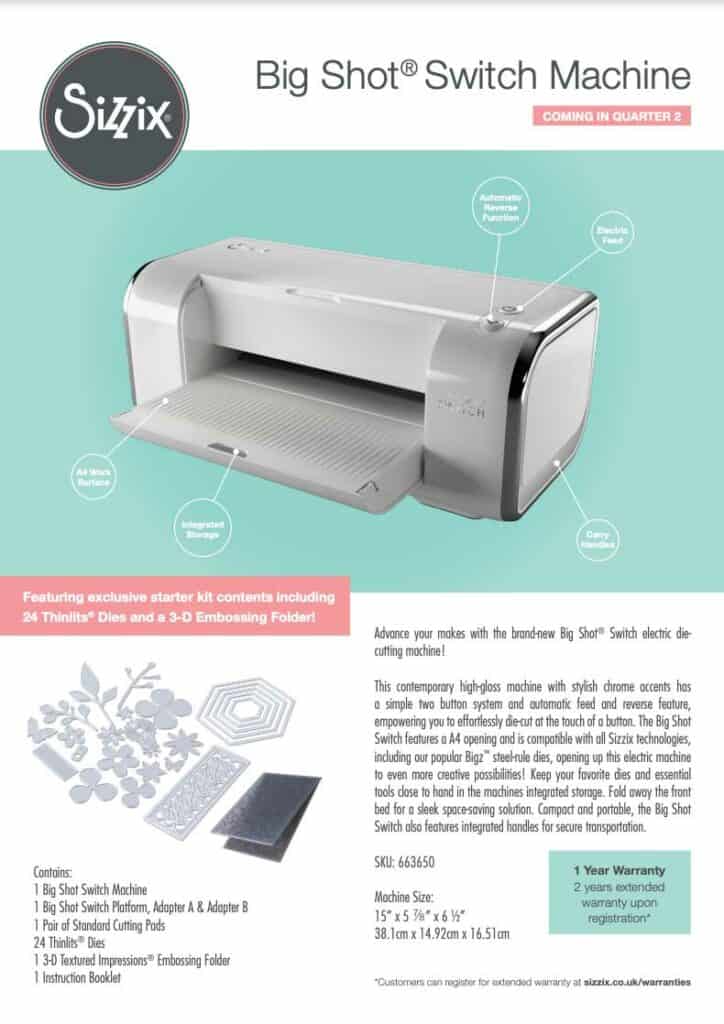 Sizzix Switch UK Sell Sheet
"a A4 opening and is compatible with all Sizzix technologies, including our popular Bigz™ steel-rule dies"
SKU: 663650
Machine Size:
15" x 5 ⅞" x 6 ½"
38.1cm x 14.92cm x 16.51cm
Additional Resource :: Ellison Big Shot Switch Flip Book