Here are all my best tips and ideas for how to use a die cutting machine to make outline shapes for your junk journals, cards or mini albums. This tutorial will walk you through getting started using a Sizzix Big Shot or Sidekick machine.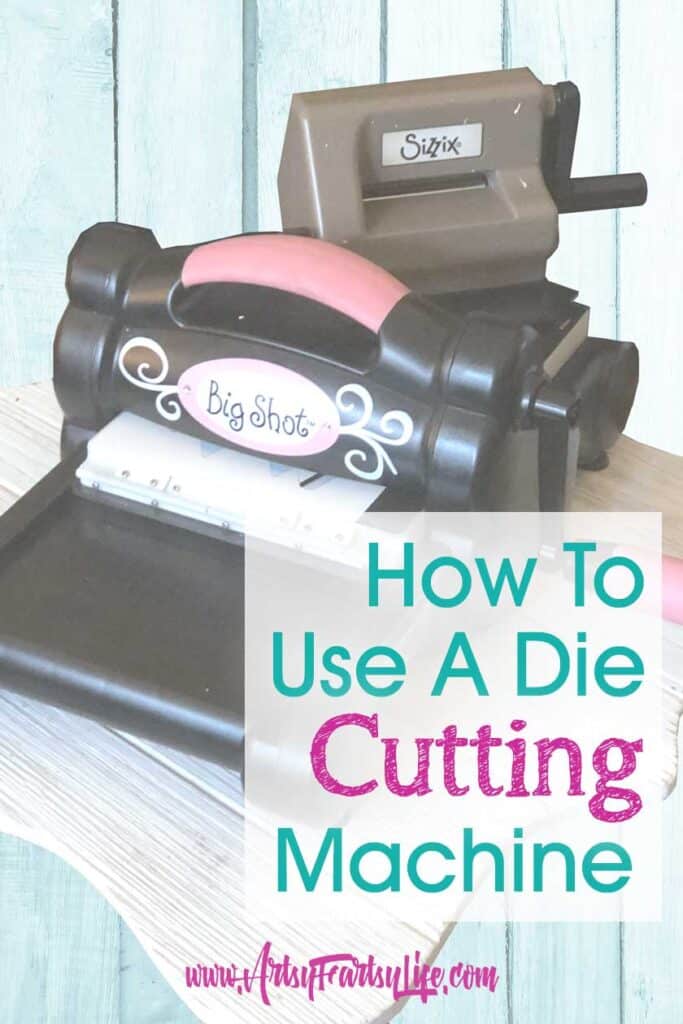 please note :: as an Amazon associate I earn from qualifying purchases, read my full disclosure policy here
What Is A Die Cutting Machine?
A die cutting machine will use metal dies to cut out shapes, letters or numbers to use in your artwork and paper crafts.
For example, I used a heart die and a stars die to cut out these Broken Hearts and Shining Stars washi tape embellishments!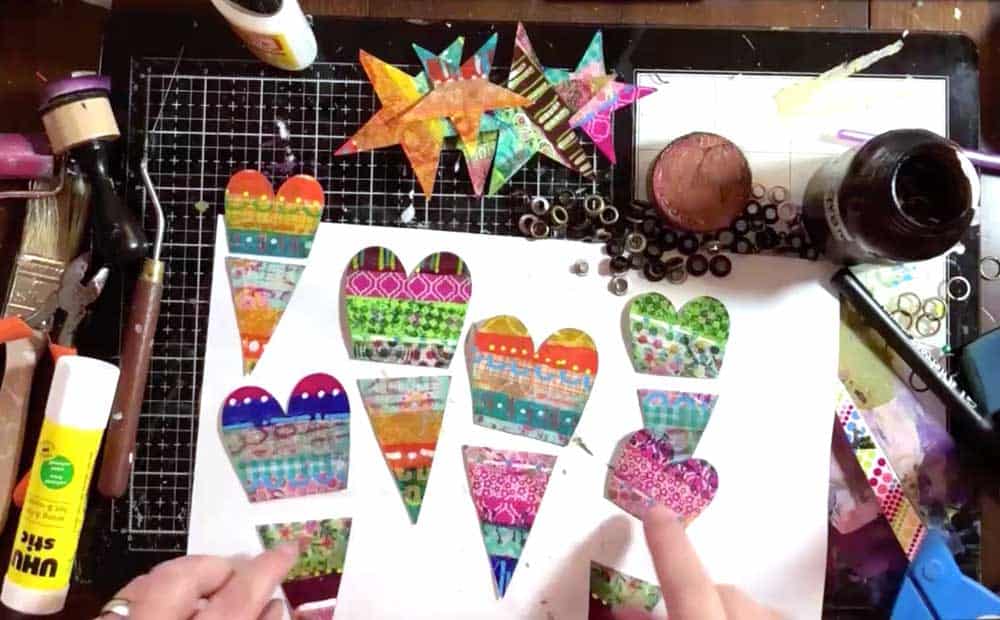 Full Die Cutting Machine Video Tutorial
What Kind of Die Cutting Machine Should You Buy?
There are SO MANY different kinds of die cutting machines out there. I tend to buy Sizzix products, but there are lots of other makers.
So how do you know what kind you should buy? Here are my two cents, depending on what kind of crafting you do!
Big Shot or Large Manual Die Cutting Machine
I have had my Big Shot for YEARS and she is finally starting to die (I can only crank the handle clockwise now… ha!)
It is a good cutting and embossing machine because you can make bigger die cuts and cut through thicker or multiple layers. You can also run embossing folders through it to make textured paper.
That said, unless you are doing large projects, I would recommend that you start with the Sidekick or other smaller die cutting machine!
Sidekick or Small Manual Die Cutting Machine
I LOVE that I can have my Sidekick (tiny die cutter machine) sitting right beside me at all time. I whip that sucker out anytime that I need a little something, something to add to my artwork.
The cost to buy this and the dies is much lower than the larger die cutting machines, making a no brainer to get started!
That said, you can't really do much embossing with this one unless you have the teeny tiny embossing folders that come with it.
Electric Die Cutting Machines
I KNOW, this is a manual die cutting machine post, but I know some of my peeps are older or have trouble with their hands, so I want to mention one more thing… there are electric die cutting machines that will do the rolling for you.
I would get one of these if I had trouble with arthritis or carpal tunnel OR if I was a card maker who needed large amounts of the same items.
Sizzix Big Shot Switch – Super Fancy Electric Die Cutting Machine Coming Soon!
In case you are one of those kinds of cutting edge gals, just know that there is a brand new, fancy pants machine coming soon… the Sizzix Switch. It was debuted at Creativation 2020, but then everything fell apart so we have to wait a wee bit to get it!
Steel Rule Dies versus Wafer Thin Dies
There are two different kinds of dies that you can use with die cutting machines.
Steel Rule Cutting Dies
Steel rule dies are thick dies that are capable of cutting chipboard, fabric and paper. They are a heavy die that has a more simple shape than the skinnier dies.
These dies are made by hand shaping the steel inside the dies so they are more expensive to buy, but they are super solid and I have never had any trouble using them.
You have to use a Big Shot, or larger die cutting machine to use these kinds of dies.
Sizzix, Tattered Butterfly Bigz Die

Wafer Thin Cutting Dies
Wafer thin dies are super skinny! They are cut out by machines and come in a variety of different shapes (and quality!)
They are super cheap and light weight to ship so they are way more affordable than steel rule dies. I have had troubles with them from time to time, but since they are cheap, it is not a bother. (mostly the problems came from cheap ones I bought from overseas)
You can use either a large or small die cutting machine with these kinds of precision cut dies.
Sizzix Thinlits Die Set 2 Pack Pattern Repeat

Where Can You Buy Dies?
One thing that I wondered when I got started was where to find dies to buy to use in the machines. Here are a few of my favorite places to get dies!
Amazon (of course!) – You can buy both steel rule dies and wafer dies on Amazon
Sizzix – my favorite die making shop (they sometimes have super good sales on clearance dies)
Ebay – you can buy both new and used dies on Ebay (check prices though, sometimes sellers list used dies for as much, if not more, than new dies on Amazon!
Small shops that have cool specialized dies
Yield: 1
How To Use A Manual Die Cutting Machine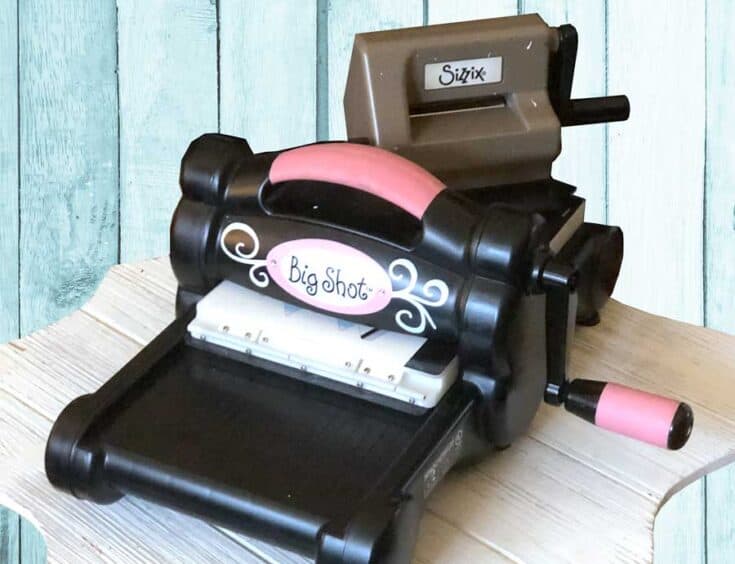 Tips and ideas for how to get started using a die cutting machine with steel rule or wafer dies.
Tools
Big Shot or Sidekick Die Cutting Machine
Steel Rule or Wafer Thin Dies
Pin to poke out pieces
Instructions
Gather your die cutting machine, plates and paper



Measure to paper to fit over die



Cut paper to fit through die machine opening



Put plates on top and bottom of the die over the paper



Roll through the die cutting machine



Remove paper or other materials from the die



Use a hatpin or poking tool to get the little delicate pieces out


Notes
Die cuts are a great way to add color, dimension and texture to your junk journals, cards or mini albums.
Recommended Products
As an Amazon Associate and member of other affiliate programs, I earn from qualifying purchases.