Tips and ideas how to use your gelli plate to make amazing Christmas wrapping paper! Easy and fast, this homemade gift wrap is a great way to snazzy up your gifts!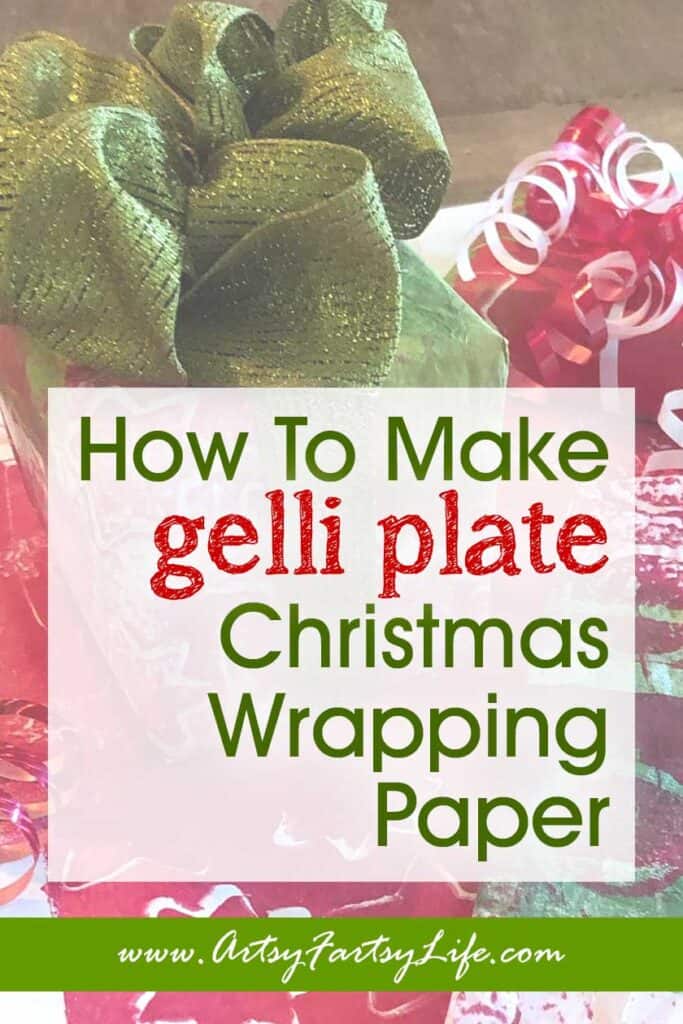 Gelli Plate DIY Christmas Gift Wrap
Almost every year I have some kind of brainstorm about how to make fancy DIY gift wrap or gift tags for my friends and family for Christmas!
And then reality hits… I DO NOT HAVE hours and hours to sit and stamp little things or stencil or anything else that requires finesse and precision.
That is why I got so excited when I was doing some gelli plate background for my papercrafts and started thinking… hey, if I did this in green and red it would make AMAZING gift wrap!
What is a gel plate?
Oh my gosh, if you have never used a gel plate before, you are in for a treat!
It is a squishy "gel-like" piece that allows you to layer acrylic paint on it AND make designs and patterns.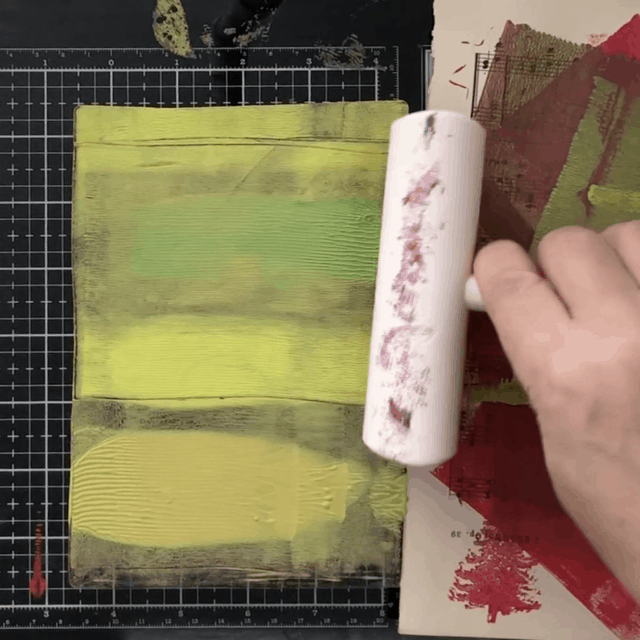 You use a brayer (the roller thing) and spread the paint out. If you allow the paint dry between layers, the acrylic paints won't mix and make muddy colors.
What materials do you need?
There are just a few things you need for this project!
A gelli plate (I would use an 8X10″ one so you you can make larger color blocks)
A brayer to roll out the paint (it needs to have some give, not be a super hard one)
Green and red acrylic paint
Lightweight paper, kraft paper or tissue paper
What kind of paper to use
I always have a huge pile of white tissue paper laying around to "clean" off my gelli plates. It is a great way to pull extra paint off the gelli plate when you are done with that set of colors.
The tissue paper gets a bit of substance with the acrylic paint added to it, but can still be a bit harder to use when wrapping your gifts.
I also had a number of super lightweight sheets (like the kind that retail stores use to wrap up things to take home).
It was just heavy enough to be good wrapping paper and light enough to be easy to fold and tape.
Not quite perfect
The one thing that you need to know about this kind of wrapping paper is that it is not going to be "prefect". The more you have hints of color here and there and the cuter it looks!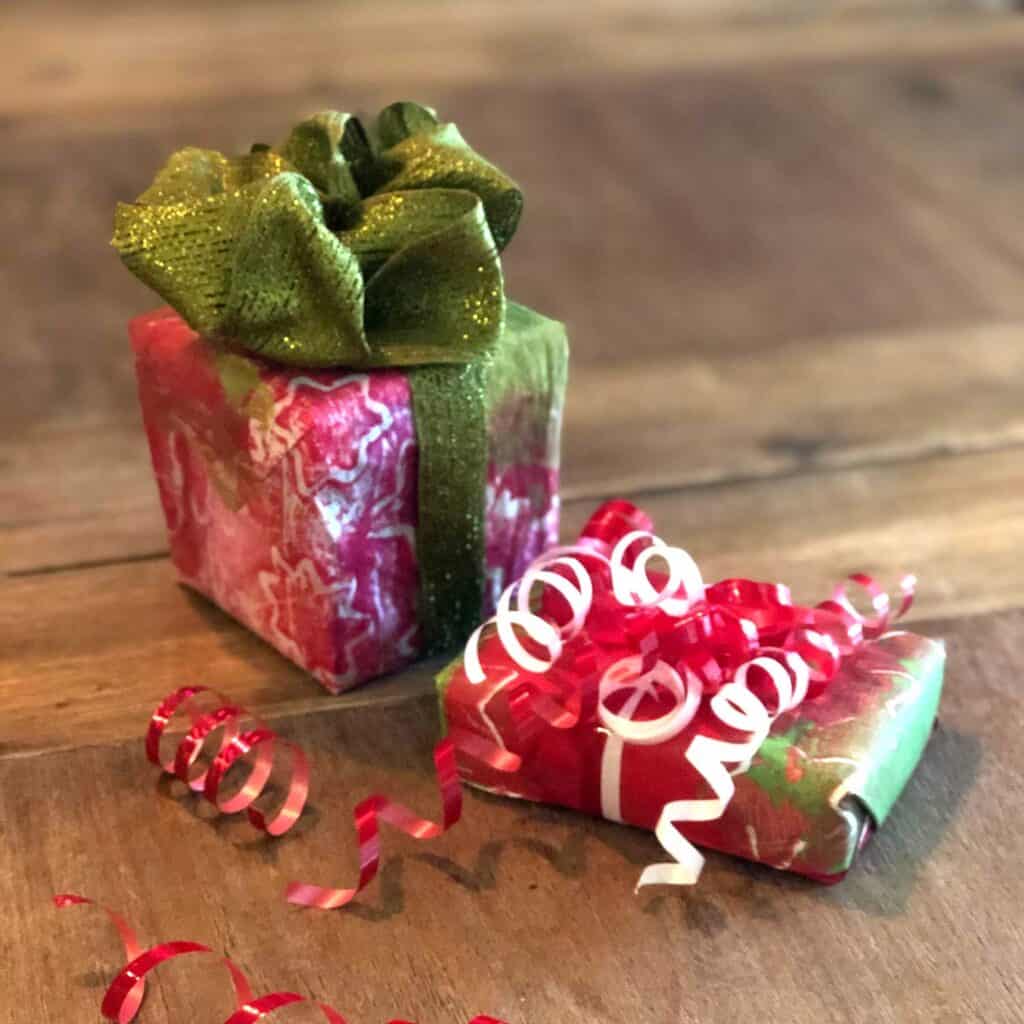 As you can see here, there is some green on the red star paper and the pop of green on the edge gave me the idea to use more of an olive green ribbon to decorate it!
Yield: 1
How To Make Christmas Paper With Your Gelli Plate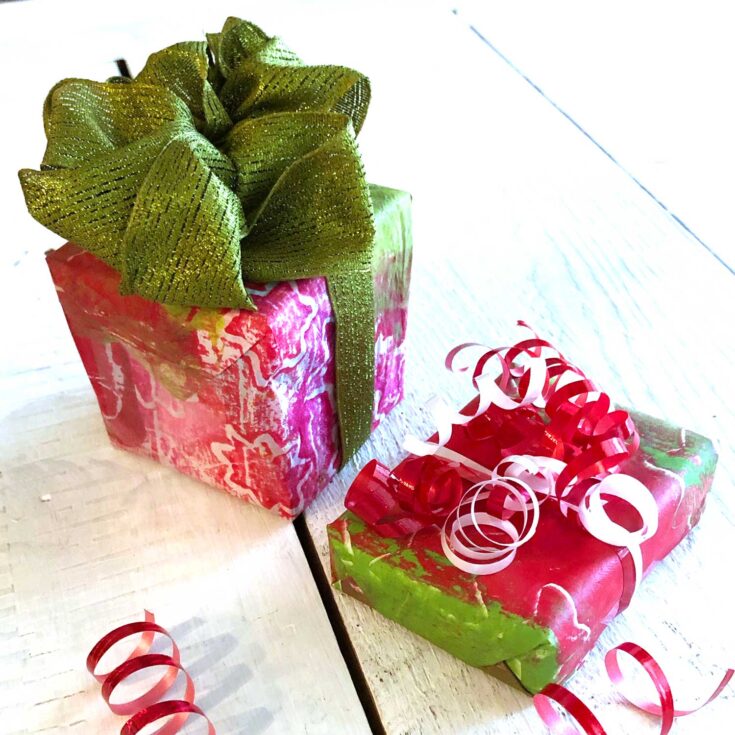 Tips and ideas for how to use your gelli plate to make colorful and creative Christmas wrapping paper. Use red and green acrylic paint to make DIY homemade papers for your Christmas presents and gifts!
Materials
Tools
Instructions
Add paint to the gelli plate

Use brayer to spread paint

Use cookie cutters to make pattern

Rub plate with lightweight paper or tissue paper

Wrap presents

Gelli Plate DIY Christmas Wrapping Paper FAQs
When I started doing the gelli plate, I wanted to think about all different ways I could use it. Here are some of the things that I found out while making my gift wrap!
A bigger gelli plate is better!
I have a 5X7″ gelli plate and just ordered a couple more in a bigger size. For sure the 8X10″ would make doing a bunch of different papers easier.
You can use any colors for your wrapping paper
I showed all examples of green and red, but I did a bunch of different colors (the "mermaid" blue one is for my besty!)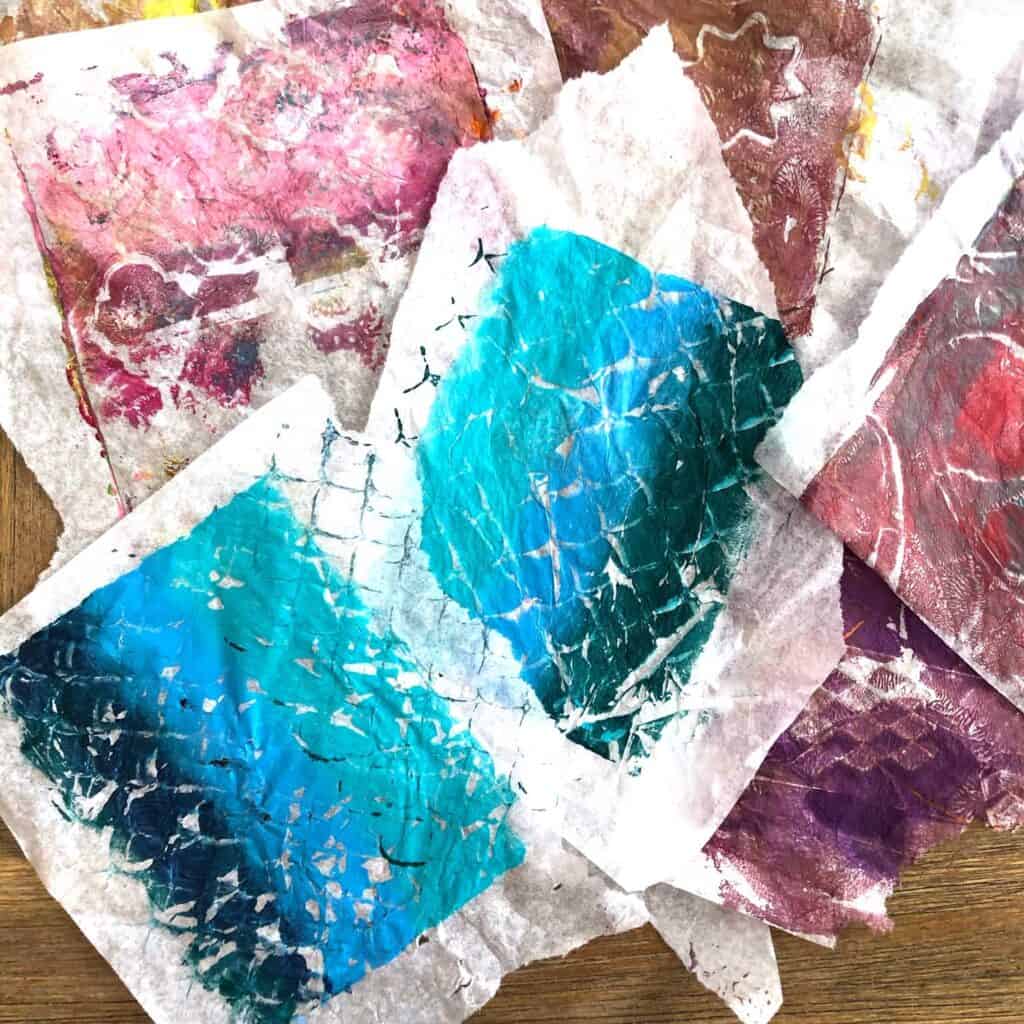 Use tape to make bigger pieces
When I started I tried to make the patterns match up on the papers, but I found that it worked much better to just make the pieces and then tape them together for wrapping.
You can make a really large piece by taping the smaller ones together!
Gelliplate Holiday Gift Wrap Wrapup
This may be one of my all time favorite wrapping paper ideas! It is easy and fun to do, plus you can use all your Christmas tree, candy cane and other stamps and cookie cutters to make fun patterns!
Now get out there and make some DIY wrapping paper!