I LOVE the look of those fancy black, white and gold pumpkins and wanted some for my mantle this Halloween. I decided to paint some wooden pumpkins with acrylic paint and highlight them with gold accents. This may be my most beautiful Halloween craft ever!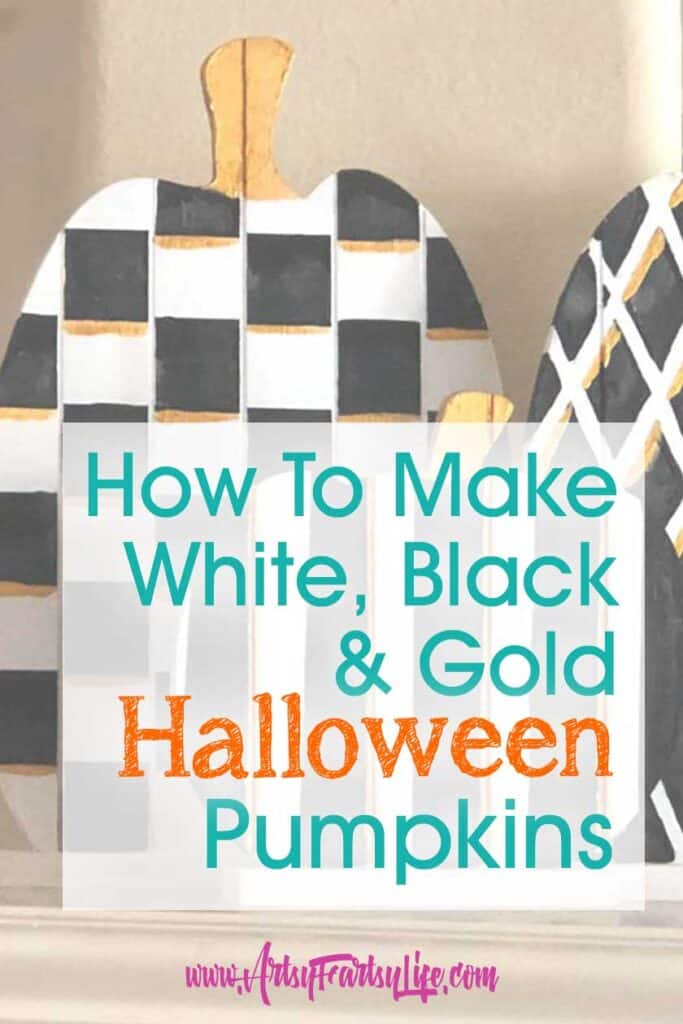 please note :: as an Amazon associate I earn from qualifying purchases, read my full disclosure policy here
How To Paint Black, White and Gold Pumpkins Video
Wooden Pumpkins From The Craft Store
I LOVE getting wooden cutouts to paint from the craft store! These I got from Joanns, but any of them will have them available during the holiday seasons.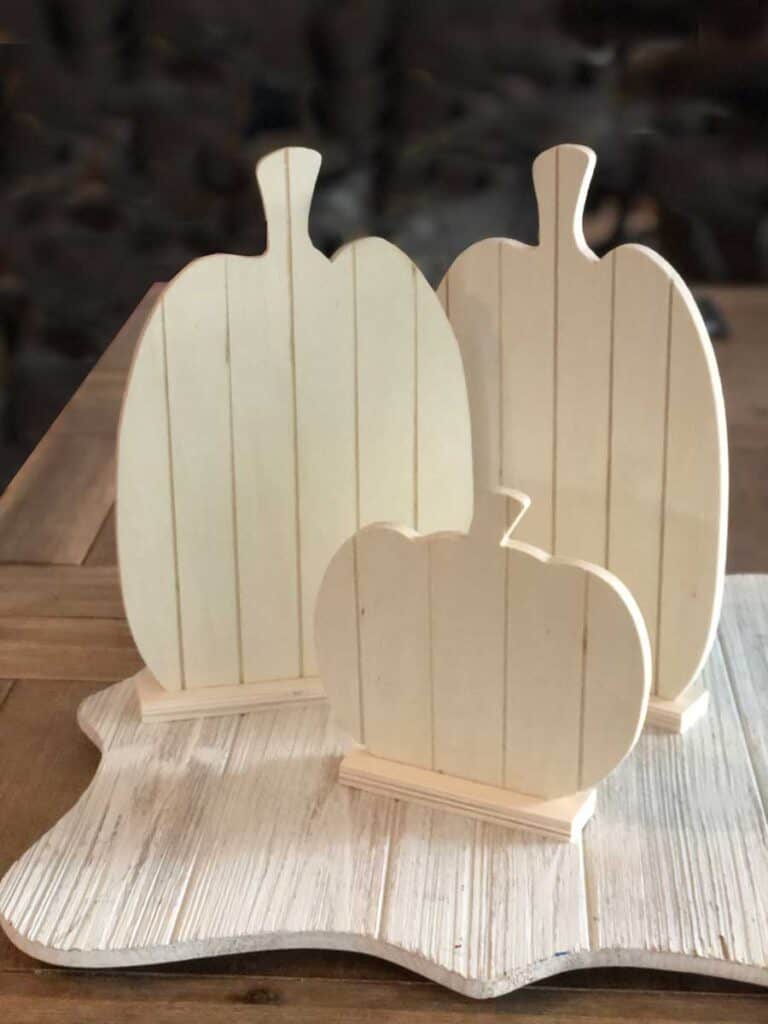 The things I liked about these ones were, they weren't super huge AND I liked that they had "slats" cut into them to give a bit more dimension to the pumpkins!
Prime With Gesso
Before you paint any kind of raw wood, you want to put some primer on it!
I use gesso, you could use actual paint primer like Killz or anything you had when you painted your walls in your house.
The thing you want to do is make a layer that will let the acrylic paint (which is plastic) stick to your project. If you don't have a primer layer, your paint might peel off (ask me how I know!)
Paint With Acrylic Paints
My next step was to create a pattern on the pumpkins!
For the harlequin pattern I wanted something not so "straight line-y" so I used a funky stencil from Joggles that was much more organic.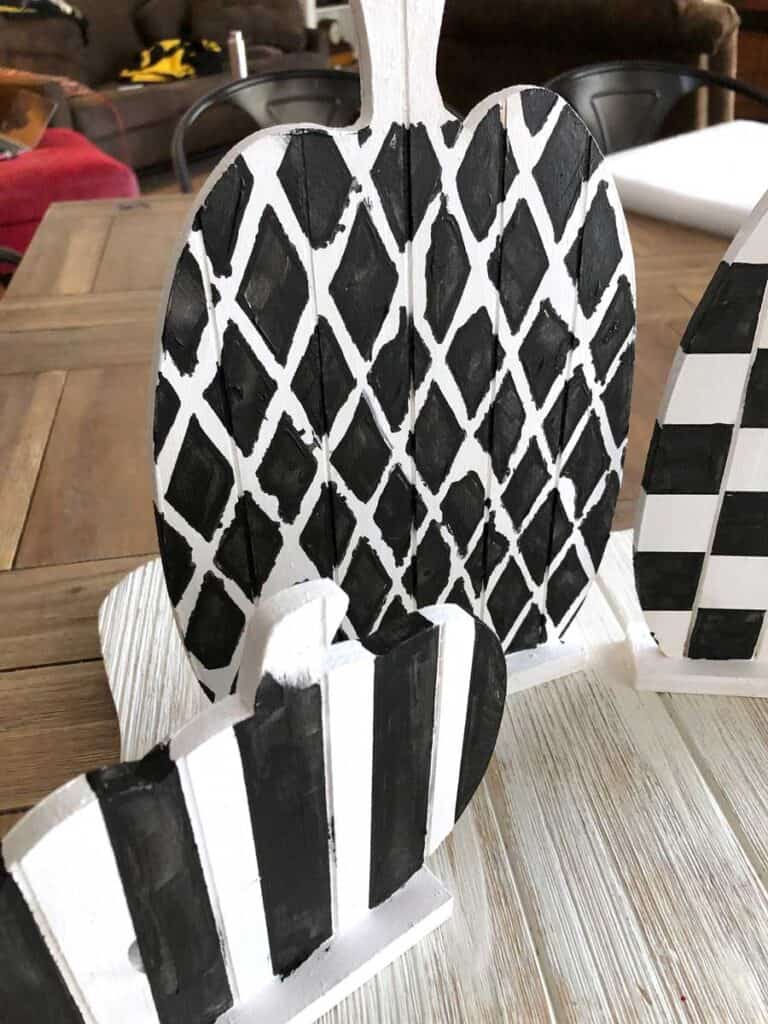 Dylusions 9″ x 12″ Stencil – Diamond In The Rough

For the lines and checkerboard I just used a metal ruler and Posca pen to draw the lines and then filled them in with a good acrylic brush and black paint.
Clean Up Any Mistakes With Posca Pens
Whenever I do any projects like this, I don't feel like I am pressured to do anything perfectly since I can use Posca Paint Pens to clean up the lines as I go!
If you watch the video, you will see that the original version of the diamond pattern was REALLY rough, using the paint pens lets you clean up any messy paint lines!
uni POSCA White = 3 Different Point Sizes per Pack

Final White, Black and Gold Pumpkins
Oh my gosh, I love how cute these pumpkins turned out! They have that MacKenzie-Childs look, but without being so fancy that I they don't match my SPOOKY Halloween mantle decor!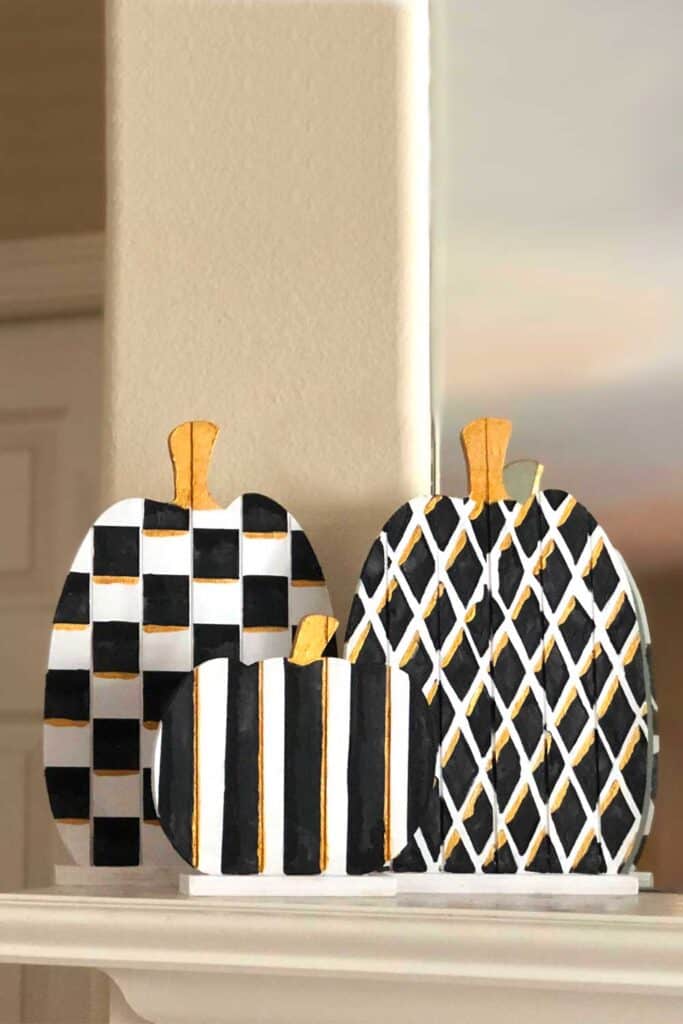 I am thinking that the last thing I am going to do is paint it with antique mod podge, watch for the final-final version on Halloween mantle post!
ADDITIONAL HALLOWEEN CRAFT PROJECTS