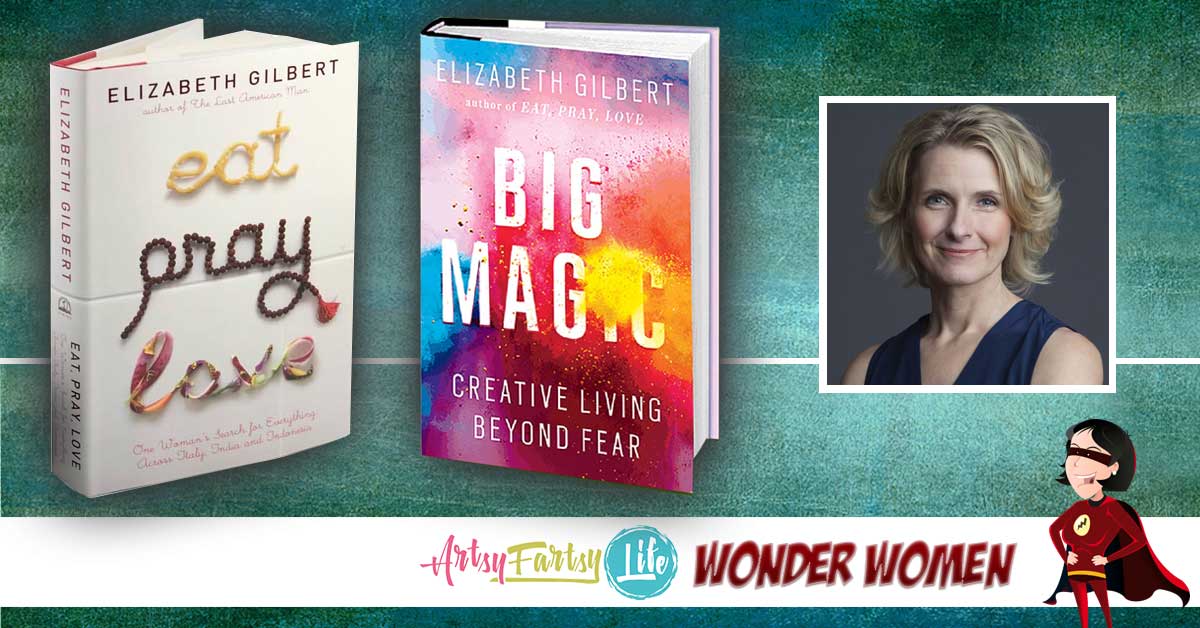 Liz Gilbert is my spirit animal! Okay, now that we have that right out front, I can tell you why she makes my Wonder Women list…
Note: Some links in this post are affiliate links, which means I receive a commission if you make a purchase. I try to find amazing things that my readers will love as much as I do!
First off, she is a New York Times bestselling author! Her book, Eat Pray Love, was on the bestseller list for 187 weeks and was made into a moving starring Julia, freaking, Roberts for heaven's sake.
I am not a creative fiction, memoir-y kind of gal and missed all that bru-ha when it was happening. I have subsequently listened to it on Audible after I "met" Liz through her non-fiction book and it was good, not my cup of tea but entertaining enough of a story.
But as a creative person, I actually love her nonfiction book, Big Magic more.
In it she talks a lot about ideas, where they come from, how we need to nurture them and why we are not to blame if one leaves us when we neglect it!
Functionally, this may be the one book ever written just for me! It covers all kinds of practical creative things like fear (funny that is the first thing that comes to mind when I think about being creative!), perseverance and also mystical thoughts about ideas and how we have to have a dance between our own skills and the universe's big idea factory's quotas and deadlines.
The thing that jumps out the most to me from her work is asking yourself whether you are willing to eat the "shit sandwich" that comes along with choosing a creative life.
As a writer I have to remember that I LOVE writing when I write a blog post a day in December. It is hard and really stretches my ability to think of subjects to talk about that will help my peeps. It means that I have to say no to lots of other things in December when there are parties and so many todos for my family and children.
Her shit sandwich was facing YEARS of rejections when she was getting started (before Oprah called and asked her to be on her show!) Liz says that if you are not willing to eat the shit sandwich parts of your creative life, then you are not willing to do what it takes to succeed at all costs.
It is weird, Liz has experienced HUGE, CRAZY success with her book, but people are constantly asking her if she is going to be able to survive never having such a great success again… as if she should stop now and just leave that one perfect memoir out there to stand as her life's work.
She is the bomb diggity because she is not content to leave well enough alone. She is going out and writing more!
Books that have not done really as well commercially, but that she loves anyways. Books about creativity that help people like me. Books that she wants to write.
THAT is why Liz Gilbert is my Wonder Woman!
If you are interested in following along with Liz, her Facebook page is a wealth of uplifting messages and hope!