I thought you might like to see how I make paperclip dangles with lots of charms and decorations. I love making these kinds of embellishments to add to my junk journals and altered books.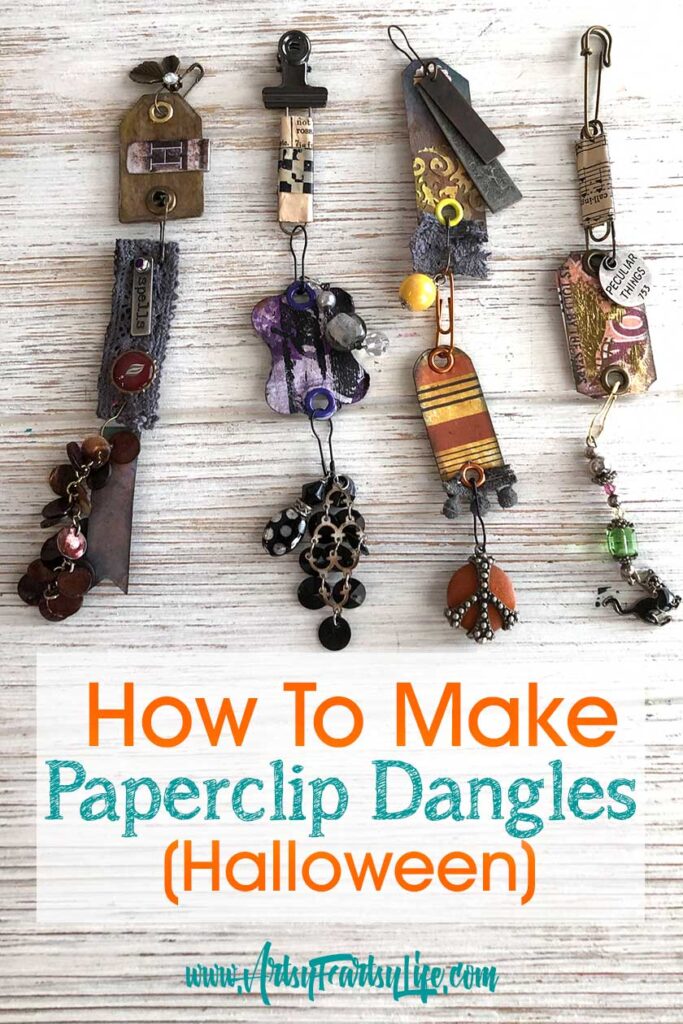 please note :: as an Amazon associate I earn from qualifying purchases, read my full disclosure policy here
VIDEO :: How To Make Paperclip Dangles
How To Make Paperclip Dangles
When I started doing paper crafts I thought there must be premade, cool bit to use, but come to find out that the most fun is making your own charms, dangles and embellishments to add to your junk journals or mini albums!

Looking for more? Check out the Wicked Cool Junk Journal Kit!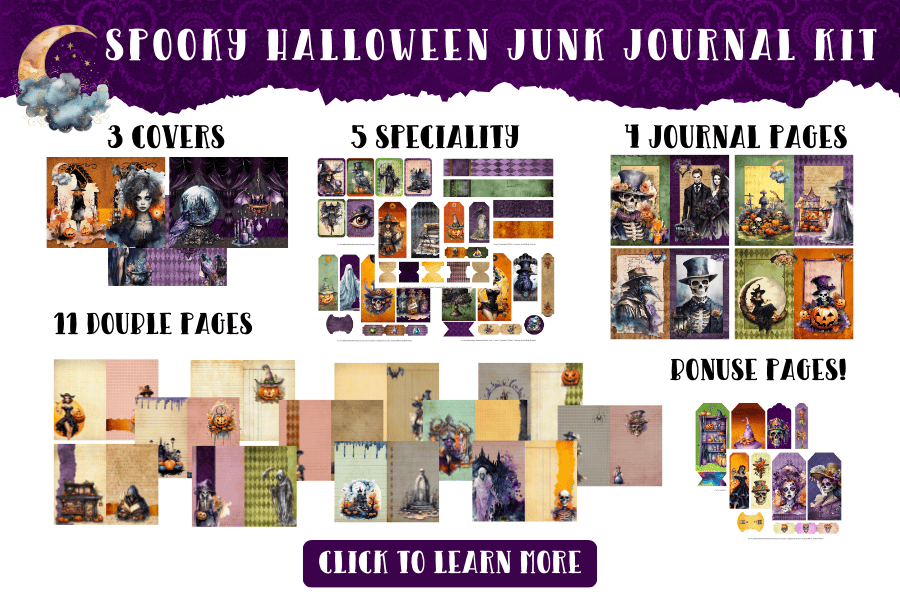 Picking A Theme
I like to have a "theme" when I am putting my dangles together. For example, this one was for my Halloween journal so I went with:
Colors: Black, Orange, Purple and Green
Spooky or weird
Dark and moody beads (lots of dark colors and black)
Dark metals like black, tarnished brass
Dark brads in the right colors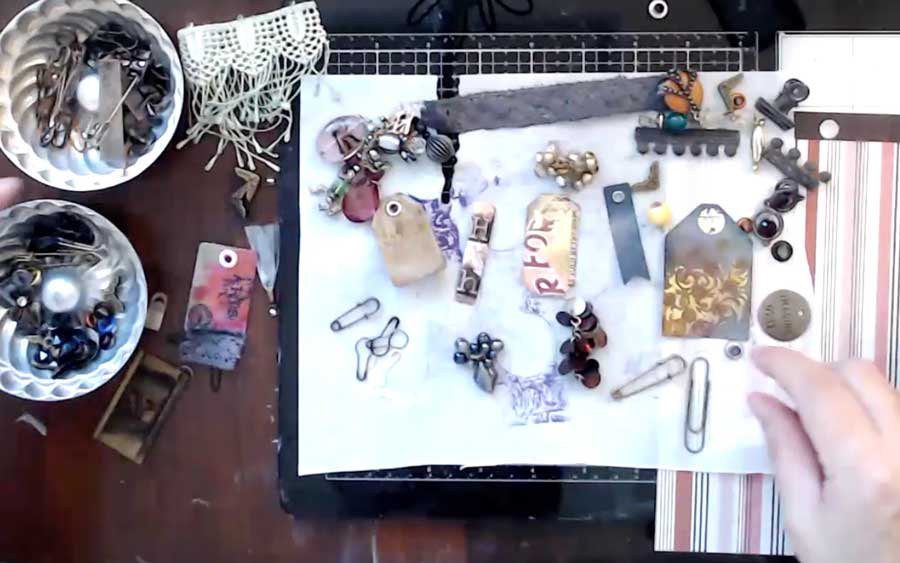 For this project I got a mix of tags, ribbons, paperclips, safety pins and inks that I could use to make fancy paperclips!
As you can see in the video, figuring out the different combinations of dangles is a little bit fiddly, but I generally like to have a paperclip or binder clip at the top, then a connector, then a feature tag to help with the theme, then a final dangle.
How To Hook Your Dangles Together
So for this one (my favorite) I have multiple layers of bead dangles, tags with grommets and then paperclips throughout!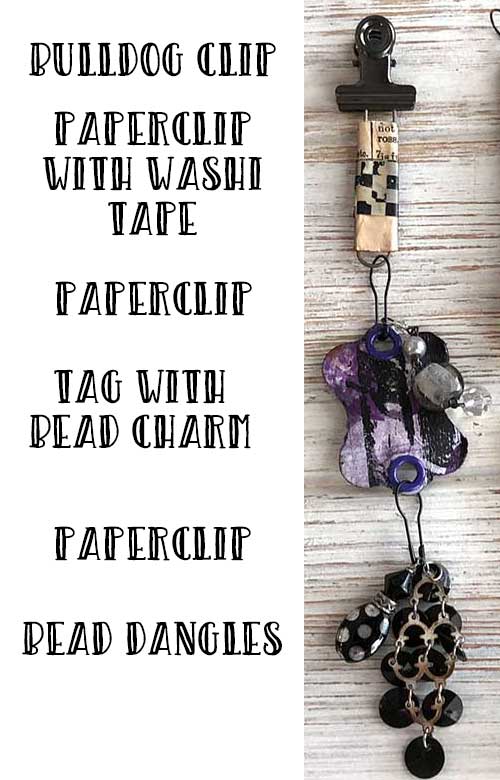 Supplies Needed
Okay, I don't want you to think you NEED any of these supplies! You can for sure make cool paperclip dangles with anything you have laying around your craft room, but these are some things that I have found that make life easier!
Jumbo paperclips – cool to add vintage paper around! These are just the plain jane ones like you get at the office supply store.
Washi tape – great for adding a pop of color (check out my washi tape storage ideas!)
Beads – I tend to use a mix of different kinds of beads in my journals. Many are vintage beads I got by buying lots of vintage jewelry at the auction and then pulling them apart, but many are also currently bought, new ones that I love. Start a bead stash immediately if you don't have one already!
Connectors – the thing that makes these look so cool is when you have lots of different connections between the features. I like to use jump rings (round o's that they use in jewelry making), safety pins or bulb or gourd safety pins (my favorite!)
Tags – one thing that I love to do is add a pop of color in the middle of my paperclip charms with a paper tag. Now, you do want to make them a little stiffer (you saw I glued two back to back) so they can hold the weight of the beads you will be adding.
Grommets or eyelets – I am the queen of adding color and durability with a grommet! Just use your cropadile to squeeze them in for some extra fun!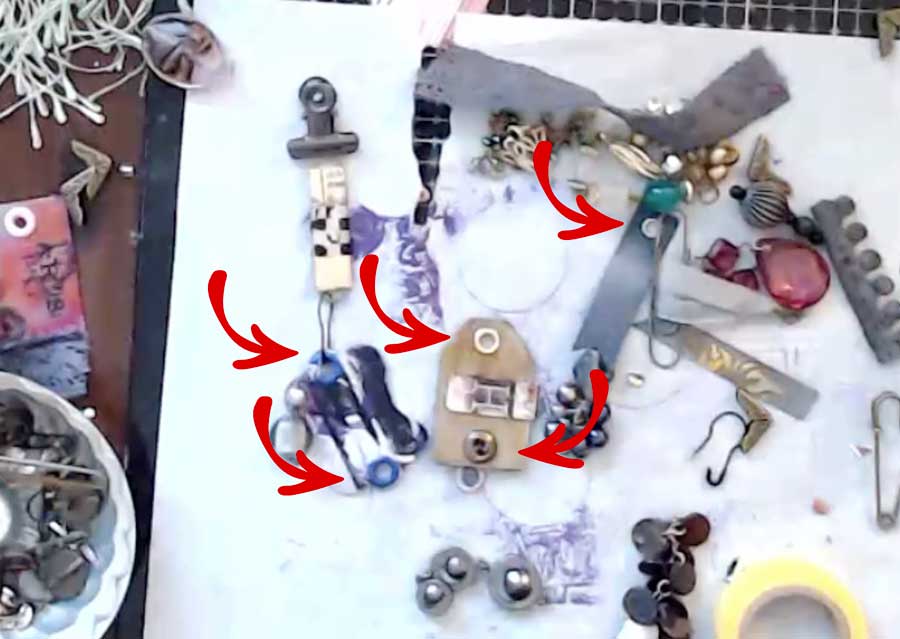 Bulldog Clips – The last thing that I love is the bulldog clips or binder clips that make it super easy to "hook" your paper clips dangles to your junk journal or mini album.