These printable Thanksgiving day cards are great for layering on greeting cards, junk journals, scrapbooking or even as place markers for your Thanksgiving table!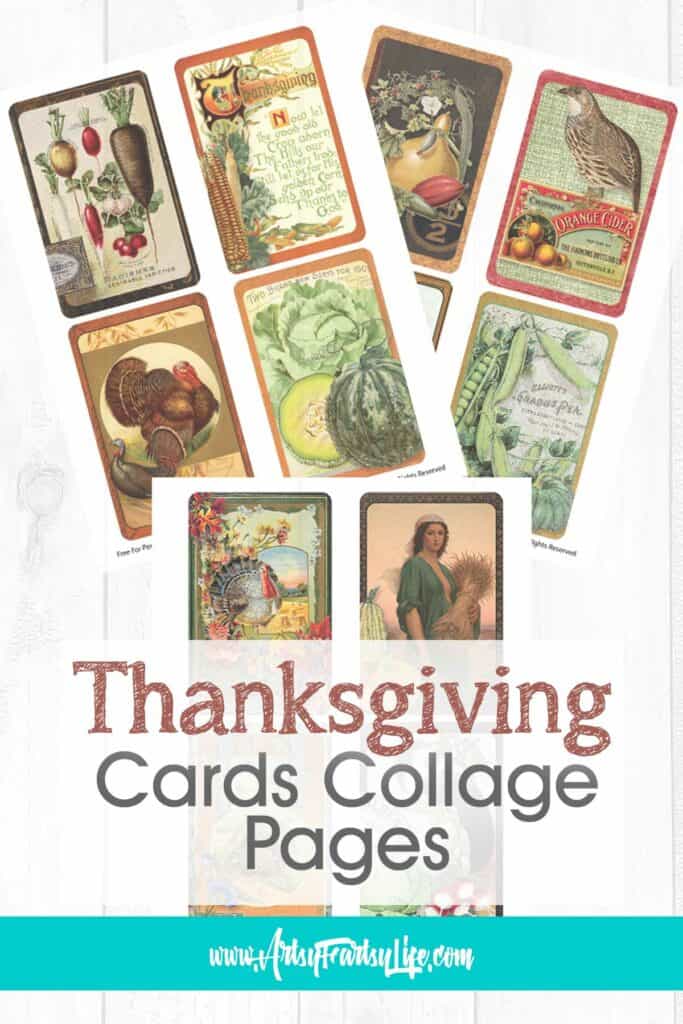 Please note: This article contains affiliate links, and that means that I may earn a commission if you buy something. Read my full disclosure here.
All the Thanksgiving Printables!
These Thanksgiving cards turned out so darn pretty… they make me so happy to dive into fall and the season of gratitude!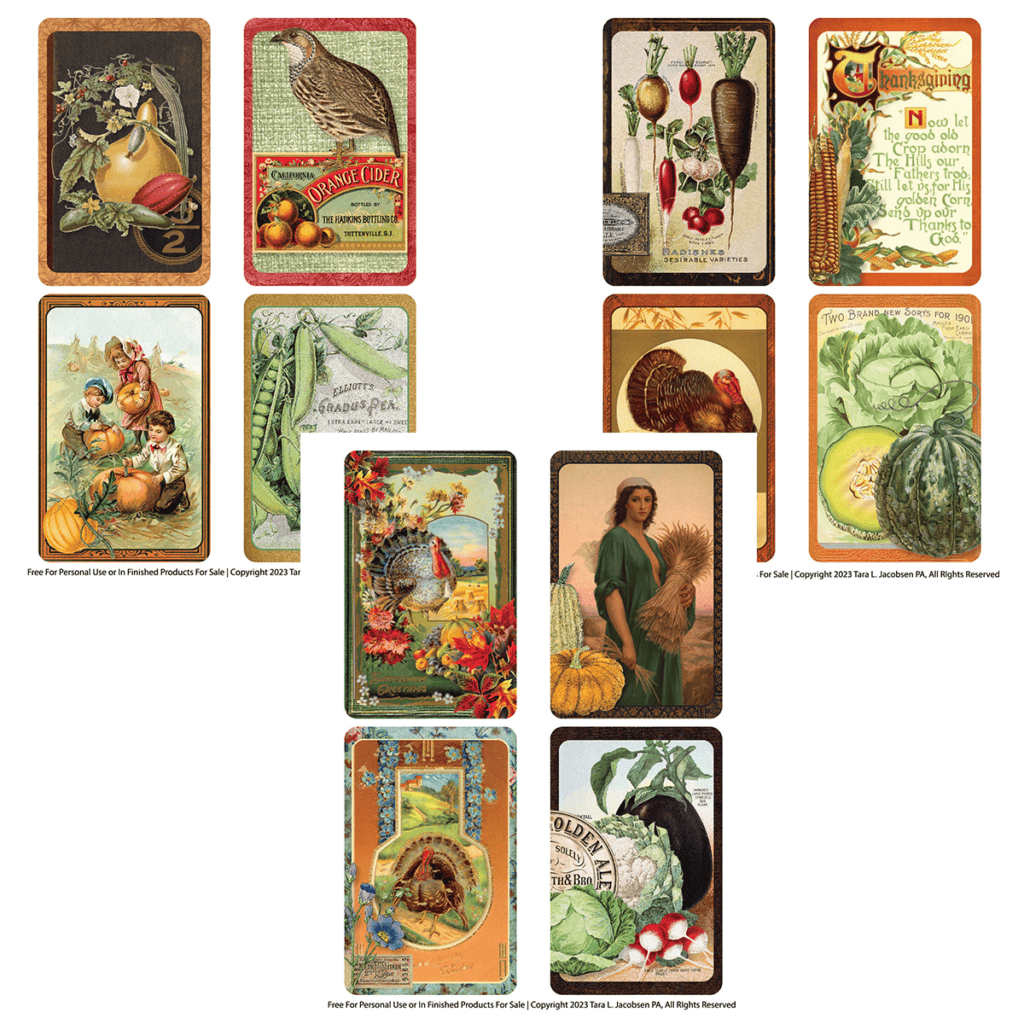 Why I Made These Printables
I am a huge junk journal nerd and I love having printables that I can just pop out and use in my journals on a whim! (I just bought a new Epson printer so I can have them anytime I want… before this I sent everything over to UPS to print out!)
I am doing a year of free printables for my blog readers and I am working my way through the seasons… we are at fall and Thanksgiving now!
I used a combination of my creativity and Graphics Fairy public domain images to make these cards.
Why Are They Free?
I am a blogger and am lucky enough to get to have ads on my website so anytime someone visits one of my pages I make a little bit of money!
AND I love having a whole bunch of peeps that talk to me each week about how fun my printables are when I send out the latest batch… it is like a circle of fun and goodness that makes me smile so big!
Free Commercial License For Printing
You can use these printables for sale almost any way you want as long as you print them out first! Here are some of the ways that the peeps have used them in the past:
Printed out and sold as sheets at a market
A card maker used them as card fronts in sets they sold on Etsy as handmade Thanksgiving card products
Made as part of a Thanksgiving themed junk journal that was sold at a craft fair in person
As long as you print them out first, you are safe!
There is no license to distribute these digitally so you can't put them on a Google drive and share the link, email them to your friends or give them away on your website or sell them digitally in any way.
That said, if you do want to share them with a friend, just send her this link and she can download this and all the other goodies for herself!
How To Download The Thanksgiving Card Printables
These are part of the freebie library I have made (there are hundreds of vintage images now that you can use in your crafting!)
Once you get the password you can log in and click on any set you want… you will get it as a printable PDF file that that that set of printables.
How To Print These Thanksgiving Cards
I used to get mine printed at UPS for about a dollar a page! That is super handy if you don't want to bother with having a printer.
Now I use my home printer with either card stock (bright white) or premium quality copy paper. I just think it makes them brighter and more colorful!
Get The Happy Thanksgiving Printables!
Click here to get a password to the freebie library! If you already have the password (I send it out in every weekly newsleter) you can go right to the freebie library!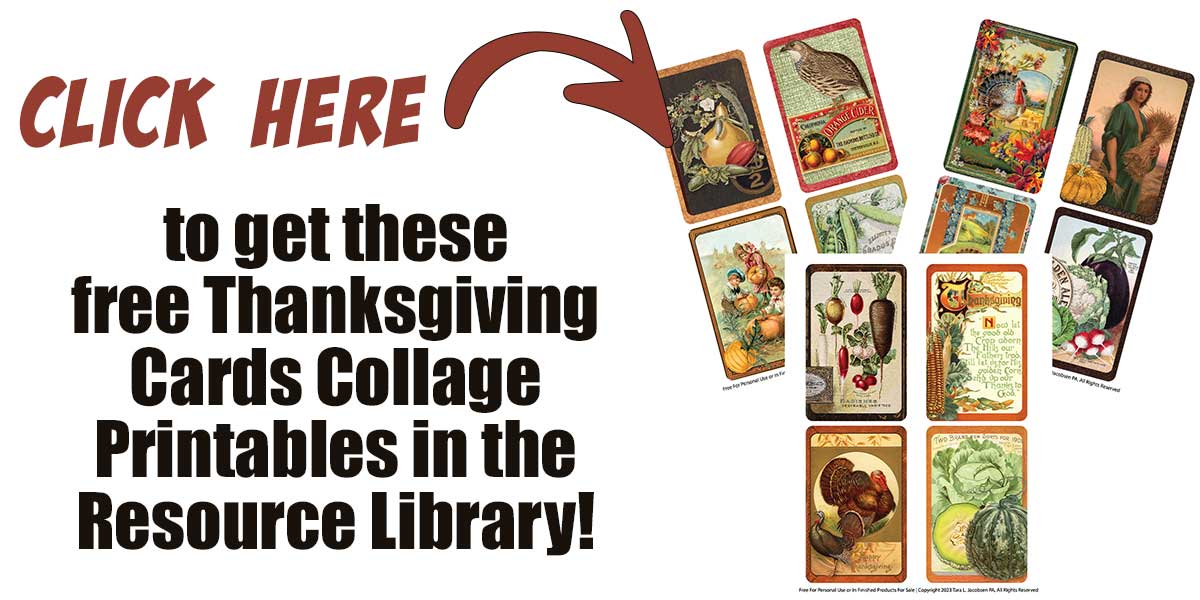 Free Printable Thanksgiving Cards Wrapup!
I would love to hear how you use these free printables… did you use them as place settings for your table, Thanksgiving card making to send to friends and family or make a huge Thanksgiving junk journal with all the Thanksgiving freebies?
Send me an email (with pictures if you can) and I will add them to the post so all the peeps can see your great work! tara@marketingartfully.com