Today we are going to talk about what a glue book is as an art journal, how it differs from magazine collage and the tips and ideas I have for making amazing pictures in your glue book!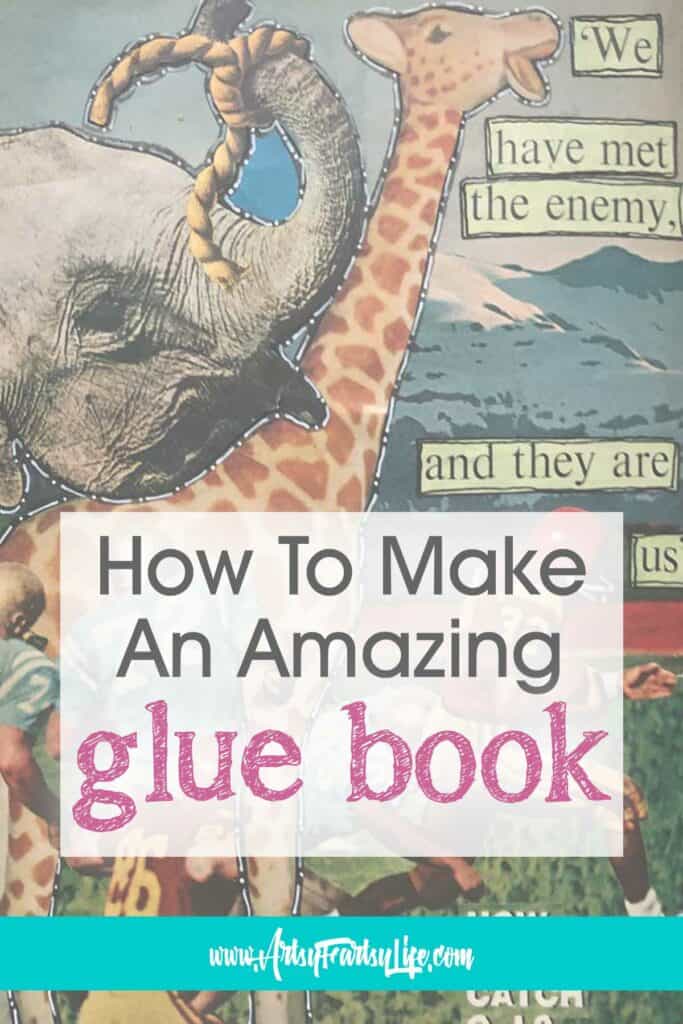 please note :: as an Amazon associate I earn from qualifying purchases, read my full disclosure policy here
What Is A Glue Book?
A glue book is when you combine images from magazines, ephemera and collage to make a whole page image that is interesting and fun!
That said, ANYTHING you glue down to a paper is a glue book and I am going to spend the rest of this post encouraging you to STOP worrying if your art is "right" or "good enough" to call it a glue book!
My Glue Book Story
As a mixed media magazine collage artist, I sometimes cross the line into glue book for sure!
Instead of getting all "artisty" and taking tons of time to craft something super fancy, I just want to make a fun page that is a representation of the thoughts I have while putting images together!
All of the pictures in this post are glue book images I have made. Some I LOVE and some are ho-hum, but honestly I was just happy to have the time and inclination to make art that day and to NOT be so judgmental about my own work!
Making A Glue Book Page Video
I thought you would like to see how I put a glue book page together start to finish! Here is a video of a fun glue book page I did recently using a 1960s magazine…
Glue Book Journal Page Examples
Here are some of the pages that I have made! I will put a little description of what I was thinking as I created them as I go!
My Favorite Glue Book Page
This is my current favorite glue book page! I love that there is are fun words about OJ (I am a huge true crime nerd) and that the football players are running through the giraffe's legs.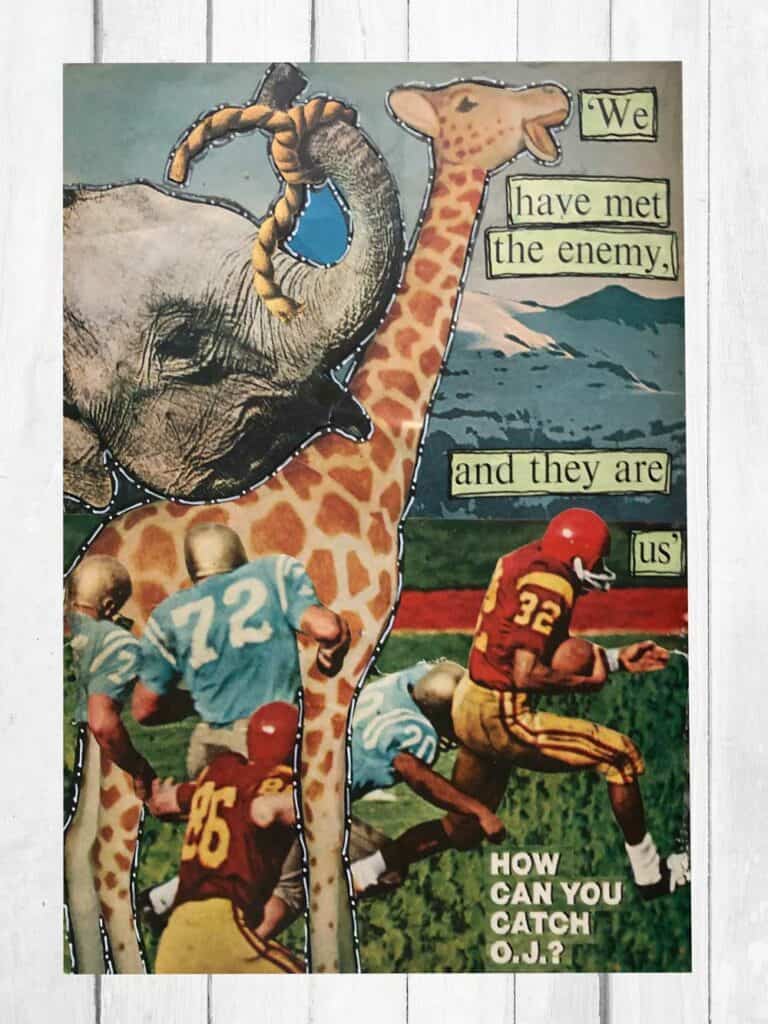 Multi Page Flip Glue Book Page
I know I have said that glue books are simple, but sometimes I like to do a fancy flip page with glue page images. This one is super fun and has three ladies that flip open.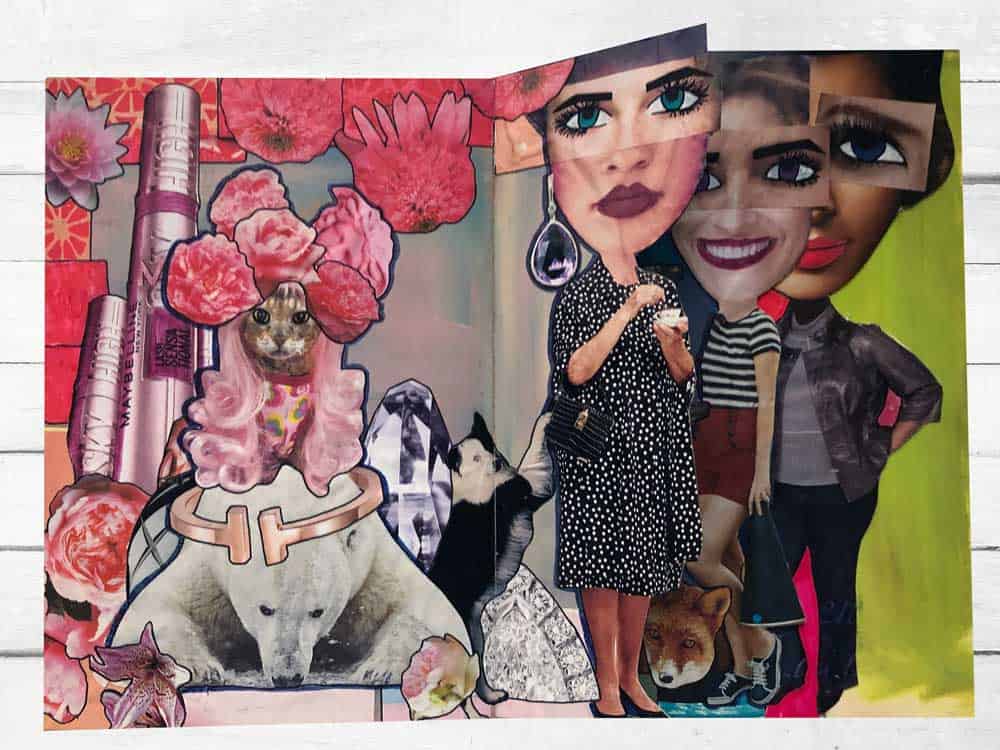 Smooth Operator With Lady Gaga
This is a favorite too! I love how slick this girl is and how many "friends" there are around the edges in the border! AND I am obsessed with purple so that makes me happy too!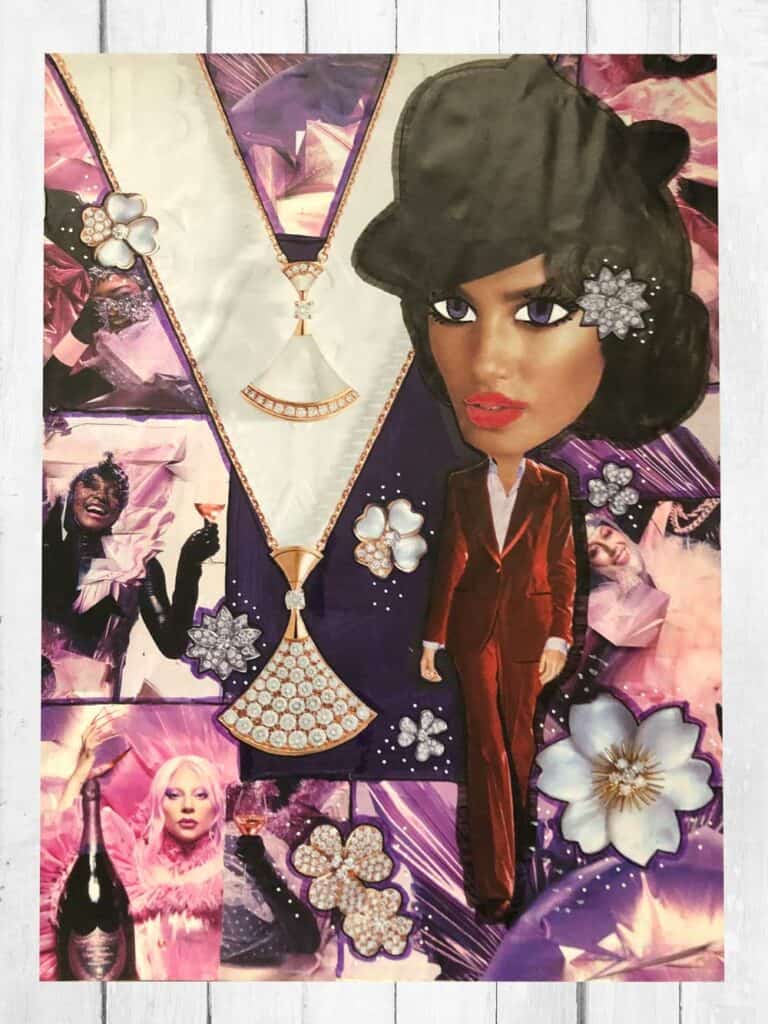 Snotty Sunglasses Girl With Writing
I think the reason I like this one and am proud of it is that I wrote the words on the page!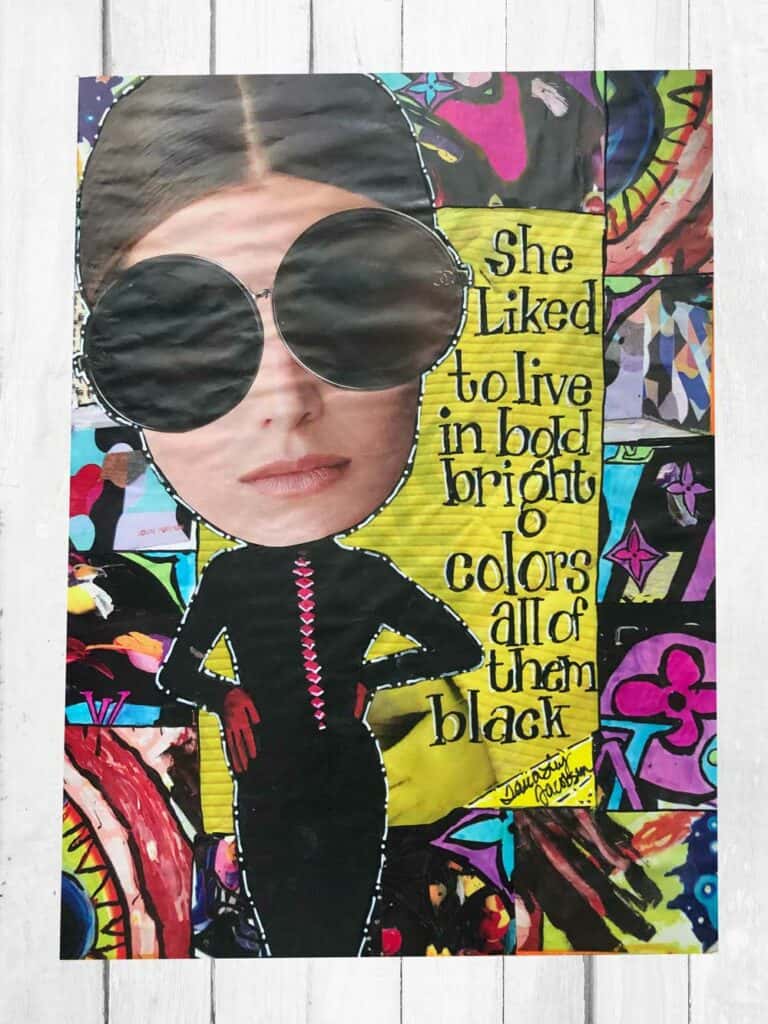 Golden Rainbow
You might think that this one "breaks the rules" because I painted their clothing, but I consider this a glue book because all the page is images! AND the only person who gets to judge my work is me! Same for you!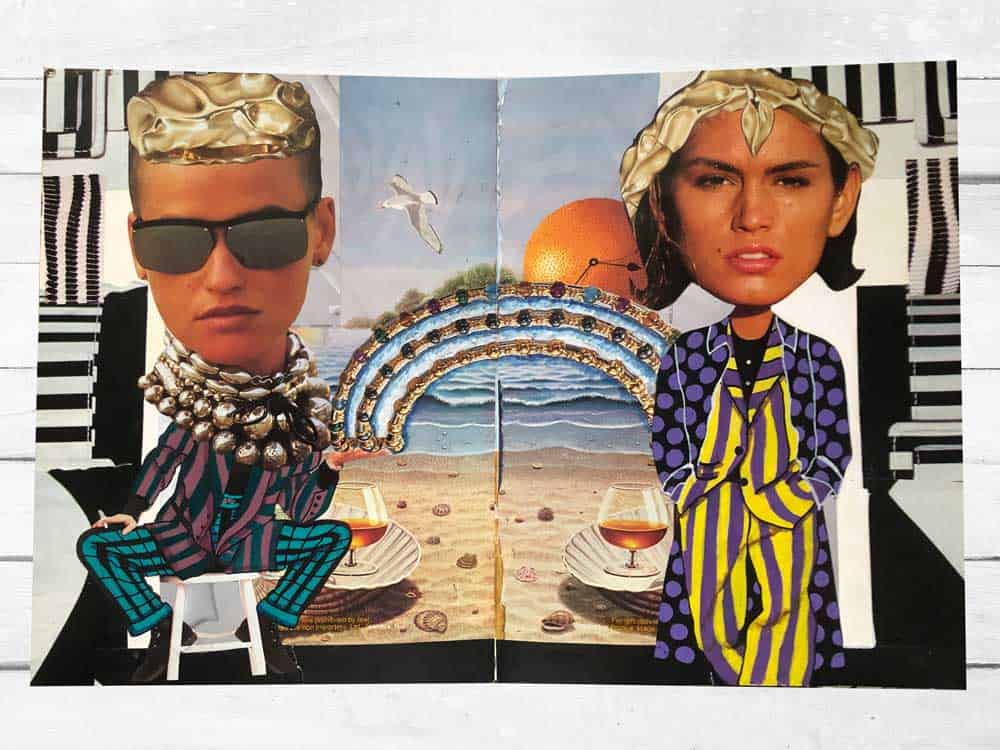 Happy Lady With A Bird
This is one of my all time favorites in my composition book! I love how happy this lady is and that she has a stick with a bird on it! There is a map background and lots of different colorful images included in this picture!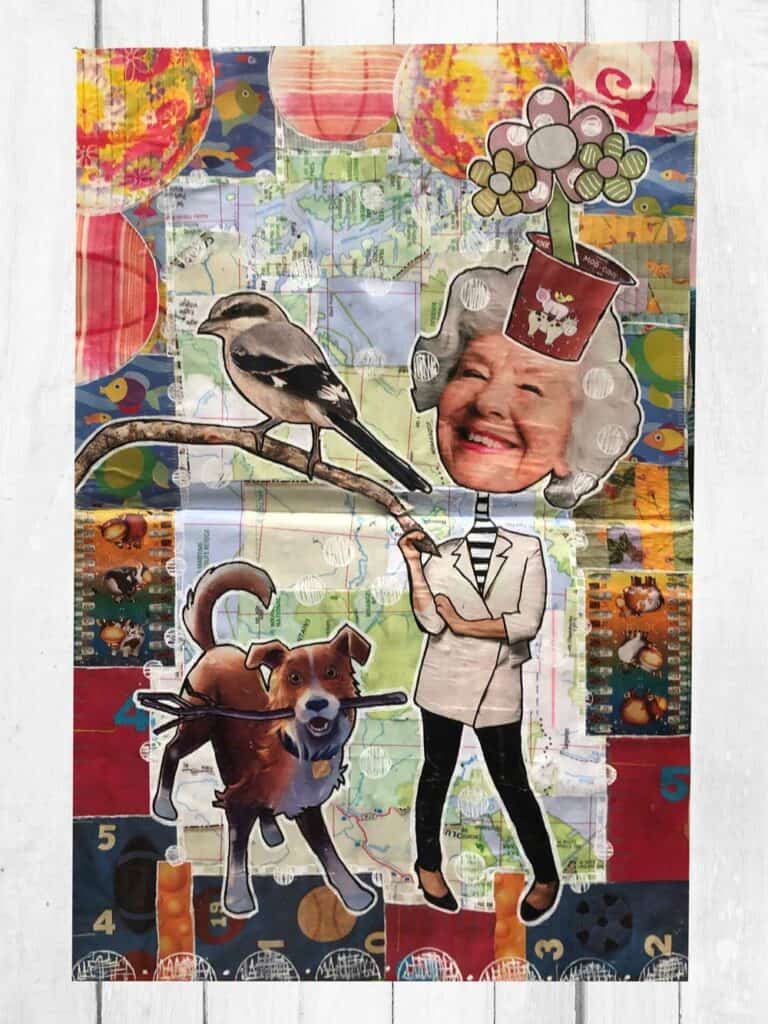 Ballerina and Curtains
This is one which is super simple and yet a fun glue book page! I love how the side border pieces frame her and act as a "stage curtain".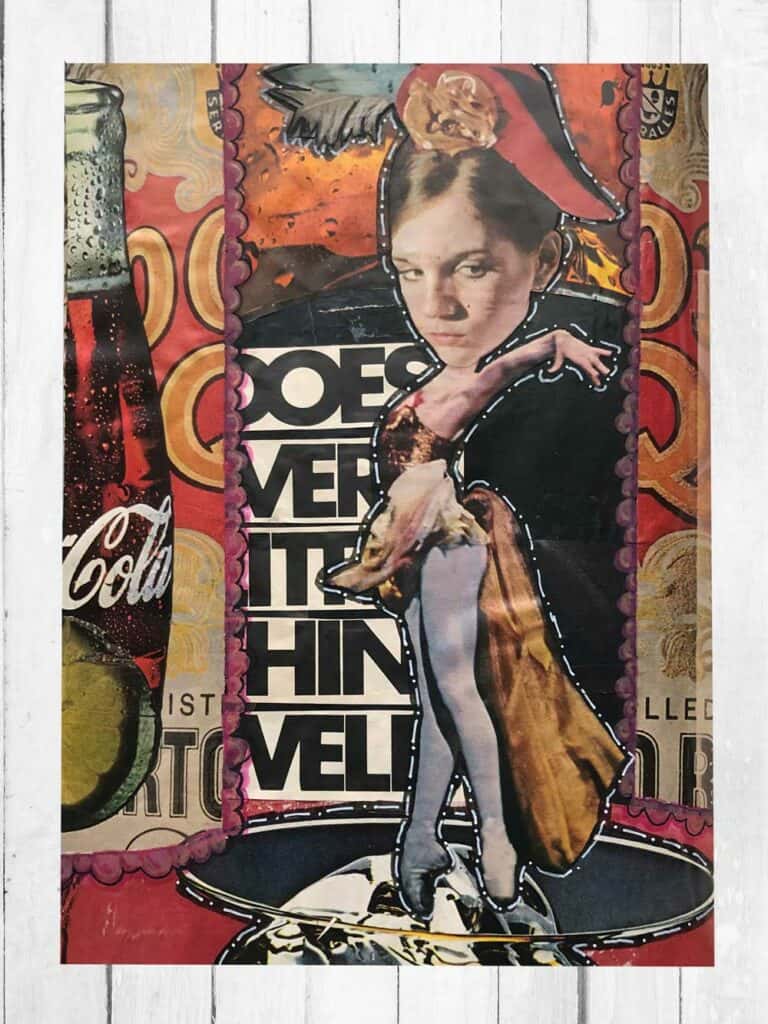 King Tut Journal Page
This is not one of my favorite pages (which is why I wanted to share it!) Every page is not a winner, but I still had fun using my creativity to make it! It is in my composition book, thrift store journal.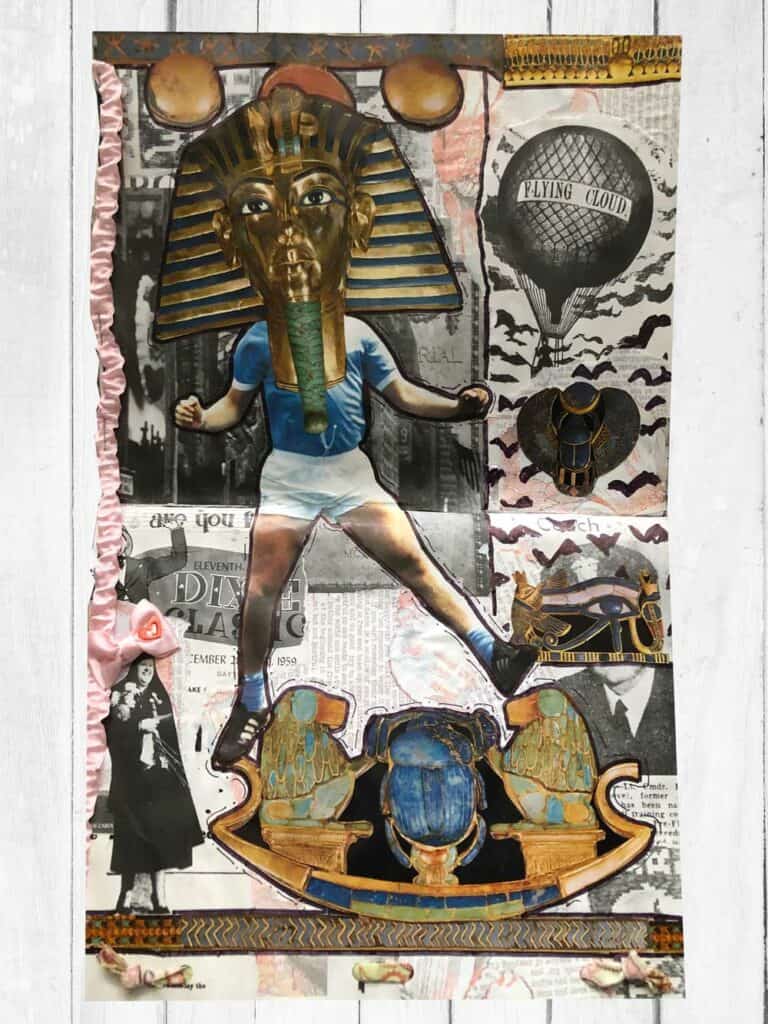 What Are The Best Glues For Glue Books
I spend a LOT of time thinking about glue for my projects and have even written a whole comprehensive guide to the best glues for magazine collage, but I feel like the answer to this is so much simpler.
My favorite glue for Glue Books is Tonic's Nuvo glue. It is not water based so it doesn't make my pages wrinkly and the nozzle never sticks!
If I am going to be gluing a large area, my next fall back is Mod Podge, which is great as a top coat and finisher, but can be a little funky to use on magazine images because is a PVA, water based glue that can cause wrinkles that will remain in your art.
If I am gluing paper to paper I will use a glue stick from time to time… I have found the uhu glue stick to be the best!
That said, if all you have is plain old Elmers glue, use that! There are no "rules" about glue books other than to have fun and I don't want the lack of the "right" glue to stop you from moving forward!
What Is The Best Journal To Use For A Glue Book?
In the pictures you can see I go anywhere from a fancy Dylusions Classic journal which costs around $30 US to a composition book that costs around $.50 on the back to school sales.
I tend to like to use a "good journal" when I am thinking about creating something that is a bit more complex and use the composition book when I am doing a thrift store challenge.
That said, one of my all time favorite pages is a see through page that I did in a composition book so having a fancy art journal is totally not mandatory!
Glue Book FAQs
I KNOW I had so many questions about glue books and the "rules" before I started so here are some of the things you might be wondering about too!
What Is The Difference Between A Glue Book and A Junk Journal?
Currently junk journals aren't technically made with junk all the time! I know when I was deep in the junk journal game I was buying all kinds of ribbons and printables that I used to make amazing, complex art journals.
To me a junk journal is fancy and complicated and a glue book is quick and fun to do quickly! I KNOW that junk journals used to be just junk mail but now they are full of fancy gizmos and do dads!
Here is an example of a Junk Journal page I made in my heavy metal journal. As you can see it is very fancy!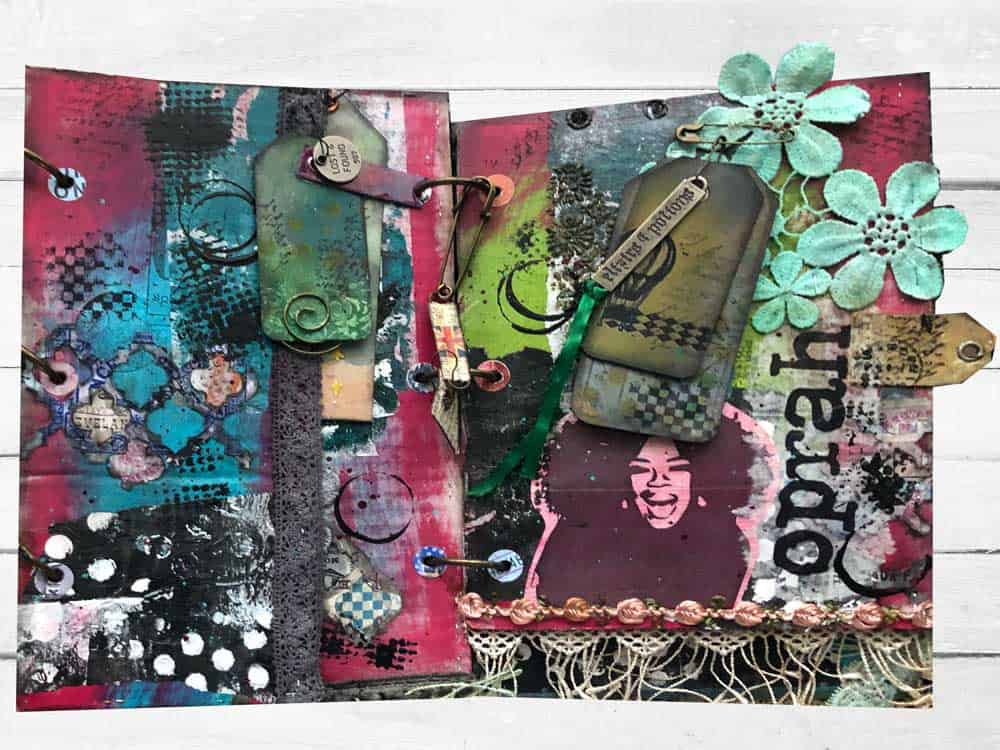 What Is The Difference Between A Glue Book and A Mixed Media Journal?
I tend to do more mixed media than glue books. My mixed media pages are super fancy and have lots of different materials I use like paint, india ink, stencils, and all kinds of different mediums.
They have multiple steps and take longer to do than just putting together a glue book page!
Here is a page I made in my mixed media journal, I has a stencil and mica spray background, I did the eyes on the gal, there are posca paint pens and india ink, so many layers of products and techniques… cool but not quick to do!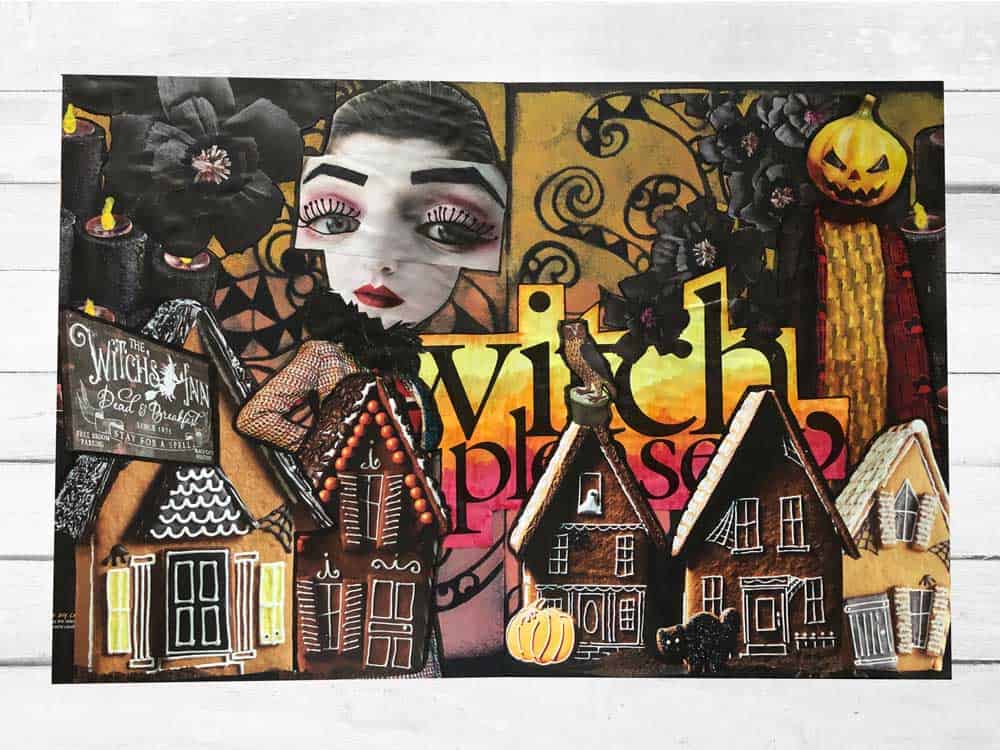 Can You Make A Glue Book Out Of An Altered Book?
You can feel free to use ANY kind of book or journal to make a glue book!
I LOVE to do altered books as journals, ESPECIALLY glue books because they give me a fun background image to start with, or at least a text background rather than having just a blank background!
Glue Book Journal Wrapup
Whew, that was A LOT of info about Glue Books! Let's just step back for a minute and talk about how fun a glue book is and how much fun it is to make just a quick art journal page.
My magazine collage journal is HUGE and I love it, AND it has some fun glue book pictures in it! With paper crafts like this, YOU are the boss of what you call your work… just have fun and make art you love!