Here is a great flip through show and tell of my bee flip page junk journal! It has lots of tags, hidey spots and flips. I used a lot of different mixed media including acrylic paints, dies and stamps, and even some texture paste. Includes some tips and ideas I found out along the way while I was making this journal!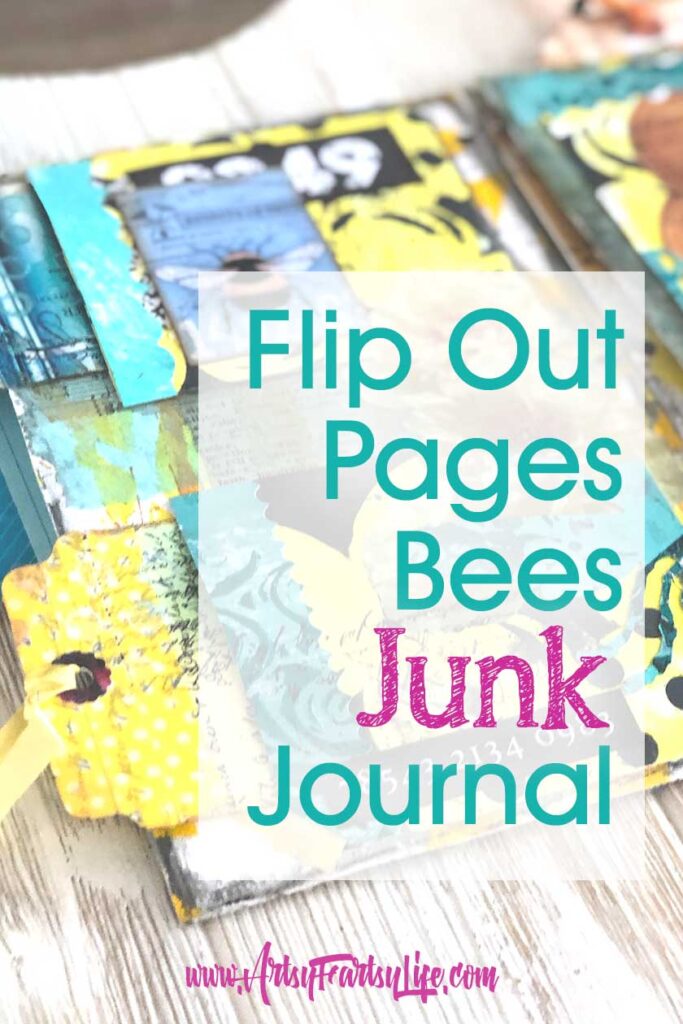 please note :: as an Amazon associate I earn from qualifying purchases, read my full disclosure policy here
Walk Through Video Bee Junk Journal Flips
"Junk Envelopes"
When I started this project I wanted to make a junk journal with tons and tons of flip out pages, tuck spots and envelopes.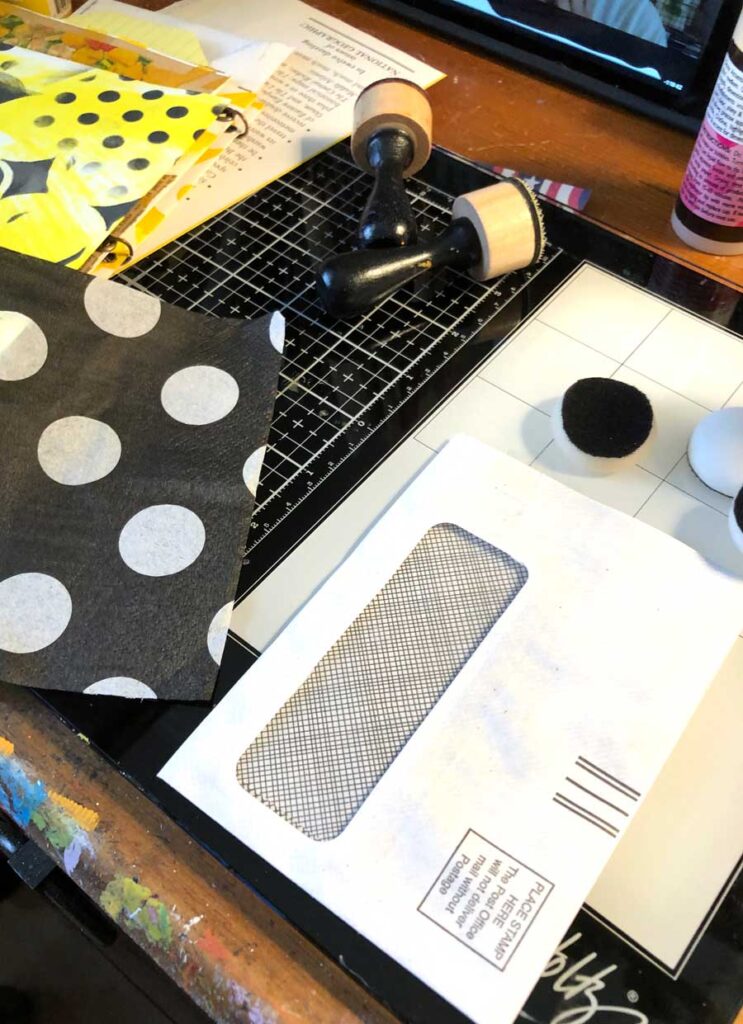 To start I gathered up a whole bunch of different envelopes including just plain old note card envelopes and I had two "junk" envelopes with vellum open spaces.
I used yellow acrylic paint all over the envelopes and then did black accents using two different stencils.
4 Crafters Workshop Mixed Media Stencils Set

Dylusions Stencils. Mini. Diamond in The Rough

When I did those envelopes I worried that it was too much of the same thing. I always worry about this! But I wanted a fairly uniform "background" to the book since there would be SO MUCH stuff on there!
Make A Background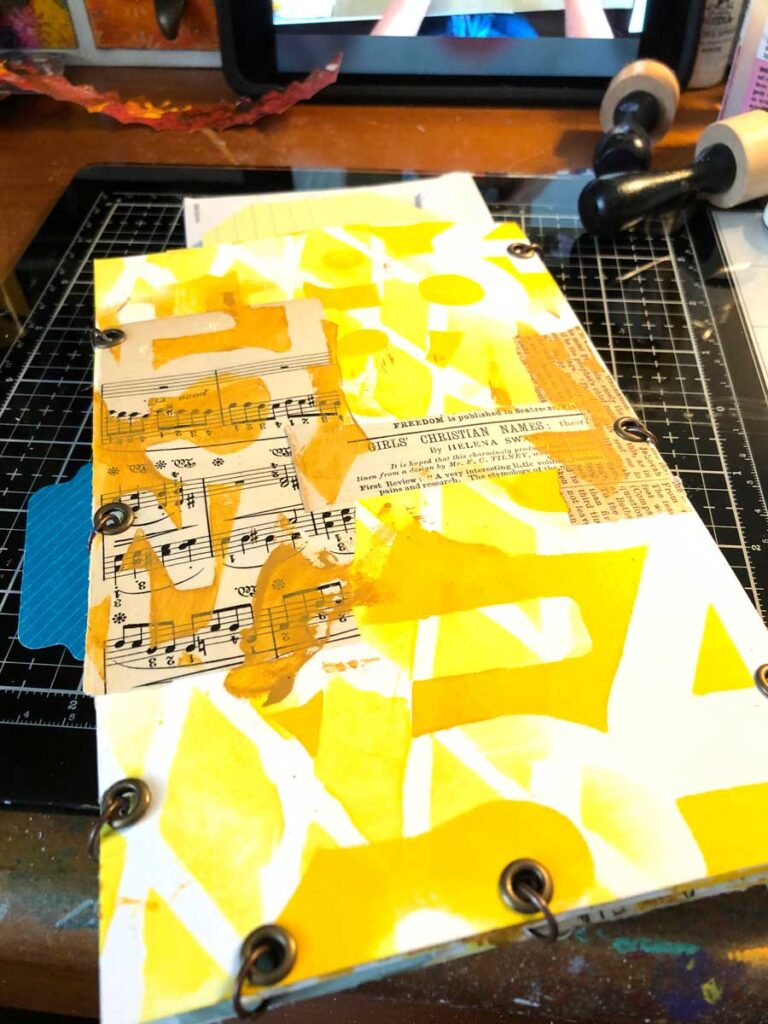 As you can see I used grommets and jump rings to make the "flippy" part… this worked out great BUT I needed to reinforce them because one of them pulled out with all the flips.
Additional Resource : 39 "Must Have" Products For Junk Journaling
One thing that makes this book work is that I have lots of different textures and colors in the background. I used different colors of acrylic paint and some old book pages.
How To Attach The Envelopes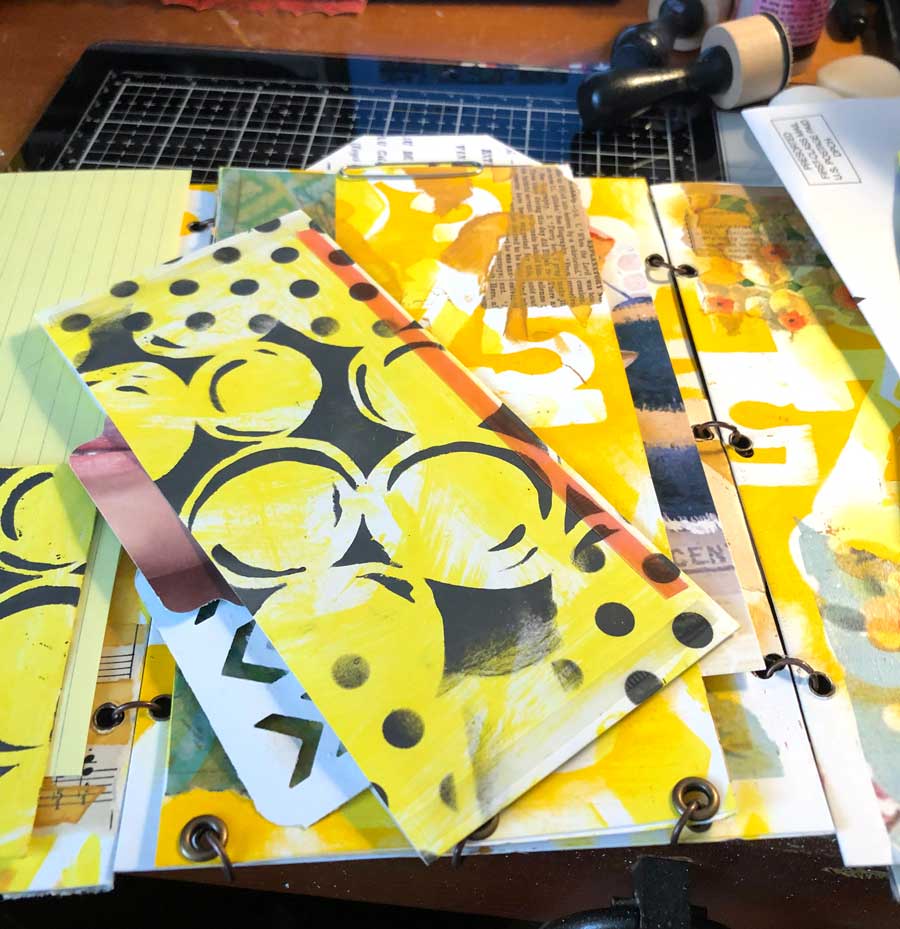 I used SO MUCH red tape to stick my envelopes on the pages. While I love me some glitter glue, I needed the stickiness of the tape to make it actually stick on the pages!
FREE Printables Included In This Book!
I offer a bunch of the graphics that I used in this journal for free!
Get the free printable bee tags and tickets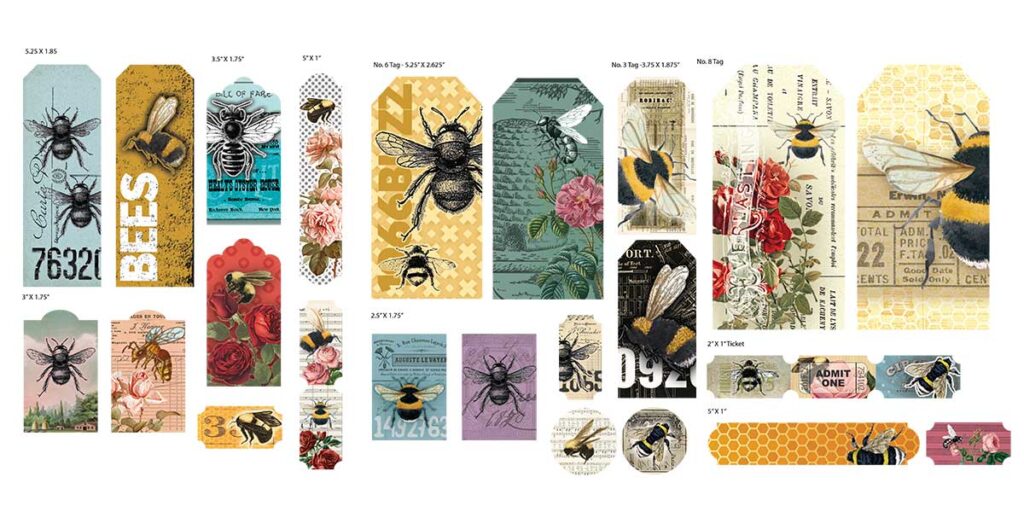 Get the free printable faux ephemera stamps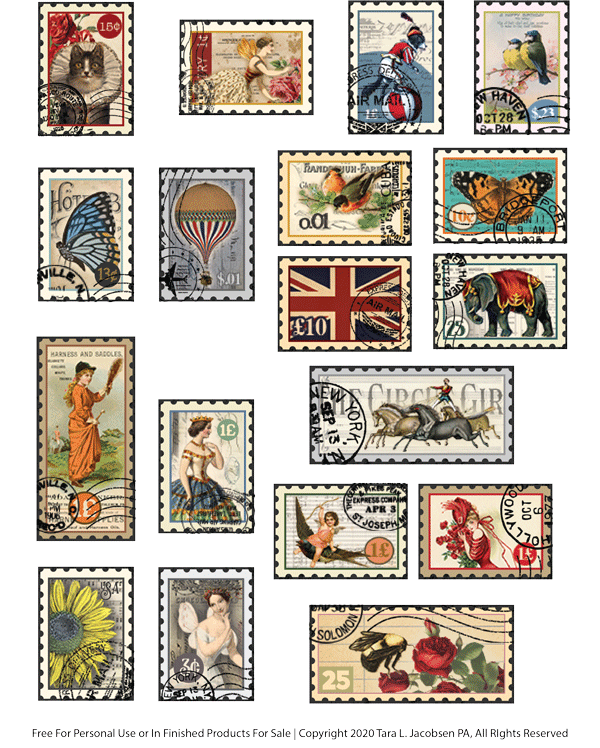 The Finished Book
I could not be more thrilled by how this one turned out! It is cute and fun and interactive! Here are some of the pages…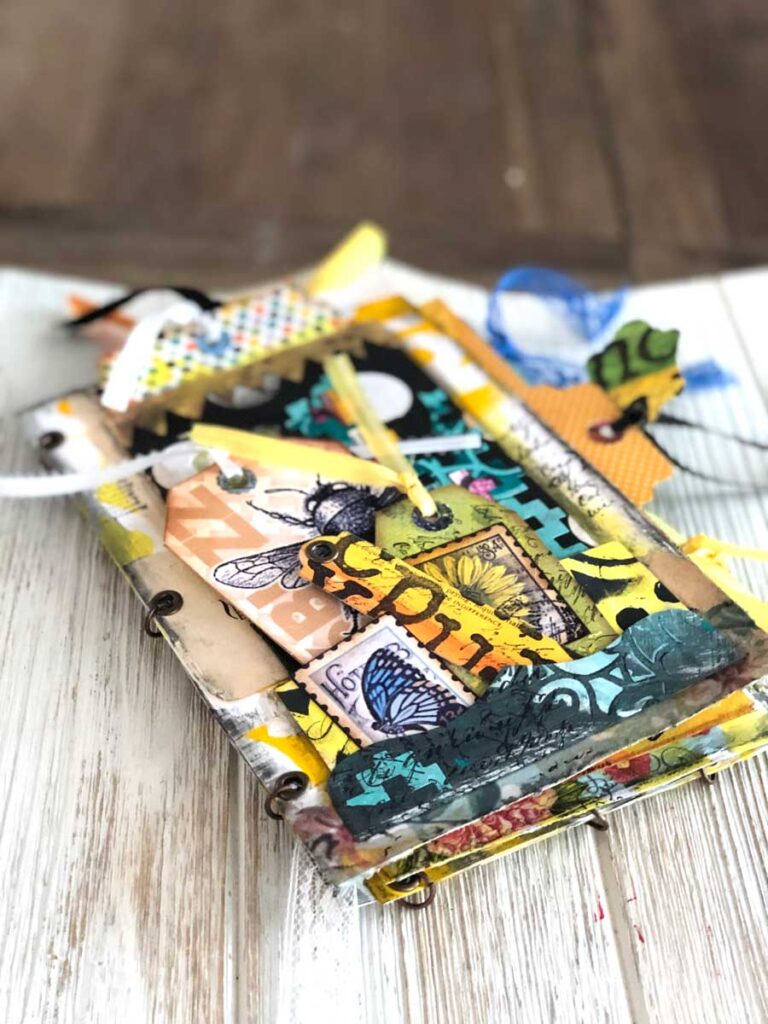 I think what made this cover work so well was that there are SO MANY different colors.

If you LOVE making junk journals and want a full printable kit to help you get started, check out the Bee Junk Journal Kit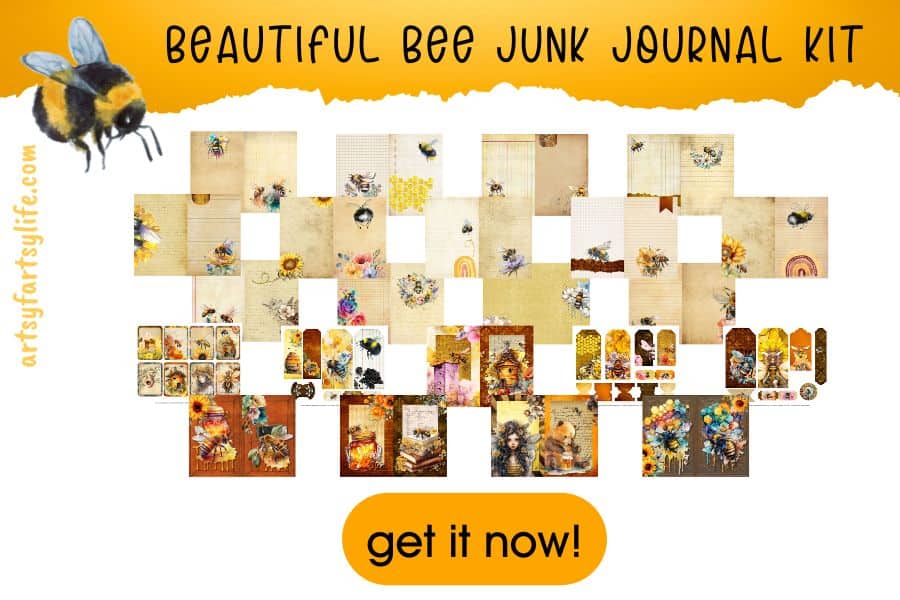 I used yellow to go with the bee theme, but then used the turquoise to make the "pop" factor since they are complimentary colors.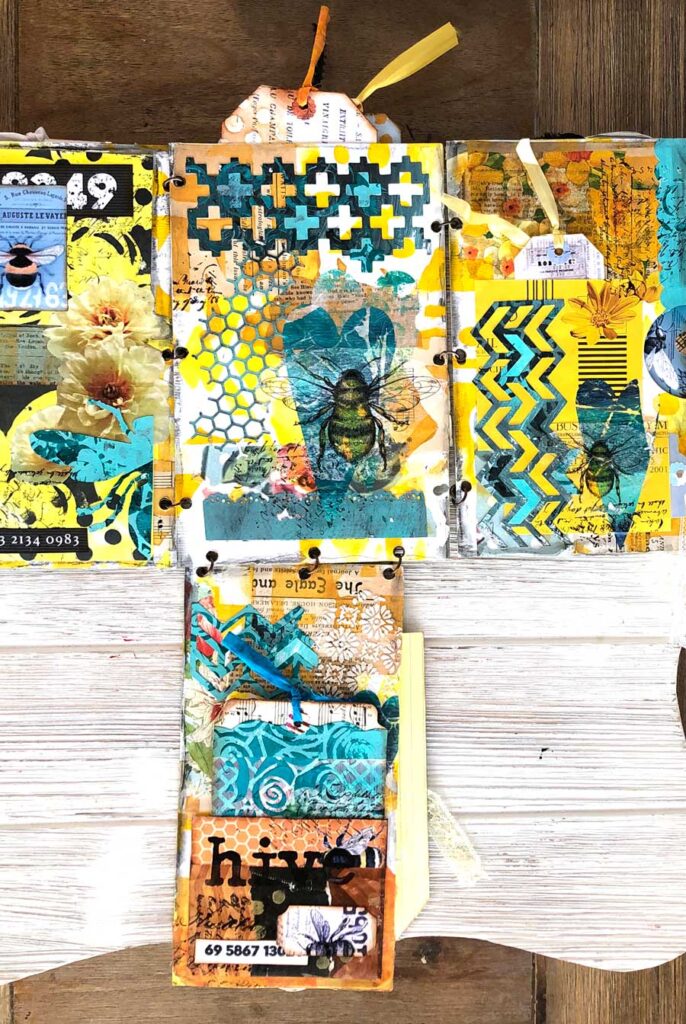 I love that this page is so bright and colorful with blue, orange and yellows! I used some really bold black numbers to make it pop AND you can see the tag slid down into the junk envelope.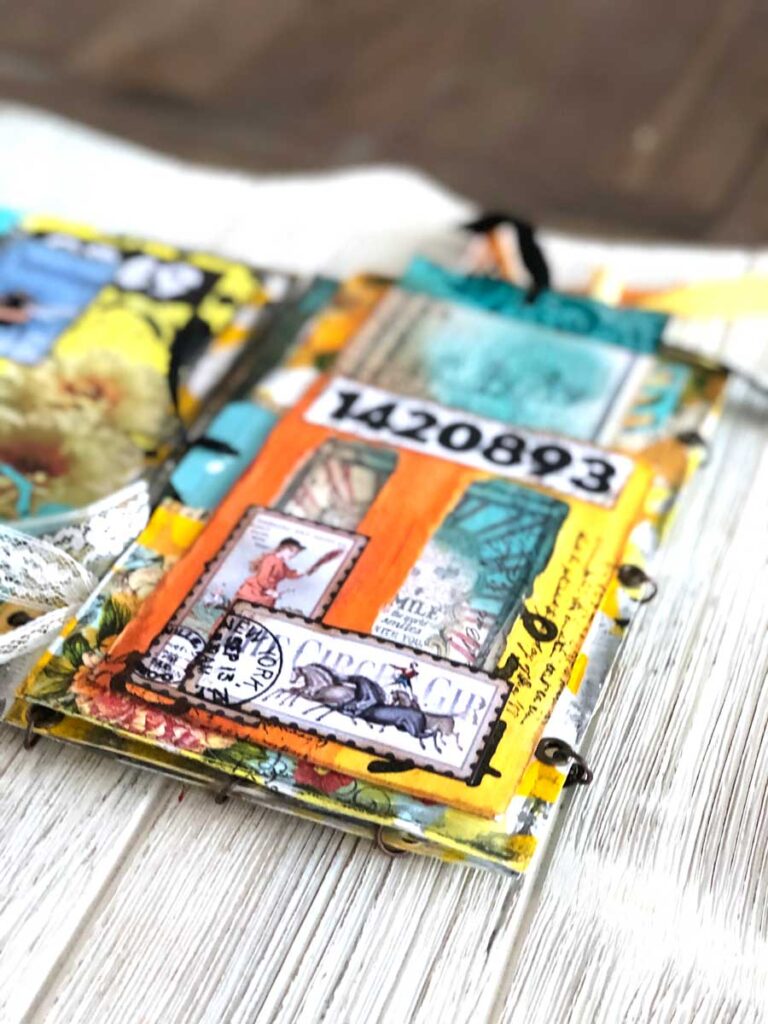 Here is the back cover! It has a big old envelope that I can keep all my "stuff" in. When you are making this kind of flip book you can make the front and back covers SUPER FAT!
The inside ones have to be much "thinner".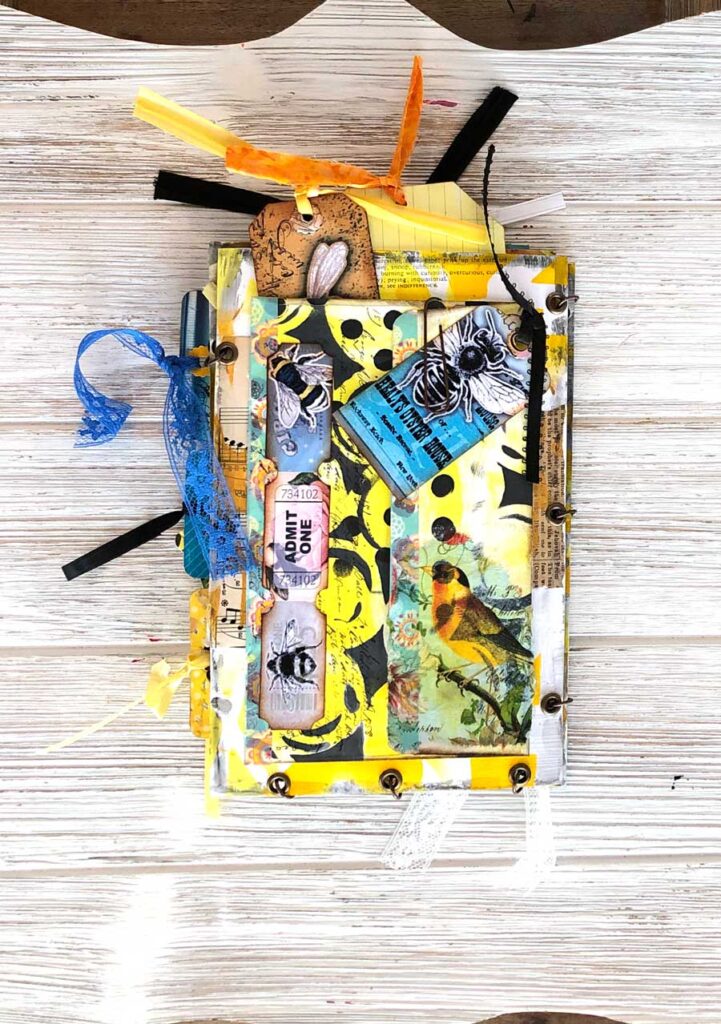 Bee Junk Journal Wrapup
This was such a fun project to do and I learned a bunch of things along the way as I created a junk journal (really my first one using "junk"… I am mostly an art journal gal at heart).
When you are going to be FLIPPING a lot, you want to put reinforcers on your holes. One of them pulled out completely, so I know the paper needs a little help to hold up.
I had to make more and more tags as I went, it was super fun to STUFF this out with all kinds of different mixed media art tags.
Making a book created mostly from book covers (all the flip pages are hard and stiff like book covers) was super fun because they held up to all the "stuff" I wanted to put on them!
I tried to use everything I had from dies to stamps to paint to distress inks. I had the one theme, but wanted to try a bunch of different techniques!
Hopefully you love it as much as I do!
XOXO
Tara