I have been crafting for a L-O-N-G time and have bought 100s of products to use in my junk journals and magazine collage. Some are great and some are duds! Here are my best tips and ideas for what you need and don't need for getting started with junk journal or magazine collage.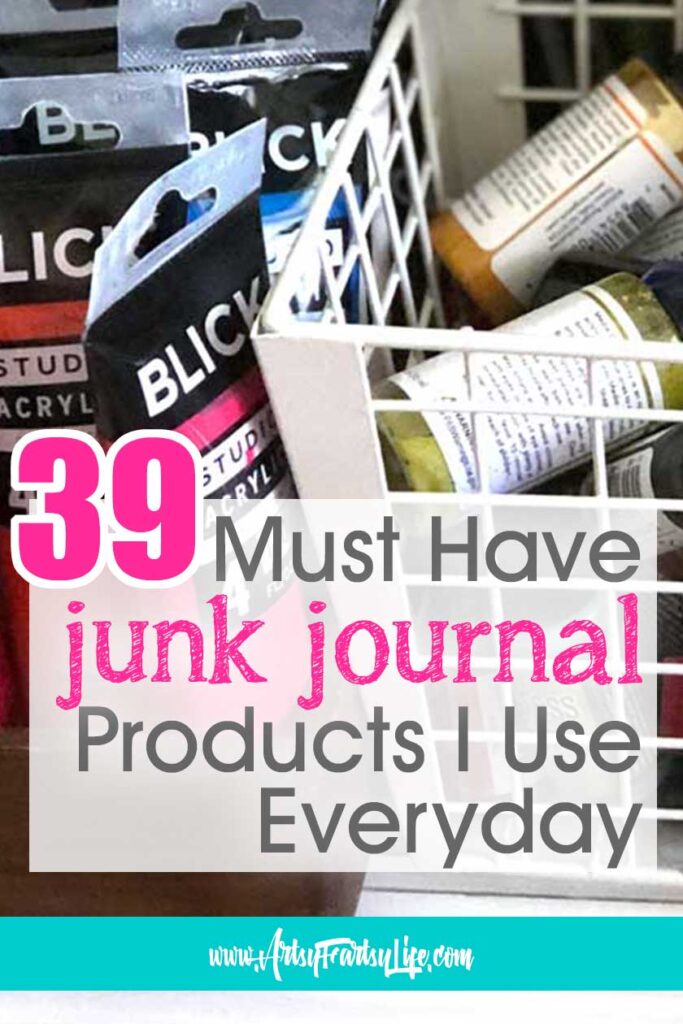 please note :: as an Amazon associate I earn from qualifying purchases, read my full disclosure policy here
Let's Talk "Must Have"
When I started crafting and especially junk journalling, I was super confused about what I "NEEDED" and what would be "nice to haves".
In this post I will give you the real scoop on what you need and what is just nice to have!!!
I have dragged a bunch of my besties into this hobby and they are asking what they need to buy, so I am going to talk to you like I talk to my besties!
Only What I REALLY Use
Okay, one last thing before we get going! I will only be talking about items that I actually use.
I bought all of these products with my own money and use them daily in my crafting. If you buy one of them through my links I will get a wee commission to help me buy MORE craft supplies (making you my enabler!)
Cutting Tools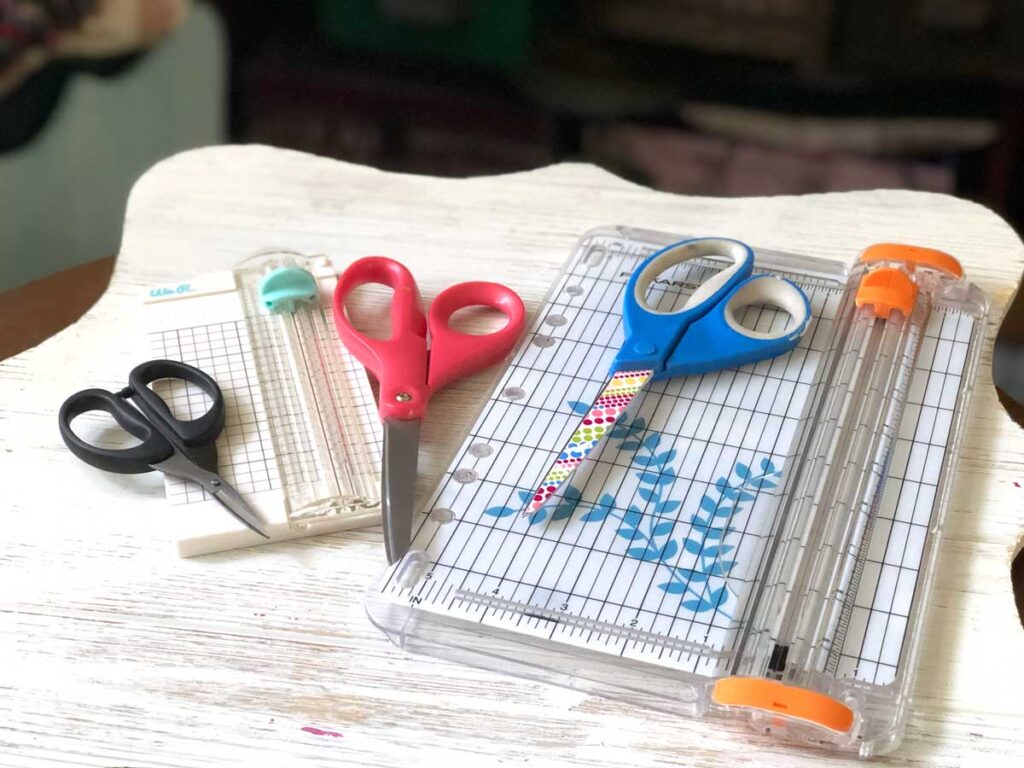 For any kind of craft project like this you will need some kind of cutting tools.
1. Scissors you own already. Honestly, the only thing you NEED to start is scissors from your junk drawer and maybe a glue stick from your kid's desk.
2. Tim Holtz Mini Snips. The next kind of scissors I couldn't do without is some kind of "tiny scissors" with super pointy ends. You use this kind of scissors to "fussy cut" around pictures or ephemera.
3. Fiskars or Martha Stewart Trimmer. This is the long slide-y kind of trimmer. Make sure you get a 12″ size so you can cut scrapbook paper on it. I LOVE my Martha cutter, but you can't buy refill blades so I am now recommending the Fiskars 12″ Trimmer.
4. We Are Memory Keepers Mini Trimmer. Okay, the little trimmer there is a 9″ cutter and it is SUPER cute and SUPER useful to me! I mostly make smaller than letter sized art and so I can keep that little trimmer in my walk around bag and use it to make straight cuts! You need this one AFTER you have all the other cutters!
Tonic Studios Tim Holtz 5in Titanium Mini Snips

Fiskars SureCut Deluxe Craft Paper Trimmer, 12 Inch

Fiskars Non-Stick Titanium Softgrip Scissors, 8″

Sticky Stuff
The next thing you are going to need is a way to stick stuff together! And honestly, if you only have a little money, spend it on glue and tape rather than anything else!
Glue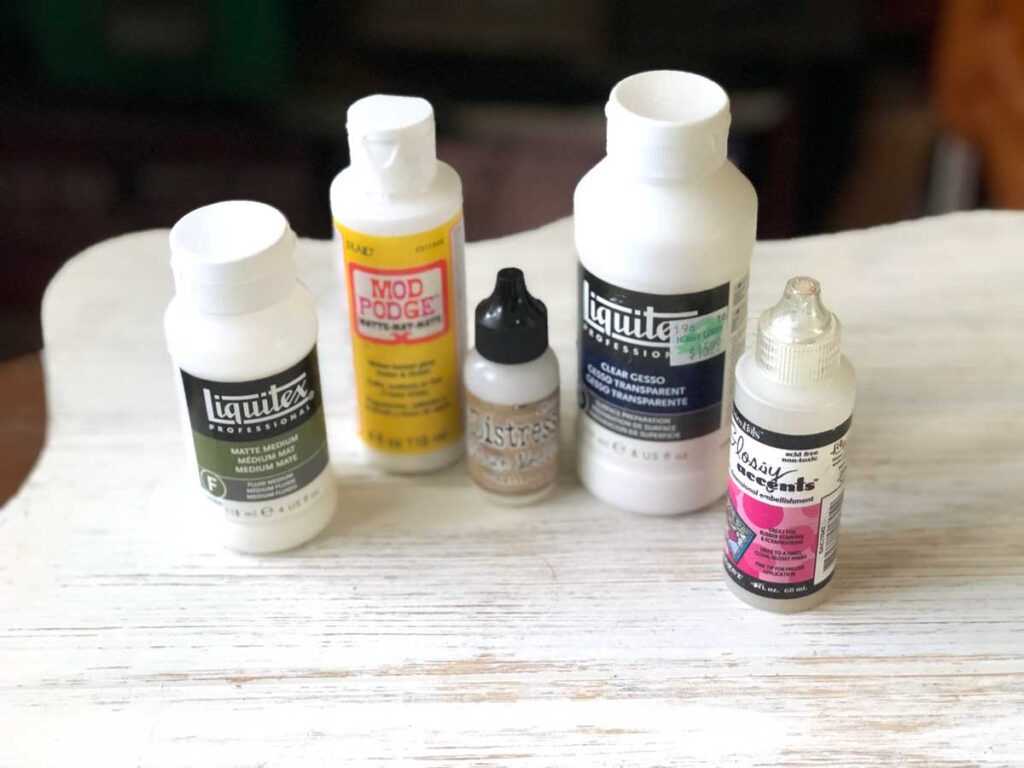 5. Art Glitter Glue. Okay, this sounds like some kind of "kids" glue that has actual glitter in it, but NO! It is the very best glue to use on paper. It doesn't make it wrinkly and you just need a tiny bit so it lasts forever!
6. Fabri-Tac. Fabritac is used to glue fabric to anything including paper. I use this less than Art Glitter Glue but it is nice to have around.
7. Tiny Glue Bottles With Pins. If you are just starting with crafting you might not know about the tiny bottles with pins, but they will CHANGE YOUR LIFE! You can put a little bit of your big glue bottles in there and carry them around with you. Oh, and the glue doesn't dry out as much because there is just a little bit. The pin keeps the glue safe.
Art Glitter Glue Designer Dries Clear Adhesive 4 oz with Ultra Fine Metal Tip

Beacon Fabri-Tac 2oz

Darice Ultrafine Tip Applicator Bottle, 20ml

Mod Podge or Gel Medium
8. I LOVE me some Mod Podge! It is great for sticking large areas down or to do decoupage. That said, it is water-based so it will make your paper wrinkly.
Additional Resource :: Everything You Ever Wanted To Know About Mod Podge!
9. Liquitex Matte Medium. Okay, this one confused me for a long time. Matte medium is good for using as glue for light papers or napkins. It is also good to use as a varnish at the end or to make paint translucent without making it pastel. This is definitely a "nice to have" item.
10. Ranger Multi-Matte Medium. My kind of this is actually in a little squeezy jar that has the skinny nozzle built in. It is great for sticking down little things that are maybe a wee bit heavier!
Mod Podge Waterbase Sealer, Glue and Finish, 8 oz, Matte

Liquitex Professional Matte Fluid Medium, 8-Ounce

Ranger Ranger Multi Medium, 3.8-Ounce, Matte

Double Sided Tapes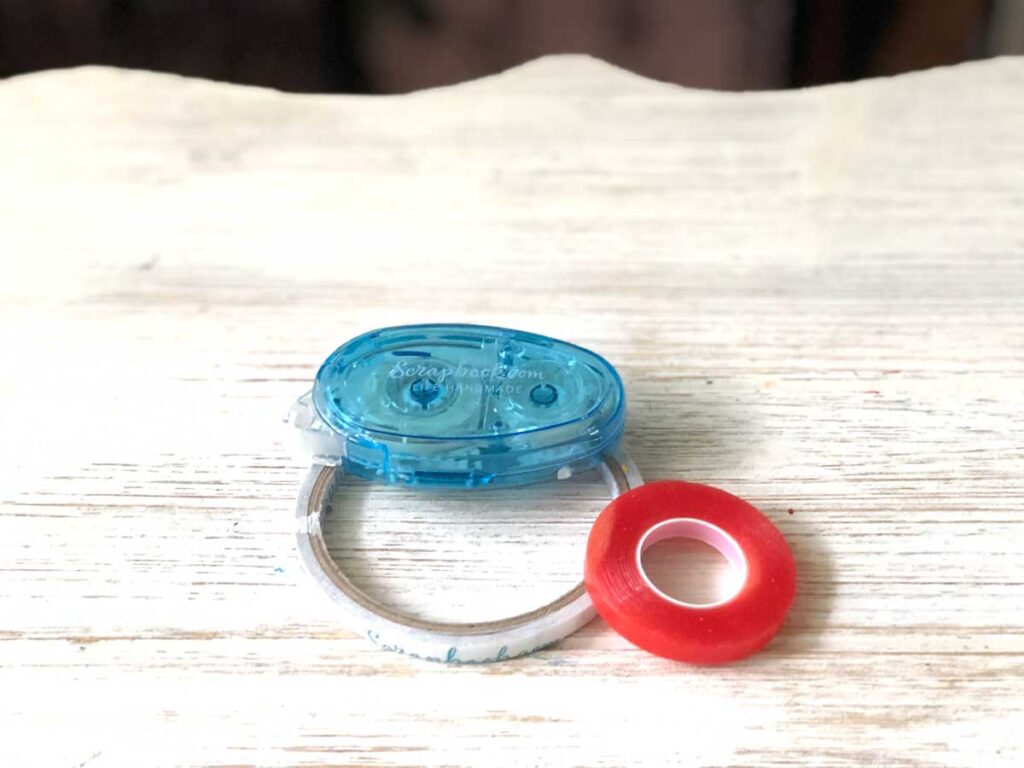 If this is your first dip in the toe of journalling, you are going to be super surprised how often you need to use double sided tape so that stuff sticks, but you can't see the tape!
11. Red Double Sided Tape. If you only have one kind of double sided tape, get the red kind! It is super sticky and great for holding things together.
12. Glue Runners. Some people swear by glue runners and some people (like me) don't like them as much! They are not as precise as red tape, but they cost a LOT less and you can't go wrong by picking these up at the back to school sales for CHEAP!
Double Sided Adhesive Tape Kaisiking 5mm

Adtech Glue Runner Permanent 35Yds

Stamping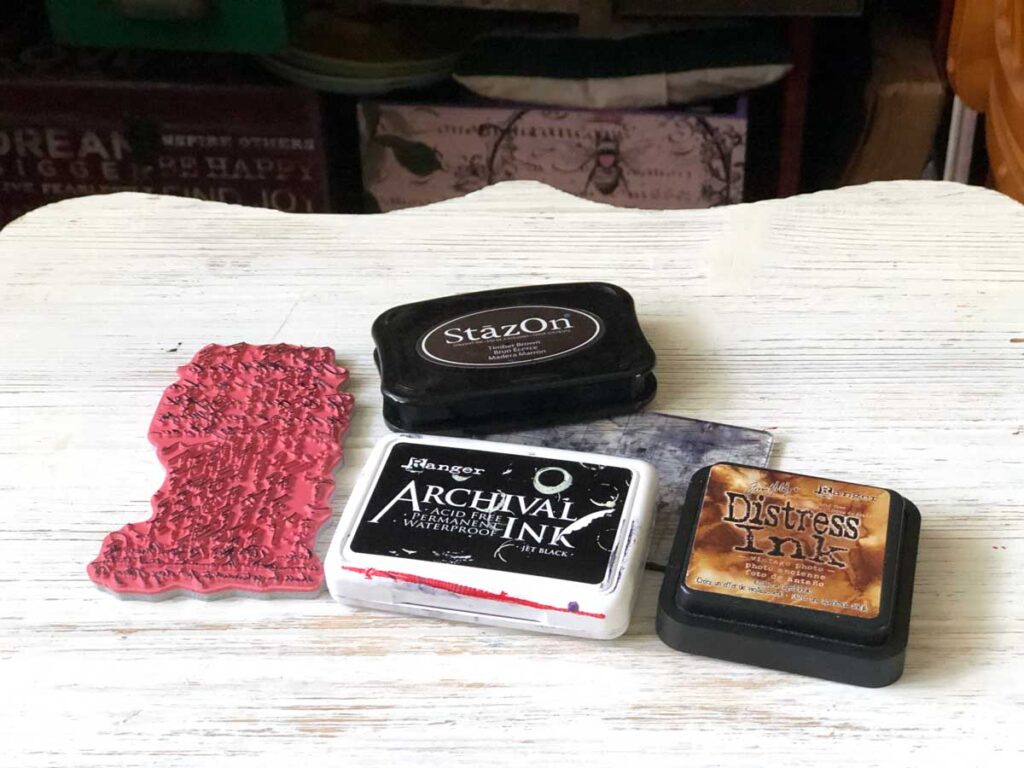 The next thing that you will probably dive into is stamping! You can get all kinds of inks and stamps to add to your artwork.
If you have been out of crafting for a while, the best kinds of stamps to get are the red "cling" stamps. These last a long time and are much easier to store than the old fashioned block stamps are!
Blocks
13. Tim Holtz / Stampers Anonymous Acrylic Blocks. The first thing you need are clear "blocks". You use these with the stamps to push on to make the images.
Stamps
14. Red Cling Stamps. There are eleventy billion different kinds of red cling stamps you can buy. If you want a nice place to start, Stampers Anonymous makes some high quality, cute stamps!
Additional Resource: Check out my cool stamp storage post!
Blending Brushes
15. Blenders. If you are just going to "straight stamp" by pushing your stamp on the ink pad, you don't need a blending tool. But if you want to distress around the edges, you are going to need something to use to get the ink from the ink pads to the paper. This is a MUST HAVE tool I use all the time.
16. Blending brush. This is great for covering large areas with ink or to have a "whispy-er" look. This is a definite "nice to have" after lots of other things.
Mini Ink Blending Tool With Replacement Foams

Ranger Tim Holtz Distress Blending Brushes 2/Pkg

Permanent Inks
17. Archival Ink. Let's talk about permanent ink. I use a lot of different products in my art and so I need to have to permanent layers when I do my work. If you are going to do a bunch of stamping you need to get at least one black permanent ink pad.
18. Ink Sets. Just recently (or just recently to me) they started selling different colors of permanent ink in mini sizes as sets. I JUST got the dark browns and grey one, so it is a nice to have but FOR SURE I would get minis before I bought a "whole, big size" inkpad.
Ranger Archival Jumbo Inkpad #3, Jet Black

Tim Holtz Distress Archival Mini Ink Kits

Distress Inks
Okay, now let's talk about distress inks. These are Tim Holtz inks that are water reactive, meaning you can use water to blend them or even make designs in them.
19. Distress Mini Ink Kit #3. Okay, very rarely will I say that a specific product is a "MUST HAVE", but this particular set of ink pads will give you a great start on being able to do any kind of vintage look or adding grunge.
20. Distress Ink, Vintage Photo. If I could only get one distress pad, at Michaels, on 40% discount, I would get Vintage Photo which is the MOST PERFECT way to grunge up the edges of your pages!
21. Distress Reinkers. Okay, way down the "nice to haves" list is reinkers. I thought when I started that you should have reinkers for every color, but don't do that! That said, they are great for distressing fabric and you can use them for adding SERIOUS color to your artwork!
Ranger Tim Holtz Distress Mini Ink Kits-Kit #3

Ranger Tim Holtz Distress Ink Pad, Vintage Photo

Ranger Tim Holtz Distress Ink Reinker 1/2-Ounce, Vintage Photo

Paints & Sprays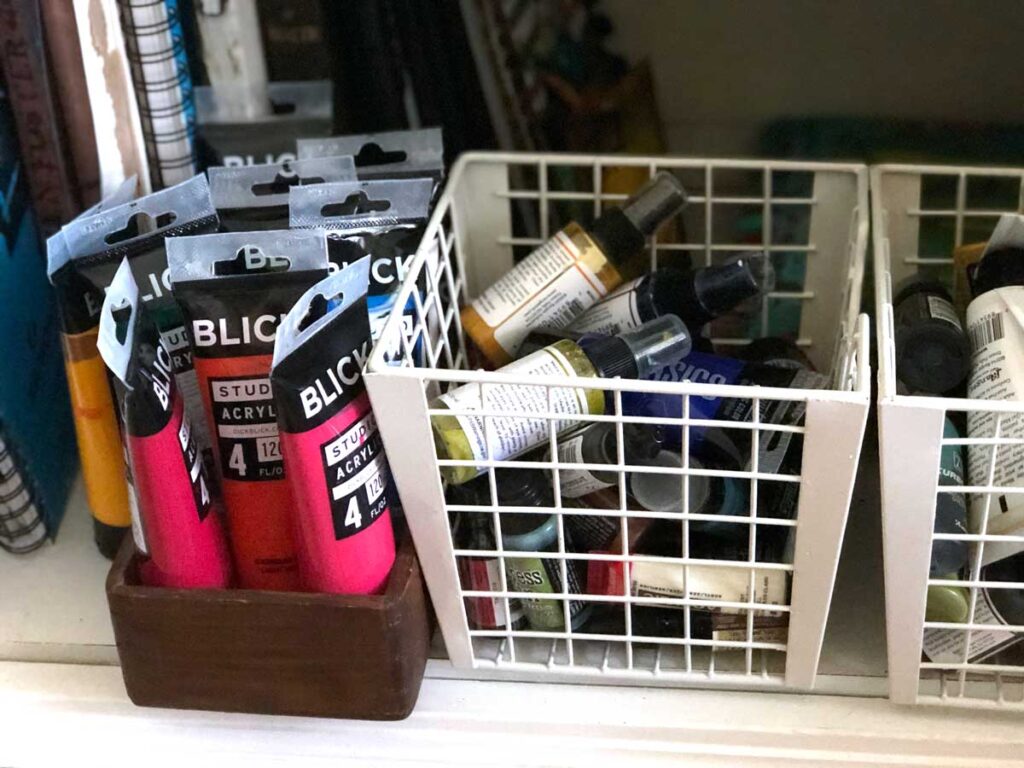 22. Acrylic Paints. Okay, these are my fancy Blick, heavy body acrylic paints that "real" painters use to make art. They are nice but not vital! I generally use $1.29 a bottle paints from Michaels so I recommend that is what you start with!
23. Gloss Acrylic Sprays. Dina Wakely came out with acrylic paint in spray bottles and I LOVE THEM! That said, they are a definite "nice to have" not a must have right at the start.
24. Dylusions Sprays. Dyan Reaveley has the most luscious colored sprays that are water reactive. These are great for making backgrounds. They are too colorful for most of what I do, but many people like them very much!
Dina Wakley Media 2020 – Gloss Paint Sprays, Canvas Apron and Stencil – 14 Items

Ranger Dyan Reaveley's Dylusions Fall Collection 6 Ink Spray Bottle Set

Gesso
25. White Gesso. Gesso was one of the most confusing things about doing art for me! It goes on kind of chalky and has a rough texture. But that is what makes it amazing! It is great for "priming" paper or wood before you paint it and helps things "stick" because of the roughness. I DO buy this by the gallon!
26. Liquitex Clear Gesso. Okay, this one is WAY down the list, but I LOVE IT! Clear gesso lets you put a clear coat between layers, it makes paint translucent without making it pastel AND let's you make your scrapbook papers more hearty for art making.
Liquitex Professional Clear Gesso Surface Prep Medium, 8oz

Sargent Art Gallon Gallon Gesso, Surface Primer, 128oz

Napkins & Tissue Paper
I do A LOT of decoupage and collage. For this you need lightweight, paper thin products.
27. Ninny's Napkins. I have found that I do not like buying huge packs of napkins to use just one. Luckily Ninny sells single versions of napkins so you can try all different kinds!
28. Tissue Paper. I make my own gel plate tissue paper for most part! This lets you do exactly the kinds of designs that you want!
Magazines
29. Magazines for Collage. I get all my magazines from Ebay or on subscription (you can get some GREAT yearly deals!) Here is all my info on how to do Magazine Collages!
Paper Punches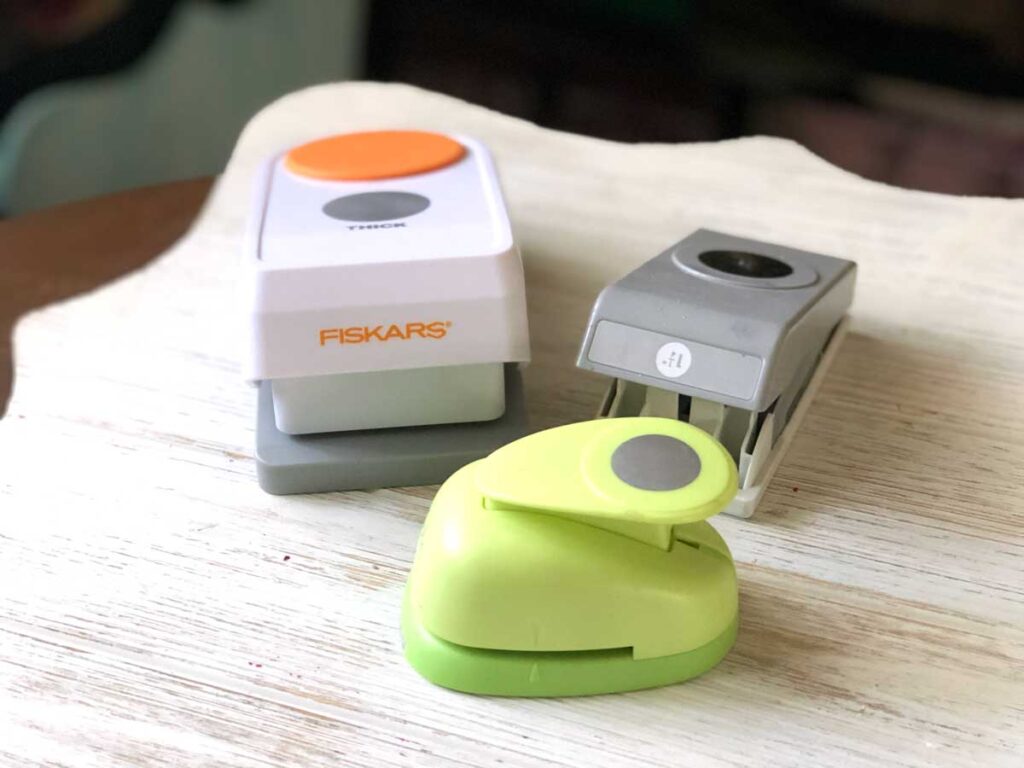 Here is my take on paper punches… the green kind are more affordable but super hard to store. The flat kind are more expensive but SO WORTH IT! I only buy flat ones now!
30. Round paper punches. Again, there are eleventy billion kinds of paper punches but two I think are must haves are a 1-2″ round one and then a 1/2″ one to make hole reinforcers!
EK tools Circle Punch, 1-Inch

EK Tools Circle Punch, 0.50-Inch

Stencils and Masks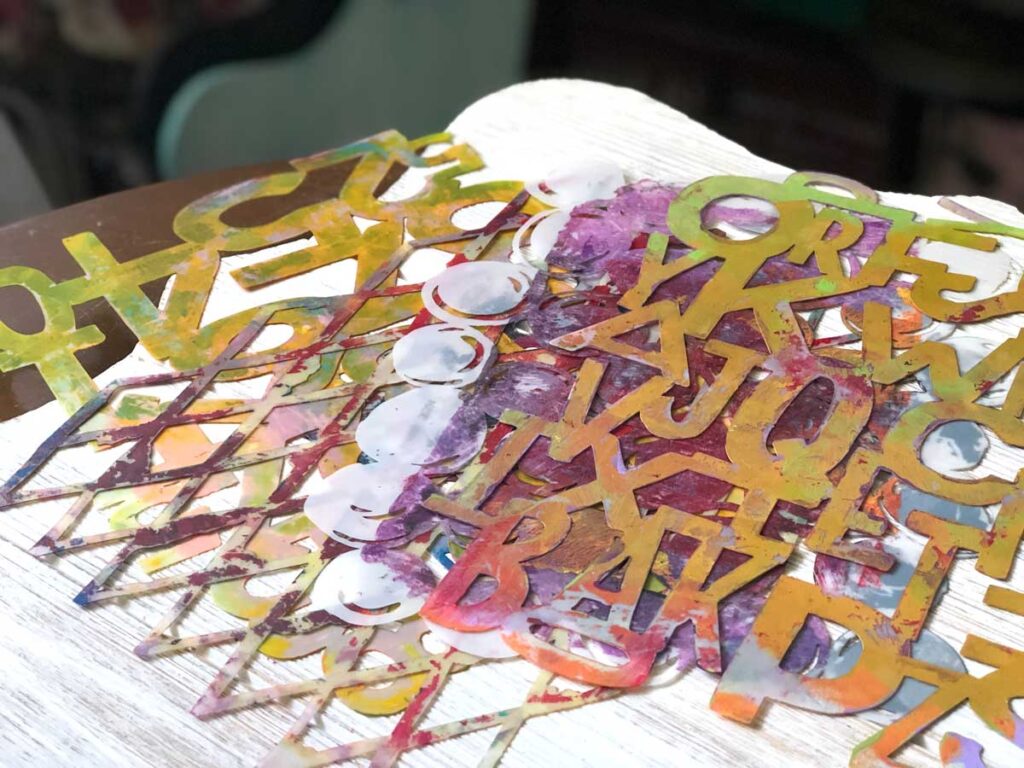 31. Stencils. Once you start collecting stencils you will find they are awesome for making backgrounds and adding interest. I use them with acrylic paint and the sprays.
32. Masks. Masks are just like stencils, but made more to be the negative. They tend to let lots of the background show through and add a wee bit of interest to your project!
Grommets & Jump Rings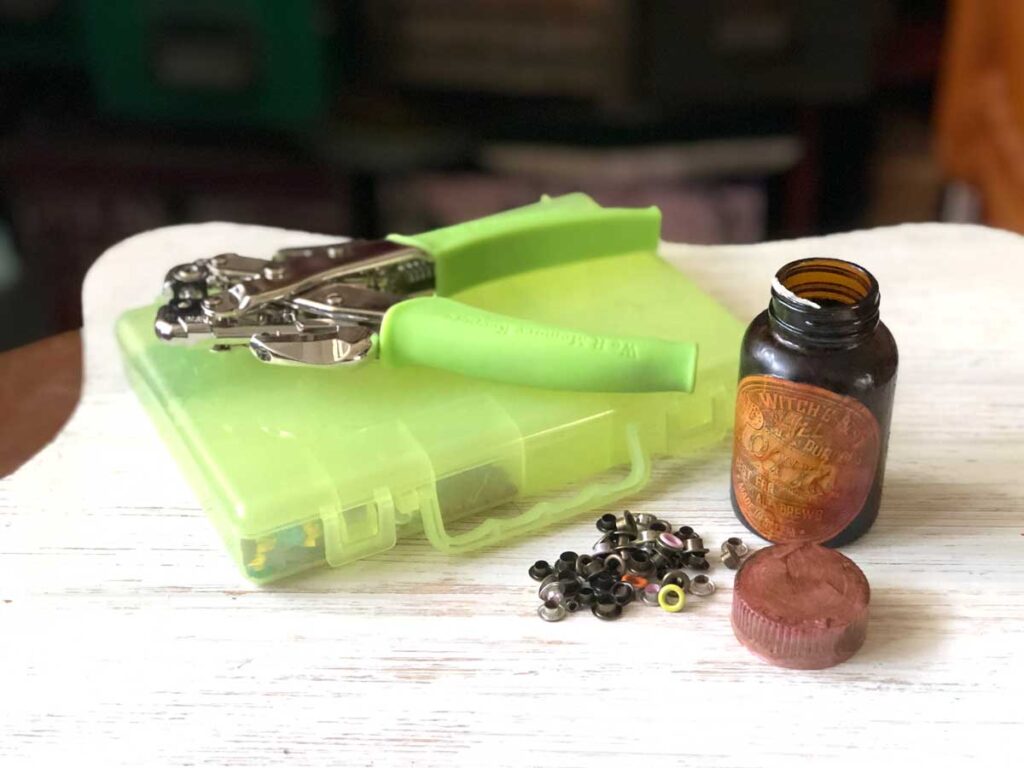 Hi my name is Tara and I have a grommet addiction!
33. Grommets. Grommets are metal "hole reinforcers". They can help make your projects more sturdy or even be used to add a pop of color.
34. Jump rings. Jump rings are great to use with grommets to make flip out pages or add ephemera bits to hang down. These are the circles that jewelry makers use to hook parts of their work together.
Colorful Grommets Kit, Jerbro 500 Sets Grommets Eyelets

PandaHall Elite About 730 Pcs Brass Open Jump Rings Unsoldered

Brads
35. Brads. Brads are super confusing too when you first see them! They get pushed through your paper and then the backs flare out to hold them in place. They are AWESOME for adding a bit of bling without adding too much bulk to your pages.
PH PandaHall 300pcs Mixed Color Pearl Mini Brads Fasteners

Timoo Round Paper Fasteners, 12MM Metal Brads Fasteners

Tools
Oh my gosh, I LOVE tools for crafting. Here are a few of my "must have" tools I use almost every day!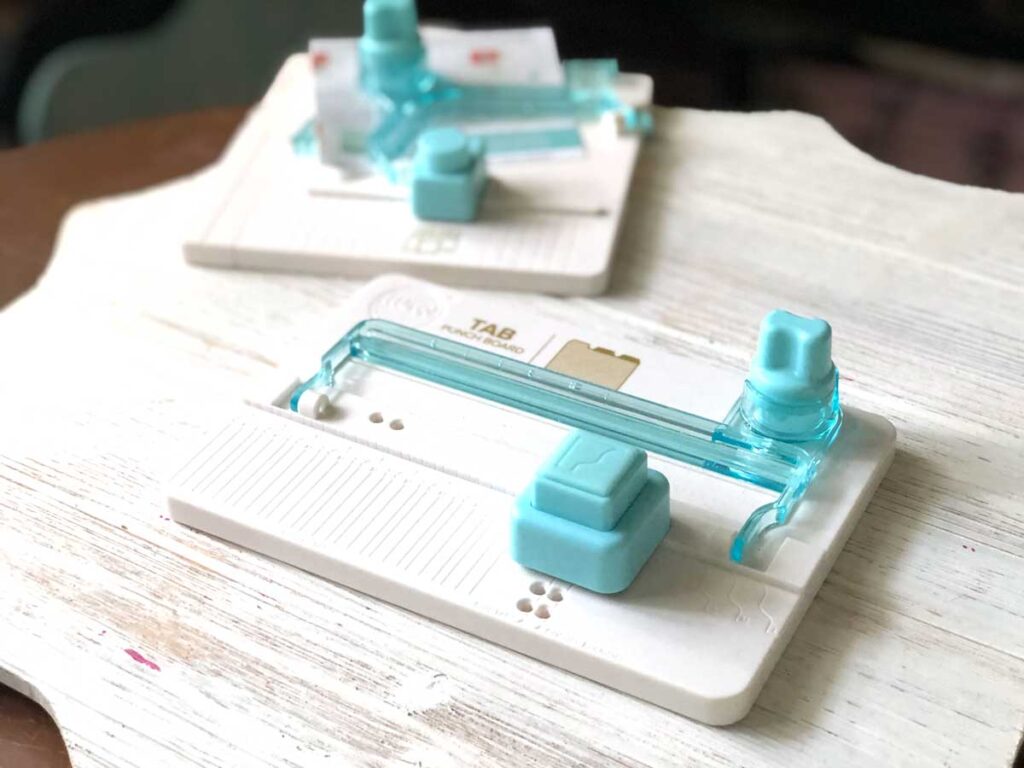 36. We Are Memory Keepers Punch Board and Tabs. We Are Memory Keepers makes lots of cool gizmo tools that you definitely don't need! That said, I LOVE the one that makes tabs SO MUCH! (I am a super "tabs" nerd!)
We R Memory Keepers 0633356631057 Board Punch Board & Punch-Tab

37. Crop-A-Dile. This is the grandmama of hole punch tools. It is used to make holes in super heavy paper AND to squish your grommets down (and you know I love me some grommets!)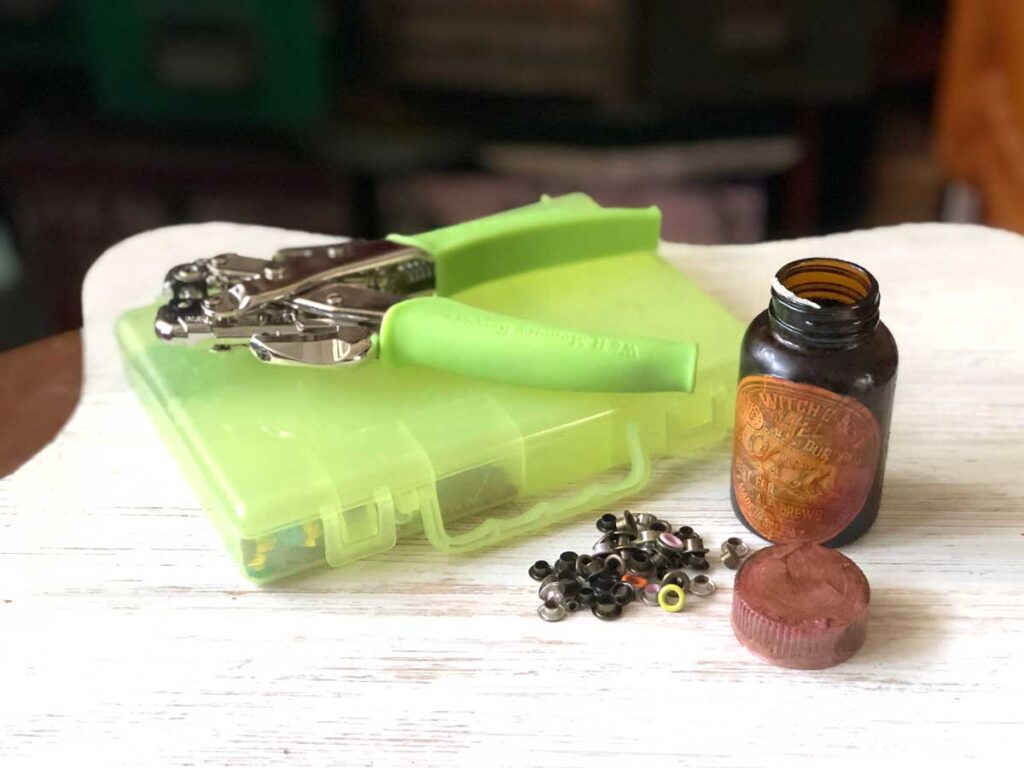 Crop-A-Dile Eyelet and Snap Punch Kit by We R Memory Keepers

38. Sizzix Sidekick. We haven't talked about dies yet. Dies for the sidekick are thin little pieces of metal that you roll through this machine to cut paper into shapes. I would consider this a MUST HAVE if you are going to want to make paper shapes, tags or other ephemera!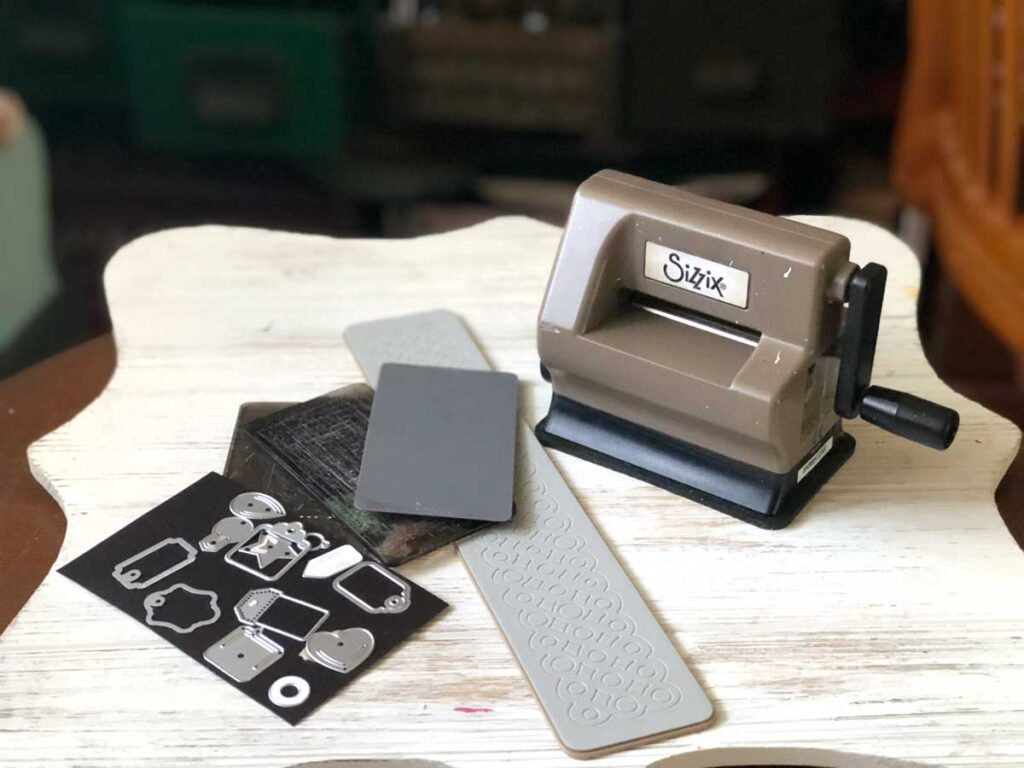 Sizzix Sidekick Starter Kit Manual Die Cutting

Additional Resource: The Sizzix Sidekick, The Perfect Little Cutting Machine!
39. Big Shot & Steel Dies. This may be the very first crafting tool I ever bought like a billion years ago! It cuts super thick paper by rolling steel dies through a "squishy" part to make paper shapes. I would get the Sidekick first and then if you love it, get the Big Shot to do more intense cutting!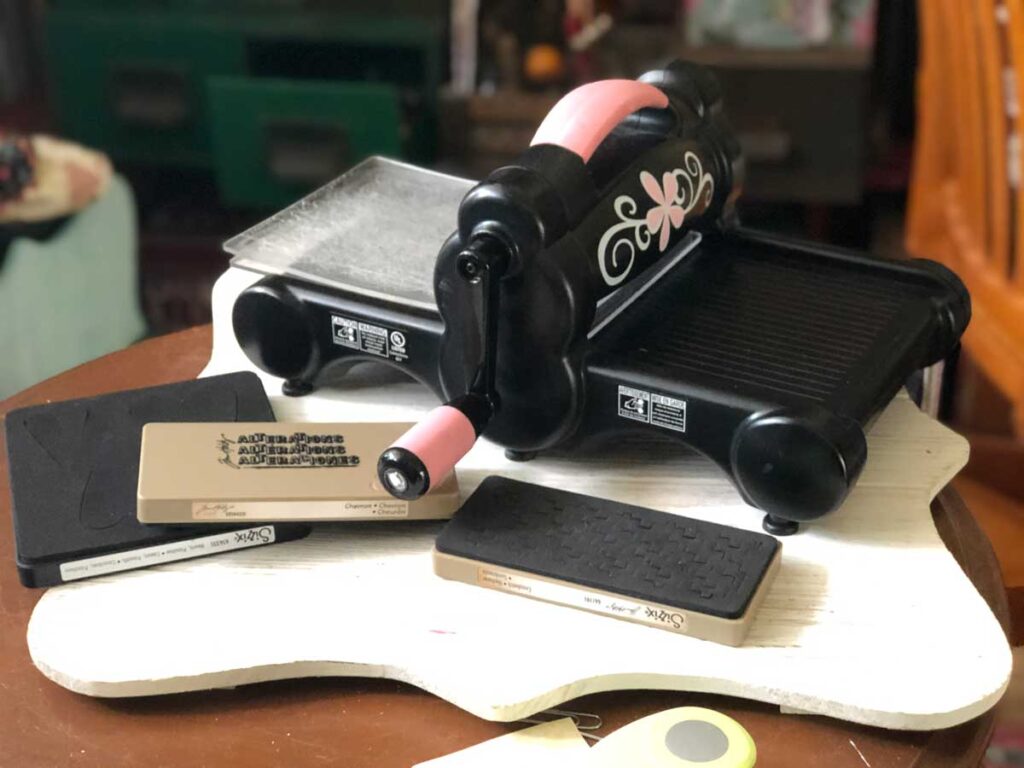 Sizzix Big Shot Manual Die Cutting & Embossing Machine

Getting Started With Junk Journaling Wrapup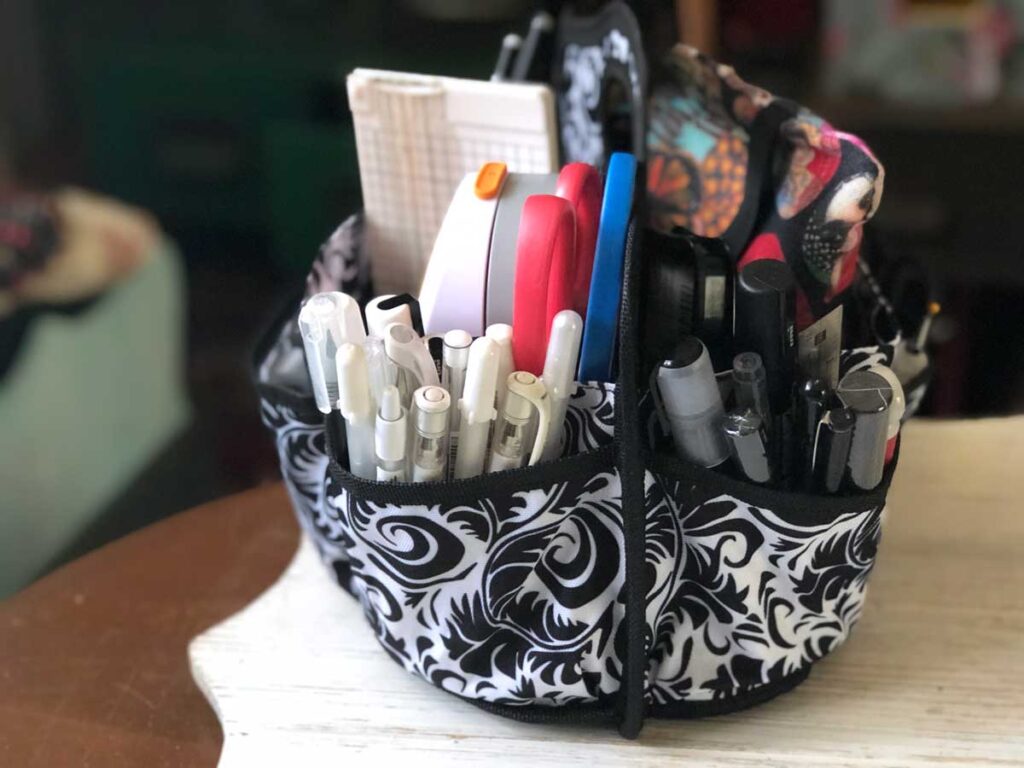 Okay, that is A LOT of products for junk journalling! And I didn't even talk about paint pens, watercolor brushes or even rulers.
For sure there are a few things you NEED to start, but you have plenty of time to get to my level of tools and products. Just start collecting them as you go and make sure to USE them to make art!