These free printable wise old owls collage sheets are great for use in mixed media, junk journals, scrapbooking or even your dark academia piece! Includes a commercial license for printed products.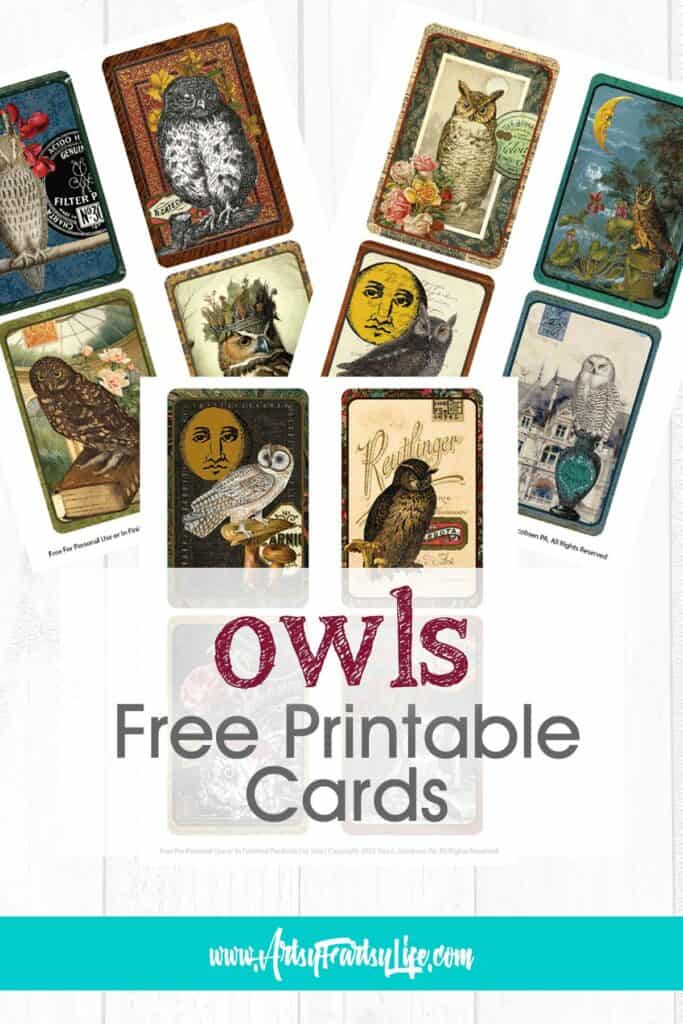 Please note: This article contains affiliate links, and that means that I may earn a commission if you buy something. Read my full disclosure here.
All The Owl Collage Sheets!
I know I like to see what I am getting before I commit to the scroll, so here are all the owl cards in one place so you can see what you are getting (get the full sized versions below!)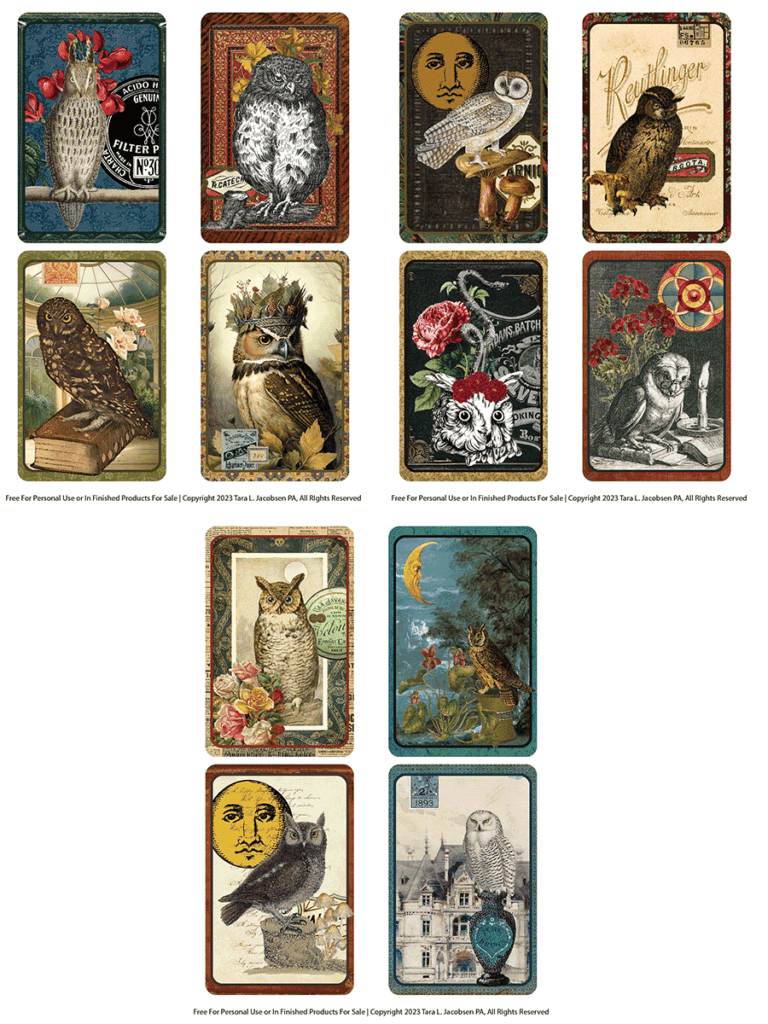 Why I Made These Wicked Cute Owl Cards
I am a collage artist myself and I LOVE using free printables in my work. I will be honest with you, this whole collection started because of that owl in a nature themed crown…. how freaking cute is he?
Also, I am a graphic artist so sitting around at night "getting" to watch law Youtube and cute freebies is super fun for me and feels more like play than work!
They are bigger than ATC sized cards, but I had a gal say that they were were the perfect size to use as backgrounds.
Why Are They Free Printables?
I am so lucky that I get enough traffic to my site to have ads on it! Whoo whoo!
What that means is that every time someone comes to my site I get a wee bit of money… which makes it possible to take the time to make freebies for you!
And no, you don't have to click on the ads to help, but if you did want to help you can share this page to your favorite Facebook group or pin it to Pinterest (that helps more than you will ever know!)
Oh, and this is my year of making free printables for my peeps so there are scads of freebies available for you in the library.
Free Commercial License For Printed Items
There is a super liberal license to use these in printed products for sale! Here are some ways that people have sold them:
In a full collage sheet sold at a bazaar in South Africa
Cut up and sold as greeting card tags at a craft show
Used as scrapbooking supplies in kits
Made into a full junk journal and sold on Etsy
Functionally as long as you print them out you have my permission to use them in your commercial projects.
There is no license for digital… so no putting them on your website, sending them in an email to your list or posting a link to them on your Google drive.
If you do want to share these with your friends, just send them a link to my site and they can download them themselves!
How To Print These Collage Sheets Out
I like to use a high quality paper to print these out! While I generally send them out to my local UPS store for printing, I also occasionally print them at home.
For that I like to use a bright white presentation paper or card stock because it makes the colors pop!
Join the Freebie Library!
These owl free printable collage sheets and so many more goodies are waiting for you in the freebie library!
Click the link to get a password or sign in here if you already know the password! (it is in every newsletter in case you forgot)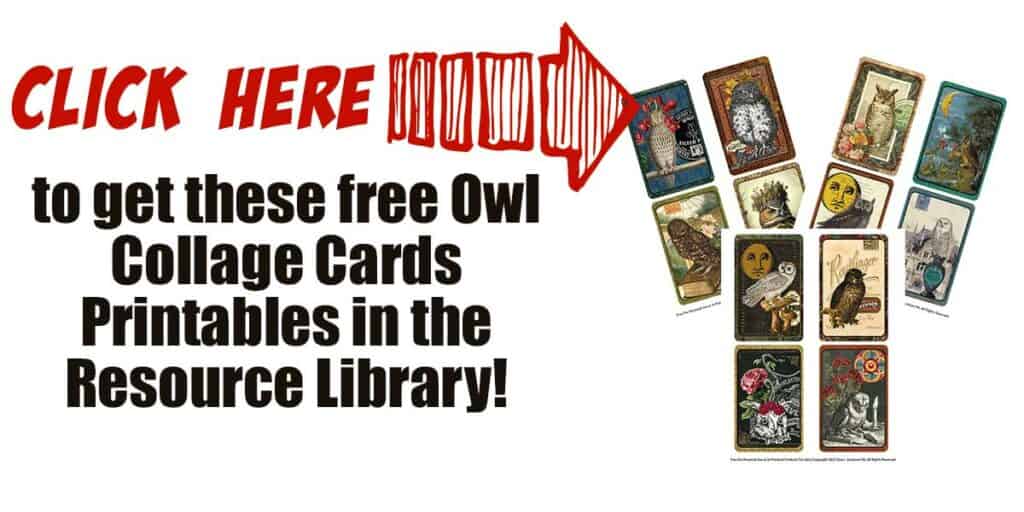 Free Printable Owl Ephemera Collage Sheets Wrapup
Oh my gosh, I had such fun making these owl cards… that little bit of dark, goth vibe is my jam!
If you have any other ideas for free printables or other craft supplies you would like me to make, shoot me an email ([email protected]) and will be happy to consider making your idea!