This was such a fun junk journal to make! I used 3 primary colors, orange, black and green, with a little blue thrown in for fun! It has dangles and charms, tags and tickets, as well as tuck spots, pockets and a flip open cover.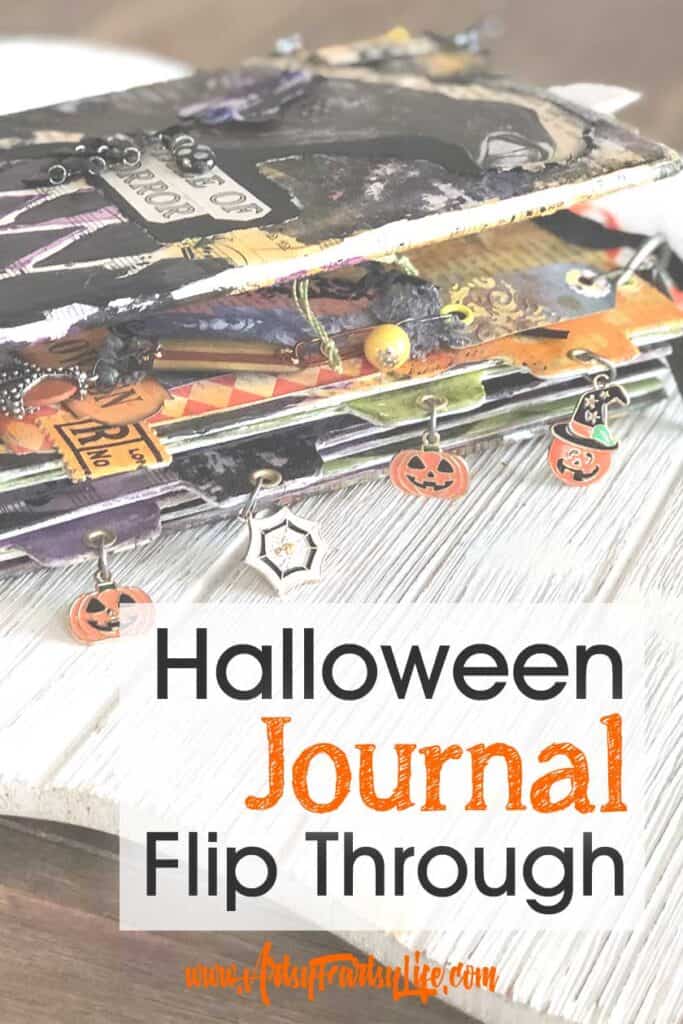 please note :: as an Amazon associate I earn from qualifying purchases, read my full disclosure policy here
Halloween Junk Journal Video
Check out this full flip through video of my Halloween Junk Journal! It is super interactive and fun with lots of dangles and tags!
Halloween Themed Junk Journal
The base of the book is heavy chipboard and the cover is of cardboard with Tyvek hinges for pliability and structure!
This is the first time I used a chipboard binder album … being a lazy crafter who likes the decorating part more than the "making the album" part this worked great for me!
Mixed Media Chipboard Album

Long eyelet scallop edge Chipboard Album

Edgar Allen Poe Junk Journal Cover
I started this journal with just chipboard and blank pages, wondering what I would use as a cover. Then I remembered I had started a different journal a couple of months ago that had a raven in it… perfect for my cover!
I did the harlequin background paint on all the pages and around the cover. I added a halloween paperclip dangle and this turned out great!
Additional Resource :: How To Make Paperclip Dangles (Halloween Edition)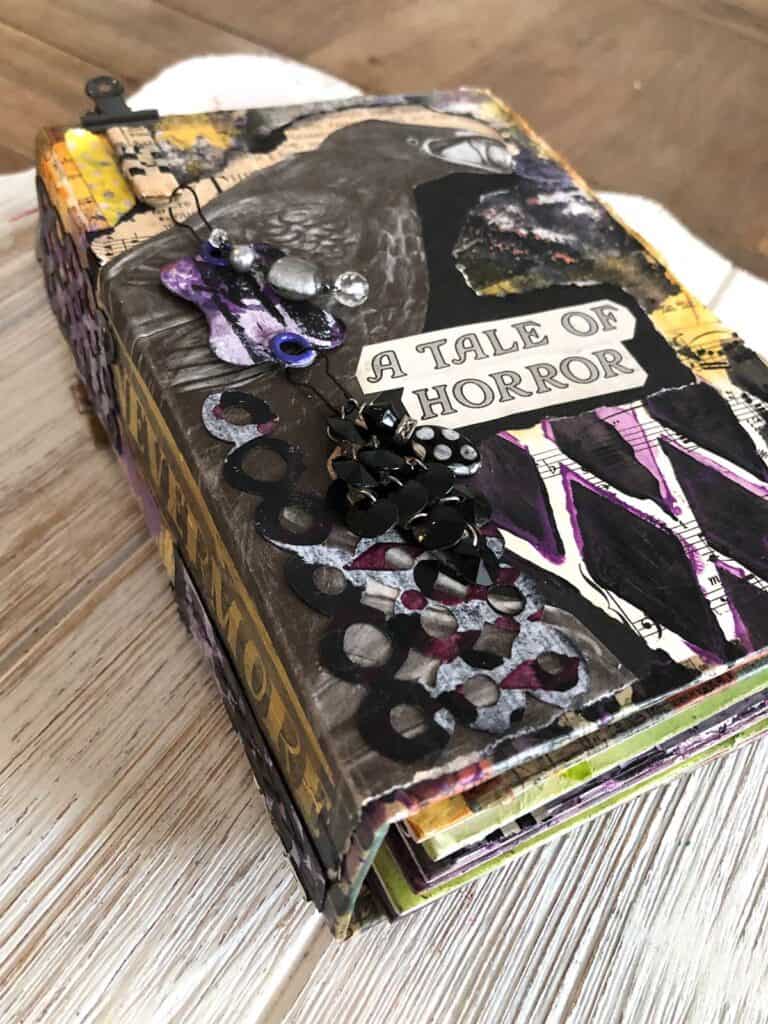 Pumpkin Halloween Dangles
One of the hallmarks of all my journals is having dangles off the side on tabs (it is my favorite!) For this journal I knew I would be using vintage dangles inside, but I wanted charms that would scream "halloween" on the outside edge!
I got these halloween charms from a company called Wocraft on Amazon for about $8… I LOVE charms!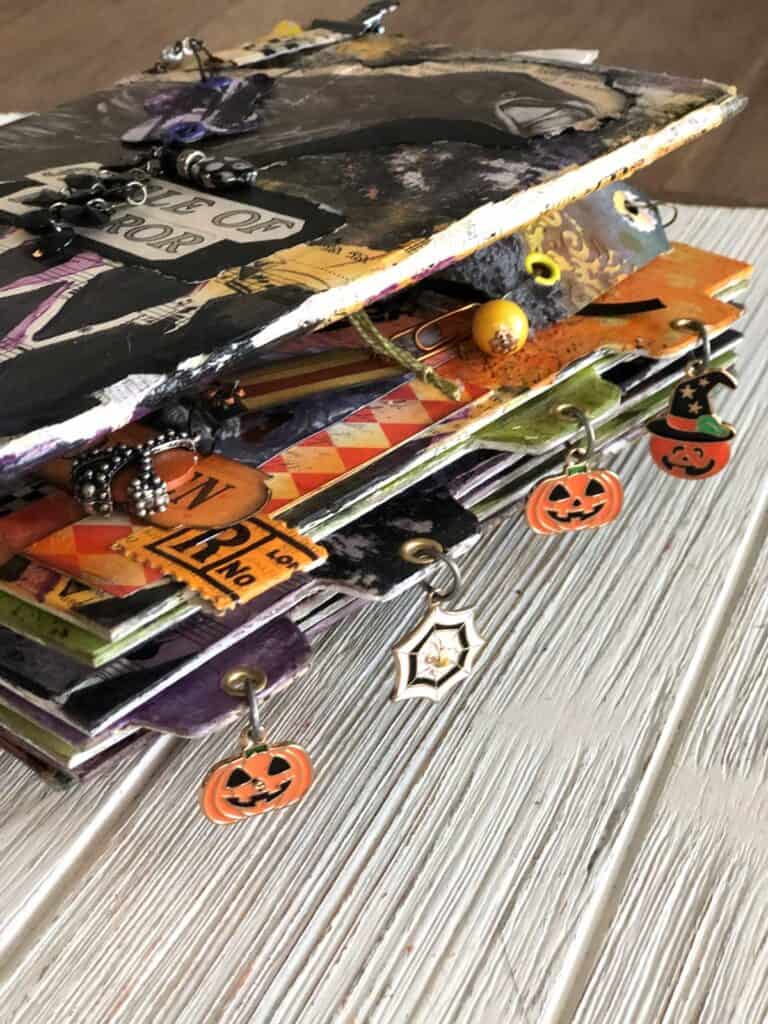 Green and Blue Inside Cover
For this page and lots of the other pages, I used my printable Halloween ephemera that I designed for this journal (it is FREE and you can even use them in journals that you sell commercially!)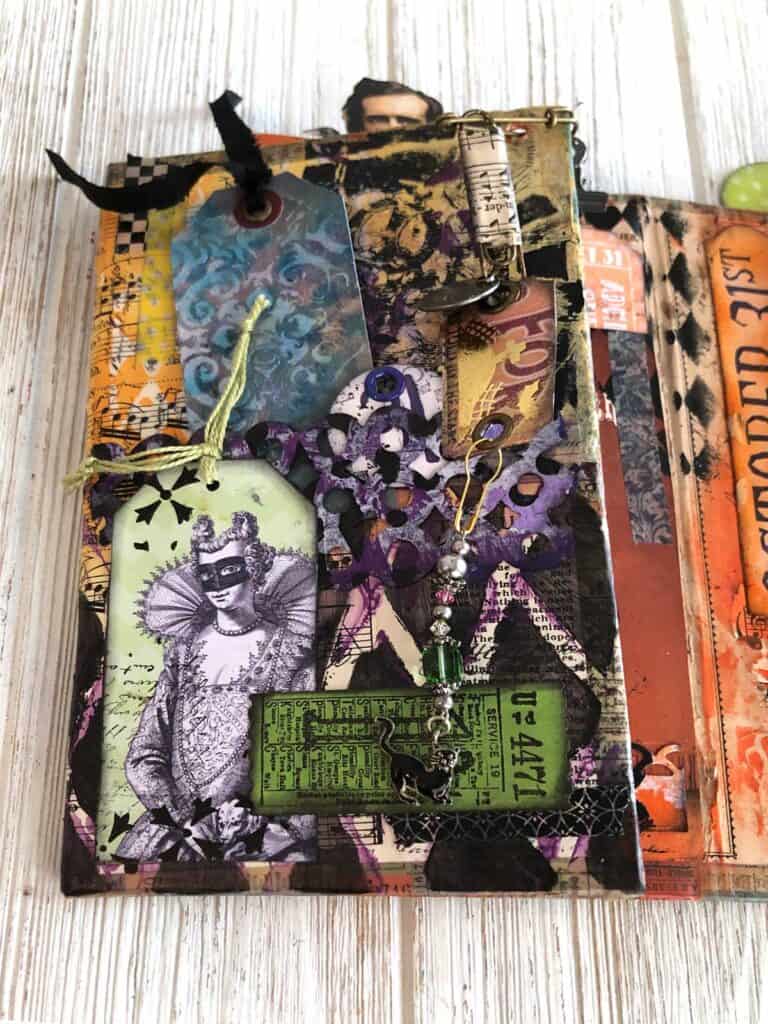 One thing that I have learned from doing a bunch of journals is to have a stash of things that you can add as interest! I made a whole bunch of Tim Holtz tickets in all different colors. This one was perfect to highlight the masquerade lady!
My Mother and Houdini Inside Cover
I know lots of gals like the clean look of "standard" journals, but I LOVE mixing old and new, magazines and printables.
For this pocket I found a cool image from a magazine, had Edgar from a trip with my Dads, the ephemera postcard from my stash and then printable tags.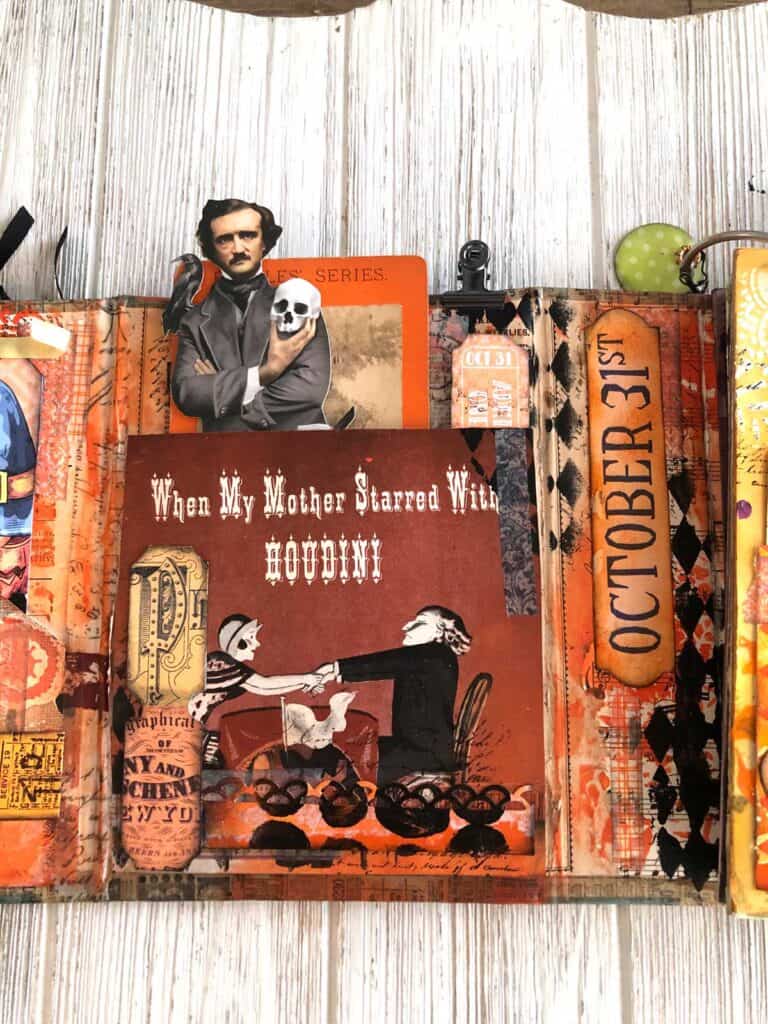 Happy Halloween Dangle Page
This page needed to be pretty cool because it was the top of the stack of binder pages. It has it's own special dangle clip and I LOVE the little squiggle … I JUST got that die and it is a favorite now!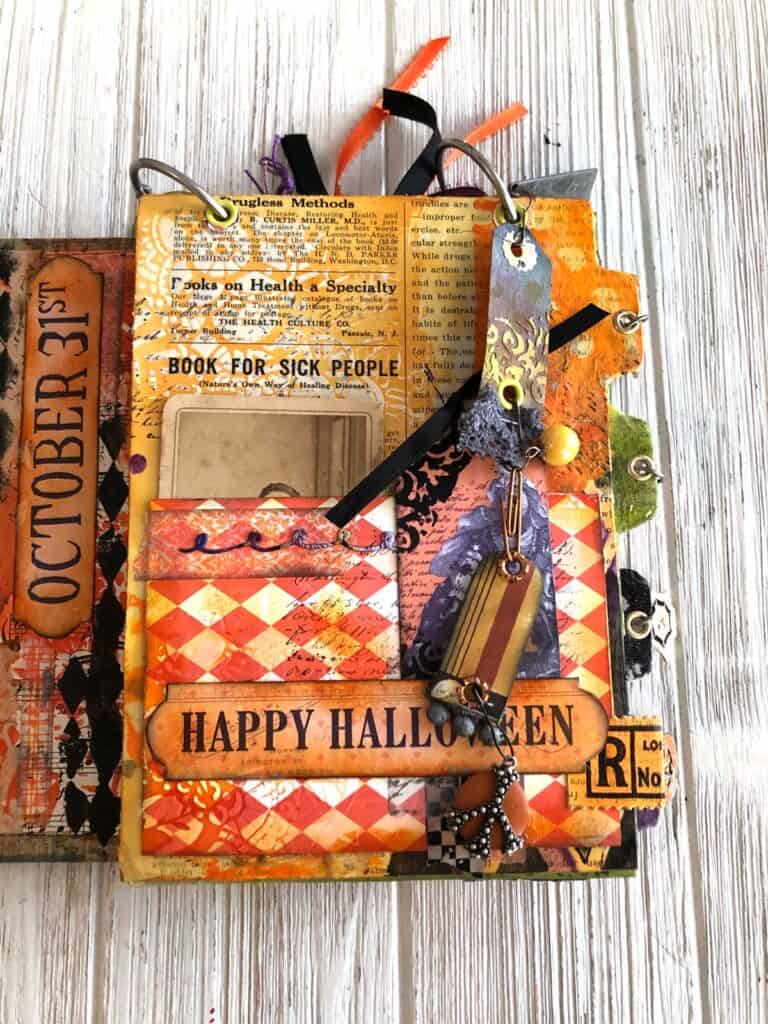 Green Raven Page
This one is a mix of old and new too! Printable ephemera, a vintage postcard and brand new mixed media paper grunged up to look cool!
I LOVE the color combination of green, purple and orange for Halloween…. especially this acid green.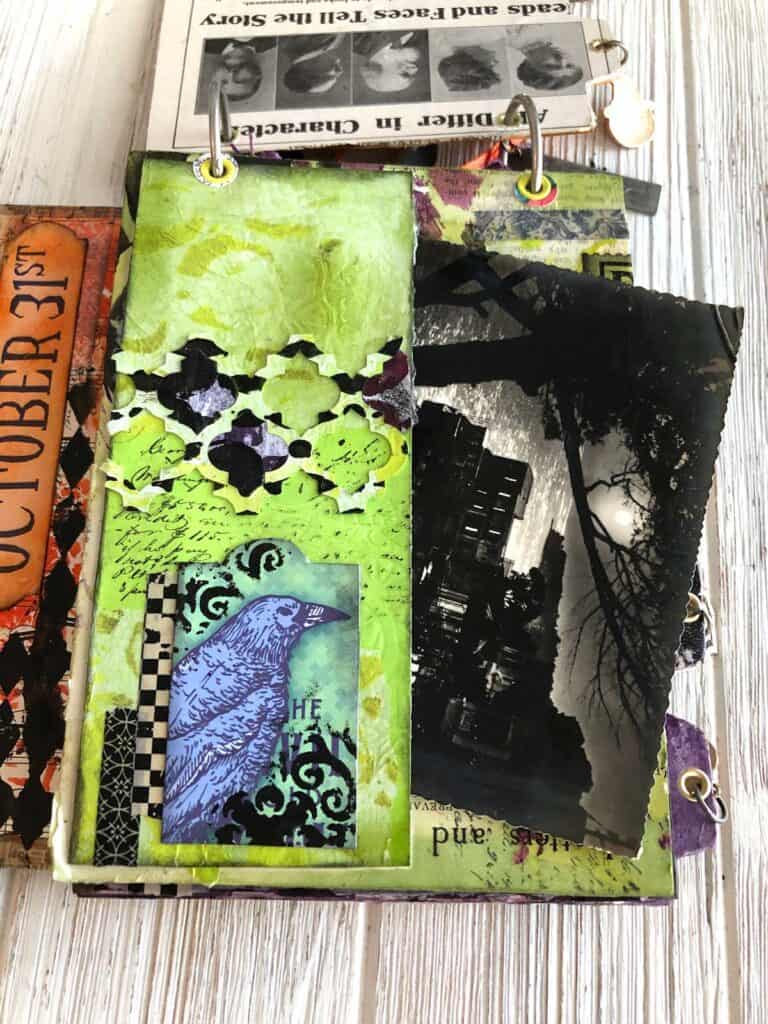 Purple Wicked Witch Page
Okay, this may be my favorite thing in this whole journal! I fell in love with this masquerade witch, and putting her on purple paper just made me so happy. THEN I used a Heidi Swapp Minc machine to add the wicked lettering in gold… swoon!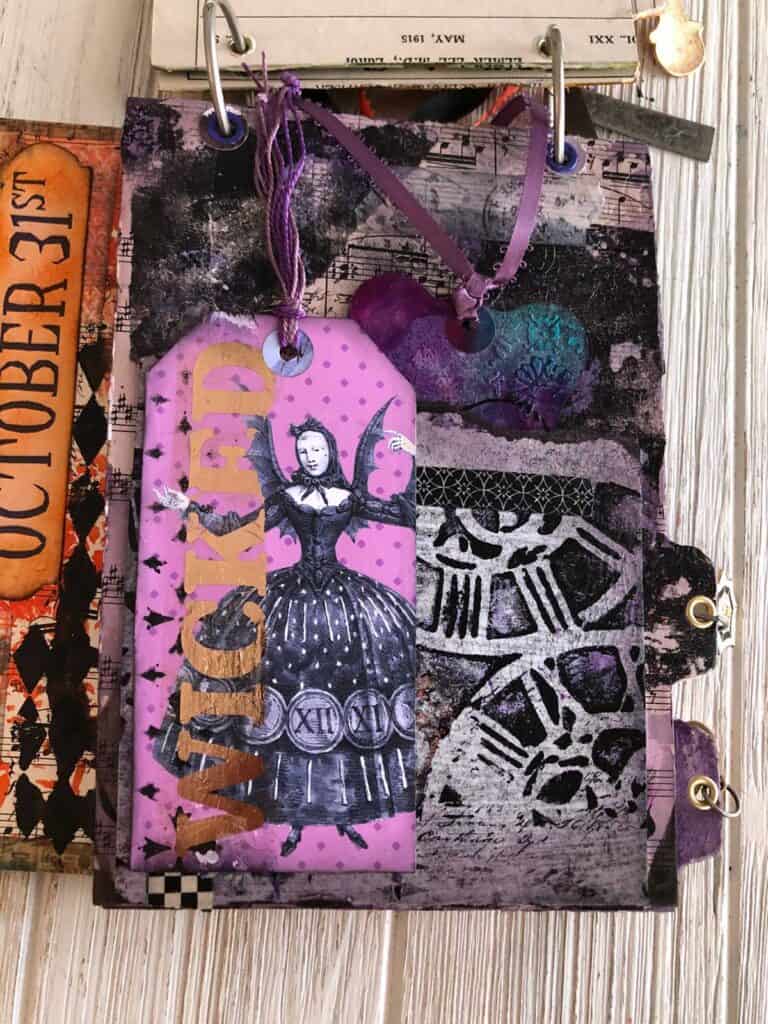 Purple Skull Page
This is one of the "plainer" pages, with just a cool tuck pocket and then the giant graphic skull tag. I really like how this color turned out and the contrast of the blue on the halloween!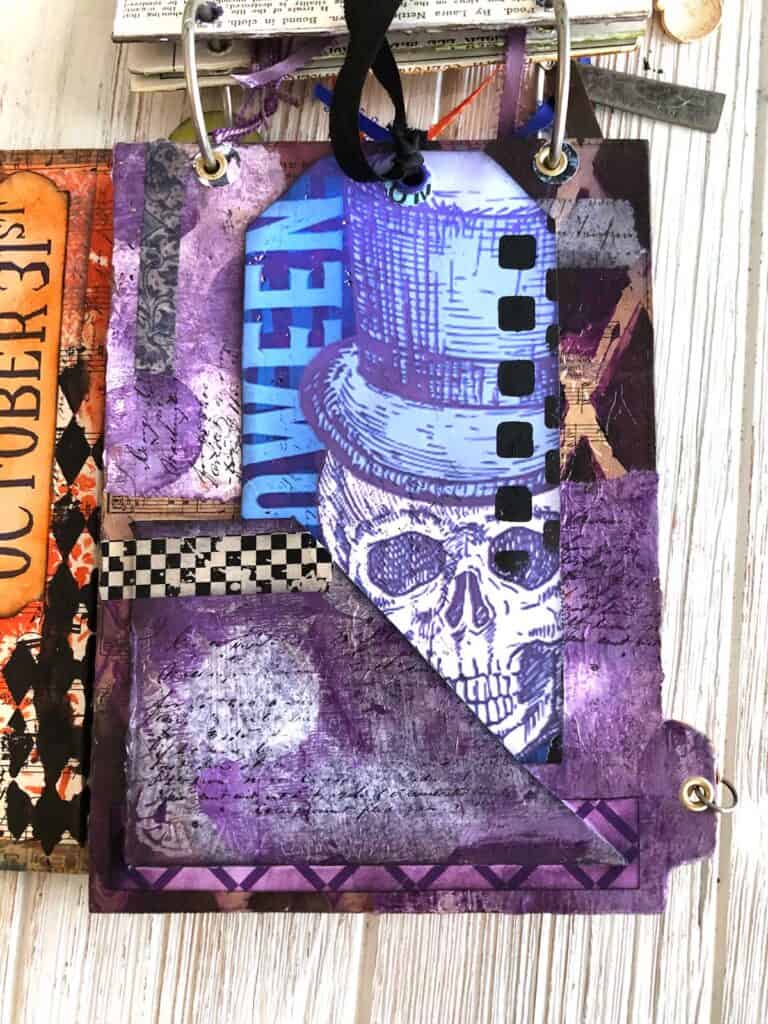 Day of the Dead Page
This may be my favorite whole page… the green and the blue, the fun and colorful skeletons… so cool!
Even though it isn't "Halloween" per se, it fits in nicely because I have the same color palette in the background and the diamond harlequin in black like the rest of the journal!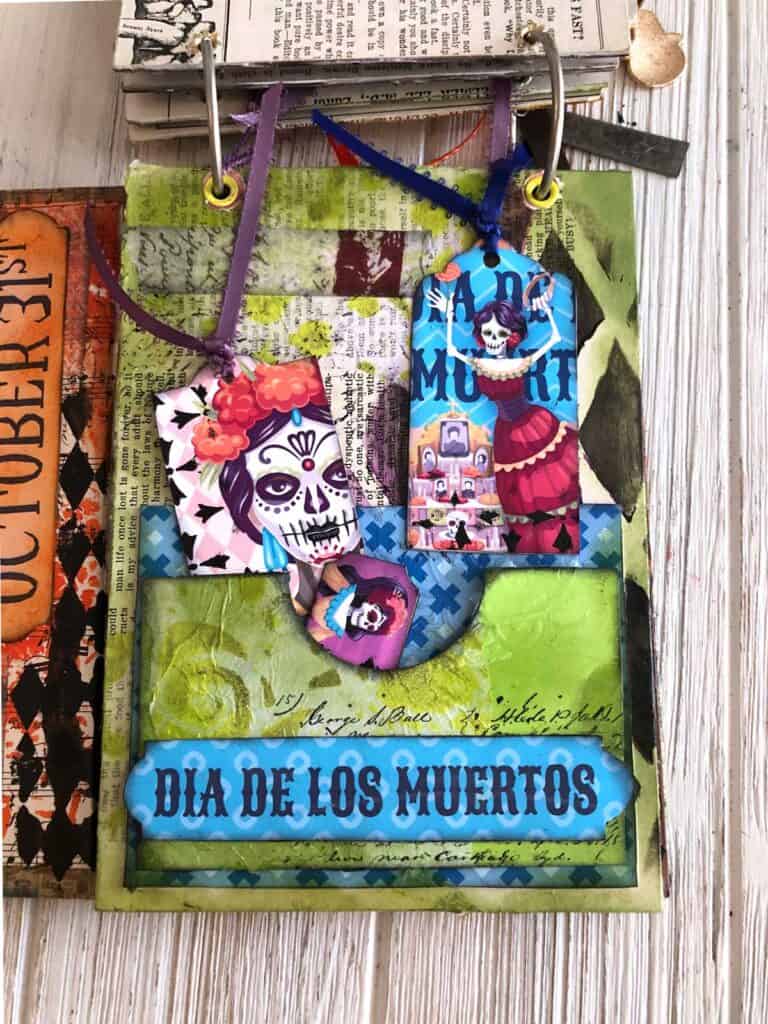 Orange Moon Page
This one is another kinda plain page, but I love how this tuck pocket turned out! Like it has a little pop of color in the "pull out hole". Again I was able to pull out two of my Tim Holtz tickets to add a pop of color to the page.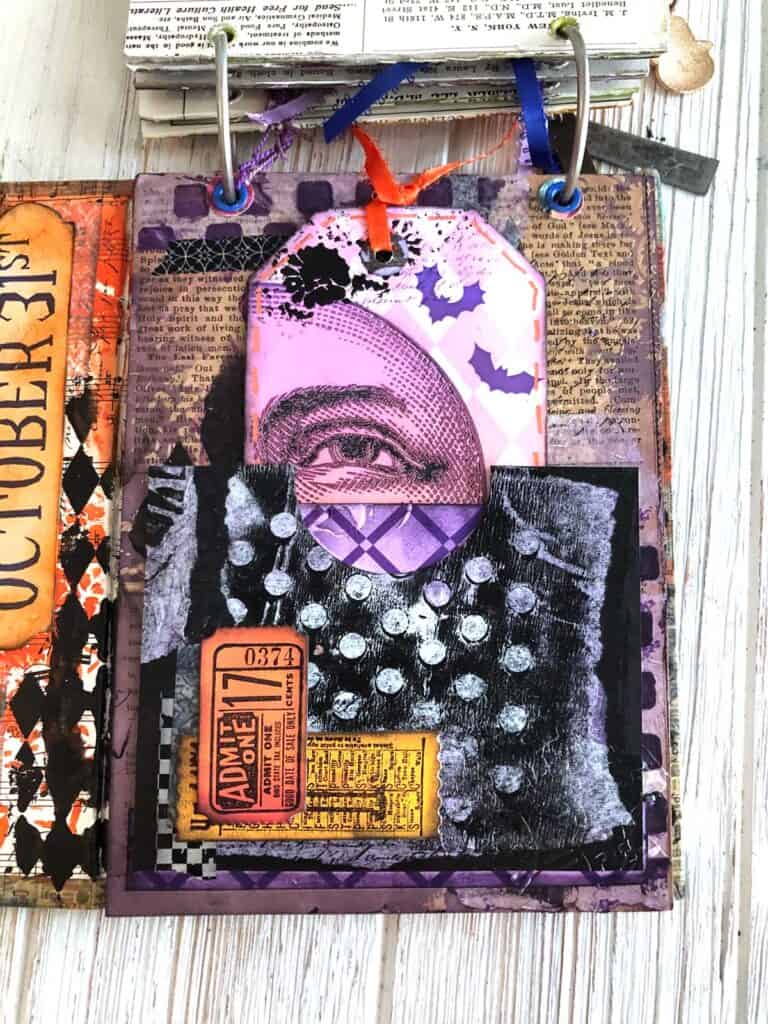 Happy Halloween Inside Back Cover
I feel like this is a little secret page. You only get here to see it if you flip up all the binder pages and then you see the wicked cool Happy Halloween in gold foil!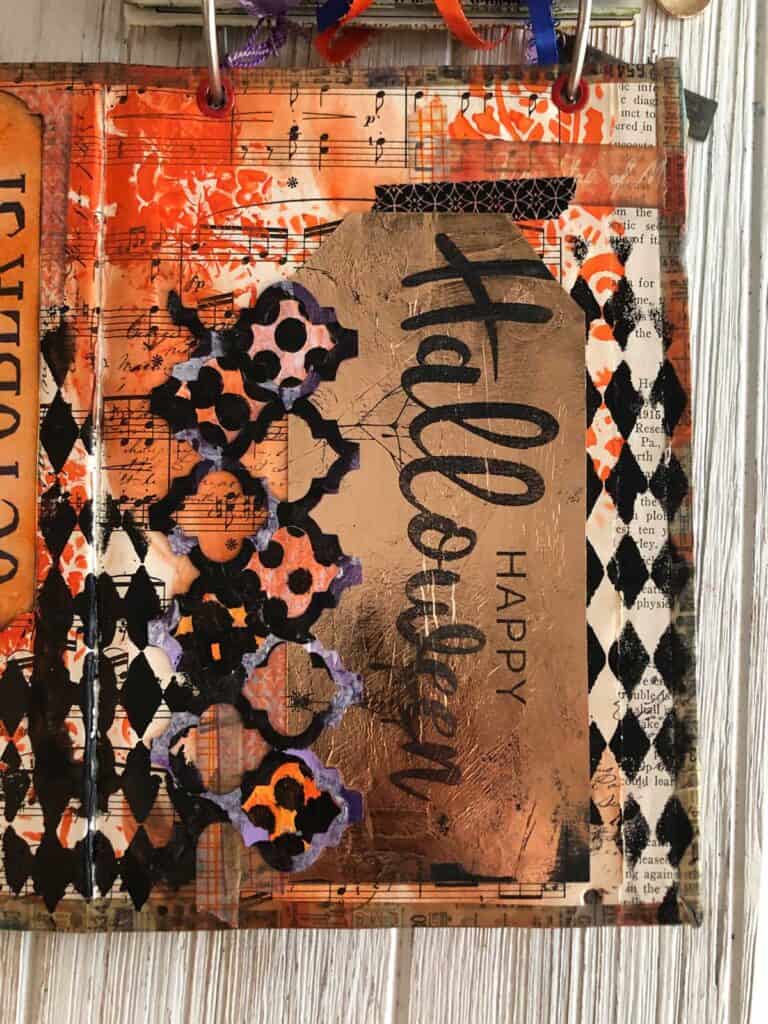 Creepy Back Cover with Dangle Charm
Okay, this is another fun recycled piece from the other journal. This picture reminds me of a haunted house with the people creeping down the back stairs.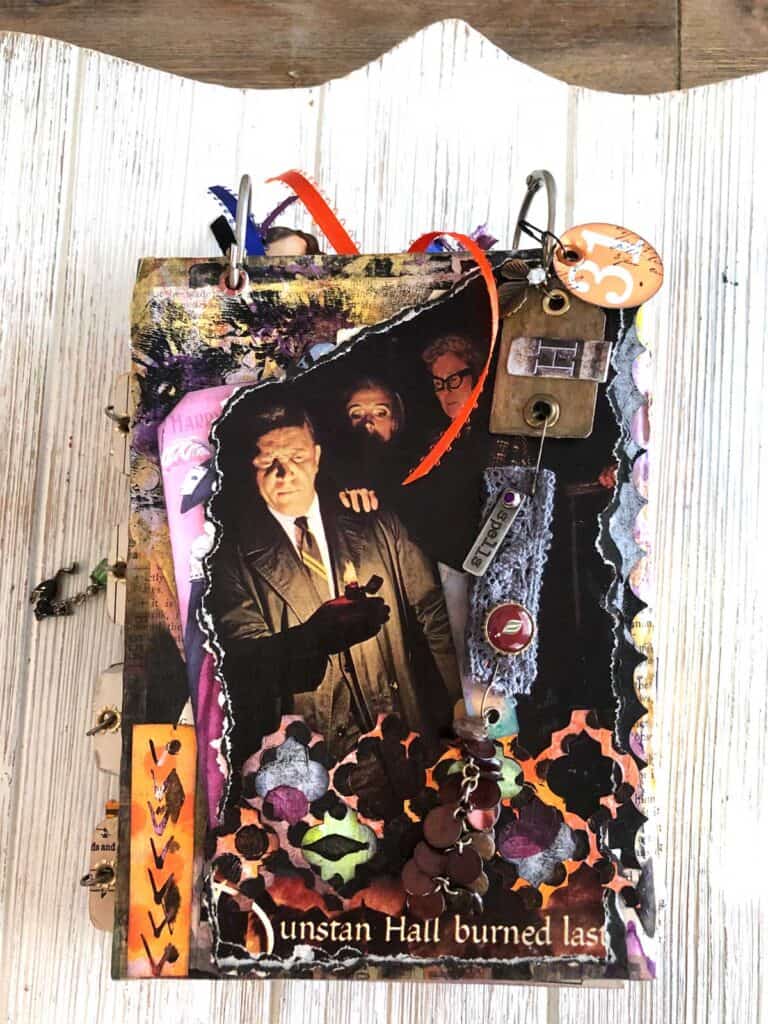 Halloween Junk Journal Wrapup
Okay, the one thing that I KNOW about my junk journals is that I always worry that there won't be enough pages. This one only had 6 one-sided pages so I made the cover to give me added space.
Between the covers and the pages, AND the dangles, there is so much going on in this journal that making it even more would just be crazy!
Hopefully you like it and all of my Halloween papercraft ideas!