How to make your own washi tape using three different kinds of adhesives! All my best tips and ideas for making cute DIY washi tape to use in your art.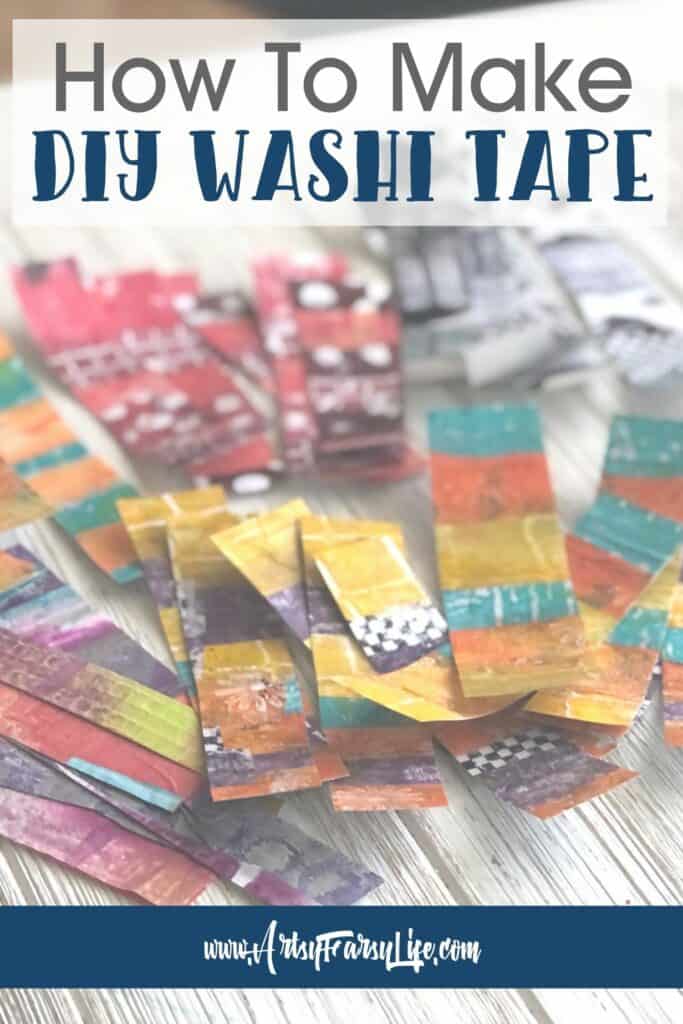 please note :: as an Amazon associate I earn from qualifying purchases, read my full disclosure policy here
What Is Washi Tape?
Okay, let's just get this out of the way right up front, washi tape is my jam! It is a fun way to add a pop of color to your projects!
That said, it is officially a low tack tape that you can remove and reposition without hurting your artwork.
It comes in rolls and is super portable and easy to use. Here are a few kinds of washi tape, laid out over a magazine image that I used to make colorful tags!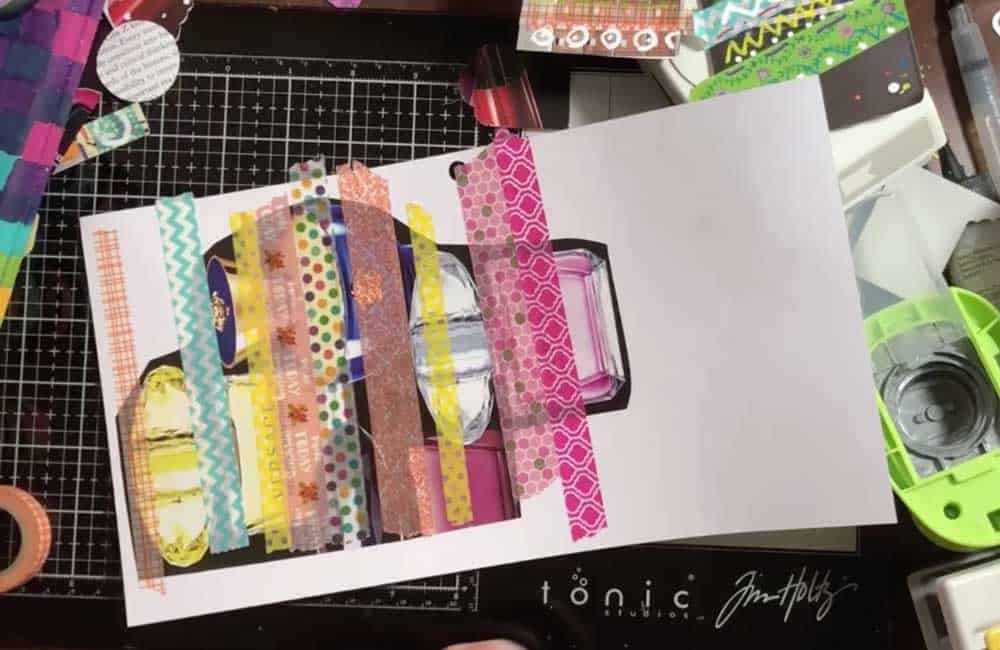 Full DIY Washi Tape Tutorial
How To Use Washi Tape In Art
Before we get too far into this, let's talk about what is washi tape used for in your mixed media or art journal!
As a pop of color
Border a "window"
Create a border or line
Reinforce a tuck spot
Attach ephemera
Make a background
Because it is pretty and functional, you can find a myriad of uses for washi tape in your art!
Custom Washi Tape
So, what is custom washi tape? There are for sure places that you can have your designs printed onto washi tape rolls, but for this tutorial I am going to show to make custom washi tape using 3 different kinds of adhesives.
It may not be "officially" washi tape, but having used it already in a fun piece of art as a pop of color and top and bottom border, I can tell you it works just fine and exactly the way "real" washi tape works.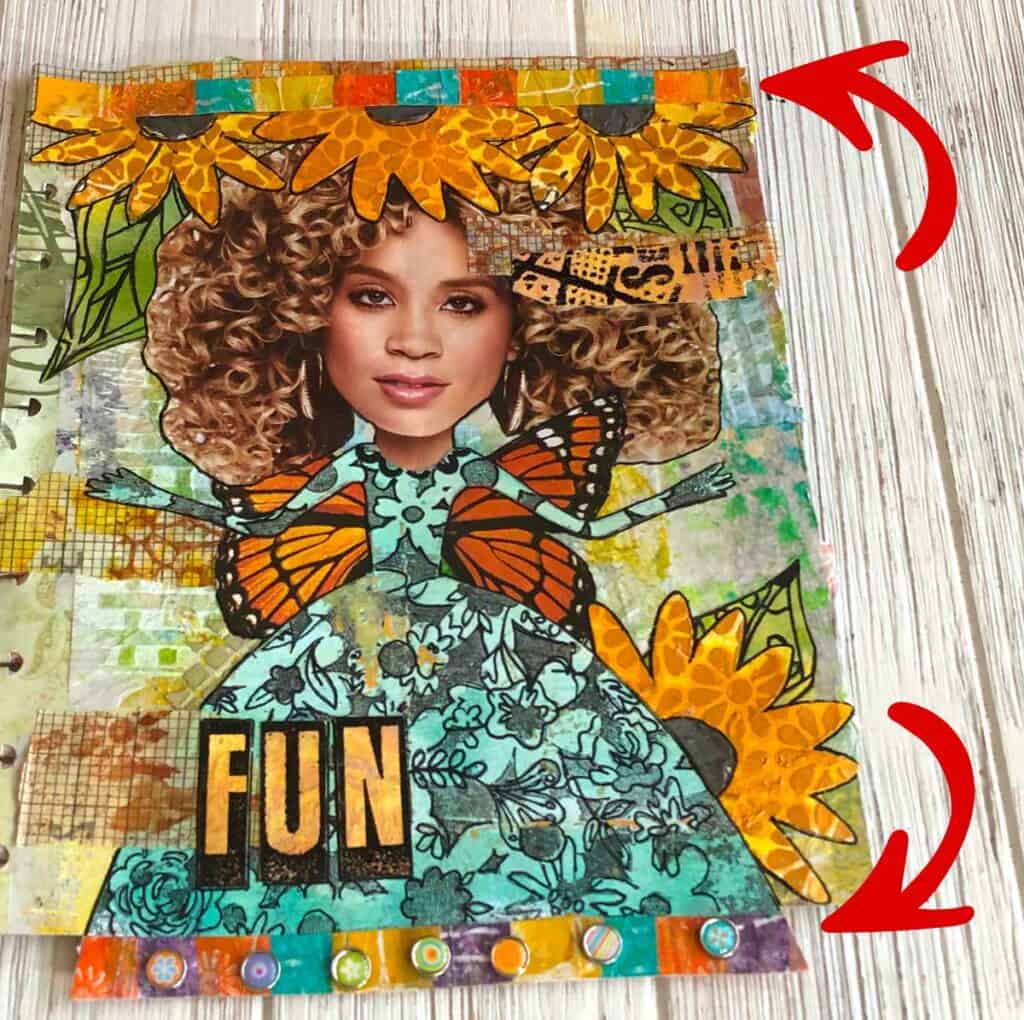 How To Make DIY Washi Tape
So today we are going to make some washi tape!
1. Pick Your Adhesive
I made washi tape using three different kinds of adhesive. First was mod podge and plain old 1/2 sheet sticker paper like mailing labels are made from, second was double sided sticker paper and third was using a Xyron sticker machine.
Functionally, you need something that you can use to have two sides of sticky-ness!
MFLABEL Half Sheet Self Adhesive Shipping Labels

Scrapbook.com – Clear Double Sided Adhesive Sheets – 6 x 6

Xyron Creative Station, 9" x 5"

I went into this thinking that I would like the double sided adhesive the best, but I was pleasantly surprised how easy all three were to do! I would pick the half sheet labels for being cheap and the Xyron for being fast!
2. Pick your washi tape material
I chose to use tissue paper with acrylic paint on it for my washi tape because it was light weight and colorful. You could use ANYTHING including colored typing paper, scrapbook paper, gel plates, etc.
Just remember that this is supposed to be an accent rather than a background so you want to be able to cut it up.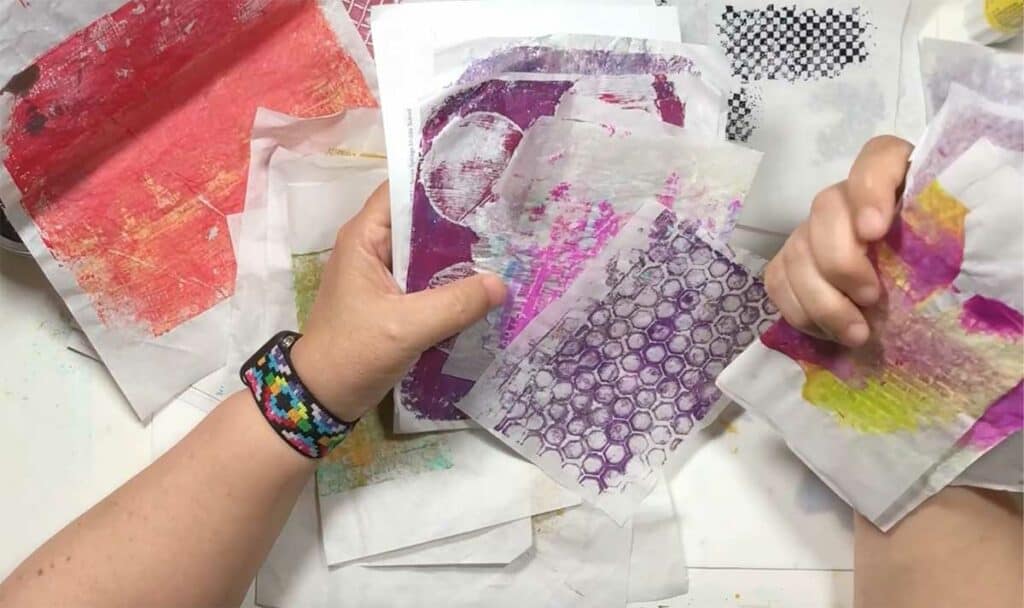 3. Adhere your material to one side
Here is where making your washi tape differs from just making colorful background or even fun strips of paper. The goal is to have colorful pieces that you can yank out and use easily in your art because they already have sticky backs!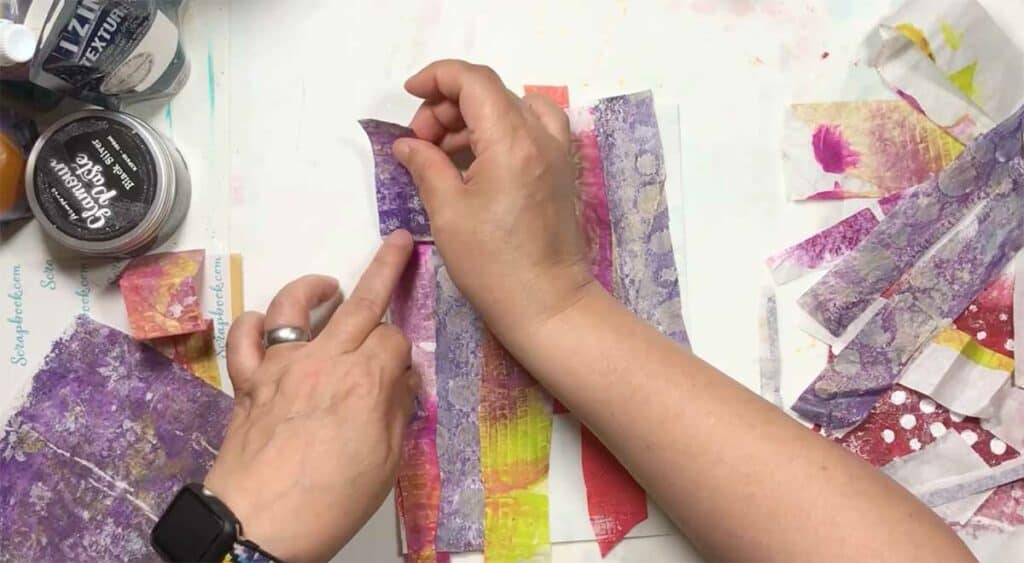 4. Cut your stickered papers into strips
I cut different strips different ways. Some I did long ways in similar colors and some I did across to get a mix of colors.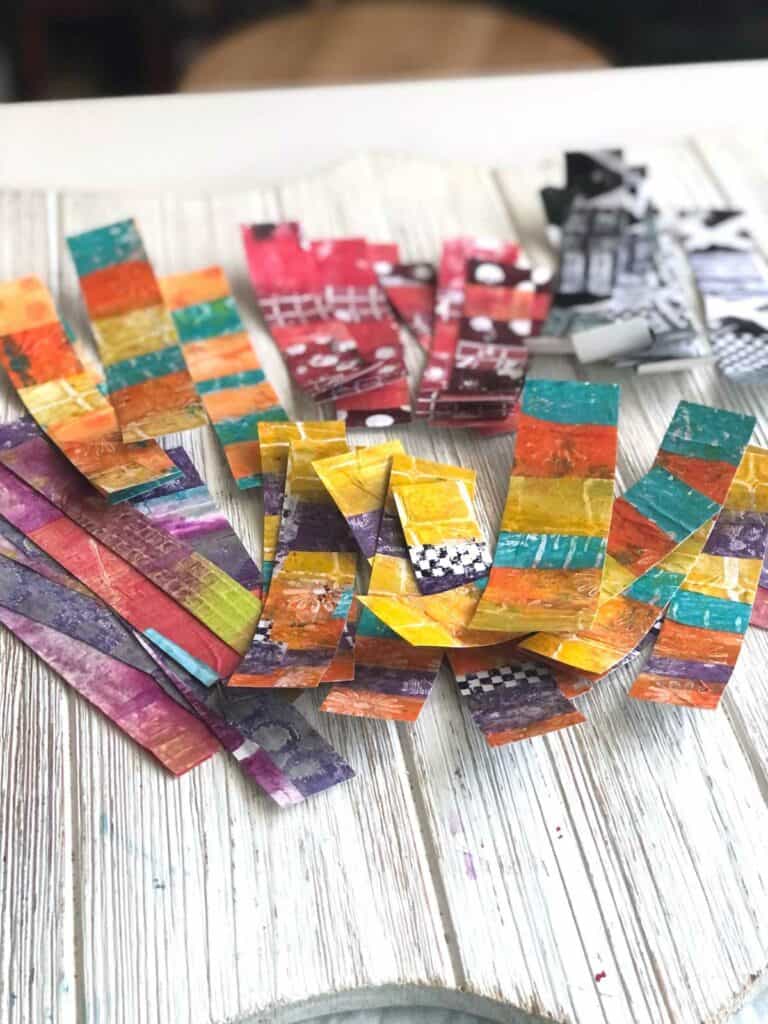 DIY Washi Tape Storage Organizer
Okay, once you have your washi tape cut into adhesive, colorful strips, you are ready to go!
I put mine into a drawer beside my workspace and grab them out whenever I need a piece or two to use in a project. You could also have a coffee cup to put them into so you can grab them and go!
Check out my washi tape rolls storage unit if you are a washi tape lover too!
Washi Tape FAQs
I had SO MANY questions about washi tape before I used it… here are some answers in case you are wondering too!
What Do You Like Most About Making Your Own Washi Tape?
I love that I can pick colors that match my creative journaling style! Also that I can make skinny washi tape or fat washi tape… I don't have to be so precious about it. Also, making the tape is easy… so much simpler than I thought it would be!
While I splashed about for the first ones, I was more deliberate with choosing colors I love for the later ones!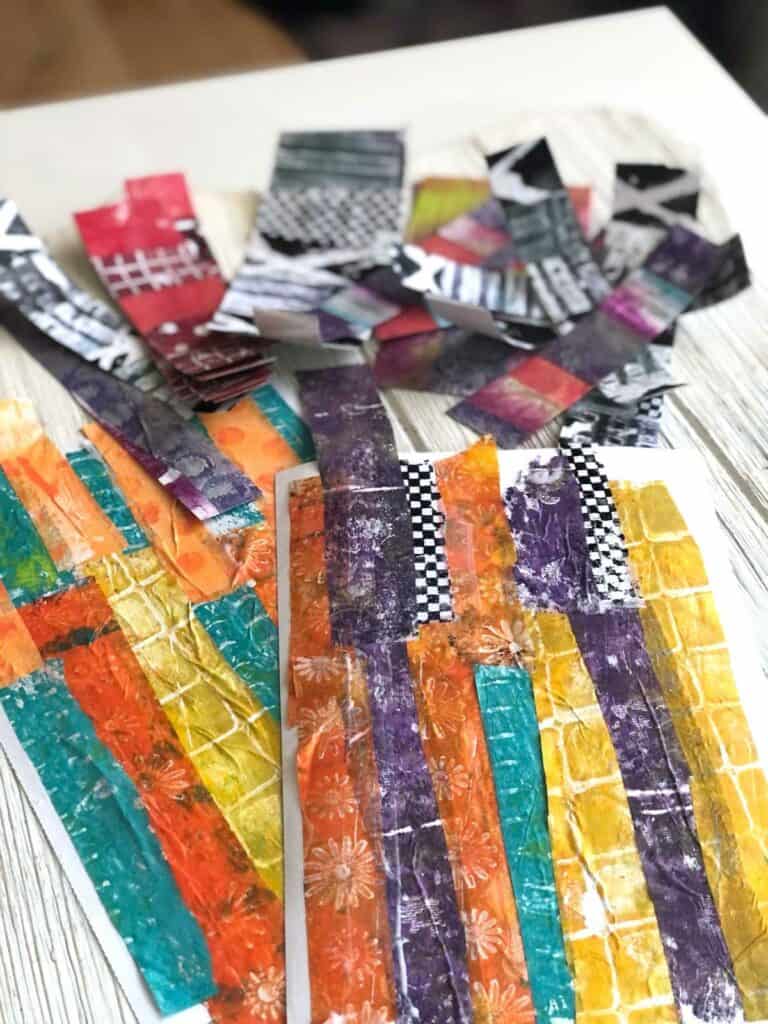 Can You Make Cute Washi Tape This Way?
I like using colors in my work with a wee bit of pattern. If you wanted cuter tape you could use scrapbook paper to make your washi tape (this will make it much stiffer). OR you could put down color and then use your stamps to make a pattern on your papers before you cut them up!
How Can You Make DIY Washi Tape Less Sticky?
One of the cool things about "real" washi tape is that it is low tack. You can get this same kind of effect by "sticking" your washi tape to fabric like your jeans. This will put a wee bit of fuzz on your tape back and make it less sticky.
Is Washi Tape Like Masking Tape?
Not really, washi tape is more like painters tape than masking tape. Painters tape is made for wall paint and is also designed to be low tack so it won't stick to the wall and pull off other layers of the paint. Washi tape is low tack too!
Does Washi Tape Damage Walls or Paper
Washi tape does NOT damage walls… real washi tape that is! For our DIY washi tape, it is FULL stick so it might pull up your paper if you try to move it after you put it down.
Washi Tape Wrapup
There you have it, all my best tips and ideas for how to use washi tape in your artwork! I love using it in so many different ways and would love to hear if I missed any. Tell me your cool washi tape ideas!