Tips and ideas for how to use acrylic paint and tissue paper to make fun and colorful Halloween backgrounds for crafts, decor, junk journals or mini albums.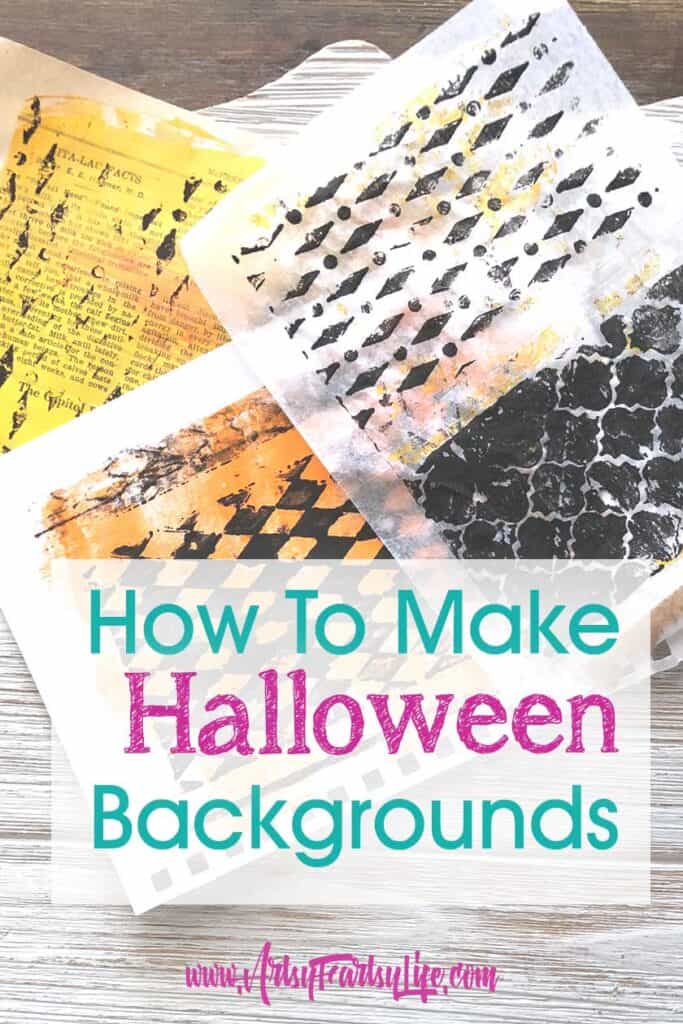 please note :: as an Amazon associate I earn from qualifying purchases, read my full disclosure policy here
How To Make Gel Plate Tissue Paper For Halloween
Halloween Decorating and Papercrafts
Okay, I admit it, I am sucker for Halloween Decorating! I was born on October 29th so when I was little I got to dress up for school, my birthday and trick or treating so I thought it was all a super fun holiday just for me!
But now I love to do craft projects and so I need lots of Halloween backgrounds and I love how the gel plates makes doing them so easy!
Halloween Colors
Traditional Halloween colors are black and orange, but for sure when you are doing your tissue paper you can use green, purple, orange, black or even yellow or gold!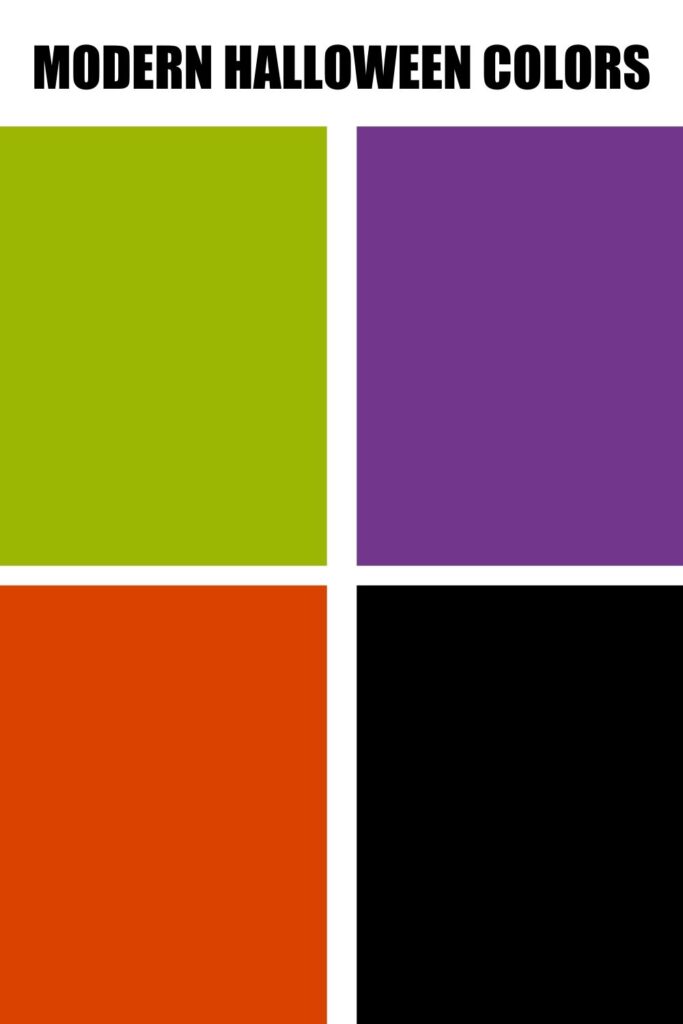 What Kind Of Paper Can You Use To Print On?
The cool thing about doing this kind of project is that you can actually gel plate on anything … I used old book pages, mixed media paper, Tim Holtz Collage paper and plain old, by the ream, tissue paper.
Advantus Collage Typography Semi-transparent Paper

White Tissue Ream 15″ X 20″ – 960 Sheets

Products Used In The Video
Tim Holtz Harlequin Stencil – https://amzn.to/3a9iNmg
Cute red craft brayer – https://amzn.to/3gJUcXF
Tim Holtz Media Mat – https://amzn.to/2XKIq7X
Tim Holtz Collage Paper – https://amzn.to/2E0Haa5
What Kind Of Acrylic Paint Can You Use?
This is one project where the quality of the paint doesn't matter that much. Because they are background papers and being done on the gel press, you don't have to use super high quality paint to get great results!
Projects I Used Halloween Backgrounds In!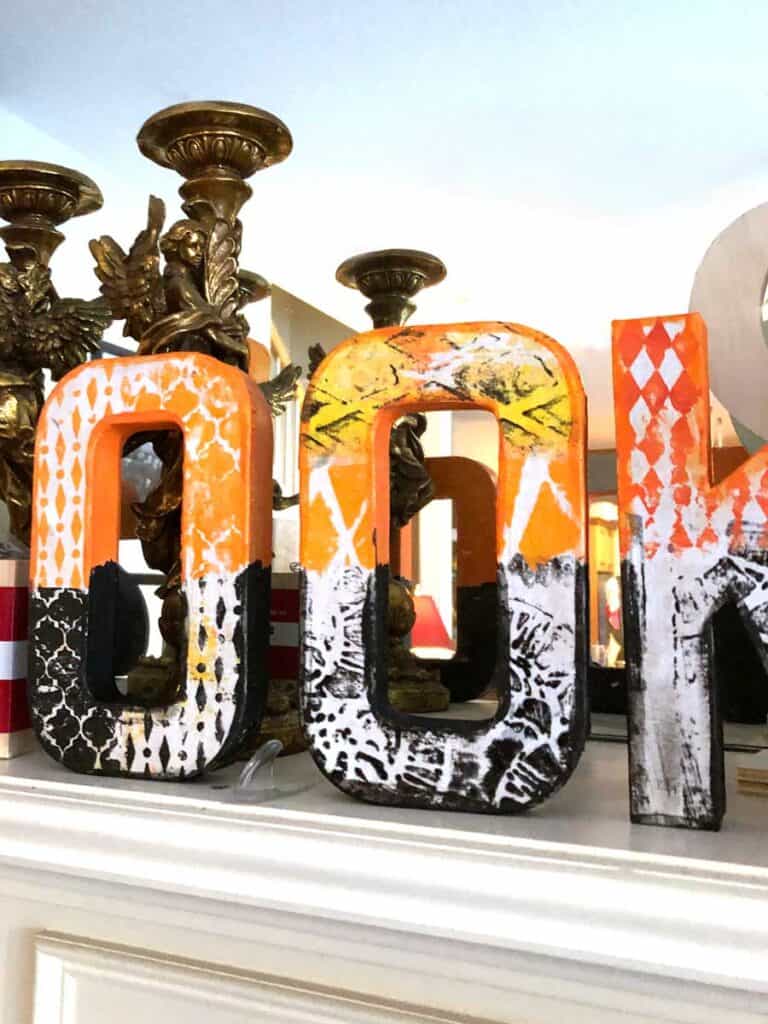 Yield: 10+
How To Make Halloween Background Papers With A Gel Plate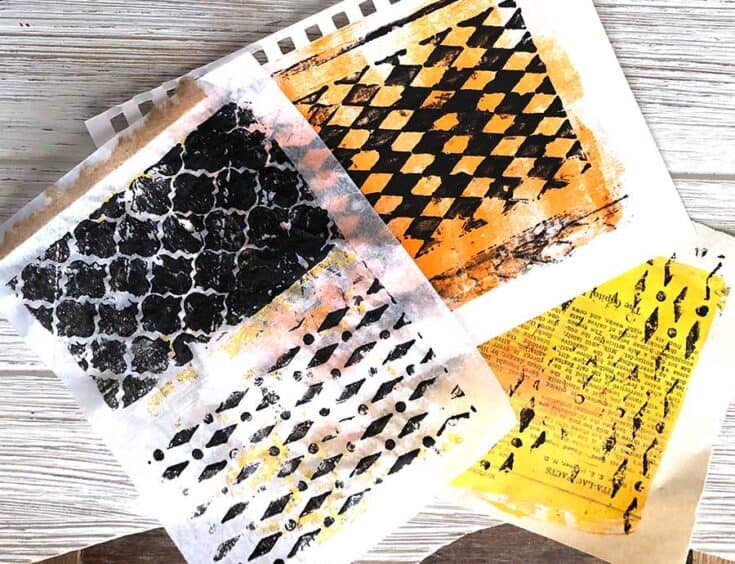 These Halloween backgrounds can be used for decor, decorations, junk journals, crafts or anywhere you need a fun little pop of Halloween color!
Materials
Acrylic paint
Old Book Pages
Tissue Paper
Mixed Media Paper
Watercolor Paper
Cardstock
Tools
Gel Plate
Stencils
Brayer
Instructions
Place stencil onto gel plate

Brayer acrylic paint over the stencil

Remove stencil and press paper

"Pull" prints from the plate

Notes
You can make multiple "pulls" with the same set of paint on the gel plate. You can also use the back of the stencil to make a reverse pull.
Recommended Products
As an Amazon Associate and member of other affiliate programs, I earn from qualifying purchases.