Tips and ideas for keeping a fun and creative travel notebook or diary. A travelers notebook is such a fun way to document your trips and remember all the neat things you did on your trip.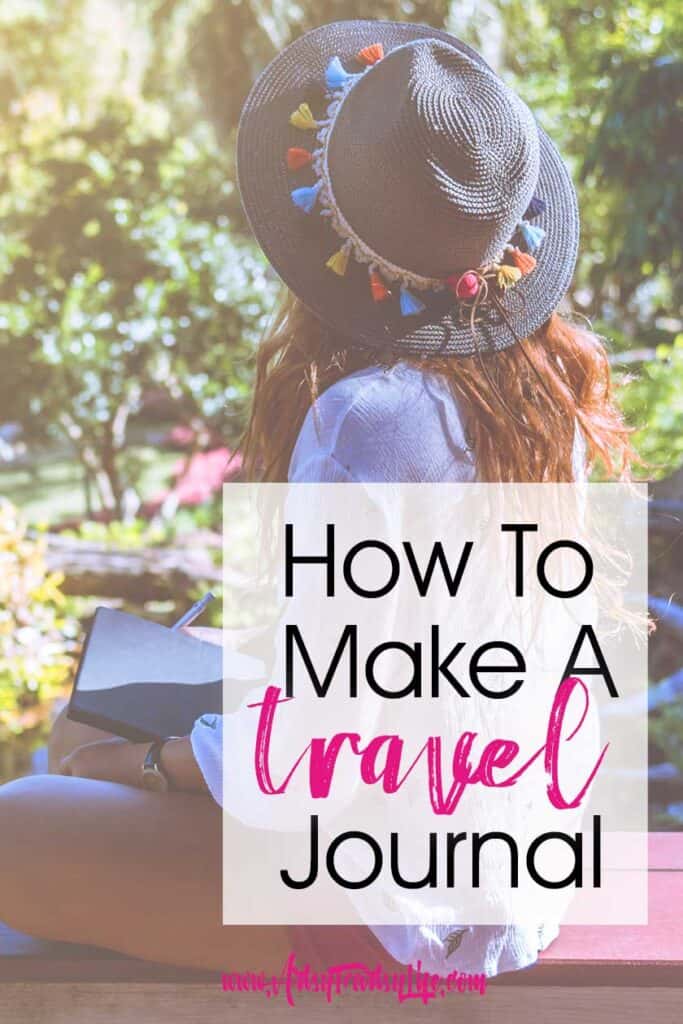 Have you ever gone on a vacation and once home, forgot the small details of the trip? Or looked at pictures a month, year or more later and can't remember what they were about or who was in them?
It happens to the best of us and even if you're sure you'll remember everything about a vacation or trip, you won't. The solution is very simple: keep a travel journal.
It will help you remember more about your trip, learn more about where you are going and reflect on your journey as you go. All those things will later be a fantastic way to refresh your memory about each trip you take.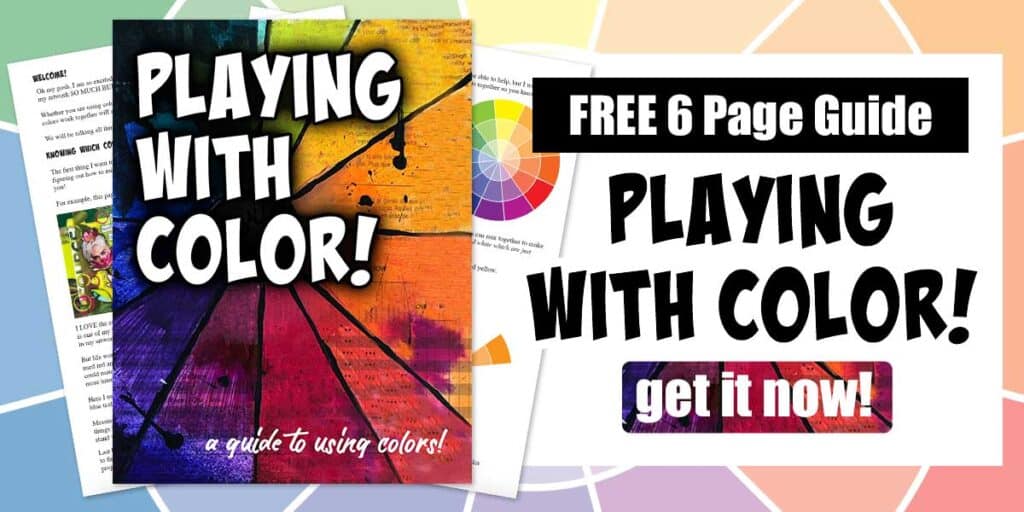 Making and keeping a travel journal is simple, really, and you can do it one of two ways; start it before you go and pre-populate your pages in the journal leaving space to write each day about your adventures; or you can keep notes as you go and then design your journal once the trip is over, much like a scrapbook.
Keep one for each trip you take, short or long, or make one journal for all your travels. It's all up to you. I tend to make one journal (a travelers notebook style) and then add pictures and notes in there!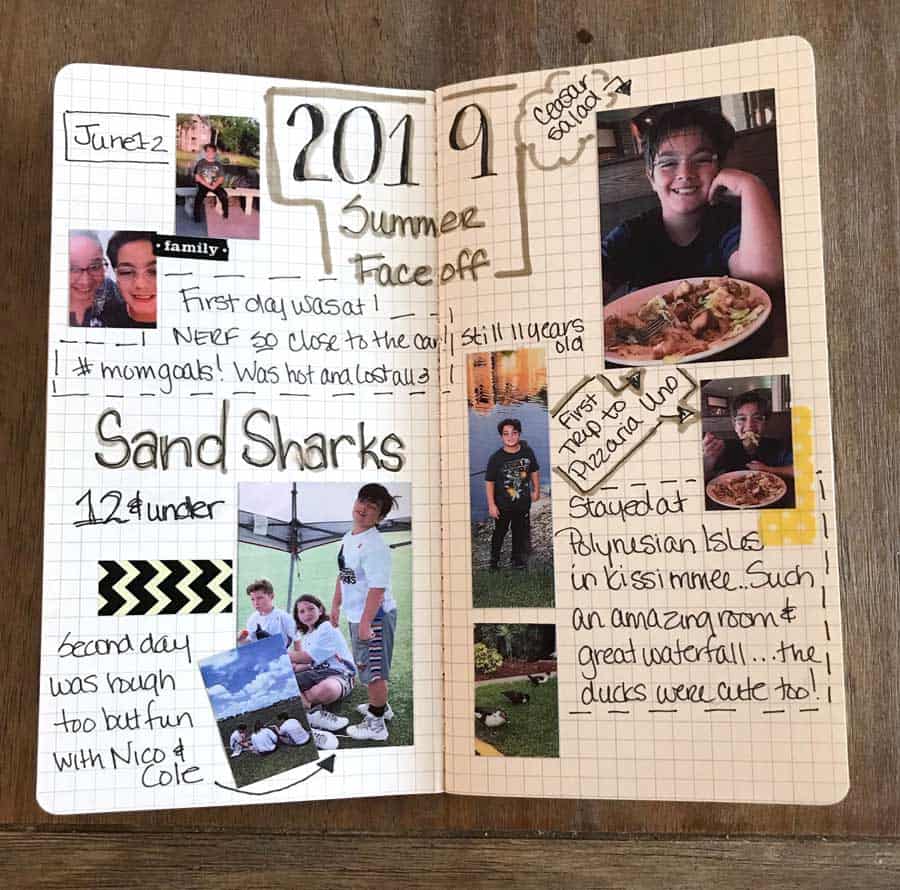 Picking Your Style Of Journal
There are a million different kinds of journals you can use for your travelers notebook! Here are some ideas to get your wheels turning:
Midori travelers notebooks – I use a Midori style travelers notebook! If you don't know about these, they are tall skinny books that you can hook into a cover with a rubber band that goes around it to hold it closed. (shown above)
Leather journal – If you are doing a once in a lifetime trip you might want to get a special leather journal! That leather cover will keep all of your memories safe and sound!
Leather notebooks – My Midori travelers journal has a cloth cover, but using a leather cover is a great way to have a keepsake that you can treasure forever!
Colorful illustrated journal – If looking at a big blank page freaks you out, a fun thing to do is get an old fashioned illustrated book or even a modern travel guide of the area you are visiting to use as the base for your journal!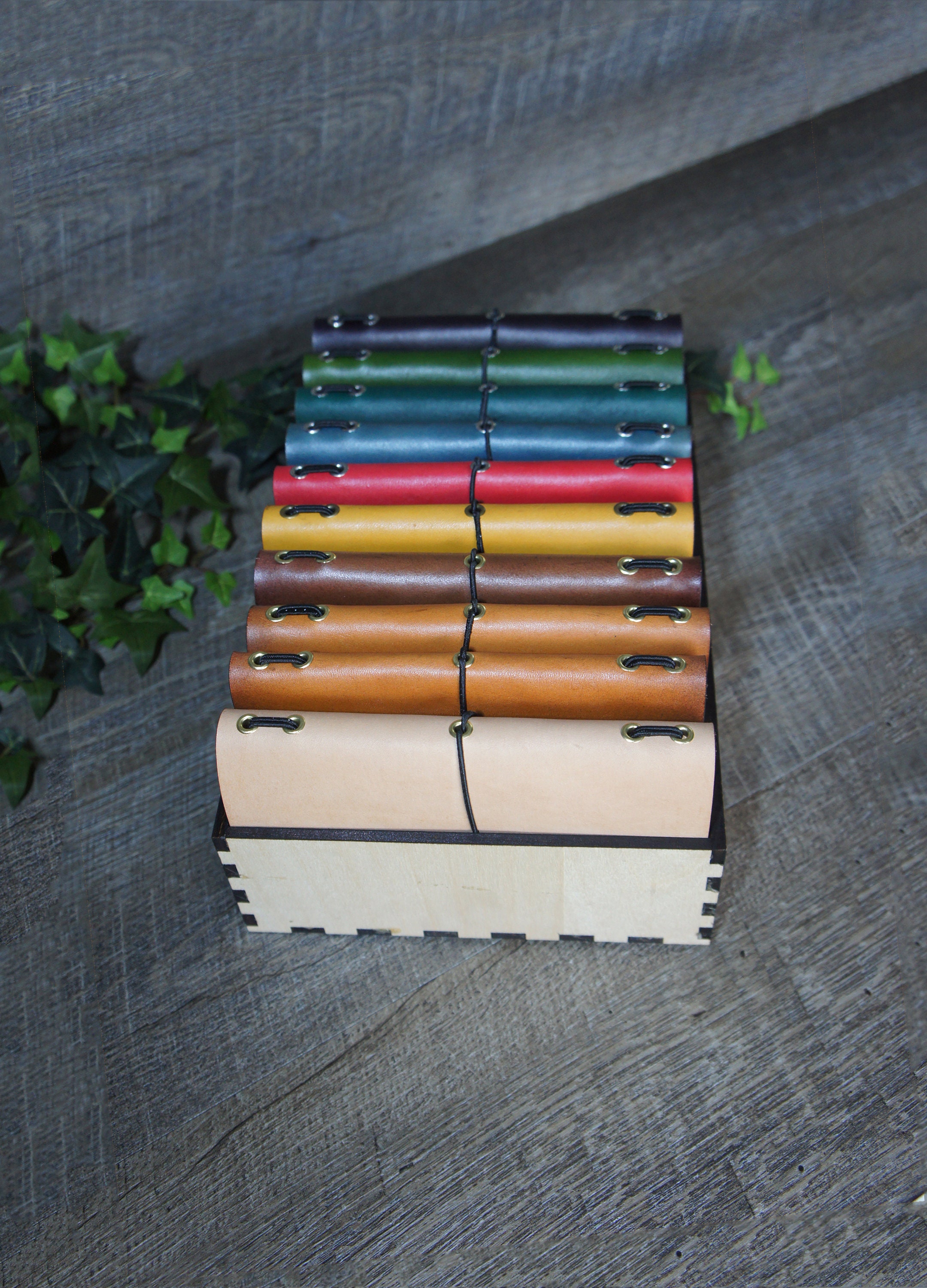 Personalized Journal Travelers Notebook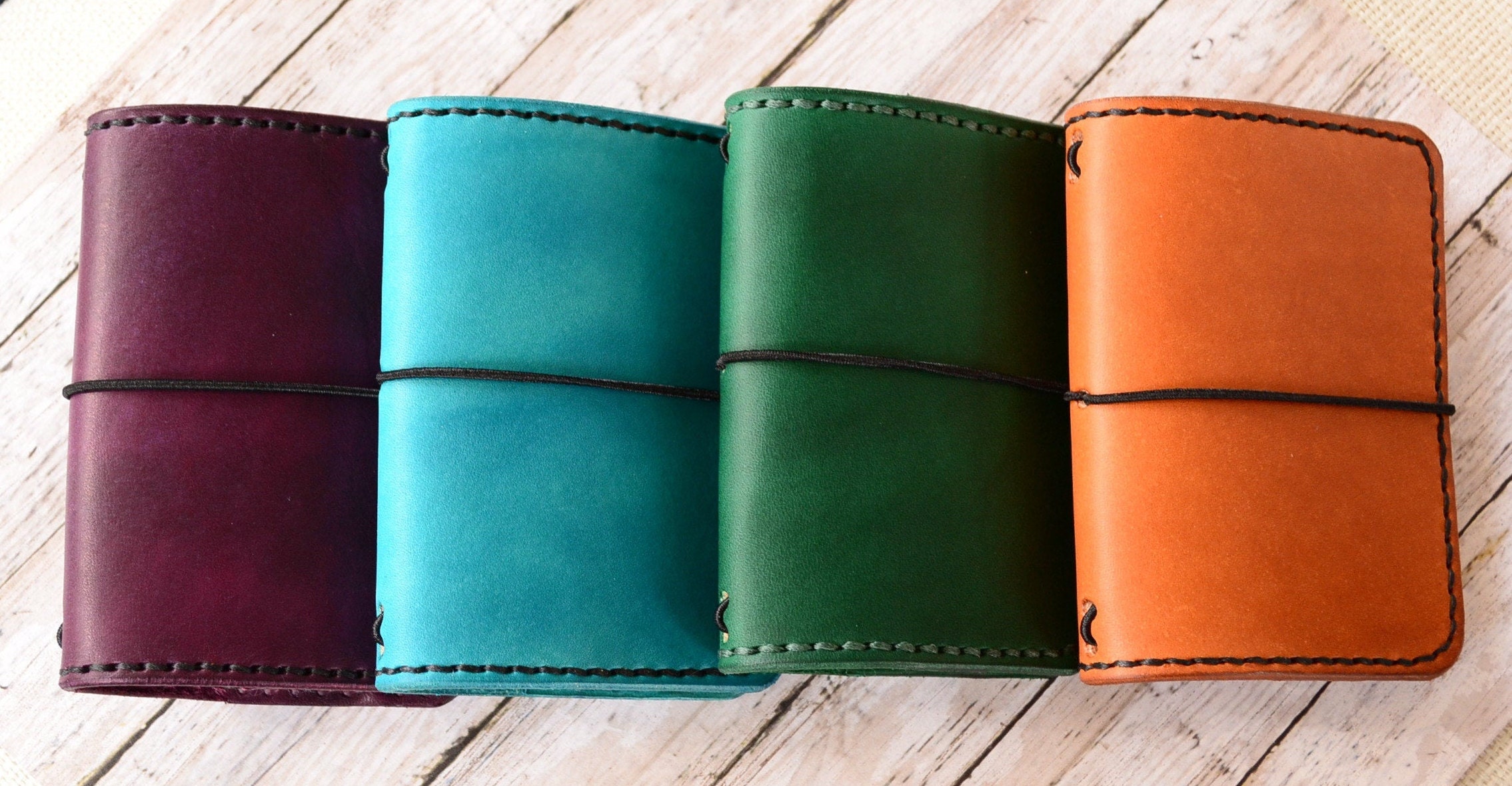 Custom Made Leather Travelers Notebook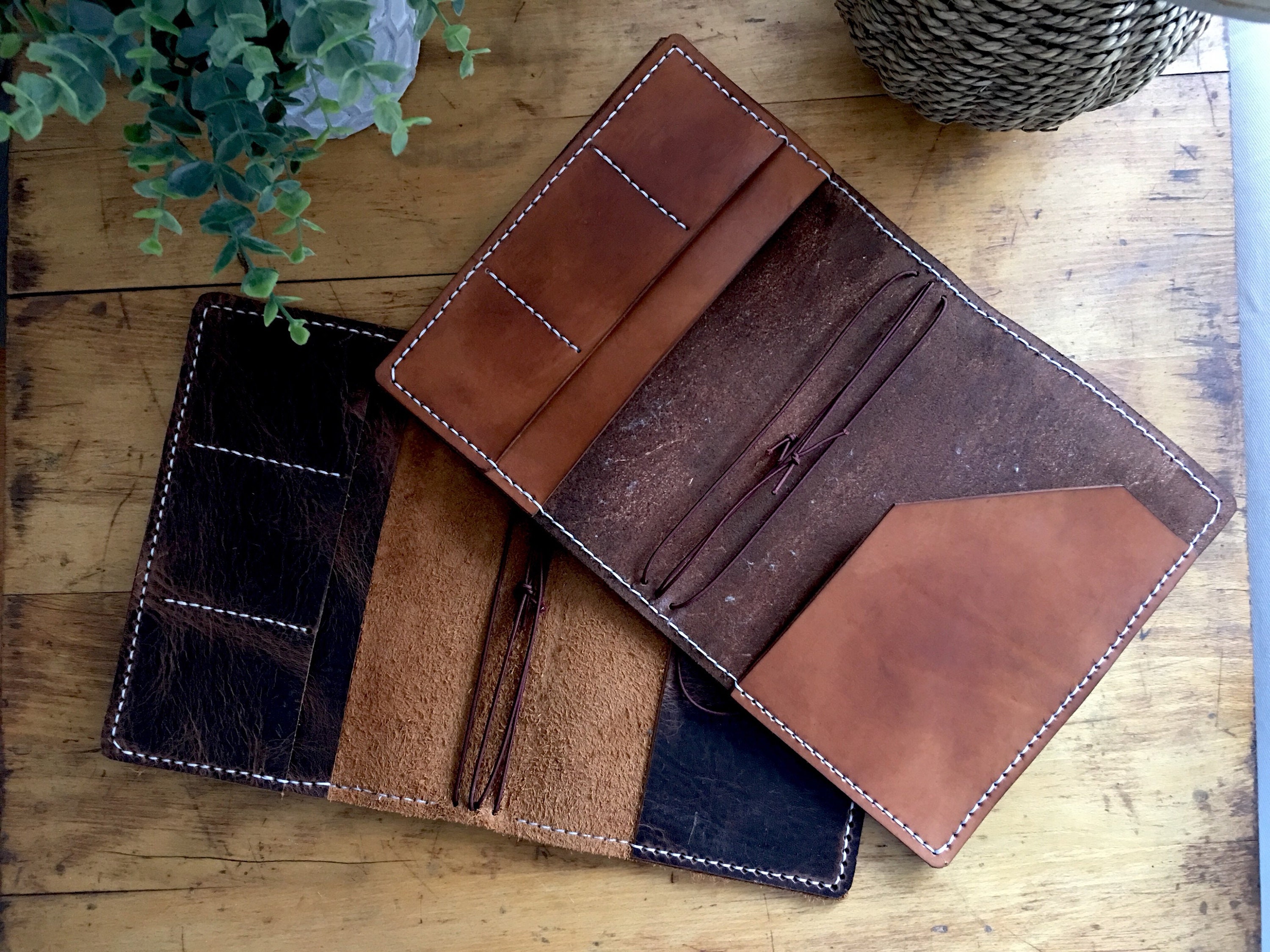 Leather Travelers Notebook with Pockets

What To Write In Your Travelers Notebook
As you make entries into your journal (or make notes for it later), write down everything. The minutiae, the good stuff and the bad stuff. Don't self-censor!
Not all entries have to be award winning, but be sure to capture it all as you go, at the end of each day before you go to bed.
Ask yourself, what did I do? Where did I go? Who did I meet? What did I eat? What did it smell like or sound like? What did I learn?
I wanted to remember that my son thinks Caesar Salads are the height of fine dining so I made sure to note that by the picture I took of him!
How To Use Your Trip Ephemera
If you're taking your actual journal with you, take a glue stick as well and put in things like ticket stubs, brochures, postcards… if you can draw, make sketches of things.
I find that there are two kinds of ephemera for me, stuff I can glue in and stuff I want to keep for later.
For example, I can glue tickets in anywhere! I think I want them, but really don't care. Postcards on the other hand are fun for me, so I tend to clip them on with bulldog or paper clips or put them in a tuck spot so I don't have to worry they will get ruined by glueing them in!

Leave room on each page to add pictures you took that day later OR do like I did and get a Sprocket printer so you can print out your pictures as you go along! It is tiny and uses "no ink" paper so I can make my pages up as I go!
Lastly, end each journal page with what about that day you are most grateful for, because remembering that the trip was a gift is most important.
Travel Journal Supplies
You can also start your journal before you go on your trip (more about that below), but to get started here is a list of suggested supplies:
A travelers style notebook or other type of journal with blank pages. (fun addons… 5 Must Have Accessories for Your Travelers Notebook)
Notebook refill books
Glue sticks or mod podge
Photos, tickets, brochures, stickers you got in particular places – whatever it is you collect on your trip
Washi Tape (optional for decoration) – I make small cards of washi tape with short pieces so I don't have to take a bunch of different rolls! (check out 9 Creative Ways To Store Washi Tape to see it in action!)
Stickers
Scrapbook paper for interesting backgrounds
Scissors
Pens
Preparing Your Travelers Journal Before You Go
Now you can set up your journal before you go and use it as a trip planning guide remembering that you are going to document your travels as you go!
Start off with the brochures you are using to plan the trip, your itinerary, and ask yourself the following to help you plan the best trip ever:
What do I want to see on my trip?
What do I want to do on my trip?
Are there foods I want to try?
Why am I going on this trip?
What would I like to learn?
What do I imagine it will be like on my trip?
What are my expectations?
Now do your homework and figure out how to do the things you want to do. Put in contact information for the site or people, tour information, etc. That way you not only make your itinerary, but you have a central spot to find it later when you need it.
Taking Notes During Your Trip
If you want to just take notes during the trip, take a notebook and jot down things as you go.
During the day, jot quick notes about thoughts, tidbits of information on things you learned, people's names, sounds, smells, all your quick observations that are usually quickly lost.
I tend to use sticky notes in the page I know I am going to use for that trip! I write down things we did and special events to remember. That way, when I am ready to do the page I have the notes, but they aren't "stuck" in a certain place!
At the end of the day, write out your experiences at length, including your notes, while it's all fresh in your mind. Ask yourself these questions as you write:
Who did I meet today?
Were the locals welcoming?
Did you learn something new?
What did I eat?
Was it good?
Did I get any new recipes for things I liked?
What did I like most about today?
What did I like least about today?
What did I learn about me today?
Did I do something challenging?
How did it add to my life?
Would I recommend what I did today to anyone and why?
Was there something I wanted to do that didn't happen?
Pro tip! If your handwriting is a little wonky, like mine, you might want to use a notebook with lined pages or a grid so you can follow that and make it look less messy!
Doing Your Travelers Notebook Later
If you are just collecting notes and ephemera as you go, when you get home you will want to start putting together pages for each part of your trip!
Set your travel journal up almost like a scrapbook. Print out the photos you want to include and gather your stuff together, maps, travel magazines, scrapbook paper, tickets, business cards, etc. and organize them by city or country or by day or site visited.
Now choose a background and add it to your page, if you want, and place the things to go with it and arrange them on the page, then paste them down.
Whether you set up your pages ahead of time and use the journal, or make notes each day as you go and transfer them to the journal (so you can decorate it so it's more closely related to your actual trip), use the time making the pages to compare your expectations with what actually happened.
Reflect on how that changed your trip for the better or not, and so on. Then set the stage for your next adventure by ending with the place you want to go next!
How To Make A Travel Journal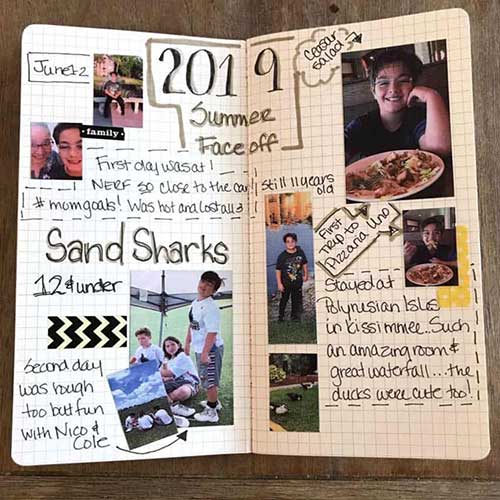 How to make a super fun travel journal to keep track of all the details of your trip!
Materials
Travel Journal or Travelers Notebook
Notebook Refill
Scissors
Sticky Notes
Bulldog Clips or Paper Clips
Washi Tape or Stickers
Glue Stick
Pens
Sprocket No Ink Printer (optional)
Ephemera From Your Trip (ticket stubs, brochures, napkins, matchbooks)
Instructions
Get all your supplies together in one place (I like to use a cute little bag I can throw into my pocket book)
Start collecting fun ephemera from your trip
Write down fun events and people you meet
Use sticky notes to record what is happening (you can move them around later!)
Print out pictures from your trip
Start making pages of your travels!
Notes
It can seem like everyone else makes the most amazing travel journals, but when you start they will be a little wonky. Remember, it is just for you to remember your trips and they will get better over time!
Recommended Products
As an Amazon Associate and member of other affiliate programs, I earn from qualifying purchases.