I thought it would be fun to challenge myself to use only magazine images and Distress water based dye ink to make backgrounds, papers and ephemera for a daily journal page! Collage ideas for using magazine collage with Tim Holtz Distress Ink Pads in your mixed media artwork.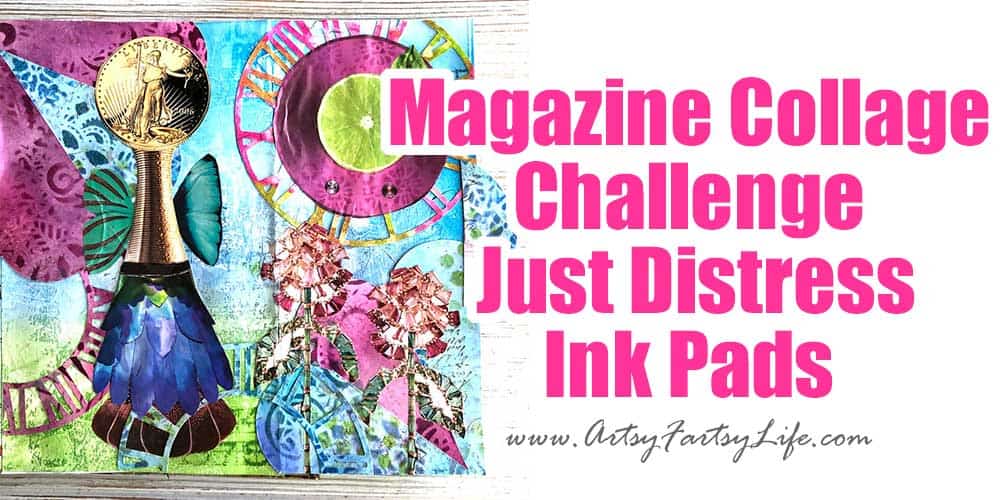 please note :: as an Amazon associate I earn from qualifying purchases, read my full disclosure policy here
Challenge "Rules"
I am making a "challenge book" for myself where I use a technique per page (like the Embossing Mixed Media Page). So the challenge for this page was to use ONLY Distress Ink pads to make all of the paper, ephemera, etc and then to pair it with magazine pictures.
Now for me this was WAY out there! I am more of a painting collage, or even permanent dye inks kind of gal, but I was always seeing the cool stuff that the card makers were using with the Ranger Inks that allow for water reactivity!
I used ONLY distress inks for backgrounds, ephemera and stamping!
Magazine Collage Using Just Distress Inks Video
Products Used In Video
Yield: 1
How To Do Magazine Collage With Just Distress Ink Pads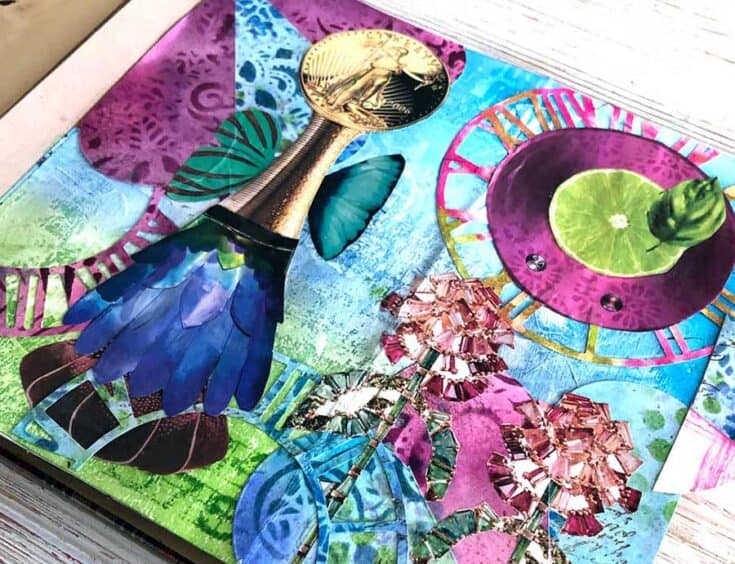 Tips and ideas for how to make a magazine collage using just distress ink pads for the background and ephemera.
Total Time
2 hours
30 minutes
Materials
Distress Ink Pads
Stampers Anonymous Faded Type Stamp Set
Strathmore Mixed Media
Flower Petal Die
Clock Die
Art Glitter Glue
UHU Glue Stick
Tools
Scrapbookers Foam Pad
Ranger Mini Blender Tool
Big Shot Die Cutting Machine
Instructions
Select magazine collage images



Use distress inks and mini blending tool to make a background



Dip a stamp into water, stamp and then remove ink with a paper towel.



Add stamps with distress ink



Make patterned background papers for ephemera



Use dies & Big Shot machine to cut out shapes



Assemble magazine collage parts


Notes
This was a super fun challenge and making the papers was a fun way to have magazine collage elements from Distress Inks.
Magazine Collage, Magazine Art FAQs
I always get a bunch of questions when I do this kind of project, so here are a few that you may have today!
Distress Ink Pad Features
These distress inks are water reactive meaning you can blend them with water like I did on the flower petals or even "remove" some of the dye by using a stencil and some water.
I have to say that it was fun to be able to manipulate the background, but it was much less color saturated than when I use acrylic paint which can hold its pigment, even when diluted.
Paper Collage Art
Some may say that I "cheated" because I used "good paper" to make the pages in a junk journal (one of the collage artists I really love has STRONG feelings that junk journals should only be made of junk!)
But because distress ink is fancy, using it on really slick mailing pages would not have worked. It wouldn't have dried correctly and I would have had to fight it the whole way!
Could You Use Scrapbook Pages For This Kind of Journal Page?
I may do a scrapbook page challenge, but FOR SURE distress would work better on mixed media paper, tags or kraft stock than it would on printed scrapbook papers!
Can You Use Other Kinds of Things For Collage?
You can use WHATEVER you want to for collage! Papers, photos, magazine images, envelopes, anything!
The thing that bums me out about the gal with the "rules" is that I worry that you won't want to make art because you may be "doing it wrong".
For sure I used the Distress Ink Pads in a way that card makers don't but that doesn't make it "wrong".
You can use any of your supplies in any way you want!