Paris lovers, rejoice! This fun and free Paris printable travel ephemera is here to spark your creativity. Great for travel journals, travelers notebooks, scrapbooks or mixed media art!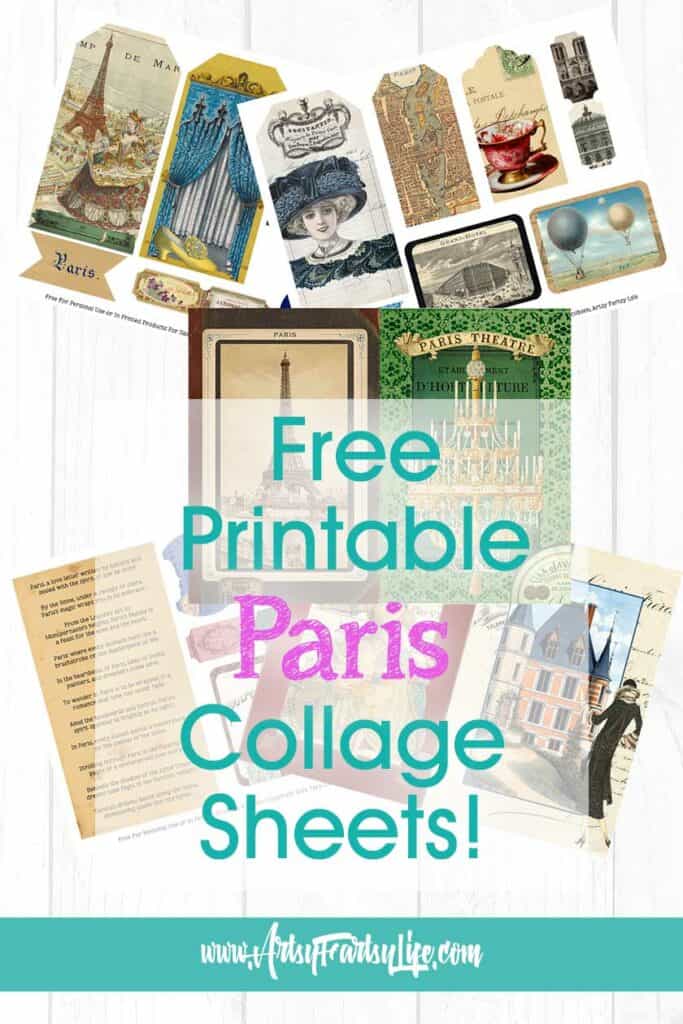 Please note: This article contains affiliate links, and that means that I may earn a commission if you buy something. Read my full disclosure here.
All 5 Paris Free Printables
I know that I like to see what I am getting , so I thought I would give you a good overview of all the Paris printables so you can see them all at once!
The images include beautiful, classy French ladies, the Eiffel tower, French flag, maps, Paris sayings and other fun symbolism of Paris, France.
Why I Made These Free Printables
I used to just make printables for me, and then one day I thought, "why not share them with the peeps" so I started a huge freebie library to give away hundreds of free printables!
I love getting messages from people who have used them in their artwork and share pictures on the Artsy Fartsy Facebook group!
For these ones I used a combination Graphics Fairy public domain images and my creativity!
Why Are They Free?
I get asked all the time, why do you give them away for free? Well first off, I love supporting artists and small businesses!
And second I am lucky enough to have ads on my website that I earn a little money from every time someone comes to my website! YAY!
That gives me the time to make these free for you and me!
Commercial License For Printing
There is a free commercial license for printing! As long as you print these out first you can sell them any way you want.
There is no license for distributing these digitally. If you want to share them with a friend, send her a link to this page so she can get all the free printables herself!
How To Print Them
I made these to print out on 8.5″X11″ letter sized paper so you can print them at home!
I tend to use a heavier stock paper with bright white paper because I think it makes them print out more colorfully.
How To Download The Free Paris Printables
You can get these and all kinds of other free printables in the freebie library! You can just click the link or the image below to get the password! (you can go here if you already have the password)
Additional Free Printables You Might Love!