Some of my peeps asked to know the "rules" of a one magazine collage challenge. Since it isn't really a sanctioned thing by a governing body I am going to set some rules for us to follow!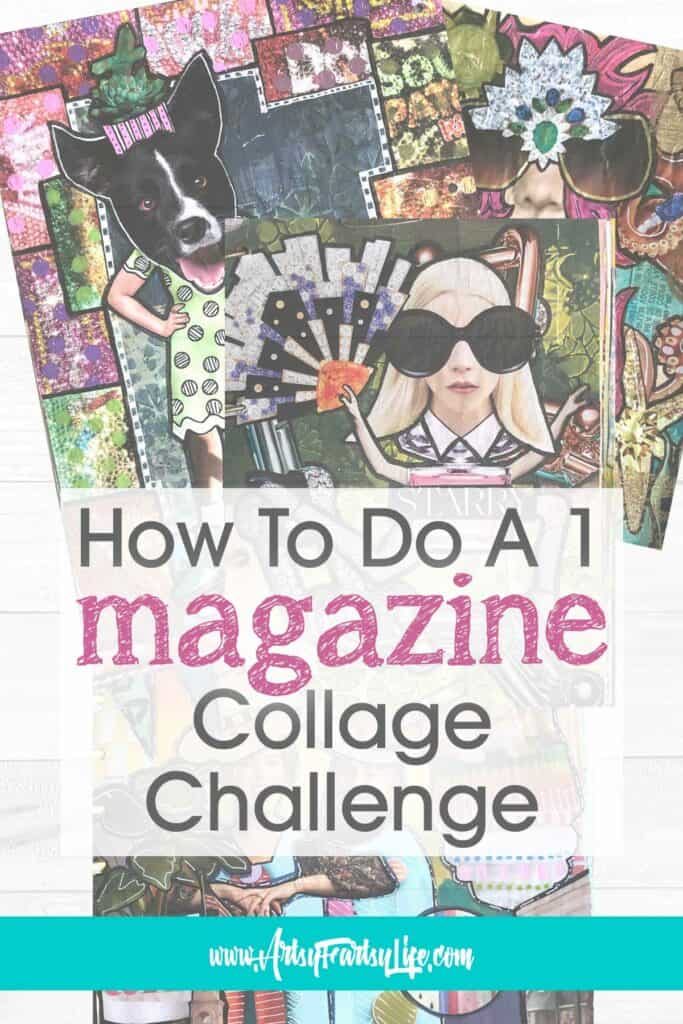 please note :: Please note that this article contains affiliate links, and that means that I may earn a commission if you buy something. Read my full disclosure here.
What Is A One Magazine Collage Challenge?
Before we get too far down the "rules" road, let's talk in general about what a one magazine collage challenge is!
Say you pick up the current Elle or Martha Stewart magazine at the newsstand. You would only use that one magazine for the magazine images that you are going to use in your artwork!
Simple right? Well not so fast… let's look at some "rules" we have to follow!
One Magazine Collage Rules
Here are some things that could impact your one magazine collage piece… let's talk about them!
Rule #1 – Backgrounds
Okay, some schools of thought about the "one magazine" part is that you can ONLY use the images from the magazine so you wouldn't be able to use other things for your background like old patterns or scrapbook paper.
The way I pick my backgrounds is often by how much time I have… so sometimes I can whip up a new background for my collage and sometimes I just use one I already had done (and which has dry glue or collage medium).
For example, in this one I used an already painted background in my color block art journal and then used the Cosmo April 2021 images for the main character and the border images.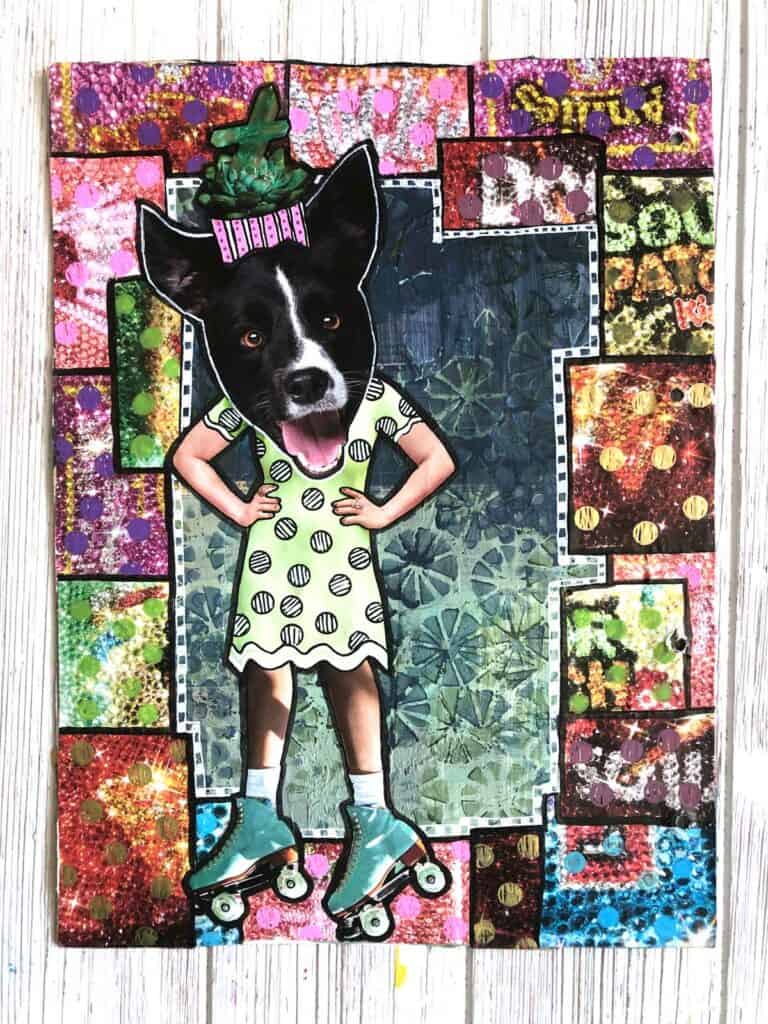 So Rule #1… use whatever you want for your background!
Rule #2 – Borders
Another thing that we frequently have on magazine collage is border images. Some people, nice collage artists like me, sometimes have borders laying around half done or almost done because we like to glue down anything that doesn't move!
For example, I have partial borders all over the place in my funky people art journal and that is okay!
Here I am assembling a collage gal onto a premade border…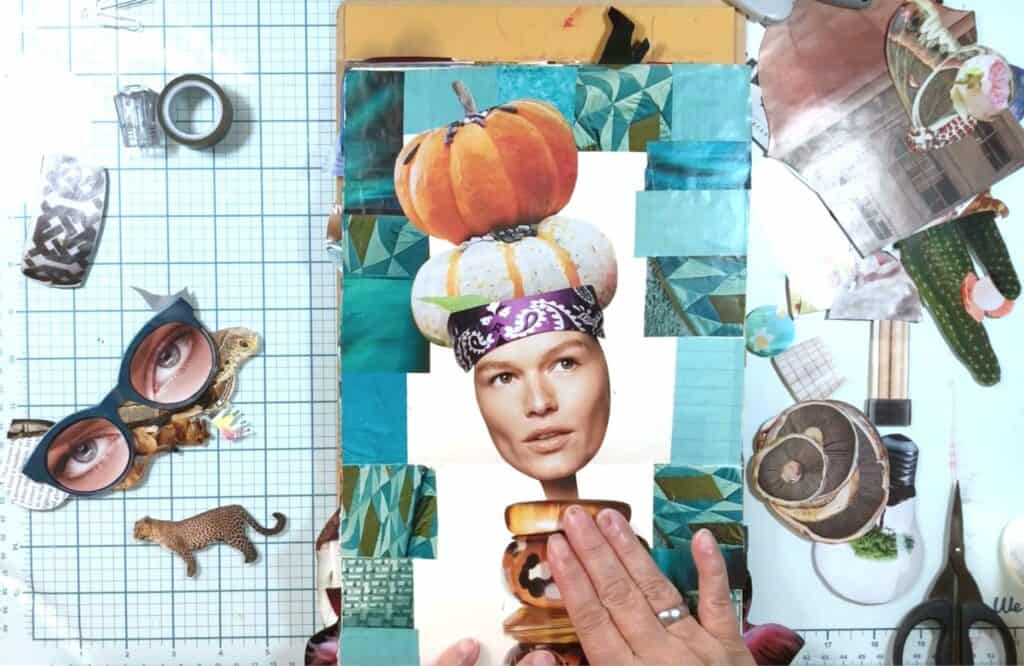 I had just gone through my stash and picked all the turquoise "stuff" and glued it down around a page that I didn't have a pre-determined plan for, sooooo
Rule #2 – Use whatever you want for your borders!
Rule #3 – Extra "Stuff"
Sometimes your magazine collage may go whacky and somewhat off the rails and you throw things in there that are laying around next to your craft chair (just me?)
For example, in this HGTV June 2021 One Magazine Collage I added a piece of string that I had gotten on a package I ordered. It was cute and I thought it might make a fun "rope" to hang pennants from!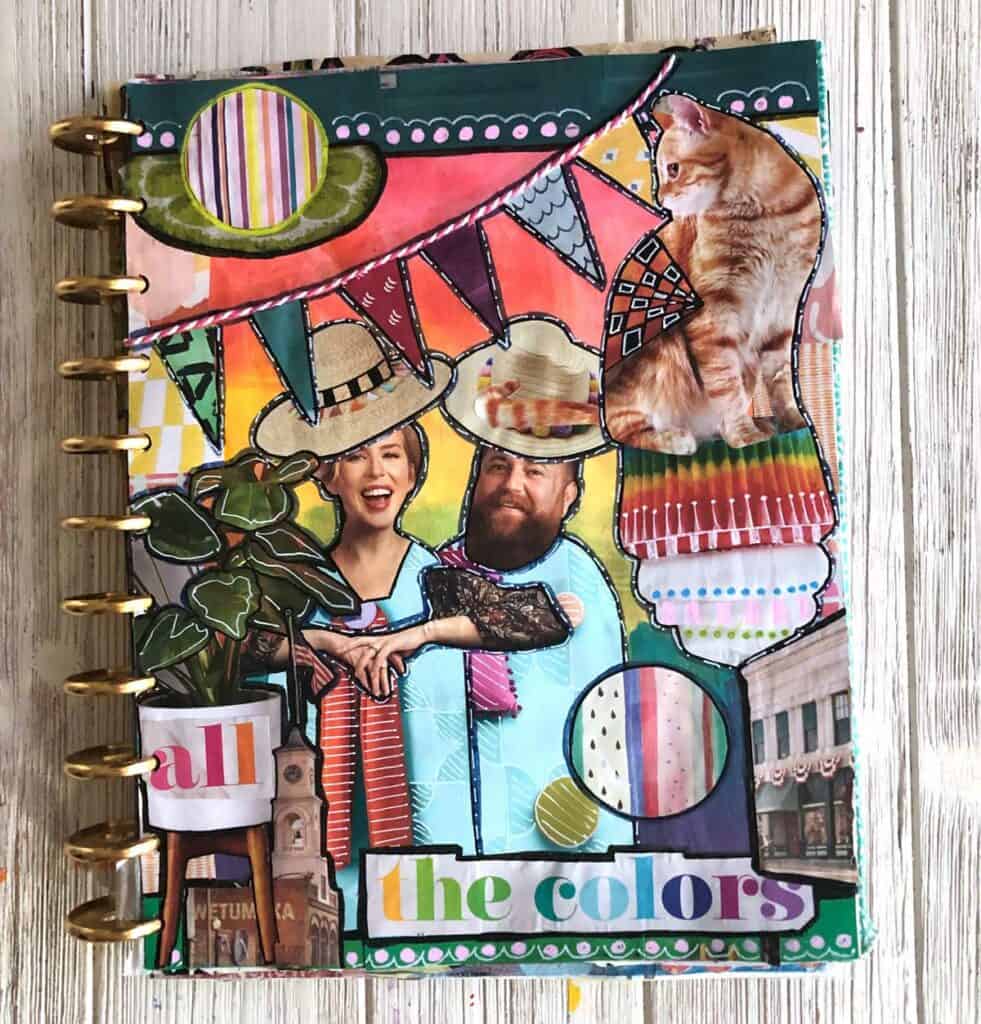 So this leads me to rule three…
Rule #3 – You can add whatever bits and bobs that you want to your magazine collage!
Rule #4 – Paint, Markers, Embossing (Art Supplies)
Okay, here is another big questions I get! Can you use other art supplies or are you limited to just using magazine images alone.
In this piece I used gold embossing, black Posca paint pen and black Pitt brush pens.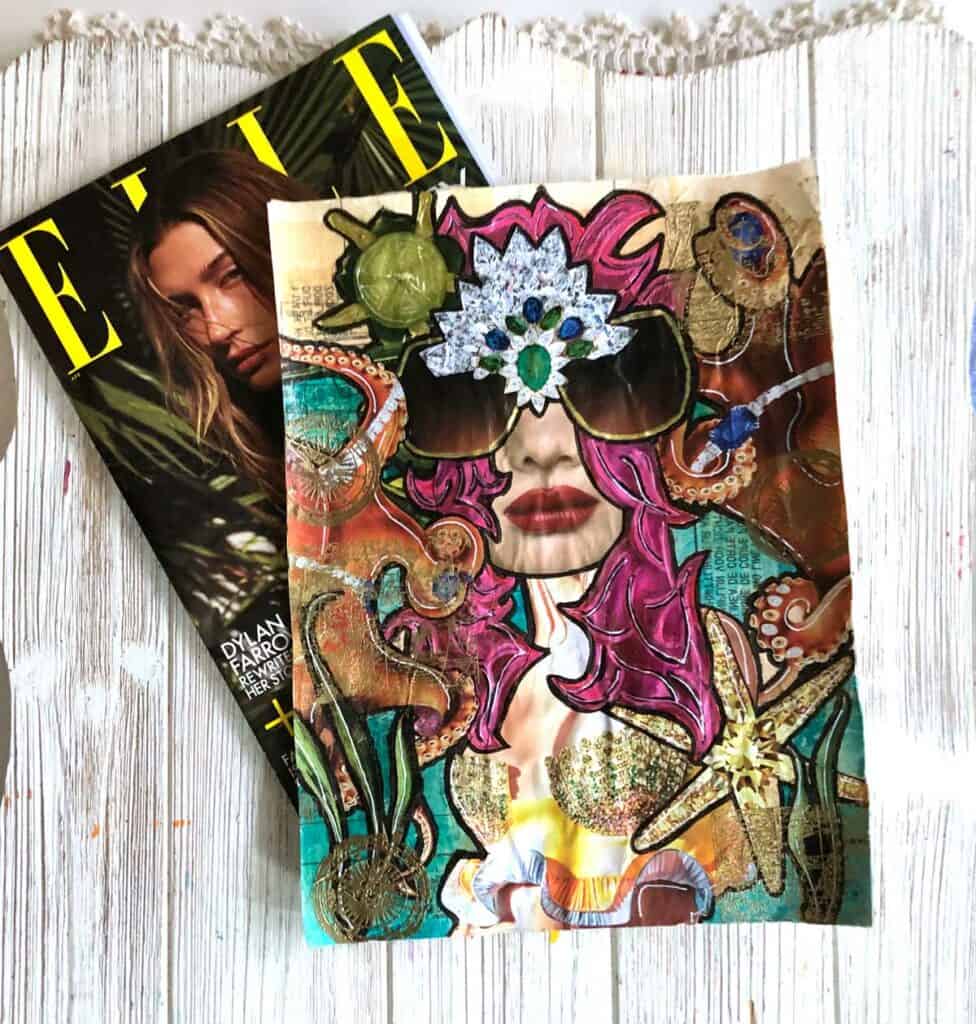 I bet you can already guess what rule four is going to be!
Rule #4 – Use whatever darn art supplies you think are going to make your piece better!
One Magazine Collage FAQs
I KNOW you have lots of questions because the peeps ask me lots of questions, so here are some answers!
In some of your challenges you can't use art supplies, what's up with that!
On my YouTube channel I sometimes do Thrift store challenges where I only have $5 to spend and I can only use one other thing like a sharpie marker or gel pen if I don't get to buy any art supplies.
Most of my one magazine challenges blow the $5 right away with the cost of the magazine so I look at them as a free for all!
Can I see you making a one magazine artwork?
Well yes, you can! Thanks for asking! Here is a video of one of my favorite pieces I did with just the Elle May 2021 magazine!
This one was mostly just made interesting with images from the magazine, rather than having a bunch of different gizmos or gadgets!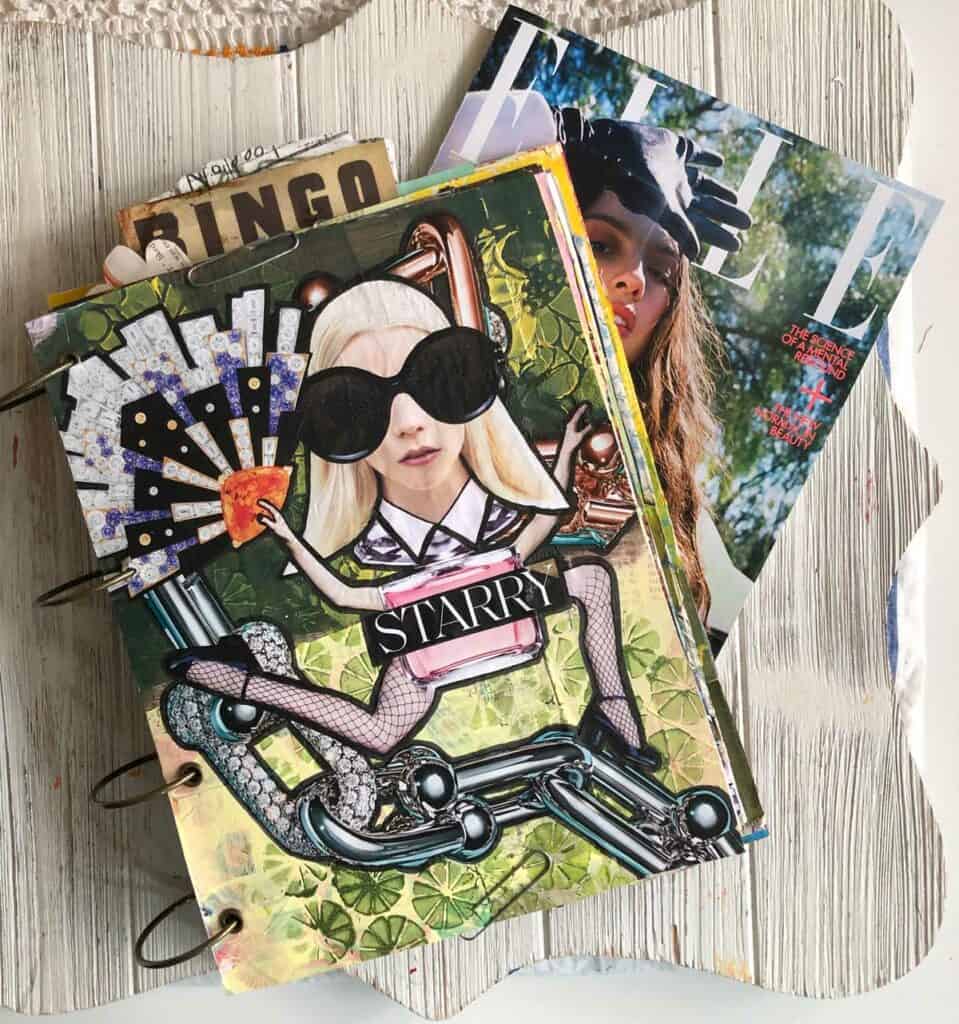 Where do you get the magazines for your challenges?
I have a subscription to Elle magazine so it shows up on my doorstep each month. I also go to Target or Walgreens to get "normal" magazines.
I sometimes get fancy magazines at Barnes and Nobles!
How can you get cheap magazines for collage?
I get cheap magazines a few different ways…
Subscription
First off, it is SO MUCH cheaper to get your magazines by subscription! Usually they cost between $1-2 a month this way!)
Ebay
I order a "lot of elle magazines" or other ones from Ebay. This means you can get multiple magazines, but you may not get the most current editions.
Recycle Bank
One of the peeps said that using RecycleBank.com is a great way to get free subscriptions! I don't use this service, but it seems legit!
Ask Everyone!
I have gotten so many good magazines from friends and family! Most people can't bear to throw out their magazines, but if they know they are going to a good home, they will part with them (don't tell them you are going to chop them up!)
One Magazine Collage Challenge Wrapup
So there you have it! All my "rules" for one magazine collage art challenge!
Functionally I think that we should be less uptight about our artwork and just enjoy the creating… that said, I LOVE making challenges for myself to help grow and do things that I normally wouldn't do, hence the challenges!
Using just a few different kinds of magazine pages or images makes it fun! Using all kinds of art supplies makes it mixed media art (technically), but since I make the rules I still call it magazine collage.. HA!