I LOVE Halloween and this year I made some super easy and cheap Halloween decorations for my mantle that came out amazing! Tips and ideas for how to make your Halloween mantle spooky and fun!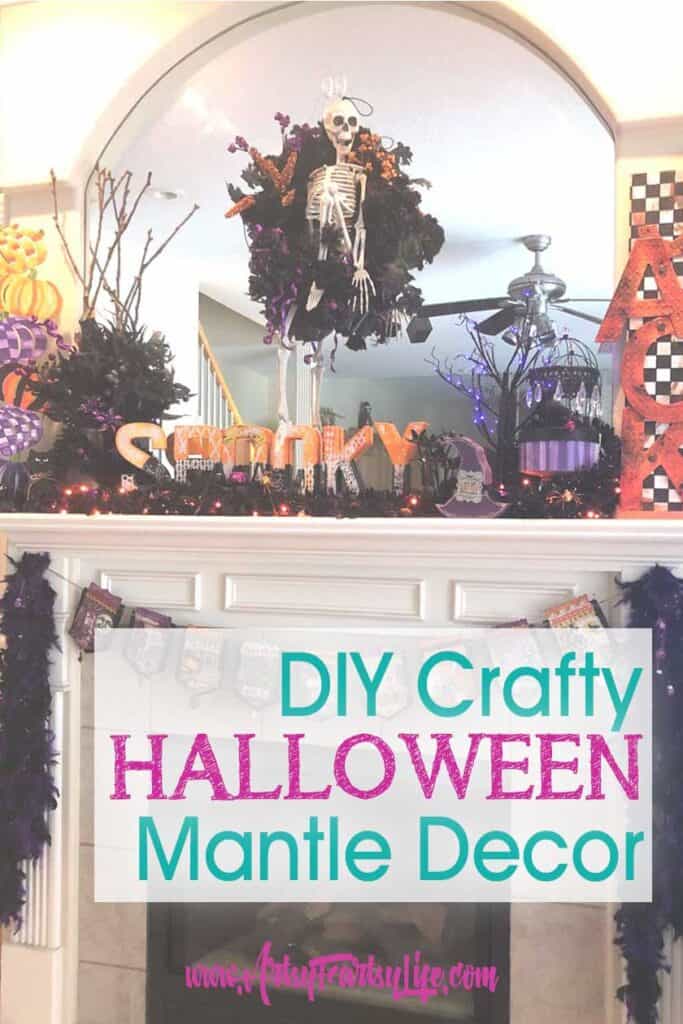 please note :: as an Amazon associate I earn from qualifying purchases, read my full disclosure policy here
My Halloween Mantle Before
I knew this year that I wanted to make some cool decor items for my my mantle so I went to Michaels and Joanns to find some things that I could repurpose for the projects (total count at the end was 5 – Jack Sign, Spooky Letters, Tall Pumpkins, Flag Banner and Black and White Pumpkins).
I had a great time scrounging around and by using some coupons and repurposing other seasons, I was able to keep costs WAY down!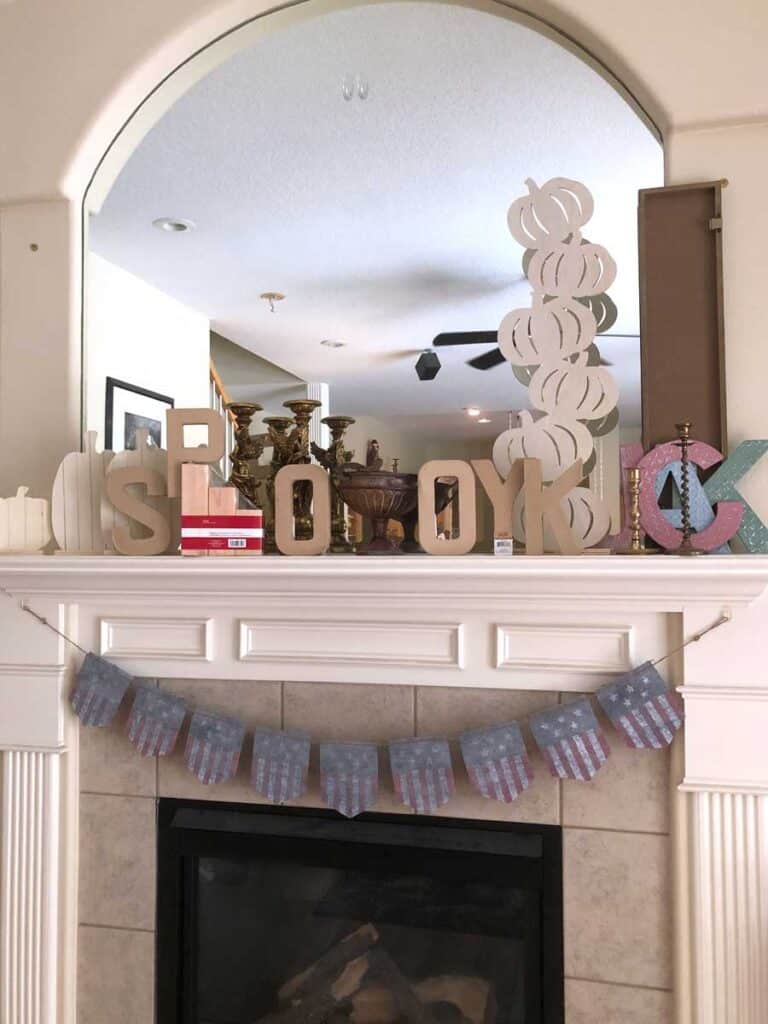 Spooky Halloween Letters
The first project I did was the "SPOOKY" letters. These were super cheap paper mache letters that I covered with Halloween Background papers and acrylic paint!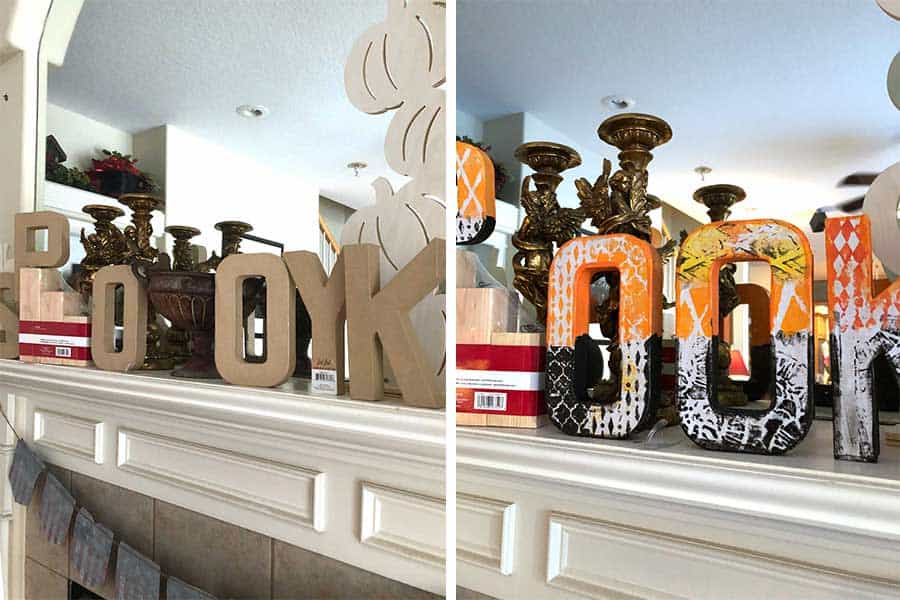 Check out the full Halloween Paper Mache Letters Tutorial!
Black And White Halloween Pumpkins
The next one I did was black and white pumpkins in that fancy style with gold accents. These were Joann's wooden pumpkins with acrylic paint.
I wound up using them in another part of the house because they didn't fit in as well with the orange and purple theme I settled upon.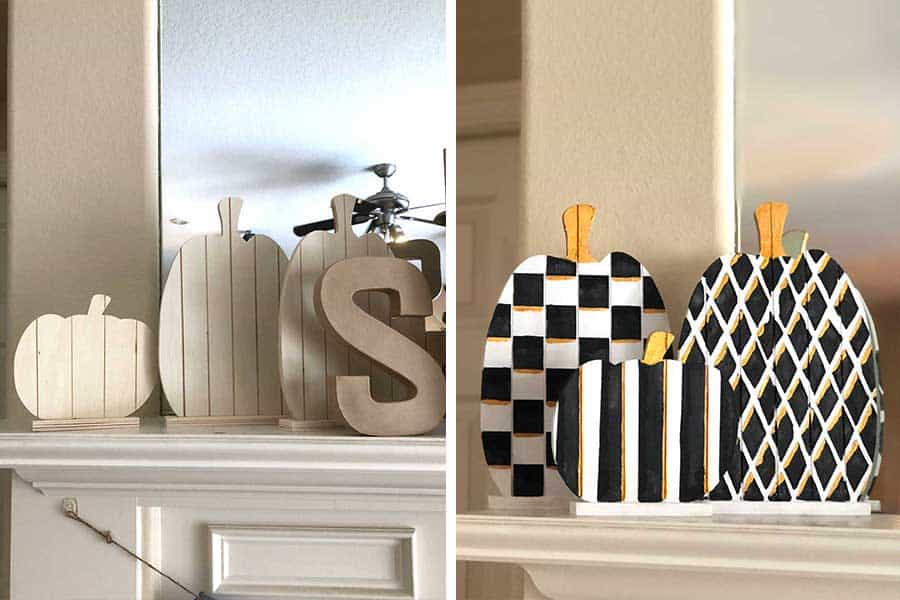 Check out the whole Black, White and Gold Halloween Pumpkins tutorial!
Tall Halloween Pumpkins
The next project I did was the tall Halloween pumpkin stack. By then I had figured out that my colors would be purple and orange with a checkerboard pattern.
I used my Joanns coupon to get 40% off so this one was cheap AND super easy. Just a little bit of acrylic paint!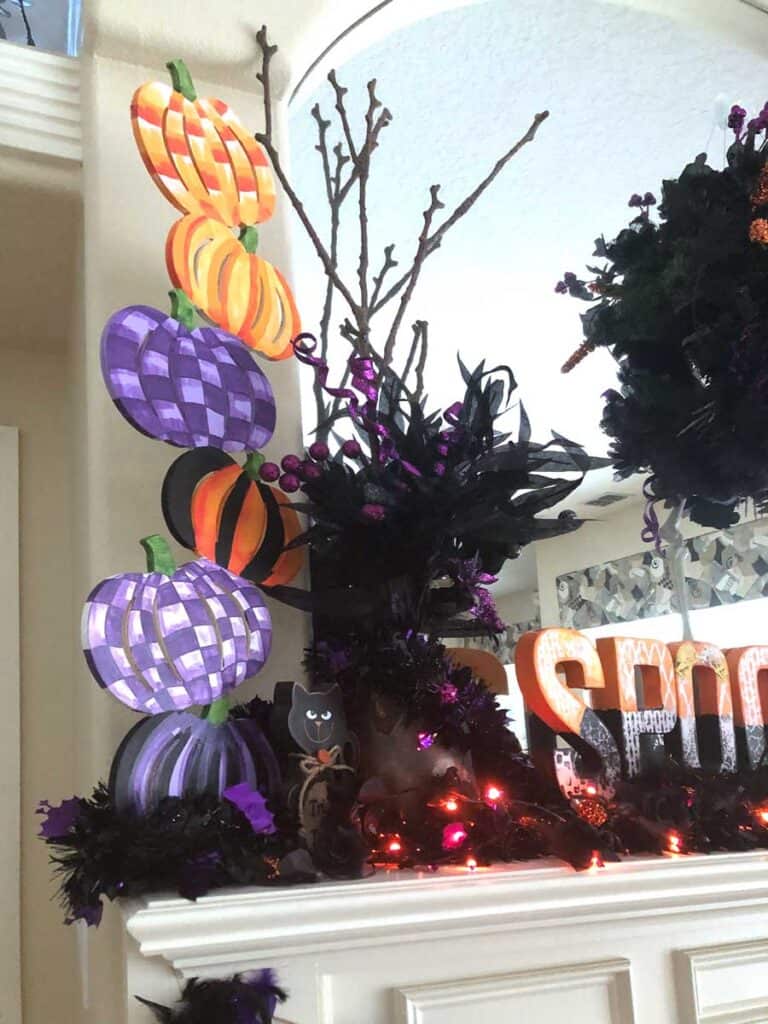 Jack Distressed Vintage Halloween Sign
This turned out to be my absolute favorite project! It started out as a repurposed 80% off sign and pastel spring letters from Michaels.
I painted the sign with black and white acrylic paint and then did a fun black "grunge" wash on the painted orange letters!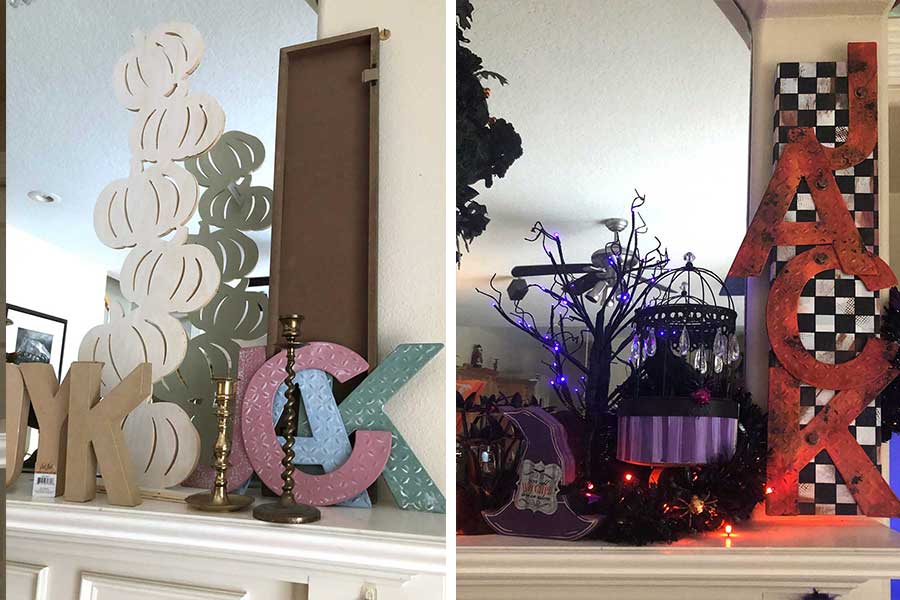 Check out the whole distressed, painted Jack Sign tutorial!
Halloween Banner – Paper Crafts
The last project was NOT fast and easy, but it was super fun! I repurposed a 4th of July banner from the Michaels clearance section to use as the base (I like to do the decorating NOT the structure making).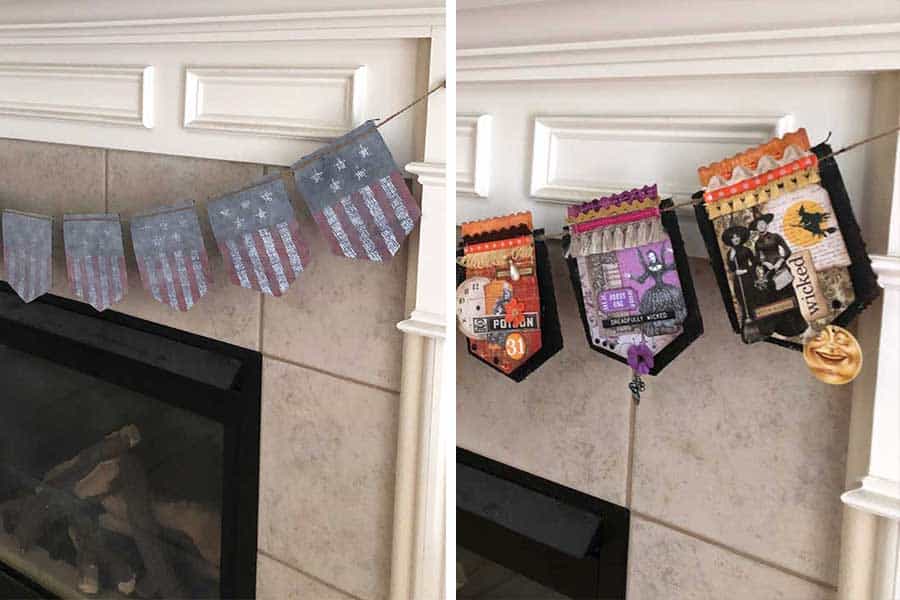 See the full Halloween Papercrafts Banner Tutorial!
My Final Halloween Mantle!
I LOVE how my Halloween mantle turned out! It is fun and purple and orange, with feathers and little fun bits here and there. I also like my purple lighted tree and the orange lights that shine at night.
Other parts that I didn't do tutorials for…
Raven cage with hanging "crystals" – new this year from Michaels
Painted striped round box – paper mache box from Michaels painted with acrylic paint (under the raven cage)
Purple Witches Hat and Black Cat wooden cutouts
Black and Purple feathers on the sides on the bottom
Skeleton wreath – just a normal "christmas wreath" covered with black flowers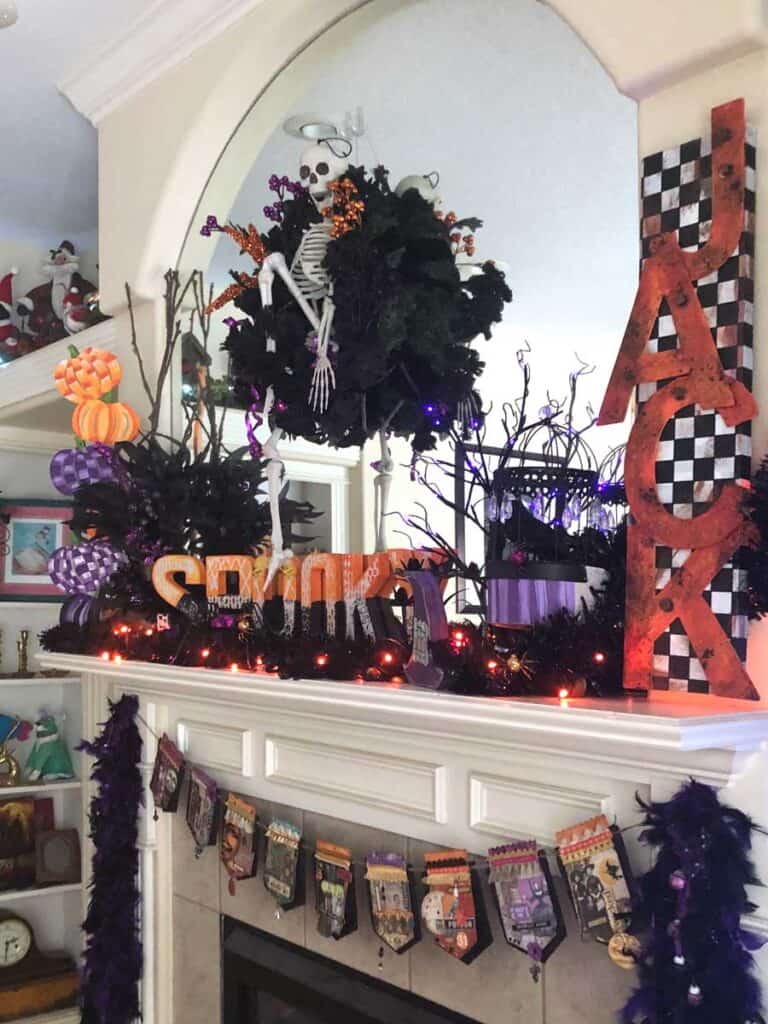 The thing that makes this look so much better than some of the mantles I see is that I use a "garland" to anchor the bast. For this one it is feathers and black flowers that allow me to embed my lights and make the whole thing cohesive.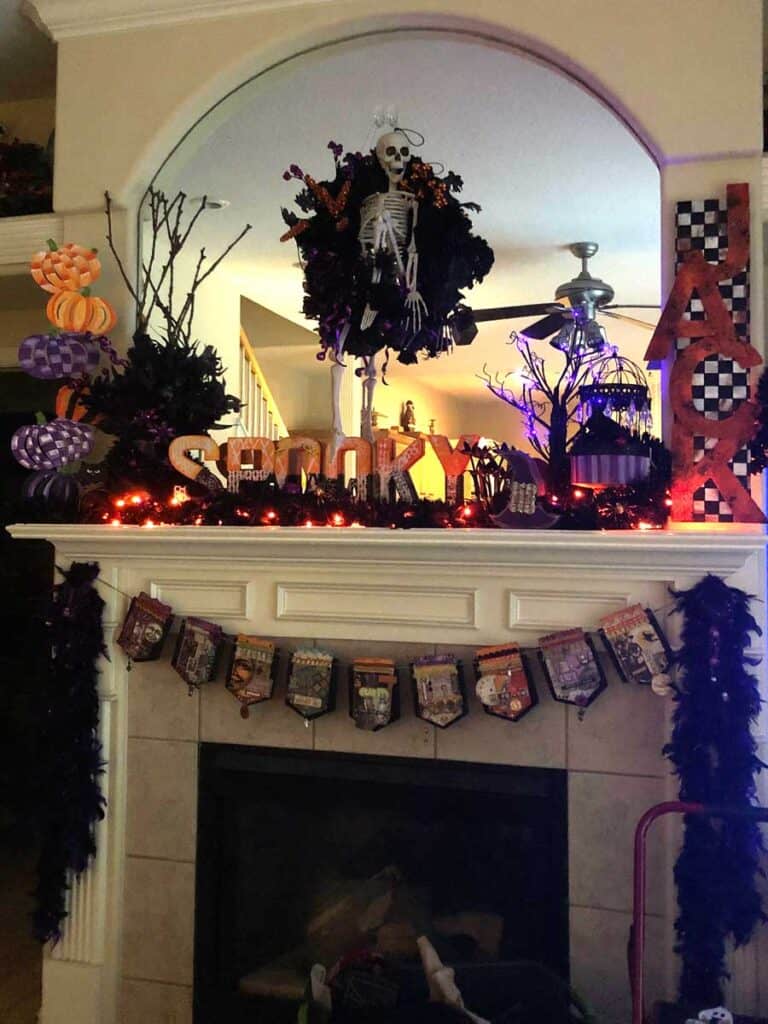 It looks super fun at night with all the contrast of the lights and then the black feathers and flowers!